Mundine
Ordinary Food Reviews
Euclid Avenue Yacht Club
Little 5 Points
1136 Euclid Ave Ne
Atlanta, GA 30307
404.688.2582
www.theeayc.com
January 8, 2008
When I lived just east of Little 5, back in the dawn of time, I was a regular at several establishments in the neighborhood (R.I.P. The Pub and The Point.) But there were a couple of places I never visited that have since become regular haunts. I always thought the Yacht Club was full of yuppies in my younger days but I was dragged in by friends a few years back and regretted avoiding the place all those years. Fortunately EM works in the neighborhood which gives us an excuse to visit EAYC about once a week.
| | |
| --- | --- |
| Unfortunately, this may soon stop due to changes on their menu. They used to have a green chili burrito that was EM's fave. For a few weeks after the new menu they still allowed EM to order the thing, chock full of black beans and chilies. But on our most recent visit they had discontinued the black beans and were fresh out of pintos. I've never seen EM so sad about a food item. I was reminded of my crushing loss when Tortilla's closed. | |
But back to the Yacht, it's one of those places that can get loud, smoky and crowded. The crowd is often regular local folks who don't mind sharing a table, but sometimes it's packed with people on their way to the Variety down the street. Aside from the lack of the aforementioned burrito, the other annoyance is televisions. There are two or three on constantly, always on sports. Fortunately they're usually mute in favor of whatever the wait staff plays on the CD player. Lately it's been Johnny Cash, New York Dolls, The Clash, AC/DC, and Iggy Pop, but not too loud so that you can't carry on conversation.
There are blue plate, pasta, sandwich and veggie specials daily and usually they're cheap, delicious and filling. On a recent visit, I had the grilled pork chop.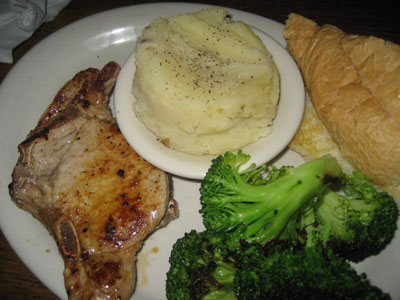 The chop was juicy, simple and perfect. I always opt for a side of grilled broccoli. I have no idea what they do to it, but it's salty and crisp but not difficult to chew. The mashed potatoes were fine but their bread comes toasted and dry so you need some gravy or something with sauce to mop up for the bread.
Degenerate CD loves their ribs, sticky and smoky, but neither of us have been impressed with their chopped pork. They serve, and possibly cook, it in sauce which completely covers up the flavor of the meat. (It used to be an option on a burrito, which was interesting, but that's off the menu. You may be able to special order it if you're interested.)
Speaking of special orders, I was in the mood for the Georgia Dog - a hotdog covered in their homemade Brunswick stew - on a recent visit but intrigued by the bratwurst. However, I don't like slaw, so I invented the Georgia Brat.

It was delicious and I'll be ordering it again.
Their regular menu features the aforementioned cue, burgers, wings, a wide selection of veggies and salads, and even the blasphemous veggie "burger."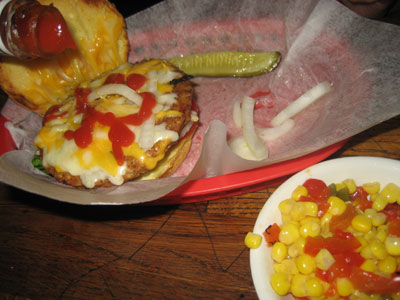 I consider the veggie burger an insult to burgers everywhere and as tempted as I am to go off on a rant about them I think I'll rant on something else instead.
The yacht club has a comparatively wide selection of rums, for which I am thankful. Most places don't have room for rum beyond Bacardi (ack!), Captain Morgan's (meh) and occasionally Myers (I'm getting used to it.) Instead, most places opt for shelf after shelf of vodka.
Vodka is a liquor for those to don't like liquor but like to get drunk. Why all the silly flavors? Why not just use decent, plain vodka and mixers? This probably wouldn't bother me as much if they didn't stock all the flavors in all the brands. Can you really tell the difference between Stoli boysenberry and Absolute boysenberry mixed with Red Bull or Jagermeister or cough syrup or antifreeze or whatever the fuck you're drinking?
If I ever hit the lotto and buy my own bar in Amsterdam (so I'll have somewhere to come home to) you can bet there are some things I won't tolerate:
1. smokers
2. flavored vodka
3. light, or lite, beer
4. eurodisco
EAYC also has a fair selection of bourbons, the perfect cold weather drink.

The staff is friendly, usually attentive, there is a non-smoking room before 8 PM, and there are 4 generally clean restrooms. The two of us usually eat and drink and spend under $40, so with the diverse menu there's hardly a reason to frequent L5P's other establishments.