Mundine
Ordinary Food Reviews
The Highlander
In the Promenade Shopping Center in Midtown
931 Monroe Drive Suite C-101
Atlanta, GA 30308
Phone: 404.872.0060
www.thehighlanderatlanta.com
December 19, 2007
I never start anything without coming up with a punny title for it first. I've reviewed food all over the world as part of Degenerates Abroad, but I couldn't get motivated to do local restaurants until I came up with "Mundine - Ordinary Food Reviews." Lame, I know, but you can't swing a roasted duck without smacking it into some high falutin' foodie who gets paid to eat at places most of us can't afford. My tastes are considerably less refined, so to kick off our new feature we're posting an ordinary review of the most ordinary of foods - the hamburger. (Interested in the history of the burger? See Wikipedia.)
Local Best Of awards are given for burgers at the same handful of places every year - The Vortex, The Earl and The Highlander. All are bar/restaurants known for their impressive food (for bar food, anyhow) with boisterous crowds. The Vortex and The Highlander share patrons and musical themes (heavy/hard/classic rock/metal), though The Highlander leans a bit more toward bar end of the spectrum than the Vortex, thanks to the addition of three or four massive TV's and a room featuring video games, pinball machines, a couple of pool tables and an air hockey table.
EM, CD and myself settled in a corner booth and tried to maintain a conversation despite the medusa of TV leering down over the room and the occasionally too-loud music.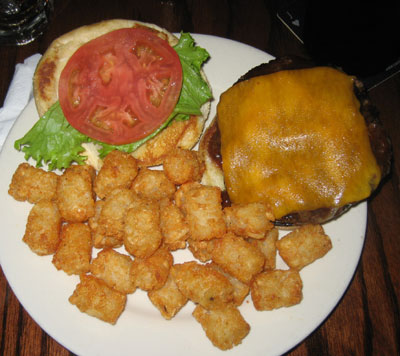 As mentioned, I opted for a burger, in this case their barbecue burger, slathered with barbecue sauce and grilled onions. Bunny, a waitress who worked back at The Point eons ago, talked me into cheddar cheese on the sandwich as well. The burger was big, dripping with smoky barbecue sauce and melted cheese. I asked for it medium well but it arrived closer to well done, but only barely so. If you like a mouthful of ground cow, The Highlander can satisfy your craving.

The Highlander was one of the first Atlanta establishments to resurrect the elementary school favorite, tater tots. According to every web site I could find, Tater Tots were invented in 1953 by Ore-Ida founders Golden and Nephi Grigg, two brothers from Oregon who found a way to use leftover potato from their French fry business. Highlander's tots are perfect – slightly crispy, slightly greasy, and can be topped with a variety of calorie-intensive options from cheese to chili.
| | |
| --- | --- |
| EM opted for the fish & chips, a plate-sized filet of heavily-battered fried fish with a side of fries. The fries are the skinny kind that get cold too quickly, but the fish was tasty. Even after the burger, I polished off the fish EM couldn't finish. | |
CD opted for their lime garlic chicken, a grilled breast served atop a pile of pasta alfredo. CD complimented the chicken, but said the pasta was a bit overcooked.

The beer and booze selections are good and fairly priced. The three of us ate and had a few drinks for a grand total of $50 – a filling and fine meal. There are soup, side and blueplate specials daily and I've never had a bad meal at The Highlander. If you can handle noise and smoke in your dining experience, I'd recommend the joint.