1963 Chrysler Imperial Crown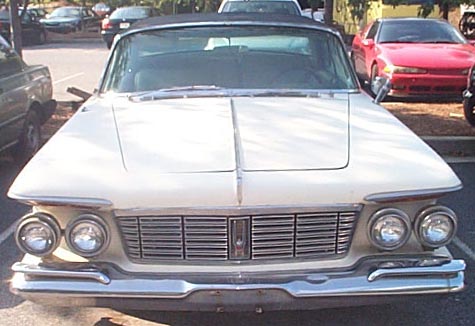 How I Got It
I noticed this car sitting in a parking lot not far from my apartment. It had been sitting for several months. The driver's side vent window was smashed and the driver's side interior had some water damage, but the interior looked in remarkably good condition otherwise. I left a note on the windshield, "If you'd like to sell this beautiful thing please call me..."
A couple of weeks passed and I'd basically forgotten about my note when a guy called talking about an Imperial he was trying to sell. I'd been looking at so many online I didn't know which one he was talking about until he told me where it was sitting. "Oh yeah, THAT one! How much?"
"12 - 1500."
"Wow. That's a steal."
Of course, I didn't know if it ran, though he said it had 6 or 8 months before when it had been parked. But when I told my girlfriend the price she wanted it. Eventually the owner came to town and told us a bit about how he'd inherited it but couldn't get it down to Florida where he lived. We bought the car, along with a book of everything that had been done with the car since about 1970.
More pictures:
6/14/2000 I bought a new battery and started her up. She ran ok in park, no stalling or knocks or anything. Eventually I figured out how to get the pushbutton transmission into neutral and checked the fluid level. She needed a bunch of fluid but I couldn't find any major leaks. Apparently it had just sat there too long.
I couldn't get the beast to steer. Having driven a 1971 Chrysler Newport 30 miles without power steering, I knew it would have to be investigated. Once I figured out where the power steering fluid resevoir was, I filled it up and it turned perfectly. Again, no leaks!
I filled the brake fluid resevoir and drove it around the parking lot. She was still jumpey and didn't like to move or stop smoothly.It needs to be driven a bit to wear off all the rust and dust of sitting so long.
6/26/2000 I didn't trust driving it yet, so I had it towed to a mechanic. He took one look at it and told me the front suspension was shot. I thought (more like hoped) it was just the shocks. His investigation determined it was the torsion bars, which needed replacing on both sides. I ordered them used from Mopar Restos up in Summerville, Ga. (706) 857-2832 Frank is a one man operation and a super nice guy, but he ain't cheap! On the up side, he does guarantee any part he sells.Once the new torsion bars were in the car no longer looked like a low-rider! The mechanic also replaced the spark plugs and gave it a once-over. He said the brakes are fine and to give it a test drive.
8/4/2000 I finally got around to driving it. The suspension was fine, the brakes were fair, but the engine continued to skip. The mechanic hadn't been able to nail down the problem but after talking to the folks on the Imperial Mailing List I got some leads. Apparently it's common for the power brake booster to rob the vacuum from one of the cylinders.
The transmission is still a little sticky too and probably needs to be drained, refilled, and a new filter installed. The guages don't work properly, nor does the radio but it may be something as simple as the fuses. I ordered a replacement vent window and assembly from Hoffmeister's Imperial Heaven - a massive yard for Imperials only. Super nice, but you pay for the specialization: http://www.imperialheaven.com/
8/11/2000 The new vent window went in fine. The driver's side door panel was shot so I didn't bother to have it put back on. It needs a replacement window motor for that side anyway. But my mechanic couldn't trace the problem with it skipping. It sounds like it's starved for gas and can't create a good vacuum. He checked he power brake booster and disconnected every vacuum line to check them all, but nothing seemed to help. Either it needs a new carb, or the motor can't create a good vacuum for the carb anymore and it needs a rebuild. It'll run about $400 to replace the carb, an expensive risk but if the engine needs rebuilding we'd want a new carb anyway. Hmmm....
12/1/2000 We decided to start with the new carb. That solved the vacuum leak problem but it wouldn't stop skipping. A new distributor solved that problem, but it still wouldn't run as smoothly as it should. I put super unleaded gas in her and she ran better than she ever has so it may just need some more tuning/adjustment. Unfortunately I decided to put this car on the back burner for a bit and work on my other car, a 69 Ford Thunderbird.
6/1/2001 After running into problems with the Thunderbird I decided I couldn't afford both cars. The Imperial has to go. I tried selling her on ebay but the high bidder wouldn't return my emails. Then I got laid off so I got a bit more desperate and finally let her go for $1200 back in November 2001. I actually miss it taking up the space in the yard but hopefully the new owner will get her running again.
Had:
New carb
New distributor, wires, plugs
Nice, straight body - very few dings, little rust, most chrome/trim is in fair shape
Good interior - needs new door panels and a few other touch ups, but the seats are in fair shape and the dash is perfect
History going back to the 70's
Shop manual, wiring diagram, several part # pages, sales literature, original paint chips and other literature useful for restoration of the beast
Needed:
Some engine work - doesn't run as smoothly as it should
The trunk lock trim, AKA the "deck lid ornament", AKA Cover w/spring - #2255607
The "Imperial" logo trim off both sides - #2240942
Hood ornament - #2417457
Passenger side mirror - #2275015
The steering wheel needs a little repair - there are kits for this
The horn rim is broken - it could probably be welded (the break is in an area that wouldn't be visible), but replacement would be easier
Blinker handle off the steering column
Front bumper repair - it looks like someone tried to tow this beast by the bumper - it needs repair or replacement of the Face Bar - #2123800
The fuse block doesn't look good and could probably be replaced - I've seen them on ebay several times for about $15
Heater control valve
Washer fluid bag - Gary Goers makes these new
Map light lense
Dome light lense
The driver's side power windows don't work - need a new motor for the front at least and perhaps a replacement set of switches
Antenna - it's power but I don't know if the motor portion works yet - #2426304
Jack
Spare wheel
Owner's manual
Any sales literature describing the car and options
Some interior work, particularly on the driver's side door, such as the door panel, arm rest and other parts, as well as a new headliner. A new carpet set would be nice. 1A Auto makes them new: http://www.1aauto.com/carpet/chrysler.htm#Imperial The seats need some very minor repair.
The power seat doesn't move (haven't investigated yet)
The gas guage doesn't work, the spedometer bobs wildly (haven't investigated yet)
Info:
1963 Chrysler Imperial Crown 2 door:
Engine: 413 V8, 340 H.P.
Carb: 4 barrel
Bore & Stroke: 4.1875 x 3.75
Compression Ratio: 10.1
Maximum Brake H.P. @ R.P.M.: 340 @4600
Maximum Torque Lbs. Ft. @ R.P.M.: 470 @ 2800
Normal Oil Pressure Pounds: 40 - 65
Spark Plug Gap: .035
Point Gap: .017
Dwell Angle: 28 - 33
Firing Order: 18436572
Ignition Timing BTDC or Mark: 10°
3 speed Torqueflite pushbutton transmission
2.93 to 1 rear axle ratio
Power windows, power seats, power antenna, A/C, heat (front and rear), power steering, power brakes
Info stolen from carnut.com at http://carnut.com/specs/gen/_chry60.html and from crash sheets I purchased on ebay.
Links:
If you're interested in big mopars check out the extensive page we have on our '71 Newport, including a massive link list for both Mopars and Newports, as well as other useful tidbits.
Chrysler Imperial Restoration and Parts contact list: http://www.movit.de/htm/impadr.htm
Gary Goers has '55 and later reproduction stuff, chrome and rubber and such - highly recommended from the Online Imperial Club - as well as a short link list http://www.garygoers.com/
We've got a few '62 and '63 Imperial ads online as well.
Hoffmeister's Imperial Heaven - a massive yard for Imperials only. Super nice, but you pay for the specialization: http://www.imperialheaven.com/
Movit has a big gallery of Imperial pics and huge link list: http://www.movit.de/rahmen/imperial.htm
Random Imperial ino: http://teamchicago.com/imperial/
Nice gallery of Imperials sorted by decade at http://www.fourforty.com/imperial/
1962 - 65 Mopars has a section dedicated to Imperials and other big body mopars: http://www.1962to1965mopar.ornocar.com/cbody.html
Another poor fool resurrecting a couple of Imperials, a '73 Lebaron and a '74: http://members.aol.com/imp75coupe/imperial.htm
Zan has a nice site with links and such: http://dune.fionline.it/clan/imperial
Thru The Rear View Mirror mentions the '63 Imperial: http://user.aol.com/rvmirror/pg000019.htm
California-based Imperial clubs: http://teamchicago.com/imperial/
Chrysler Imperial France, en francais, of course: http://www.ifrance.com/c-i-f
---
Do not email us asking us general Imperial questions like how to find parts or how to fix something!
1. If it's not listed on this site I don't know where it is.
2. We're not mechanics and know very little about how to fix anything. If I didn't say how I did it on this site, I probably didn't do it myself but paid someone else to.
3. I don't have this car any more, and haven't owned it in years, so I don't keep up with Mopar or Imperial stuff any more. Sorry, I'm a Ford Thunderbird owner now.
But if you want to contact us and talk about your car, please do!
| | |
| --- | --- |
| | All original content on this site is owned by Degenerate Press and cannot be used without our permission. We have lawyers for friends with nothing better to do than cause trouble (no kidding), so play nice. Copyright © 2002, All Rights Reserved |