The SS Degenerate Press
No, that doesn't stand for Super Sport...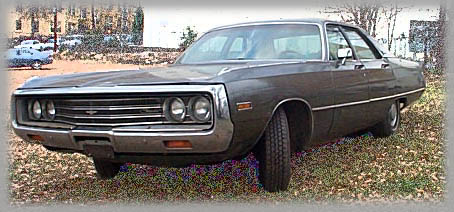 As of October 2001 I rarely update this site, as I no longer own the Newport.
However, there is a TON of useful info about Newports, C-Bodies, Chryslers, and Mopar.
---
How I Got It
I saw an ad for a 1971 Chrysler Newport in "fair condition" for $350 in the fall of 1999. I cruised down to Union City, just south of Atlanta, GA, to find the car. When I saw it in the guy's yard I was less than impressed. It had been parked for a couple of years and the grime on the exterior made it look terrible. But I was poor, needed a car and it looked like it might be fun once it was cleaned up. I called the guy and went to talk to him about it the next day. He'd already scratched out the $350 written in soap on the windshied and dropped it to $200 (I probably could have talked him even lower.) He'd gotten it to start, fitfully, and idle, poorly. He swore it would run so I bought a battery and together we got it to move.
It moved, barely, but wouldn't shift out of first. After adding transmission fluid it would shift cleanly but still couldn't get over 30 mph and couldn't climb even the wimpiest hill. The power steering was out (it is NOT easy to steer without it - my arms were sore by the time we got it home) and we had to put a piece of cardboard over the carburetor to keep it from stallilng. But I and a friend limped it 35 miles to a mechanic (Nathan at Reincarnation at 1966 Dekalb Ave. Street specializes in old Detroit steel, highly recommended - 404/371-0066. Tell him Frederick sent you, maybe he'll cut me a deal next time I need him!)
"You DROVE it this way?" he asked when I talked to him on the phone the following Monday.
"Yeah, all the way from Union City. I just want to know if it's worth salvaging. I only paid $200 for it so it's not like I'm taking a huge risk here."
"Well, for starters it needs new plugs. I can't believe you didn't blow the engine - there's only three cylinders firing. "
"Wow."
He replaced the plugs and some plug wires and got the engine to fire all 8 cylinders. I stopped by the shop and heard the roar of the first V8, and first MoPar, I own. The beast was hiddeously loud since the entire exhaust system was rusted out but it was worth putting a little money into it.
"You could probably get $2000 for it once we get it running." Nathan said.
It had no documentation whatsoever and the owner couldn't even tell me much about it's history except that it had been given to him as a gift in the condition I found it. Since then...
Been There, Done This
New (single) exhaust from the manifold back
New power steering pump
New plugs and plug wires
After that it was mostly road worthy. We nicknamed it "The SS Degenerate Press", as in very large boat, AKA "Jesus the Chrysler."
It had a little engine noise, hated the cold (just like me) and still needed a lot of work, but it got me to work more days than not.
Currently it's crap brown (originally called "Tahitian Walnut") and the vinyl top as been removed. It probably looked a lot like this 69 Newport when it was new: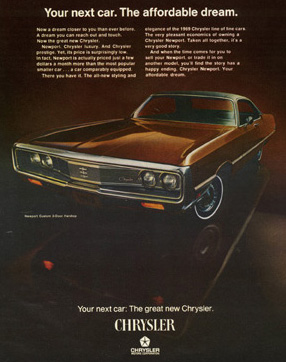 I finally have photos of what the car looked like as of January 2000:
Do It Yourself
As I work on the car I'll be doing a how-to guide to anything I do. E-mail me if you have any ideas or hints. Keep in mind I am NOT a mechanic.
Since it's ressurection:
December 1999 - I visited Dr. Mopar (http://www.drmopar.com) out in Nowhere, TX, and picked up a few pieces of trim and a replacement rear bumper (the chrome on mine was shot.) You can read about the whole road trip if you're bored.
Shortly thereafter it had to have new points.
January 2000 - I found Mopar Restos (His site doesn't exist any more, you have to call him at (706) 857-2832.), a salvage yard in Summerville, GA, and picked up more trim parts, a steering wheel and a replacement washer bottle. Frank is a one man operation and a super nice guy. He has tons of MoPar parts and cars - everthing from trim clips to full engines, basket cases to complete cars. If you're looking for it he's probably got it, but he aint' cheap!
New plugs, again. Apparently they get fouled easily in the cold with poor starting.
I got a 1971 Chrysler Owner's Manual through ebay. It's not terribly informative or useful in any way but it did make a nice addition to the car and told me a few things I didn't know. In addition I purchased How To Rebuild Big-Block Mopar Engines by Don Taylor through amazon.com. It's very well illustrated and has a ton of useful info - highly recommended.
I had to buy a new battery. I'd bought the smallest, cheapest one I could find when I initially purchased the car, unsure if the would be worth spending any money on the car at all. The guy at the battery place told me it was too small for the big engine but I wanted to spend as little money up front as possible. Less than 6 months later it wouldn't crank the car on the first day it got really cold. I feared it was the starter but I got a new, big, bad name-brand battery recommended by the battery store and the car started better than it has ever has.
February 2000 - I left the lights on for an hour or so and killed the new battery. I jump started it and drove it around to charge the battery but it still wouldn't start again. I jumped it again and drove it even longer but it still wouldn't start consistantly. I took it to my mechanic and had him test the alternator - it was overcharging and had burnt out the voltage regulator. Both had to be replaced. I'd been warned Chrysler electronic systems were pretty bad back then.
I noticed the heater control valve was leaking coolant, badly. I surfed the web for a couple of days in search of one (I'd been warned they're tough to find, one-year-only parts.) I found one at http://www.automotive.com/ (the site has since changed and is NOT the place to find old parts.) It arrived about 10 days later and I was impressed - it was actually right part! A Stant product, part #20109, new in the box. I had it swapped out when I had the alternator replaced. $35.37 compared to the $75 I've seen at swap meets, and compared to the $25 I found in junk yards for a used one that "would have worked but wasn't the same exact part."
| | |
| --- | --- |
| Once the weather finally warmed up I got out and inspected the rust spots. They're bad, and getting worse. I got the grinder out and worked over the worst ones with a wire brush wheel. The plastic putty covering the seams on the rear top supports was flaking off so I ground it off entirely. I covered the resulting bald spot with Rustoleum's Rust Reformer, a product I've used in my metal sculpting. It bonds with rust and forms a plastic-like coating that you can sand and paint. It's an ugly job but at least it won't rust any more! But the one under the rear fender is rusted all the way through. The trunk has some bad spots too and will need to be replaced. Anyone know a good body shop around Georgia? | |
I started looked at the replacement washer fluid bottle and was pleasantly surprised to find the attached motor worked. Changing the motor on the thing requires a long ratchet extension and a deep-well socket of unknown size so I wasn't looking forward to the operation. On the other hand I was unpleasantly surprised when the bottle leaked all the water out. It had a tiny crack in the seam. I covered the crack in some gooey glue and covered that with a small strip of white waterproof duct tape (it's on the back so it shouldn't be noticed.) I filled it with water and the crack doesn't leak. However, the motor, though working, leaks. Eventually I got motivated and swapped out the motor. The other motor leaks too, in the exact same places. There are three small square holes next to a gasket in the motor that all leak. I took one of the motors apart to try to figure out what the problem was but it's beyond me. Anyone know anything about this?
March 2000 - the motor just kept running worse and worse. Back to the shop it went. Patrick's Auto, off Cheshire Bridge in Atlanta, 404/875-2823, gave me a much cheaper quote on pulling the heads than my usual mechanic. When I got it back it still didn't run worth a damn!
April 2000- I took it back to Nathan at Reincarnation. On the way it ran perfectly, of course. He ran a few tests but couldn't find any problem, until the next day when it ran crappily for him. One side of the engine wasn't firing at all but he couldn't figure out why. He took it next door to Hayes' and they discovered the distributor was flaky - it would work fine sometimes, then fail sometimes. Another couple hundred bucks later I finally have a smooth ride!
June 2000 - spoke too soon. Car was running a little rough again. I spent several hours replacing the spark plugs. Changing the plugs in this thing is an ordeal. Three hours later I'm grimy, bruised and bitching but the plugs were in. The plugs had a lot of black, greasy grime on them. With the new plugs it ran like a dream, for a few minutes. Next time I drove it she sounded a little worse. And worse each time until she was skipping a cylinder again. So I took it back to Hayes Auto on Dekalb Ave. They poked around it for a day before figuring out the choke pull was shot, causing the mix to be way off and fouling my plugs all the time. They fixed that and cleaned the plugs and it doesn't skip anymore but it still sounds rough.
September 2000 - I replaced the plugs, which were badly fouled with the usual black, greasy goo. The car ran a little more smoothly, but it still doesn't hum like it should when it runs well. A couple weeks later it was skipping a cylinder and not firing well again. I took it back to Hayes and they said the carb was shot, so now she's getting a new carb.
October 2000 - the new carb is in. The car runs a little more steadily. I replaced half the plugs and it runs much better (I'll get to the other 4 next weekend.) The mileage has improved - to about 10 mpg! It runs a little loud - the mechanic pointed out the cracked manifolds and said that wasn't helping things, and it gets worse the colder it gets. But I think it's running better than it ever has since I've owned it.
November 2000 I finally got all the spark plugs replaced. The front four are pretty easy, but the back four are a real bear. I have found that the more times I do this the better I get - there's a lot of little tricks to the chore, but more importantly you get to a point where you just know where the plugs go and you can do it blind, which is the only way it can be done without getting under the car.
January 2001 - I picked up a manifold from Bayer Boys out in Douglasville, GA. They have a small yard full of mopars, with some real beauties for sale. He charged me $100 for the manifold because if its one-year-only status, though I could have gotten any other year for $75 - about the same as what other folks were asking, maybe a little higher, but I didn't have to pay for shipping and I got a look at the part before I paid for it. Email 'em at bayerboys@mindspring.com, or call (770) 577-3138
Meanwhile, the Newport has started making an odd rubbing sound up around the water pump or power steering pump. Sounds like a bearing or something about to die.
So I took the car to the mechanic. He took one look at it and wiggled the fan - it's loose, indicating a water pump about to die. It turns out the fan clutch was shot, which was probably causing the destruction to the water pump. He replaced both, then replaced the cracked manifold. The replacement manifold also has a crack, but it's a tiny hairline crack that doesn't leak like the previous one did. Then he found that the passenger side manifold was not connected to the exhaust perfectly, so he fixed that too. Then he adjusted the gap to the proper setting so it runs a lot smoother.
Now the car is so quiet you can barely tell it's running! In fact, it's so quiet I can hear all the other rattles and groans the car makes. There's still a slight skip that bugs me - I may need to replace a few spark plugs since it was running so roughly before.
Replaced the plugs and it ran a little better, for a day. Then it started doing the skippy thing again, which has gotten worse day by day. I swung by Nathan's and he took a look at it and said maybe the ignition coil was going bad. So I replaced it, it's only a $20 part and is a super simple operation requiring only a pair of pliers and a screwdriver. But that didn't change a thing. Still not running smooth, until I was no the way to the mechanic. Then she runs perfectly, of course.
There had also been a horrible scraping sound in the rear left brakes so he looked into that and replaced the shoes. One of them was warn almost through and the glue had failed, thus the noise. My mechanic replaced the pads and wow she stops silently, and she still runs perfectly so I don't know what the little sputter was. Now that it's warming up I supposed it's time to get motivated on some of the body work - I've got a new bumper and some trim parts I can tackle myself, but I'll need a body shop to fix some of the rusty holes before she's ready to paint.
March 2001 - so back to the mechanic it went. He took it next door to Hayes Auto so they could do compression test, which turned out fine, and run it through the scope. All indicators pointed to fouled plugs, again. They cleaned the plugs but I didn't trust 'em so I replaced 'em myself and replaced the plug wires while I was at it, since mine were beat up from countless plug changings. I noticed as I changed them that they all have liquid oil on them - not a good sign. So I emailed the C-body mailing list and asked what that might be a symptom of. Here's the response:

Are you sure the engine isn't running too rich? Is your choke plate
stuck? Are you sure its not oil but GAS on the plugs? Too much gas will
make them foul. Smell them, do they smell like oil or gas? Have you
changed the choke spring? Is the choke heat riser blocked? Is the carb
up to shape as far as condition?
Is the plug you are using too cold??? Make sure you have the correct
plug in the right heat range, but I don't think this is it.
Bad oil rings on pistons is a possible cause provided the head valve
seals were replaced. Does it have a lot of miles and no rebuild?
If you have no evidence of a bad head gasket, and you have blue exhaust,
and are going through lots of oil, its the rings.
If the exhaust is WHITE, abundant, and you are using lots of antifreeze,
you have a bad head gasket for sure.
If the oil on the dipstick has white junk on it or looks brown like
chocolate, its a bad head gasket for sure.
If the exhaust is black, abundant, and the car doesn't have a lot of
pick up, its running too rich. You are looking at a carb rebuild, a
stuck choke, or something fuel related.
SMELL the exhaust, if its got a bad head gasket, it will smell like
scorched water, if its burning oil, you will know that too. Check the
pipe, if it has a lot of sooty OILY, not water wet black deposits, its
burning oil for sure. If it smells like unburned gasoline..it likely is,
cars running too rich.
If your mileage sucks, it can be oil passage or running too rich. If you
are using fluids, that will help you tell.
Check out the choke and carb and plug issues first, these are cheap and
easy to fix.

As mentioned, compression is good. It's a new carb, so that's probably not the issue. I got Pep Boys to get me the plugs via their database so they should be the correct ones for the car. I'm pretty sure it's oil and not gas. The choke pull was changed not long ago. More and more signs are pointing to the car needing an engine rebuild - it's got 170,000 miles on it and I'm sure it's never been rebuilt. But I'm not spending that kind of money on this beast - I've already poured too much into her. My mechanic is sick of old mopar - he had a couple himself that he never could get running right and he finally gave up and is selling them. The mechanic next door can't get it right either. I think both my mopars need engine rebuilds and I can't afford the dough.
April 6, 2001 - blown head gasket. Leaking and burning oil, overheating, no power, oil on the plugs, scalded water smell, sooty exhaust - sorry, son, we're gonna have to put ol' yeller down...
I finally sold her in September 2001 for $300 to someone that wanted the engine for their 'Cuda, the fate of thousands of Newports and New Yorkers. Sad but necessary.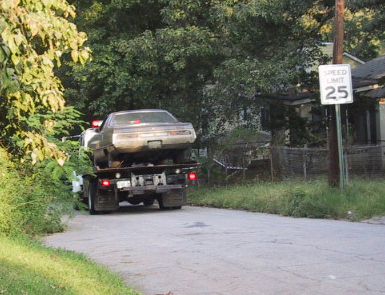 August, 2002 - I got a phone call from some kid who said his buddy had bought the car. I said I doubted it since the car was going to be scrapped after the engine was pulled. He said his friend bought it from some guy who never got around to putting the engine in the 'Cuda and was going to run it in a demo derby or something. His description of the beast confirmed it - the Newport rides again! His friend had driven it from Canton to Douglasville. If this is you, contact me! I want to get the latest on the car, just out of curiosity, and I have a few spare parts for the car!
Before she blew up she needed:
AM/FM stereo (it has an AM only radio and one speaker in the dash) - I'd love to have a working AM/FM 8 track or cassette. I'm trying to track down the right year and model - most '71 C body styles are the same.
Front brake rotors (they're tough to find, and expensive, for those years. Everyone says to replace the whole spindle and setup with a '73 or later, but I've found the rotors for the '71 so I may stick with 'em.)
Rust-free trunk pan
Fan shroud, that black plastic thing that sits behind the radiator and surrounds the fan
Weather stripping for the doors (anyone know where to get the stuff?)
Another wheel (the spare wheel is warped) and I'd like to go with wider tires at some point.
New seats, or a reupholstering job on the current ones.
A lot of little body work (rusted spots, a few dings)
I have the replacement rear bumper but have yet to get motivated enough to put it on
A paint job
The driver's side rear marker lamp turn signal lense is crazed and could use replacing if I could find good ones
Driver's side back seat arm rest in gold (mine is sunburnt to near black)
I've noticed a tiny leak in the radiator, a pinhole that could probably be repaired. And the front seal leaks a little oil but not at a rate worth touching.
You might be asking "Why bother?" Well, for starters it was cheap. I figured I could get $3000 for it after it's all fixed up. (Of course I've spent over that much on it already and there's still a lot to be done.)
But after I got used to the titanic size of the boat I started to love it. It seats 6 with nobody even touching. After a night of hitting strip clubs for a friend's bachelor party my brother described the size of the back seat, and the whole car, perfectly:
"Man, I could have a lap dance back here!"
This 1970 Chrysler ad tells you more about why I love the beast.
And everyone else won't shut up about their A, B or E body muscle. As much as I'd love a nice 'Cuda or Challenger I can't afford it, and you won't see a lot of restored Newports out there. So until someone donates that perfect muscle car I'll stick with my C body. In fact, my current dream car is a 1970 Newport, New Yorker, 300 or Imperial convertible with a 440 (the highest horsepower of the C-bodies.)
Chrysler Newport and C-body Trivia and Links
Apparently there aren't a lot of Newports still on the road, despite the absurdly high production numbers. Since many came with 383's or 440's a lot of them had their engines pulled and the remains sent to the crusher. The '70 is the last year it was made as a convertible and those are somewhat collectible (only 1,124 made in 1970.) As if it's not monstorous enough it also came as a Town and Country station wagon (if you're interested in big, big wagons check out Chariots of the Gods at http://www.geocities.com/MotorCity/Downs/6798/.)
The Newport also came in a Royal model in 1971. The Royal came with a 360, and the trim and interior are slightly different. Personally, I don't see how a 360 has enough power to move the thing but I've been told otherwise. There's also a Newport Custom out there too with different trim options.
Random info about my Newport:
1971 Chrysler Newport CE41, economy model (no AC, power windows, or power seats)
383 B engine (low-deck big block 383.596 CID, 255 HP)
4 door C body, 124" wheel base, "fuselage style" (69 - 73 C body), body code GC-E, style code CE-1
I got the1961-1971 383 big block specs from the folks at http://www.geocities.com/MotorCity/Track/5772/brb.html:
Bore: 4.25
Stroke: 3.38
Bore spacing: 4.8
Main Journal Diameter: 2.625
Rod Journal Diameter: 2.38
Connecting Rod Center to Center: 6.358
Crankshaft Centerline to Deck: 9.98
If you're into details Alldata has recall info for many years of the Newport at http://www.alldata.tsb.com/consumer/recall/make/Chrysler/Newport.html
If you're seriously into details and numbers check out Jim's Mopar Page with cylinder head flow data charts and formulas and such: http://www.geocities.com/MotorCity/4451/bbhead.html
I got these production numbers from Barracuda Motor Sports at http://www.li.net/~sfporter/bms/main.htm
| | | | | |
| --- | --- | --- | --- | --- |
| NEWPORT | wheel base 124.0 | Weight | Price | Prod |
| CE23 | Royal hardtop coupe | 4,121 | $4,153 | 8,500 |
| CE23 | Hardtop coupe | 4,121 | $4,265 | 13,549 |
| CE41 | Royal sedan 4door | 4,171 | $4,078 | 19,662 |
| CE41 (mine) | Sedan 4door | 4,171 | $4,190 | 24,834 |
| CE43 | Royal hardtop sedan | 4,191 | $4,216 | 5,188 |
| CE43 | Hardtop sedan | 4,191 | $4,265 | 10,800 |
| | | | | |
| --- | --- | --- | --- | --- |
| NEWPORT CUSTOM | wheel base 124.0 | Weight | Price | Prod |
| CL23 | Hardtop coupe | 4,126 | $4,391 | 5,527 |
| CL41 | Sedan 4door | 4,335 | $4,910 | 9,850 |
| CL43 | Hardtop sedan | 4,355 | $5,041 | 20,633 |
We have a few ads online from random sources: http://www.degeneratepress.com/newport/ads/
There's a history of the Newport up at http://mypage.goplay.com/mopar69ragtop/page2.html
Random MoPar engine history can be found at http://www.allpar.com/mopar/383.html, such as:
Over 3 million 383 engines were produced through 1971, the last year of the 383.
C-body history and trivia can be found at AllPar: http://www.allpar.com/model/chrysler-c.html
The C-body registry has over 100 boats listed, many with web pages and detailed info: http://www.powerlink.net/jjacobsen/jimsfury/registry.htm
C-body mailing list: http://www.egroups.com/group/mopar_c_body
There's also a C-body message board at http://pub54.ezboard.com/fmotorcitymoparpagesfrm1
Car parts, Newport trivia, links or other web content, and monetary donations are all gladly accepted. Just contact us.
---
MoPar in Georgia
Check out the North Georgia MoPar Club: http://www.northgeorgiamoparclub.com
Mopar Restos, a salvage yard in Summerville, GA, has lots of MoPar. Frank is a one man operation and a super nice guy, but he ain't cheap! His site doesn't exist any more, you have to call him at (706) 857-2832.
If you need a good mechanic and retoration guy call Nathan at ReinCARnation, 404/371-0066. He only works on pre-1970ish cars and is a super guy. I've been satisfied with his work and prices on the several occasions I've used him. He even has some sweet cars for sale most of the time. Nathan used to work for Auto Repairs by Patrick, 404/875-2823, another old car junkie who works cheap.
Atlanta Auto Net, "everything automotive in Atlanta", has a few links: http://www.atlantaautonet.com/
A list of junyards around Georgia specializing in older cars is at http://www.execpc.com/~vidsal/ga.htm
Southern States Vehicle Auction happens every Friday night starting at 6:30 in Newnan, just south of Atlanta. It's mostly newer model cars, all makes and models, mostly good condition. Call 770/251-9881 for info.
---
Elsewhere
AAJ Brake Conversion - "Disc Brake Conversion Kits Chrysler Products1955 - 1962 Chrysler, DeSoto Dodge, Plymouth" - http://www.artistic-design.com/aaj.htm
Carnut.com has an extensive page of mopar part resources: http://www.carnut.com/vendors/mopar.html
"Imperial Motors has almost thirty acres of Classic Chrysler parts for you to choose from" and they're in Campobello, SC: http://www.chryslerparts.com/ I've never visited or ordered, and I've been warned by someone else the place ain't all it advertises itself to be.
If you're looking for more Imperial stuff check out the page on our '63 Chrysler Imperial Crown 2 door!
Hidden Valley Auto Parts in Arizona has a LOT of cars: http://members.aol.com/hvap/hvap.htm
Barracuda Motor Sports has a TON of MoPar info, links, classifieds, data, etc. etc. One of the best MoPar sites I've found: http://www.barracuda.f2s.com/
A massive mopar link list is at http://homepage.macomb.com/~rrouse/mopar.htm
I stole the 1966 to 1974 Chrysler Corporation V.I.N. decoder from http://www.lhmopars.com/ because their site used to be a bit unstable. A more expansive one can be downloaded from http://members.xoom.com/1970coronet/vin.html and run on your PC desktop.
Jim's Auto Parts has mopar resto stuff: http://www.jimsautoparts.com/
Just Dashes does dashboard restoration or replacement for many makes and models: http://www.justdashes.com/
Lloyd's has shop manuals, owner's manuals, sales literature and such for all sorts of cars: http://www.lloydsautolit.com/
Manuals on CD, just about any flavor: http://moparmanuals.homestead.com/
Motor and transmission mounts for various mopars: http://www.imperialservices.net/
Oldmoparts has lots of new and NOS or parts and literature, mostly pre-1963 stuff: http://www.oldmoparts.com/
Mopar Fever in Toronto has more decoder data: http://toronto.planeteer.com/~fever/index.html
1962 to 1965 specific MoPars: http://www.1962to1965mopar.ornocar.com/welcome.html
440 Magnum is all about MoPar and has free classifieds: http://www.440magnum.com
Air conditioning parts for your car as far back as 1960 - http://www.azmobileair.com/index.html
The rich cousin of the Newport, the Chrysler 300 - http://www.chrysler300site.com/
Dallas Mopar has an extensive muscle-focus site: http://www.musclecar.net/dallasmopar/
Dave's Mopar, formerly Mopar Club of San Diego, has tons of option decoder data, including the 1971 paint chip book scanned in: http://www-rohan.sdsu.edu/staff/dimaio/
Fuselage is a site out of Denmark "dedicated to Chrysler, Imperial, Dodge and Plymouth full size cars built from 1969 until 1973." http://www.fuselage.de/
Gary Goers has '55 and later reproduction stuff, chrome and rubber and such - highly recommended from the Online Imperial Club - as well as a short link list http://www.garygoers.com/
Harry has lots of restoration links, all 'bout Muscle Cars: http://www.hsv.tis.net/~harry/index.html
Hoffmeister's Imperial Heaven - a massive yard for Imperials only. Super nice, but you pay for the specialization: http://www.imperialheaven.com/
Imperial Cam - random MoPars parked in front of a web cam: http://w3.one.net/~desoto/imperial_cam/imperial_cam.html
Legendary Auto Interiors makes Chrysler and brand X interiors, though reviews of their services have been extremely mixed: http://www.legendaryautointeriors.com
Mopar Alley is pretty extensive: http://www.moparalley.org/
Mopar Fuselage - all about the C body years, featuring the webmaster's beautiful 71 Imperial. A few pictures when we last checked, but most of the site was under construction: http://www.geocities.com/fuselages/
MOPAREDIA has an encyclopedia of engine related stuff, very handy! http://www.geocities.com/MotorCity/4340/moparedia.html
There's a dictionary of automotive terms at http://www.connect.ab.ca/~barachj/car-dic.htm
Moparts.com has a nice online swap meet, and other stuff: http://www.moparts.com/index.html
1A Auto has carpet and floor mats for Newports at http://www.1aauto.com/1A/Carpets/Chrysler/Newport, and other cars, http://www.1aauto.com/
Original Auto Interiors has some NOS seat covers, upholstery, trunk liners and such. They ain't cheap and I don't know yet if they have '71 Newport stuff in stock (I'm working on that one.) http://www.originalauto.com/
Quinte Mopars has classified ads with MoPar cars for sale: http://www.insidetheweb.com/mbs.cgi/mb327329
So far the best salvage yard I've seen online is http://www.texasacres.com/ (I have yet to order anything from them, since they don't have any C-body stuff at all!)
Another Texas yard: http://www.ctcautoranch.com/ - they had parts for my Imperial cheaper than I found anywhere else.
Ultimage Mopar Boards - message boards and classifieds and such: http://topranker150.proboards6.com/
Turn signal switches for all makes, most models, and lots of years: http://www.shee-mar.com/start.html
---
Do not email us asking us general Newport or Mopar questions like how to find parts or how to fix something!
1. If it's not listed on this site I don't know where it is.
2. We're not mechanics and know very little about how to fix anything. If I didn't say how I did it on this site, I probably didn't do it myself but paid someone else to.
3. I don't have this car any more, and haven't owned it in years, so I don't keep up with Mopar or Newport stuff any more. Sorry, I'm a Ford Thunderbird owner now.
But if you want to contact us and talk about our car, or your car, please do!