The SS Degenerate Press
Adding rear speakers to my 1971 Chrysler Newport CE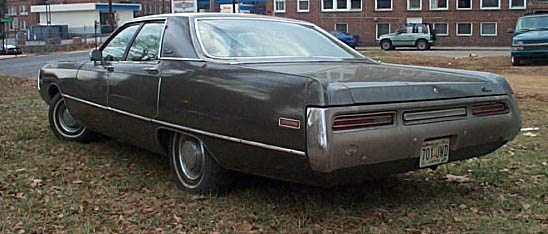 Pictures of this operation are coming soon!
My Newport came with an AM radio and a single speaker in the front dash. The rear deck hadn't even been cut for speakers yet.
Get into the trunk compartment. If you look up under the rear deck you can see holes for speakers. I got a pair of 6"x9" Jensen 120 watt speakers for Christmas (I don't need the best, particularly for this beast.)
First I had to cut the holes in the rear deck. I used a really sharp knife. (The stereo installation place was going to use a jigsaw.) I started by drilling a hole up through the deck so I'd have a reference, then went into the car and cut them from the inside. The deck material is a painted pasteboard that is very brittle with age. If you make a surface incision you can crack off sections of the stuff along that incision pretty easily. Fortunately my speaker grills covered the sloppy job!
I discovered the metal screws that came with the speakers are considerably larger than the holes for them in the deck brackets. I used a metal bit and opened them up to the right size and the speakers went in fine. The type of speaker I got happened to be the right size and didn't need any adaptor plate.
Question - anyone know where to run the wires?
I haven't put the stereo into my car yet. Pictures coming when I do!
Note:
After installing the speakers I pulled out the vinyl trunk liner to check on the trunk pan. I'd never taken a close look at the inside of the trunk and was dismayed to see some serious rust, all the way through in several places. I need a new trunk pan. Anyone know how these are attached? Also I was told by Frank at Mopar Restos to check the plugs in the bottom of the feder wells. These compartments fill with water that leaks into the trunk, as well as anything else that falls down into them. The edges of the trunk lead down into the fender wells so just about anything can end up down in there. The plugs are plastic rings up under the rear fenders - you'll have to lay down under the car to find them. They have a raised edge for prying them open with a screwdriver. Mine were brittle with age and cracked immedately. I pulled a handfull of dirt out of there and haven't washed the compartment out fully yet.
---
Take me back to Degenerate Press' home page! There's no place like home... no place like home...
Email
newport@degeneratepress.com
Phone
(404) 794-6873
Snail
1191 Warfield St. NW
Atlanta, GA 30318