"Travel is fatal to prejudice, bigotry, and narrow-mindedness, and many of our people need it sorely on these accounts. Broad, wholesome, charitable views of men and things cannot be acquired by vegetating in one little corner of the earth all one's life."
Mark Twain, from The Innocents Abroad
Larry obviously did not share Mr. Twain's view.
To be fair to Larry, I did see some gypsy pickpockets in action in Firenze on a follow-up trip a few years later. It was at Santa Croce, just another amazing/impressive/important church we'll discuss at length later. On our way out the door a band of gypsy women swarmed us, holding babies, bags, and newspapers. A friend of mine and I pushed through without a hitch, but the third member of our party got momentarily stalled and in that instant a gypsy girl used her paper in one arm to hide the other hand snaking under to unzip his beltpack about two inches. He got out of the swarm before she could get farther, but it was impressive and educational. Telling the tale to random travelers generated scores of pickpocket stories, some too absurd to believe. "I have a girlfriend who's wallet was up her ass under 18 layers of clothing…"
I was hardly awake yet when we reached the Uffizi before 9 AM, only to find the line a block long. We stood in line for 45 minutes. For the Uffizi that's not bad, I discovered, as some people didn't hurry and ended up waiting two hours. (These days you can make reservations in advance and I recommend it. The line can sometimes require a 4 hour wait.)
At something like $8, the museum is a bargain. Raphael, Michelangelo, Botticelli, and hordes of not-so-big-named others. Either make reservations, or get there early, like 7:30 AM, or late, like 4 PM, there's no use in doing the 4 hour wait in between.
Inside are tons of impressive/important works of art. There's some really nice stuff there, particularly if you like Boticelli. But personally, I think the Vatican Museum outdoes them. The Uffizi's works are mostly Italian Renaissance and Baroque, with only a few works from other times or places, whereas The Vatican has things from Ancient Egypt to post-modern, as well as the expected healthy heaping of Italian Renaissance masters.
At the Uffizi you could spend hours and hours in every room studying each painting in detail, but for most humans it's just too much to absorb. Long before you reach the end of the gallery you reach your saturation point and just can't be as impressed as you should be by any of the works. So what I've learned in my years of museum-hopping is to walk into a room and scan everything quickly from one place – don't even look at each and every painting up close, just look around. Find something you like, for whatever reason. Go up to that piece and study it, enjoy it, absorb it, understand it and it alone. Then move on to the next room. This way you actually have a small chance of appreciating several works in all their glory, and maybe even remembering some of it, instead of it all rolling by in a blur.
Afterwards we saw several impressive/important churches and works of art all over town. Firenze is a small town compared to the weight the name carries. You could see the whole place in two days and not get tired. You could walk across the whole town in under half an hour. But every building, every piazza, begs for attention. You stop and gawk at every intersection, stare in marvel at rustic stone façades, heart bursting at every view.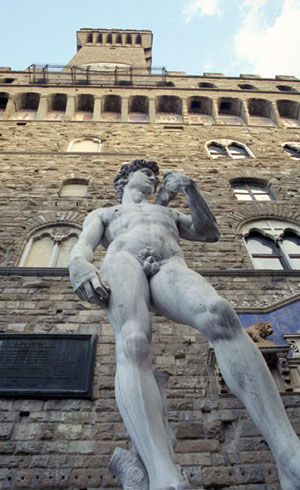 A replica of the David now stands where the original once stood.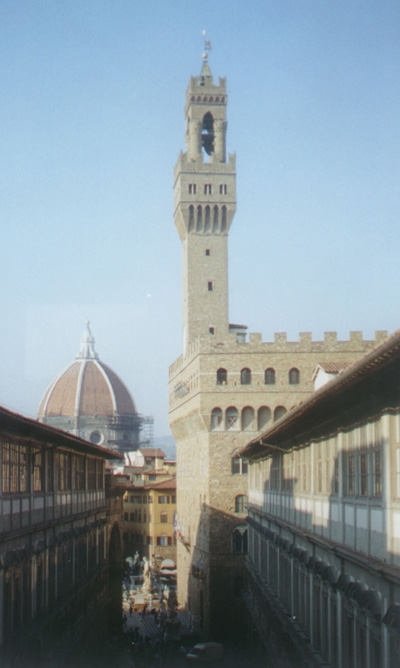 Here's a view of Firenze from the Uffizi. The building itself was designed by Giorgio Vasari to serve as offices for the Medici. In the alley between the wings are sculptures of famous Italians. In the distance you can see the dome of the Duomo.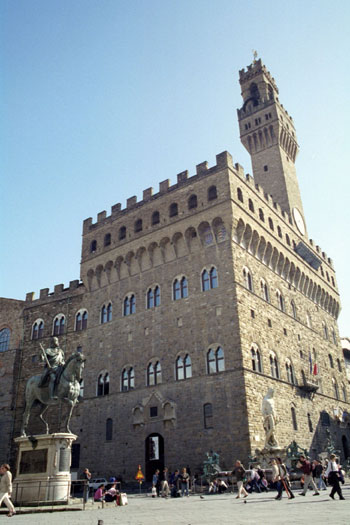 Palazzo Vecchio, "old palace", used to be called Palazzo dei Priori. The design is attributed to Arnolfo di Cambio. The Medici lived here for a bit, next to the Uffizi, overlooking Piazza della Signoria where the bonfire of the vanities was held, as well as the locaion of the David for a few hundred years.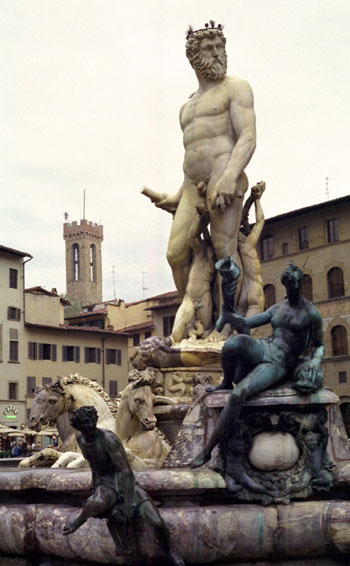 Also in Piazza della Signoria is a statue of Neptune, disliked by local art critics. When the fountain is on some of the marble horses are glorious, but when the water isn't running they turn dull.
Tommy knocked and the door opened to a set of stairs leading down into a dark basement packed with men, flashing lights, clinking glasses and cigarette smoke.
It was a 15,000 lire cover, even with a 5,000 lire-off coupon given to us by Tommy, to get into one of the tiniest clubs I've ever been to. The first drink was free, but weak, and nobody was on the miniscule dance floor when we arrived. We got drinks and settled in to chat with Tommy.
Tommy was a Phillipino who lives in New York as a graphic designer. Very well traveled, he went to Italy "to get laid" but thus far had no luck. The Italians didn't appear to be interested in Asian types.
However, he had been to several penthouse parties 'till dawn, stumbling back to the hotel as the pigeons woke up. Heather was envious of such nights and, had we been in Firenze longer, I would have enjoyed such an all-nighter myself but our single weekend in Firenze demanded other priorities.
Heather got tons of compliments on her fabulous appearance so, with her ego boosted, she decided to break the stasis on the dance floor. Once we got out there the crowd followed, confirming what Let's Go says, "Italians aren't much into dancing."
I think the two of us were the best dancers in the joint and neither of us are that great. The walls surrounding the dance floor was lined in mirrors to make it seem less like an elevator but once a few folks crowded the room the effect was lost and we couldn't help but realize we were in a room no larger than the average U.S. walk-in closet.
Around 2 AM I was covered in sweat and ready to hit the road. I wasn't tired, but watching Heather move to the beat with an ear-to-ear grin made me want to take her back to the hotel more than I wanted to stick around for one of Tommy's all night escapades.
I grabbed Heather by the arm, "C'mon."
"Wha?"
"We're leaving."
"Why? Where?"
I dragged her toward the door but she wouldn't just shut up and play along. I finally pulled her to me and said "We're going back to the hotel so I can screw your brains out."
"Oh," she said in a why-didn't-you-just-say-so manner, and we headed for the stairs. We saw Tommy on the way out and Heather made excuses, letting me drag her out into the night.
Firenze was still hopping and we ogled a few more flashes of flesh on our way back to the hotel.
I pushed her back into position in the window. I hadn't had enough of her leaning over that way and by the end of the night we did things we were still talking about months later. And everything we did that night, and countless others, just made me that much more sure that she was The One.
I earned quite a rep as a ladies' man by pursuing, and being pursued by, just about any single woman close to my age (and a few not so close) (and a few not so single, truth be told.) But in the score or so I'd sampled, none fit as well as Heather.
Dancing, dancing, dancing
She's a dancing machine
Ah babe
Move it baby
Automatic Systematic
Full of color self contained
Tuned and channeled to your vibes
Captivating Stimulating
She's such a sexy lady
Built with space-age design
(She's movin', she's groovin')
(Dancin' until the music stops now), yeah
Rhythmatic, acrobatic
She's a dynamite attraction
At the drop of a coin she comes alive, yeah
She knows what she's doin'
She's super bad now
She's geared to really blow your mind
Dancing, dancing, dancing
She's a dancing machine
Ah babe
Do it baby
Dancing, dancing, dancing
She's a dancing machine
Ah babe
Move it baby
She's a dance, dance, dance, dance, dancing machine
Watch her get down, watch her get down
As she do, do, do her thing
Right on the scene
She's a dance, dance, dance, dance, dancing machine
Watch her get down, watch her get down
As she do, do, do her thing
Right on the scene
Come on baby, come on baby
Ooh babe, ooh baby
Shake it babe, shake it babe
Ooh babe, ooh baby
She's a dance, dance, dance, dance, dancin' machine (dance)
Watch her get down, watch her get down (dance)
And she'll do, do, do, her thing right on the scene (dance)
She's a dance, dance, dance, dance, dancin' machine (I like, I like)
Watch her get down, watch her get down (I like it)
And she'll do, do, do, her thing right on the scene (I like it)
She's a dance, dance, dance, dance, dancing machine
Watch her get down, watch her get down
As she do, do, do her thing
Right on the scene
She's a dance, dance, dance, dance, dancing machine
Watch her get down, watch her get down
As she do, do, do her thing
Right on the scene
Dancing Machine, by Weldon D. Parks, Hal Davis and Don Fletche, performed by The Jackson 5 at the height of disco