David has been the symbol of Firenze since long before Michelangelo carved his version, but it's his version you'll see everywhere you go. The hype is overwhelming and you'll begin to doubt just how moved you could possibly be by the real thing after seeing replicas of all sizes in all materials from plastic to plaster, countless photos, drawings, paintings, calendars and postcards on every wall of every shop in town. As if that weren't enough, we had all the background details from class so we knew why his proportions were so odd (he was intended to go on a buttress below the dome of the duomo some sixty feet up so when viewed from below he'd look evenly proportioned), where he originally stood (in Piazza della Signoria, where a replica now stands. He was moved after some 400 years when a stray rock, thrown during a riot, broke his wrist), and the dates when he was begun (1501), when he was completed (1504), who commissioned the work (The Opera del Duomo) and where he now stands (in the Accademia, of course.)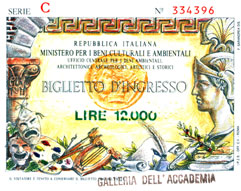 But regardless of how many replicas I see or how much background I know, every time I see the real deal I come away silent.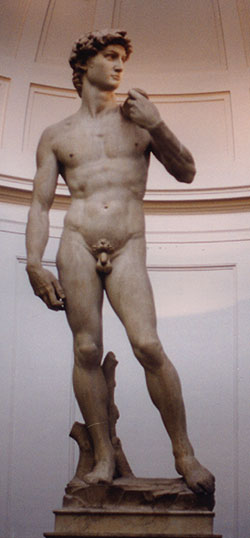 It's really something you have to see in person to get the real impact of the work, but then you could say that about most of Italia. They've done a marvelous job with his current home, minimizing the distractions and lighting him perfectly. Michelangelo loved men and it comes out in this work. (Unfortunately, he didn't care much for women and that, too, comes out in his work.)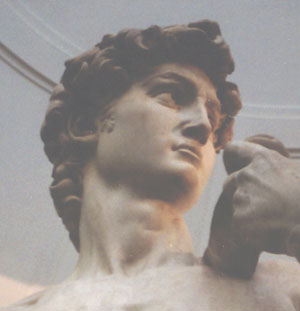 Unfortunately sometime after 1999 the Accademia stopped allowing photos of David.
Michelangelo's "dying slaves," unfinished works intended for the tomb of Pope Julius II, line the corridor leading up to the David and are almost as equally captivating.