We'd picked a new hotel for the weekend, Hotel Azzi. Visconti had been good to us, but Azzi took Visa and was a little closer to the thick of things. The Azzi manager offered to show us the room options. One had a decent view, but the other had a shower and sink in the room so we opted for the lesser view. We had a short but sweet roll in the bed, followed by a siesta.
I woke up in a film of sweat. It felt like the heat had been turned on in the hotel despite the July weather. I tried to get the window to open, only to find half the problem was the tile roof right outside the window radiating the heat it had stored up all day. It reminded me of my apartment back home, nicknamed by some friends as "Freddy's Brick Oven." We each got a cool shower then beat a retreat.
For dinner we hunted something good and affordable. Wandering the back streets paid off again in the form of a tiny family-run restaurant complete with checkered table clothes and old Chianti bottles for candlesticks. For 25,000 lire each we got 1/2 a liter of excellent red wine, a couple of courses and choice of dessert. I started with a wonderful tortellini in cheese sauce, Heather tried a vegetable soup that was OK. For the main course, Heather hit the jackpot with eggplant parmesan. I did well with roast beast. The bread was divine, and coffee helped motivate us for clubbing activities.
Off to Vivoli for the best ice cream on earth. Rick and others had insisted that the best flavor was riso - rice. If you're like me you're saying "Rice ice-cream?" But I have seen the light. Now we're converts, believers for life. It tastes like sweet, creamy rice pudding. As Bec would say, "lovely." Little chewy pieces of rice mixed in with a vanilla flavored ice cream that I can still taste if I think back hard enough. Aside from the adventures with my guide, it's the thing I'll miss most about being in Italia. Goddamn those Italian chefs. Like their Renaissance artists, they make everything else seem so ordinary and pointless.
As if the Duomo and Baptistry weren't enough, there's a museum behind the Duomo featuring works that were originally on the facade by the likes of Donatello, the original panels from Ghiberti's doors, and this pieta from Michelangelo.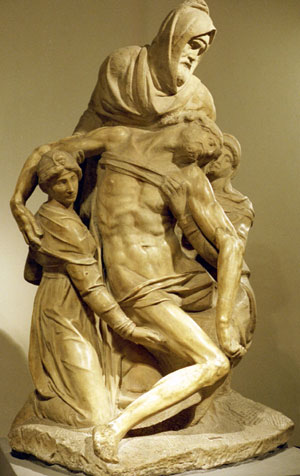 Michelangelo didn't complete this pieta, originally intended for his own tomb. He didn't like what he'd done so he smashed some of it and abandoned it. An assistant later attempted to finish it, thus Mary Magdalen on the left is complete and polished. But I can see why Michelangelo gave up on the piece - it's not his best work. The face of Joseph is a self-portrait, still rough and unpolished.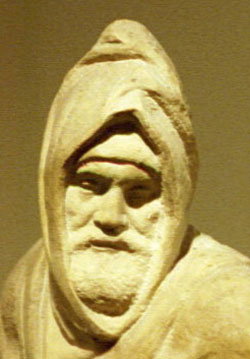 Andromeda is a tiny club packed with a ratio of about three 20-something year old men to each late-teens girl. Lousy music and overpriced drinks didn't help but we tried to make the best of it. I fetched the drinks while Heather made a few requests from the DJ. He almost got the songs right and the bartender made weak but drinkable beverages on demand so we ogled the hot-pants-wearing girls and discovered that the flyer was right - we were the best booty shakers in the joint.
From there, we headed to Metropolis, which had somehow managed to mimic all the horrific scenes from the film of the same name - an underground hole packed with miserable, hot, sweaty people wishing they were having fun. A teen club gone wrong. Two girls on a wet, slippery floor in the most humid and hot place we'd been, (except perhaps our stuffy hotel room), surrounded wall-to-wall by 15 year-old males. We used our best Italiano on the bartender and he refilled our drinks for free but even the extra drinks couldn't help. The "music" was of the technoise variety, redundant and tiresome, and the crowd gave off so many hormones that you were always looking for a fight to break out. It felt like the calm before a violent gang rape. We slipped around on the wet, slick dance floor for a short while before calling it a night and heading back to the hotel.
We crammed into the phone-booth-sized shower together and turned on the water as cold as it would go, but it wasn't cold enough. Apparently the entire building functioned as a crude but effective blast furnace. Even the "cold" water came out warm. We made a short, sweaty effort at sex and I can't recall if it was successful as much as I can remember laying in a pool of sweat all night, wishing for sleep.
We returned to Vivoli the next morning, with sad hearts. It would be our last taste of the best ice cream on earth. As tradition, I chose the current favorite, riso, and a new one, rum crisp (interesting, but pale by comparison.) With a tear of joy and agony, I licked the last drops from the cup.
"Parting is such sweat sorrow."
From Shakespeare's Romeo and Juliette
Don't know much about dancin'
That's why I got this song
One of my legs is shorter than the other
'N' both my feet's too long
'Course now right along with 'em
I got no natural rhythm
But I go dancin' every night
Hopin' one day I might get it right
I'm a dancin' fool, I'm a
Dancin' fool
I hear that beat; I jump outa my seat,
But I can't compete, 'cause I'm a
Dancin' fool, I'm a
Dancin' fool
The disco folks all dressed up
Like they's fit to kill
I walk on in 'n' see 'em there
Gonna give them all a thrill
When they see me comin'
They all steps aside
They has a fit while I commit
My social suicide, I'm a
Dancin' fool, I'm a
Dancin' fool
The beat goes on
And I'm so wrong
The beat goes on
And I'm so wrong
The beat goes on 'n' I'm so wrong
The beat goes on 'n' I'm so wrong
The beat goes on 'n' I'm so wrong
I may be totally wrong, but I'm a
Dancin' fool, I'm a
Dancin' fool
Youwsa, youwsa, youwsa
I got it all together now
With my very own disco clothes, hey!
My shirt's half open, t'show you my chains
'N' the spoon for up my nose
I am really somethin'
That's what you'd prob'ly say
So smoke your little smoke
Drink your little drink
While I dance the night away, I'm a
Dancin' fool, I'm a
Dancin' fool, (etc., etc.)
I may be totally wrong, but I'm a
I may be totally wrong, but I'm a
I may be totally wrong, but I'm a
FOOL-uh!
Hey darlin'...can I buy ya a drink?
Lookin' for Mister Goodbar? Here he is...
Wait a minute...I've got it...You're an Italian!
Hah?
Yer Jewish?
Love your nails...you must be a Libra...
Your place or mine?
Dancin' Fool, by Frank Zappa