Day 1 of rollercoaster week kicked off with highs and lows, though not yet breathtaking. In attempting to study art history I ended up lazing around on a bench overlooking the valley watching amazing clouds go by, instead of reading a single chapter. It was like I was a kid again, imagining different shapes in every passing splash of white.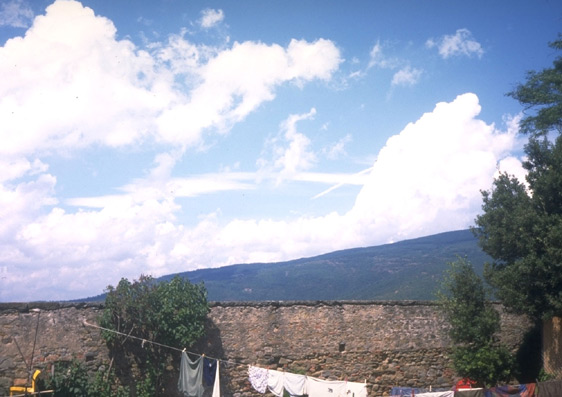 Afterward, Heather and I took a slow bike ride, still sore from the previous day's 5-hour marathon. On the way back we clambered up a wall, and got scratched to bits, to pick a quart or so of blackberries. Yummy.
Neither of us were looking forward to leaving town so we decided to extend our ride and take in all we could see. We biked down into the valley and explored miles of dirt roads between the huge sunflower fields.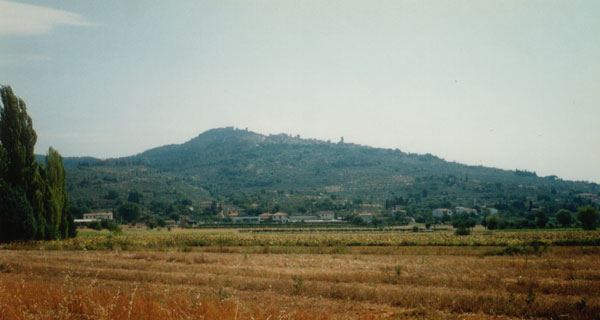 It was late in the season so the sunflowers were beginning to droop. The huge blooms were turning brown and tilting towards the ground, as if bowing their heads in sadness at our immanent departure. (I didn't get a picture, so the one of the view on the right will have to suffice.) A couple of hours later we ended up a few towns down the road lounging on benches behind the train station to eat lunch. We napped a bit, like homeless nomads, before a thunderstorm woke us up and we headed for cover to watch the rain paint the buildings one shade darker. We got soaked on the ride home and the trip back up the hill was tortuous but the adventure was well worth it.
That night in art history Beth was visibly upset but wouldn't talk. I let it go for the time being and grabbed Heather to catch the bus to Tonino's villa for the program's going away party.
The villa is a small house done up for weddings and other catered party events with a permanent tent set up in the small but pretty garden out back. Very elegant. They put out a spread of random food - salmon, pâté, fried veggies, cheeses, stuffed olives, and on and on until there was no way to try it all. I finally settled on a couple of plates full of small samples and lots of roast beast. Lots of vino washed it all down before a huge spread of desserts appeared.
Some guy with a cheesy Casio organ and his sax-wielding partner cranked out Nintindo doctor's office Polka muzak but a mass of students got enough alcohol in them to dance anyway.
"Amazingly ridiculous," I noted to my errant roommate, John.
He agreed, then leapt from his chair to join in the fray, prancing like a drunken epileptic.
Eventually I was badgered into joining in by one of the ladies at our table and even Heather was convinced to make a fool of herself.
Since we were obviously enjoying ourselves, Attila came around announcing the final bus headed back to town. On the bus we all moaned about having to end the night early. Of course, it turned out Attila had blatantly lied about it being the last bus back in an effort to clear the place out early.
We chatted with Beth afterward and found out why she was so upset earlier. It seems that George Bent On Making This Trip Miserable had been an amazingly incredible ass to her in the most personally rude, unprofessional fashion and some of the things she reported made me want to strangle the bastard. Some form of payback is in order but my hangover today has slowed my vengeful brainstorm.
Day 2 of the last week in Cortona started with the aforementioned hangover and a general grumpiness, not aided by the hordes of tourists in town for the beef fest. But another poor attempt to study art history ended up cheering me up with all the marvelous distractions Cortona has to offer. Heather and I biked up the mountain to the neighboring town in an effort to vent some anxiety about how much studying she wants to do for the art history final. (I use the word "town" as an Italiano would. An American would label two buildings and a chicken coop as a crossroads at most, but in Italia it's a town.)
The bike ride didn't ease her mood in the least. I wasn't getting worked up about the test - fuck the grade, it wasn't worth ruining my trip - but Heather was worrying herself into frenzy.
"Well, we could screw. That always helps me relax," I offered.
She declined at first but after half an hour of unsuccessful efforts at studying the minutia we were in the sack.
"Wow. You were right," she said afterward, focused on her studies.
"Mmmhmm" I replied, just happy to have gotten laid. Men are swine, but at least we're happy that way.