Stick with me here, I've got to describe what day-to-day living is like in Cortona for us so you'll get a feel for the rhythm of life in the guts of the story.
Classes began two days after our arrival in Cortona. Painting looks like it'll be OK, the teacher being as big a smartass as myself, but Art History sounds like a royal pain in the neck. There is a field trip every weekend for the first four weeks, followed by a test, then a paper and a test a couple of weeks after that. And that's all in addition to our studio work for our other classes and preparing for the student art exhibit. I'd rather be out exploring and learning in a less structured environment but I didn't know any better when I signed up for the trip. I felt sorry for the suckers who'd opted for the full load of three classes. I'll have a hard time keeping my attention on just two.
Heather has Book Arts in the afternoon with Rick, the friendly professor who has all the girls swooning with his Paul Newman eyes and quiet, confident demeanor.
In the evenings Heather and I usually meet and head to Art History together. We stop on the way to class and pick up a snack of some sort. Swiss chocolate bars and fresh raspberries are a favorite. We eat them in class and pass flirty notes, make faces at each other, make fun of our classmates, like a couple of goofy kids at summer camp.
The laundry situation in the dorm was also something like summer camp. There are 3 concrete sinks on the courtyard for hand-washing your clothes and the first weekend the clotheslines were full. I had developed a habit of washing a set of clothes along with my body each time I showered but I doubted the other 100 guys who share my bathroom would appreciate the extra time and water required. A slacker like me would normally complain about hand-washing clothes but the setting was far too pretty to mind, much. Occasionally I get to watch one of the pretty girls washing beside me, skin glistening with sweat and water, shirt sticking to her chest, grunting and moaning as she bends over again and again washing her underwear, then taking the little garments of satin and silk to hang them up to dry while I'm forced to imagine what the underwear looks like stretched across the body I've been eyeing for half an hour.
I tried, and failed, not to stare.
Then there were times members of the Fashion Patrol would be out there bitching and moaning about having to wash their own clothes and how there was no way to get them really, truly clean.
I tried, and failed, not to laugh.
The Fashion Patrol, or "The FP," as Heather and I call them, are a herd of bitchy sorority girls who, when they aren't discussing each other's hair, complain constantly. There are several older and/or heavier women who also complained about every hill or variation in temperature from their widely varied preferences, but they can't hold a candle to the FP's ability to annoy. The FP's conversations range from the inane:
"Have you ever worn, like, a white bra under a black shirt and, like, gone to one of those clubs that, like, use blacklights and, like, your bra glows through your shirt?"
"One time I wore a beige shirt with, like, a white bra underneath and the bra totally glowed but, like, the shirt didn't! I was so embarrassed!!!"
To the vacuous:
"How do you cut your toenails?"
"I cut mine curved."
"I cut mine straight across."
"I tried that once and..."
You get the idea. The Art History professor used the term "dead from the neck up" to describe those unmoved by the art we'd been seeing.
I immediately pictured the FP
Oddly enough, the dumbest of the troop is actually the most tolerable, as she is also the nicest, but even her niceness can't save me from making me want to scream sometimes. Hal, our painting instructor, scheduled a trip to Bologna. In preparation for the trip he told us we were going to Bologna, what we should see in Bologna, why we should go to Bologna, then sat down and read for 20 minutes from an article about Bologna, the artists of Bologna, the architecture of Bologna, and the lifestyle in Bologna. At the end of the tirade a member of the FP looked up and asked "Where are we going again?"
Hal and I exchanged silent, sardonic smiles.
Fortunately most of the FP had been put in the other dorm, ironically a nunnery. Rumor has it the nuns didn't take too kindly to their late night antics. In fact, rumor has it the nuns lock the door as early as 10 PM. But then rumor had it that Albergo Athens locked the door around midnight and Heather and I had no problems wandering in at all hours.

There was no water in the shower today. No, not "no hot water," just no water. Several of the hardier women washed their hair in the laundry sinks (I don't know why the laundry sinks get water but the showers don't) but I'd had enough cold showers and I planned to skip this evening's formal inauguration ceremony anyway, so I waited it out. Two hours later there's water, but none of it hot. Italy is not the third-world country you might believe from my descriptions, but our hotel ain't exactly the Ritz either.

Over Cortona during the day a flock of swallows race about. These amazingly agile and fast birds catch flying insects in the air for their diet, an incredible feat for which they are greatly appreciated, as there is hardly a mosquito or fly in the whole town except the one that's buzzing about my room as I write, of course. At night there are bats that do the same thing with sonar, a feat that astounds me every time I see them. Yet I could thrash around this tiny room with a sandal for a full hour, breaking lamps and scaring the neighbors, in a vain attempt to kill this fly, one as big as a quarter, and it is likely to escape unscathed.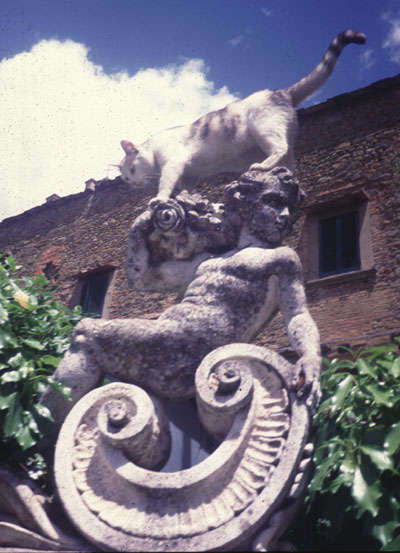 One of the many cats of Cortona.