The interior of the Siena Duomo is absolutely lovely, though not nearly as stunning as St. Peters. Go to Siena first so you don't have the comparison in your head, should you tour Italia yourself.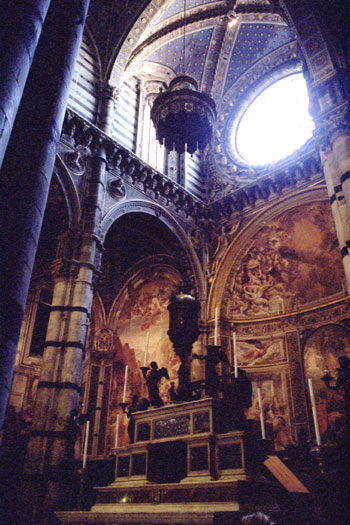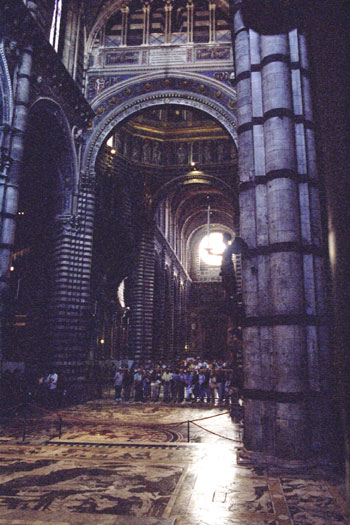 Once every thirty years or so the Duomo in Siena removes the protective layer over their floors for exhibition. They are inlaid marble, wall to wall, and absolutely incredible with scenes from the bible done in such detail you'd swear they were gigantic etchings. Absolutely marvelous.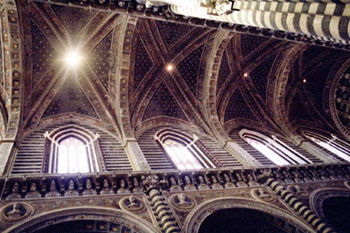 This is the ceiling of the Siena duomo. The entire interior is striped in dark green marble, very cool.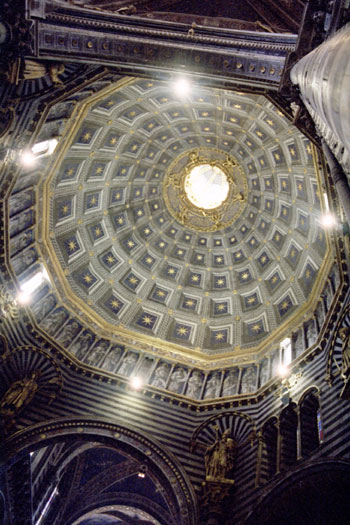 We wandered the streets a bit, casually window shopping. We couldn't do actual shopping since the whole town shut down for siesta by that point and the program has, yet again, scheduled too many things in one day so soon it's back to the bus in a rush to get to our next destination. Unfortunately, you'll have to wait for more on Siena, like I did.
San Gimingnano is a quaint medieval town turned into a cheesy overpriced mall. (In fact, just about every quaint medieval hill town in Tuscana has been converted into a shopping mall for tourists.) By the time we arrived we were too beat to make it to the one thing in town we wanted to see - the museum of torture. A few of the students in the program made the hike and said it was almost worth the price of admission. They brought back postcards of chastity belts and the like. Heather and I opted for gelato and found a new favorite flavor - banana. I ended up eating 5 scoops before they hustled us back on to the bus to ship us home, hot and tired. But we did get a few postcards showing some of the very cool scenes of hell taken from the frescoes of the cathedral. Demons, fire, people being tortured in bizarre ways, much more interesting than yet another Madonna and Child.

A peek inside a random little church in Siena.