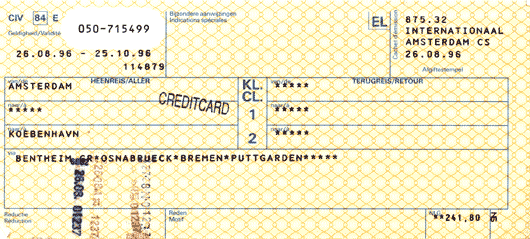 The train ride from Amsterdam to KØbenhavn (Copenhagen) is longer than you'd expect, about 8 hours. The smart way to do it is to get a sleeping compartment for the overnight trip. But, poverty-stricken slacker that I was, I opted for the cheaper alternative, figuring I could sleep in the regular seats. On lots of trains in Europe the seats fold down so that you can push two together and make a nice bench and snooze away. The problem is there has to be two seats available to do this. When I got on board in Amsterdam the train was nearly empty. But it stopped at every little town along the way, preventing me from ever falling asleep. At each town it picked up more and more people until there were no spare seats at all and I had to sit up for the remainder of the trip. About halfway to KØbenhavn the entire train was pulled into a cargo ship and taken across the channel to Danmark (Denmark). It was very creepy looking out the window at the gray steel interior of the ship, thinking there was no way in hell anyone could possibly get out alive should the boat go down.

I arrived at the crack of dawn, cold and tired. I exchanged some currency at the station, but only a little in case I got mugged.
Lena had scared me about my arrival in KØbenhavn. "I live in the worst part of town in a condemned building a few blocks from the train station," she'd said.
The thought of walking through the worst part of any country's capital was not appealing, but nothing was really open yet so I didn't think the busses would be running, even if I could figure out which bus to catch. So I put on my best "don't fuck with me" walk, slipped on my pack, made sure my pocketknife was at the ready and headed out into the street.
The worst part of KØbenhavn is nothing like the worst part of Atlanta. The biggest danger I faced was tripping on the single abandoned soda bottle on the way. I spotted graffiti, once. There was a porn shop, closed at that hour, but I wasn't even half way to Lena's before my fears had vanished. In the worst part of Atlanta I'd be dodging gunfire. In KØbenhavn I stopped at a bakery and got a few Danishes. They were divine, melting in my mouth as I walked. I meant to save some for Lena but they were all gone by the time I found her street.
The condemned building was nothing like condemned buildings back home either. In Atlanta my apartment is the worst on the block, but it's livable. Anyone who's seen my apartment is jealous at the low rent for the location and they all concede that though it is a bit run down they'd happily change places with me for the price I pay.
Lena's apartment building looked to be in about the same shape. A little rough around the edges but I wouldn't hesitate to live there. I rang her number.
Nothing.
I rang again.
Nothing.
I was getting worried. She knew I was supposed to be there. Maybe she'd had to go to school early? Or work?
I rang again.
A confused voice answered in Danish, not Lena's. I babbled back in English, even more confused, and the voice said, in perfect English, "I'll be right down."
A few minutes later an angel opened the door, her wings folded about her in the form of a thick white bathrobe wrapped tightly around her curvy body. Big, bright eyes, full, pouty lips, perfect skin, hair still wet from a shower - the works.
"Uh.... hi..." I stammered.
"I'm Lena's roommate."
There's a scene in the film Animal House in which a 14 year old kid is reading Playboy on his bed when a scantily clad woman is thrown through his window onto the bed. "Thank you, God!" he says to the ceiling.
I followed her up five flights of steps. The stairwell was not heated and the stairs were not in the best of shape. The interior was much rougher than the exterior, but I still felt safe in the place. Their apartment was cute, in a New-York-loft kind of exposed-beams-and-bricks and only-cold-running-water kind of way. A handsome young guy got up from the couch, the roommate's boyfriend I assumed. "Hi, I'm Ben" he said.
He was getting his stuff together to head out and I was beat so I just asked for Lena. She was still snoozing in her bedroom on a mattress on the floor. I giggled, a bit giddy from the lack of sleep and the surprisingly pleasant morning. I dropped my gear and slipped into the bed beside her to try to catch a little nap. However, the excitement of being in a new place with an old friend, the smell of Lena and the sight of her gorgeous roommate kept me wide awake.
Eventually everyone was up and about. It turned out Ben was a 19 year old kid from California on something like a 6 week tour of Europe. He was supposed to get off the train in Stockholm but accidentally slept through the stop. Lena met him on the train and took him under her wing.
(If there's any stronger evidence for karma I don't know what it would be. Lena has such a good, giving spirit and good things always happen to her. I, on the other hand, am not in the least bit surprised by my luck with humans, or, more accurately, lack of.)
Ben's luck had continued. Lena's roommate had some rich lesbian friends that needed an apartment-sitter for the weekend. All Ben had to do was feed the cats and he had a fantastic apartment in the middle of downtown all to himself.
Lena directed me to the shower. It was on the ground floor, down five flights of cold stairs. There weren't many other people still living in the building so the place felt deserted. Then we hit the town.