An amazing jaunt for a single day by a couple of slackers, eh? I've undoubtedly forgotten at least one holy/ancient/amazing church/ruin/museum in there, but we saw so much it was utterly overwhelming. And the whole way my guide insisted on taking the back streets and side alleys, all filled with charming cafes, incredible churches, and odd shops. And all of these decorated in sumptuous style with marble faces looking down from the frames of windows, doors studded with brass knobs, and arches opening to courtyards containing beautiful fountains.
But it was time to slow down and refuel. We searched back alleys for a good restaurant, something with locals instead of tourists, and did a fair job. Heather had a tasty-looking seafood medley pasta. I picked lasagna - big noodles. This particular set of big noodles was drenched in a tasty cream sauce. Yummy.
St. Ambrose has been often quoted, "When in Rome, do as the Romans do."
Of course he said it in Latin and that's not the precise translation but I'm sure he would have smiled watching us slurp down the food with gusto.
A nap and a bath and we charged back out for more.
We found part of a music festival in a back alley, an acoustic band led by a man singing a pretty falsetto, but we were in search of bigger game so we wandered on and found it in Piazza del Popolo. Some famous filmmaker or musician or someone, I can't recall who, had set up a music and light show with huge speakers, smoke machines and various lights shining on the surrounding churches and buildings and on the big fountain in the middle which was topped by yet another Egyptian monolith. (It's a wonder there's anything left in Egypt at all with as much as the Romans and others dragged out of the place.) The neato light show was choreographed to some Tangerine-Dream-like electronic music and the surrounding crowd and smoke made the entire scene feel like some sort of odd ceremony designed to summon some ancient deity from the central monolith as the lights played over the hieroglyphs and reflected off the surface of the pool.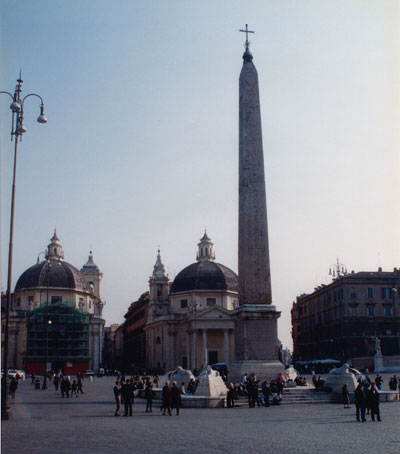 Piazza del Popolo by day.
All total we spent 10 hours walking that day. Yep, 10, I counted them on my blistered toes.
I woke up this mornin', feelin' round for my shoes
Know by that I got these old walkin' blues, well
Woke this mornin' feelin' round for my shoes
But you know by that, I got these old walkin' blues
Lord I feel like blowin' my old lonesome horn
Got up this mornin', my little Bernice was gone, Lord
I feel like blowin' my lonesome horn
Well I got up this mornin', whoa all I had was gone
Well, leave this mornin' if I have to, ride the blinds
I feel mistreated, and I don't mind dyin'
Leavin' this mornin', if I have to ride the blind
Babe, I've been mistreated, baby and I don't mind dyin'
Well, some people tell me that the worried blues ain't bad
Worst old feelin' I most ever had
Some people tell me that these old worried old blues ain't bad
It's the worst old feelin', I most ever had
She's got a elgin movement from her head down to her toes
Break in on a dollar most anywhere she goes
Ooh, from her head down to her toes
Lord, she break in on a dollar, most anywhere she goes
Walking Blues, a traditional tune done by Robert Johnson, amongst countless others.