1966 International Harvester Scout 800
Table of Contents
We also have pages dedicated to our present and past struggles:

How I Got It
I found it on ebay and bid the minimum, $900, not expecting to win the auction. I called the guy to make sure it ran and asked him what was wrong with it other than what he'd listed on the auction. It sounded like it needed some transmission work, one piece of glass and some general rust cleanup but was otherwise pretty straight.
Here's the photos that were on ebay:
Unfortunately, I was moving the same week I won the auction. The timing was terrible. I didn't need to spend the money, and I didn't have the time to get to Alabama to fetch the thing - even if I could've found someone with a truck and trailer. Fortunately the seller knew a guy that delivered vehicles all the time and offered to bring it to my door the next week. The other thing I didn't appreciate was the seller asking me to pay his posting fees. I wouldn't have minded, had this been mentioned in his posting, and the total, $1025, was still a fair price - if it was in as good a shape as he said. With the very reasonable delivery charge, the total cost to get the thing was about $1400.
Name That Part and Problem
June 2006
I know very little about cars. I'm learing, but I'm still pretty damn ignorant. I know even less about four wheel drive cars. I have vague memories of riding in my parent's Willys wagon, and a shocking tale of riding with a drunken uncle on a trip through the pasture that ended up with the jeep laying sideways in a sinkhole, but that's really the extent of my 4x4 experience. So here's a little game you can play at home.
Rules: Name the parts in the photo. Be specific, but pretend you're speaking to a novice. "That's the crank case cover. It covers the thing that transfers power to the rear wheels. That hole shouldn't be there. You need a new one before you drive this vehicle. You can find a new one at _____________" would be a fine example, if it were accurate.
Prizes: a hearty "thank you" from me, but as I probably can't afford to fix this car, much less reward others for help, so you won't receive much more than a warm feeling knowing you helped educate a newbie in the ways of International Harvesters, Scouts, and 4WD/off-roading.
Entries: Contact me! Each section below is numbered for your convenience!
Yes, I have ordered the service manuals. When they arrive I may have more answers, and probably more questions. Check back soon!
Answers provided thus far in quotes courtesy of the super helpful, friendly folks on Binder Bulletin!!
1. Model: Here's the data place. Any additional info you have would be helpful.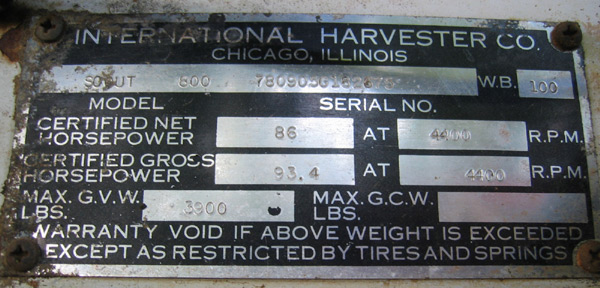 According to the seller, it's a 66 Scout 800. Looks like he got the Scout and 800 part right but I don't know anyting about decoding VINs on these cars to get year or any additional info.
2. Rust: When it arrived I wasn't exactly thrilled. The seller had described it as having "some rust in the bed and some in the floorboards, about what you'd expect on a 1966 truck."
"Some rust" is an understatement. The floor of the bed, as well as a good chunk of the bulkhead behind the cab, are eaten through and tissue-thin. The floorboards also have holes.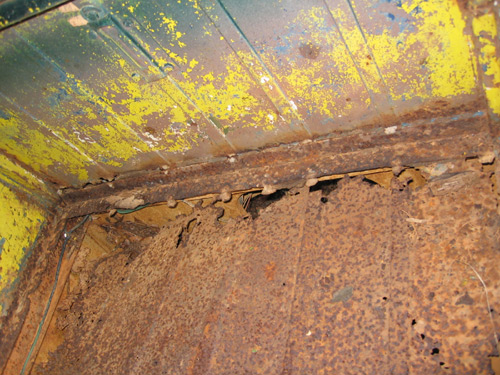 The bed/rear floor where it meets the cab. Is the panel behind the seat, above the floor, available?
What is it called?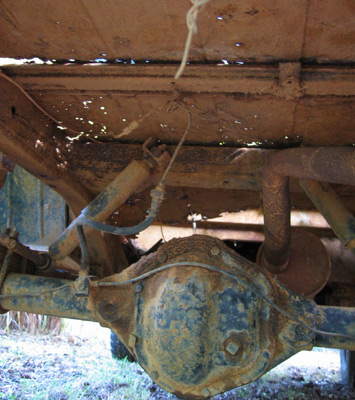 The bed from below.
"As you've already discovered, the rust situation with these trucks can be quite severe, and understated. You have discovered the rotted floor and bed panels which are typical places for the early Scouts to rust out. You might also want to check the body mount brackets and the frame where the brackets are attached to see if the rust has eaten even further. You'll have to make a decision on whether you want to invest more time and money into a vehicle that may not be structurally sound to begin with."
Looks like you can find all these panels at Super Scout Specialists. However, a post on Binder Bulletin generated this response:
"Go to a metal supplier, buy a 4x8 sheet of 16 or 18 gauge steel and start replacing floors and other stuff. It's going to be a lot cheaper to do it that way than buying all that stuff from a Scout vendor. Make templates out of cardboard, then trace them on the steel and use a metal cut off wheel to cut the stuff to fit (after you chop out all the rust, of course)."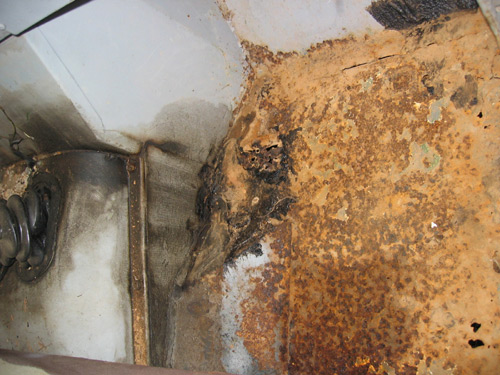 Passenger's side floor.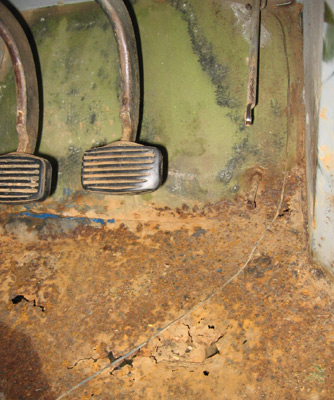 Driver's side floor.
Note the missing gas pedal.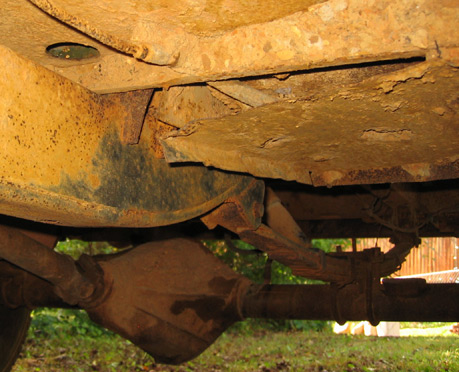 "The plate on the bottom of the gas tank area actually holds the gas tank up into place. If that plate is rotted out, you should replace it. I suggest pulling the tank(s) and cleaning them out while you're replacing that panel."
I'm a fair welder, but I've never worked on a car before. I wondered if I could blow myself up due to gas fumes and got this response:
"Yes, you can blow yourself up if you weld near the gas tank. Fill it full of water or remove it completely - best."
So it looks like the best option is to pull the tank. It probably needs cleaning out, and it obviously needs some repair in the photo above. Anyone know how to pull the gas tank on this truck?
3. Doors: He'd also described the driver's side window as "cracked" - more like crackled, a spiderweb of cracks. I expected it to shatter all over the place when he slammed the door. It's missing the driver's side window crank as well, so if I ever get glass and want to roll it down I'll have to find a crank.
"Scout 800 windows like that and door handles are pretty commonplace. Post an ad up in the classifieds or call Phil Coonrod at 303-838-8505 to get those parts. He also has decent battery tray pieces."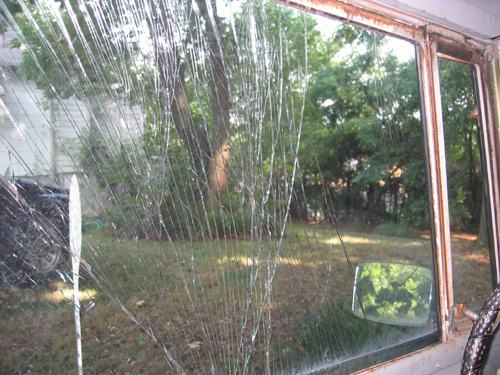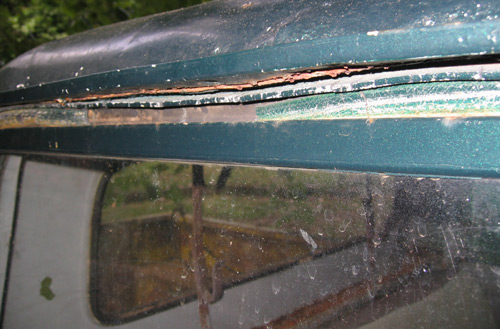 This is the rotted seal on the passenger side door. All the rubber in this truck is shot.
"The door rubber can be found at Super Scout Specialists. For the top-to-body seal, you can use camper seal from Walmart/Home Depot/etc."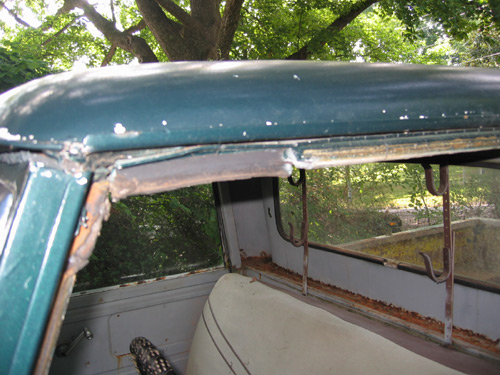 The driver's side rubber. You can also see the gun rack mounted in the cab.
The passenger side exterior door handle is broken. The sheetmetal around the handle is a little dinged up too. Looks like someone sideswiped a tree. The handle is loose, but operational.

Maybe that's when the passenger side mirror went missing too. There are screw holes for it, but no mirror.
In my fantasy, that's also when the antennata got busted. There was one mounted to the cab just behind the passenger door. Now only the mount and spring are there.
3. Roof: The roof is shot. There's rust through where it mounts behind the seats, and there are multiple large dents in the top. Were it just dents I'd say it was low priority.

"Whatever you do, don't throw away that half-top because YOU think there's too much rust on the back lip or it's too dented up. Those things are getting really hard to find in ANY condition, so keep a hold of it...please."
| | |
| --- | --- |
| 4. Transmission: At least I think this is the transmission, but I'm ignorant. However, I'm pretty sure whatever it is isn't supposed to have this gaping hole in it... | |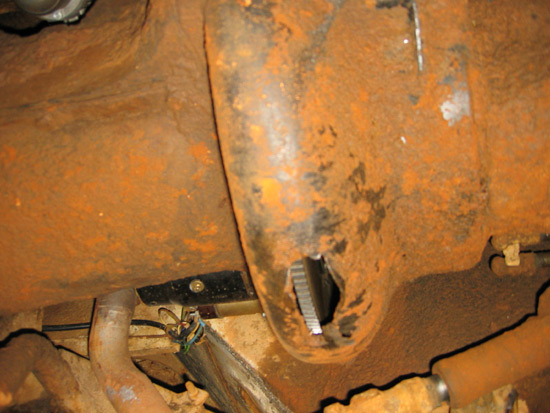 A post on Binder Bulletin generated this response:
"The hole in the inspection cover (below the flywheel) isn't going to hurt anything. It looks like yours is plastic, so no biggie there."
He's right - it's plastic. I won one on ebay the same day and it looks like something that bolts on. When I get the chance, I hope to wash the underside of the Scout so I can see better. The layer of mud underneath may obscure other issues.
The car won't stay in first gear. It pops out once the clutch is fully released, unless you hold the shifter into place. What is this an idication of?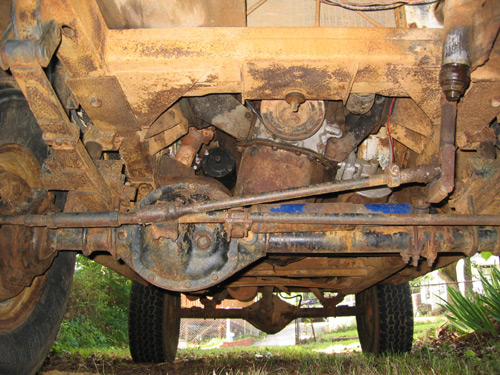 "The previous owner did a spring over conversion on it (SOA) by taking the axles and putting them under the springs. Normally the axles ride on top of the spring. The booty-fabbed pitman arm (steering arm that attaches to the steering box) looks VERY SCARY to me. I would suggest doing a little research on that subject before you drive it on the road and kill yourself or others."
Hmm. This is yet another place my ignorance shines. I'm not sure where to begin researching, or even what. Heck, I don't even know what part we're talking about here. I hope to get under the car next week and get a better look at things. But if you did an SOA conversion, what pitman arm and other parts would you use?

5. Tail: The tailgate and all other body panels are in pretty good shape.
The rear bumper looks custom. It's loose but I haven't looked closely enough
to determine if it's just loose bolts, or if it's a major rust/structural problem.
Driver's side tail light lense is missing. I haven't checked to see if any of the lights work.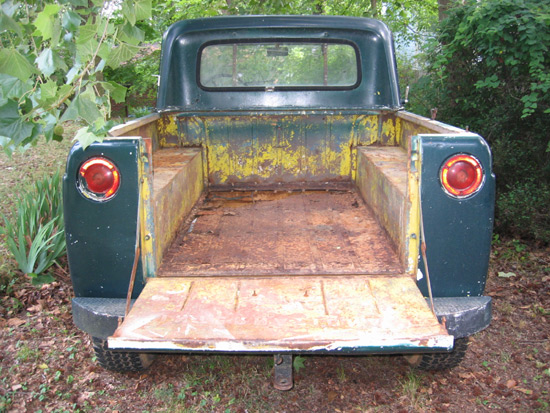 6. Engine: The seller said the guy put in a new battery, starter, carb and fuel pump.

It seems to run ok, but it doesn't idle well. You have to keep giving it gas. Speaking of, does this 4 cylinder require premium? I've got a 69 Thunderbird that won't take anything else, and even 93 octane is too low.

There are some obvious missing pipes here, but I don't know what the go to/from.
| | |
| --- | --- |
| The battery tray is shot and missing the hold-down thingy. There is a piece of board screwed to the gap between the grill and the radiator where the battery had been housed at some point in this car's life. | |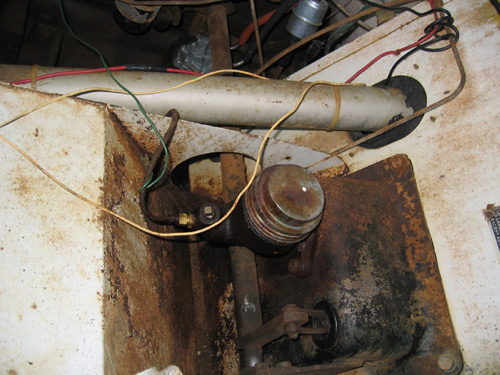 Brakes and steering?
7: Interior: It has the bench seat with exposed springs in places, something that could probably easy be re-covered. Anyone have any thoughts on this? I could probably cut out some foam myself and cover this, but the cost and effort might not be worth it if there's a pre-fab replacement out there.

"Do a search on other seats for an 800 to replace that bench seat. I personally really like the Jeep XJ seats with a 1.5" square tubing spacer under them."

I don't mind the bench seat myself. It allows a third passenger, assuming they're willing to stradle my stick (pun intended.) When I get a chance I'll get some measurements and hit the junkyard and see if there's anything that'll fit.
There isn't even a box in the glove box, much less owner's manual, so here's where my ignorance is clear. I have no idea what all these knobs are for.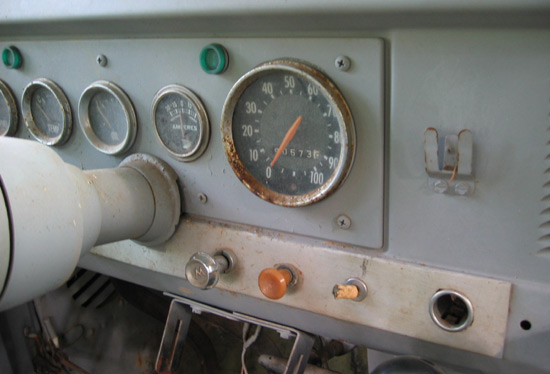 The passenger side wiper arm is missing. The driver's side wiper needs a blade. Assuming they work in the first place, which I haven't tested. I played with the knob that has the W, or is it an M?, on it, but nothing happened.
"The "w" knobs on the dash are for the Windshield wipers. Rotate them while the thing is running and they will turn on. They are vacuum powered."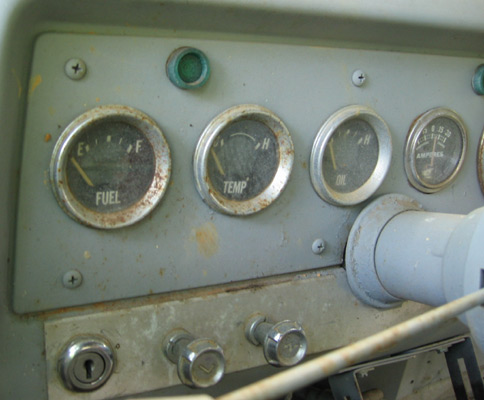 I figured out the knob with L is lights, which made the ammeter jump, so at least that guage works.
The fuel gauge didn't move when I poured a gallon of gas in the thing, so I suspect it's dead.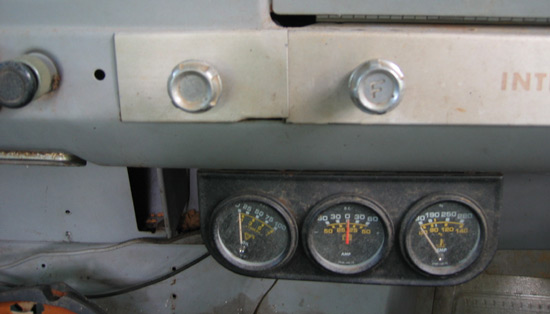 Even worse, I have no idea what all these shifters do. Sure, the one on the left is the main one. Reverse is top left, first bottom left, second top right, third bottom right.
The other two operate the transfer case, according to the "transfer case shifting instructions" on the glove box. OK, so how do I operate this 4 wheel drive? I remember a friend having to lock the front hubs on his jeep once. I assume that's part one of the operation. Then what? And when should I use what setting? Crap, this thing is complicated.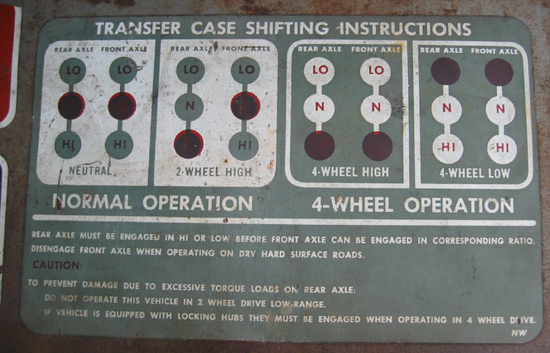 I've also read out there somewhere that an overdrive transmission was made, or is being made, that allows higher speeds for highway use, as well as improving mileage on paved roads. I live in the middle of Atlanta so there's not much off-roading I can do nearby. Therefore, I'm going to have to drive it on the highway to get anywhere you'd actually want to drive this thing. Anyone have any detail on the overdrive parts and installation?
Contact me with your entries!

Scout History
I have found in my previous vehicular efforts that web pages tend to vanish or relocated or change focus. So I gather pieces of content from elsewhere for my own safekeeping. I will gradually mesh them together and add original content here so that it will become something more detailed and unique. But meanwhile, pardon my blatant theft of other people's content here.
Stolen from http://en.wikipedia.org/wiki/International_Harvester_Scout:
The International Harvester Scout was one of the first production American civilian off-road sports utility vehicle.The Scout was produced with a convertable hard top or soft top. Early models have fold down windshields. All Scouts are two door models avalible in full (SUV style) and half (pick-up style) cab configurations. It was manufactured from 1961 to 1980 near New Haven and Fort Wayne, Indiana. The Scout was originally created as a competitor to the Jeep. There were several production models of the Scout.

Scout 80/800 (1961-1971): The original production model (the original Ford Bronco was inspired by this version).
Scout 810 (1971): Some early Scouth II's contain Scout 810 badging on glove box.
Scout II (1971-1980): The later standard production model with a removable soft or hardtop (100 in wheelbase).
Scout II Terra (1976-1980): The light pickup truck version (118 in wheelbase).
Scout II Traveler (1976-1980): This version had a removable fiberglass hardtop, optional 3rd row of seats(118 in wheelbase).
Super Scout II (1977-1980): This model had removable fabric doors, a rollbar, and softtop.
Scouts were avalable with various engines including:

IH 4-152
IH 4-196
IH V-266
IH V-304
IH V-345
AMC 6-232
AMC 6-258
Nissan 6-33 (Diesel)
Stolen from http://www.everything2.com/index.pl?node_id=1705333:
SCOUT: Anything Less is Just a Car

-Scout advertising slogan

In the years following World War II, a new craze was taking hold of America. The Jeep, the ugly 4-wheel drive General Purpose truck developed for the U.S. Army, became wildly popular with civilians as a weekend warrior capable of taking on the roughest terrain imaginable. After four years of war and a new period of economic prosperity just getting under way, Americans were ready to stretch out and explore within their own country, and the Jeep's sales skyrocketed. Although the Jeep was right at home while fording a mountain stream or blazing a forest trail, it was not built for comfort or looks. Knowing a market when they saw one, International Harvester stepped in.

The Scout 80 was introduced in 1961, and, for all intents and purposes, was the first true Sport Utility Vehicle. The Scout 80 was International Harvester's take on the Jeep, but with a few improvements. The utilitarian Jeep had no doors, a canvas roof, and virtually no cargo area, but the Scout 80 had a bolt-on hardtop, solid doors, and a spacious pickup-like bed. These additions made it possible for Scouts to be driven comfortably in cold or wet weather, and also made the Scout look more presentable than the function-over-form Jeeps.

Where the Jeep was built for little more than getting from one quagmire to another, the Scout 80 was highly adaptable and was produced in several configurations. 4x4 and 4x2 models were available, with the 4x4 version garnering the biggest sales. (International Harvester had predicted, incorrectly, that most people would prefer the 2-wheel drive model, and production of the 4x4 lagged behind demand for some time.) The truck was available with the Pickup Top, which turned the Scout into a small pickup truck, and the more common Traveler Top that covered the cab and the cargo area. Both tops were removable and made the Scout 80 comfortable and functional. Among the features borrowed from the Jeep was the Scout 80's fold-down windshield. Drivers that took advantage of the truck's convertible top and folding windshield were in for a fun, open ride.

The Scout 80 was powered by International Harvester's own 4-cylinder, 93 horsepower Comanche engine. The low-end torque provided by this engine allowed the Scout 80 to hold its own in any offroad situation, but many owners resented the lack of speed and horsepower. (Scout 80s made after 1964 rectified this problem by integrating a turbocharger into the engine's design.) Although these engines tended to wear out fairly quickly and had their share of problems, Scouts suddenly began outselling Jeeps and developed a reputation for being dependable, rugged offroaders.

The United States Navy and Jordan's King Hussein were among the Scout 80's early fans. The Navy and Marines used Scouts for beach patrols and other grueling tasks, while King Hussein purchased a 4x4 Traveler Top model to use on his personal jaunts around Jordan. Many businesses that required reliable, versatile transportation would purchase entire fleets of Scouts, and the vehicle's popularity continued to rise. As more and more high profile companies employed the Scout 80, it earned a name for itself by being able to work just as hard as it played.

Eyeing International Harvester's meteoric rise in sales, the Ford Motor Company unveiled its entry into the SUV market: the 1965 Ford Bronco. In terms of features and styling, the Bronco was little more than a copy of the Scout 80, but the truck did manage to improve in several ways. The Bronco had more creature comforts and was better suited to street driving than the Scout, and the Bronco quickly cut into the Scout 80's market share. Not to be outmoded by the SUV craze they helped start, International Harvester went back to the drawing board.

While Ford's Bronco had been both a facsimile and an improvement upon the Scout 80, International Harvester's next Scout truck was a retort to the Bronco: 1966's Scout 800. Although the introduction of its successor immediately dated the Scout 80's features and looks, the little truck's sales remained fairly strong. However, the changing face of the SUV market finally overtook the Scout 80, which was officially retired after the 1968 model year.

Today, Scout 80s are becoming increasingly difficult to locate. No large manufacturer currently makes major components for the Comanche engines, and even small parts for regular tune ups will require a special order from your local Auto Zone. The difficulty in obtaining parts and the evaporating supply of the vehicles themselves means that the Scout 80 is held in high regard by collectors. However, the Scout 80 remains the offroader of choice for the hardcore few that are willing to run roughshod with this innovative, classic truck.

Links
Binder Bulletin - forums for all your questions!
Parts
Note: If I've used the supplier I'll say so. Otherwise, these are just my impressions based on the content on their site.
Binder Parts - claims to have fair prices on Scout parts.
International Navistar Remanufactured Engines - has remanufactured engine swaps, performance engine upgrades and general information
Super Scout Specialists Inc. - parts, parts, and more parts.
Vendors List - just a bunch of parts, both online and off.
Yet More Vendors - courtesy of Southern Scouts.
Information
Binder Bulletin - forums for all your questions!
About.com has a page for the Scout.
Binder Books - "Specializing in International Harvester Manuals and Scout Light Line Parts for Your IH Scout, Pickup, & Truck!"
Clubs:
Gary Billings collects Scouts but hasn't updated his site since 2005, last I checked. There is a TON of useful information, including how-to for several repairs and operations.
Literature is available through McLellen's Automotive.
Scout SSII Registry and Gallery has a lot of phots, some history and triva on the SSII models.
Transmissions and Transfer Cases- help identifying yours from jeeptech.com. There's yet more info on offroaders.com.
Replacing worn hinges with better components is detailed on this site for a Scout 800B.
Scout vs. Jeep - some history and vintage ads, comparison of various off road vehicles
Spec sheets - for the 65 and 66 years.
Value & Price Guide - very handing in guestimating the value of these vehicles.
Webring for IH
Yahoo has two IH groups:
---
Do not email us asking us International Harvester, Scout, offroading, or 4x4 questions!
1. If it's not listed on this site I don't know where it is. Any info I get, I post here!
2. I'm not a mechanic and know very little about how to fix anything. If I didn't say how I did it on this site, I probably didn't do it myself but paid someone else to. But if I did it myself, I'll post every step.
Instead, join Binder Bulletin. They have forums for all your questions.. You'll get more and better answers than I can provide!
But if you want to contact us and talk about our car, or your car, or offer us parts or money, please do!