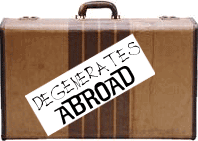 Quick Trip to Washington D.C.
February 2006
In the morning I dragged myself out of bed at a reasonable hour and checked out. The hotel has a shuttle to the nearest metro station so I figured I'd save the company a few bucks and take it rather than expense another cab ride, not to mention mass transit is often faster than driving. I'm not sure if that was the case on this particular day, but it got me where I wanted to go, and I thought the transit station where I had to make a transfer was pretty nifty.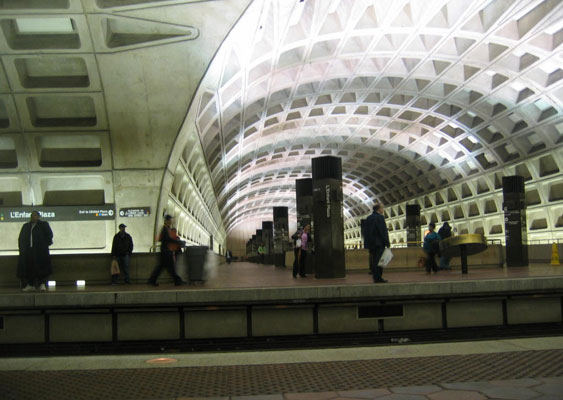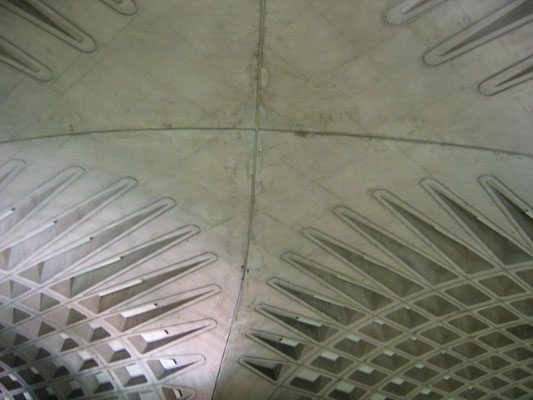 The maps for the metro are confusing, but they have information booths at many stations manned by actual people, so I was only slightly misdirected once.
I emerged at the Naval Memorial, an interesting plaza surrounded by a ring of relief sculptures in bronze plaques.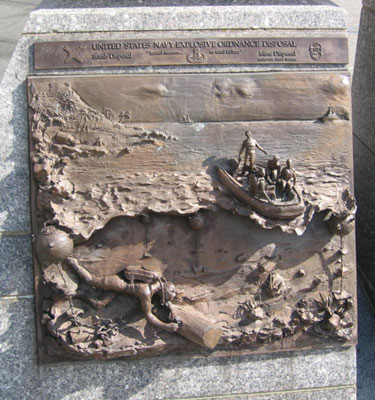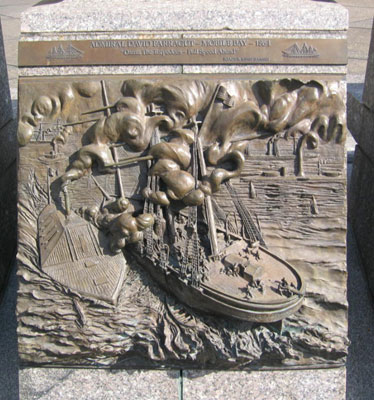 | | |
| --- | --- |
| It being a memorial, I'm sure it's supposed to invoke a somber tone, but it fails. Instead, it's playful and fun. I had a late breakfast/early lunch at the neighboring Manhattan Cafe, then hauled my luggage toward my one tourist stop for the day, the National Gallery. I tromped a couple of blocks and emerged at The Mall. | |
The National Gallery is wonderful. There's a TON of stuff to see, and it's entirely free. The special exhibitions of the moment were Cezanne in Provence and a collection of Italian Renaissance sculpture. The Cezanne rooms were packed and I didn't feel like pushing my way through the crowds. Besides, I like Van Gogh better.

So I wound my way through room after room of impressive works - French, Dutch, Italian, English and more, landscapes, portraits, religious works, and a rooms littered with impressive sculpture. The works are displayed fairly well with natural light coming through translucent skylights and windows in many rooms. During the week the place is half empty, other than the special collection of the moment, so I had ample time to study any work that interested me without distraction. Perfect!

I took a ton of photos but now that I look at them on a monitor they don't have the detail required to appreciate the works, for the most part. So here's a few, just to give you a taste.
| | |
| --- | --- |
| Even though I've seen a ton of Italian Renaissance stuff in it's native land and studied it at length, I'm still not tired of it. Giotto isn't my favorite, but he's important historically as he is the link between the Byzantine stuff before him and the Renaissance to come. | |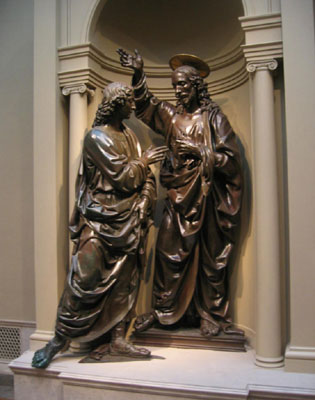 | | |
| --- | --- |
| I like this piece because of the weird perspective on the people's faces, and the flattened devil beneath the door. Splat! | |
| | |
| --- | --- |
| There were several places within the gallery where I wish I'd brought my better camera. Some of the long halls with sculptures in each and light pouring into them were just lovely. | |
| | |
| --- | --- |
| I liked the shadow of this one almost as much as the work itself. | |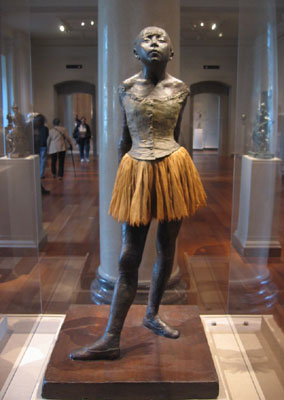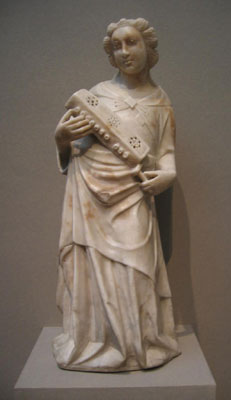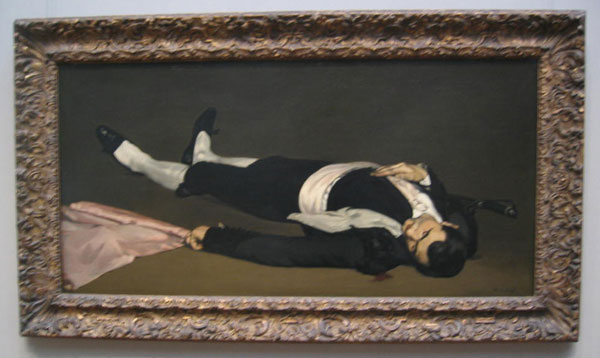 | | |
| --- | --- |
| It seems to me if you're martyred by having your eyes plucked out, either you should walk around the afterlife without any eyes at all, or you should be restored - but not have to carry the originals around on a plate all the time. | |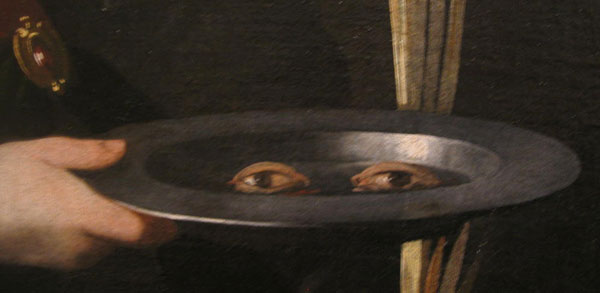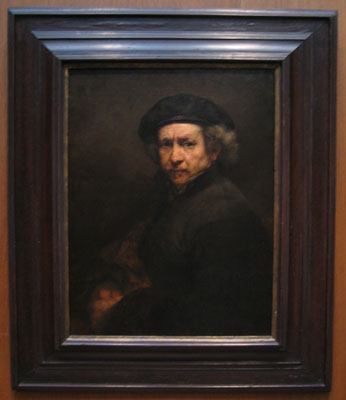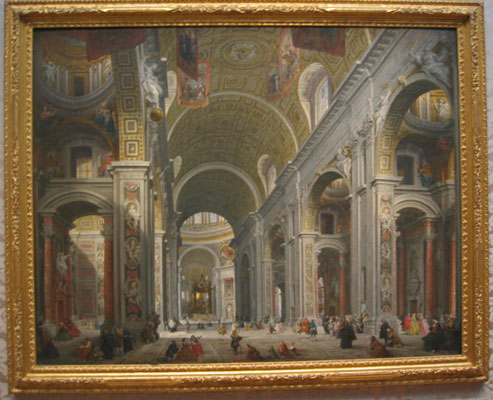 Hey, these places look familiar...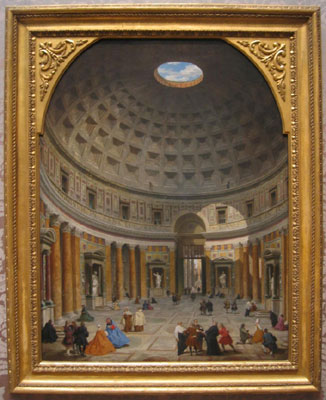 | | |
| --- | --- |
| I've also visited the Old Church in Amsterdam, pictured here. | |
But when I was there it was too cold to breastfeed, there wasn't an open grave with bones scattered about,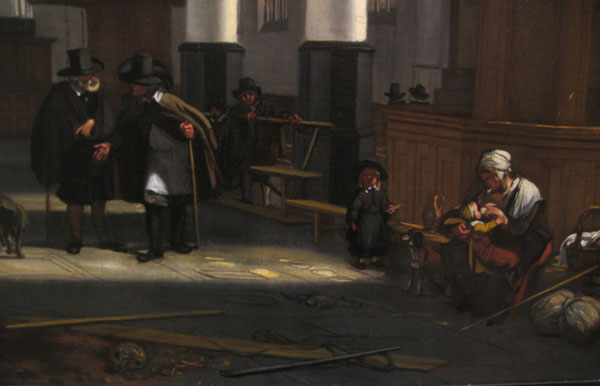 Nobody was napping, and there certainly weren't dogs peeing on the columns...

I walked across the street to the National Gallery of Art East Wing where they house more modern stuff.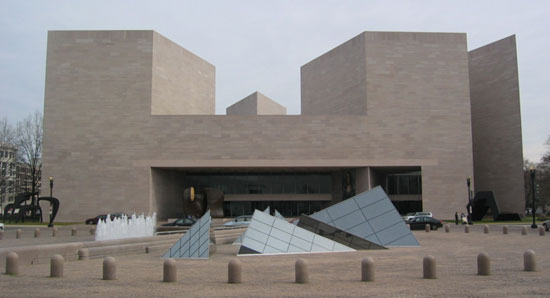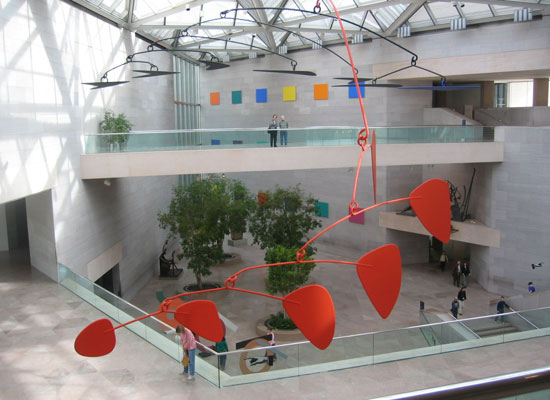 The special exhibit of the moment was going to be a collection of dada, which I'm a fan of. Unfortunately, it didn't open until Sunday and I was there Friday morning. Also unfortunate, I don't like much modern art.
| | |
| --- | --- |
| Take this, for example. Accident at a construction site? Materials waiting to be used for an actual work of art? | |
So much modern work lacks content or is so purely decorative that it might as well be wallpaper.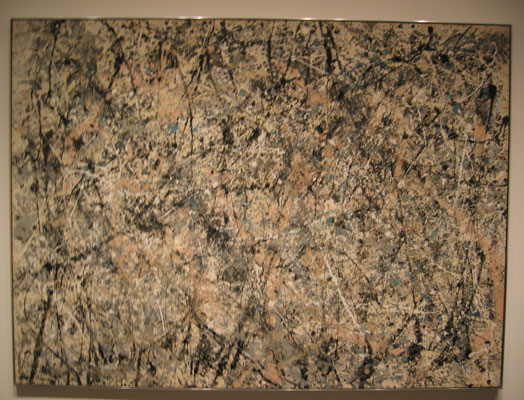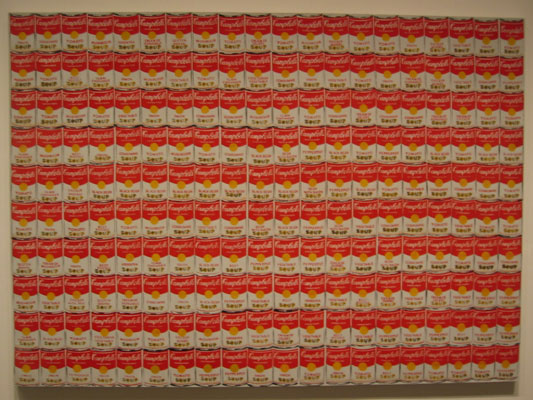 When you can't tell the difference between the works of "art", the walls, the ceiling or the floor, what is supposed to hold my attention?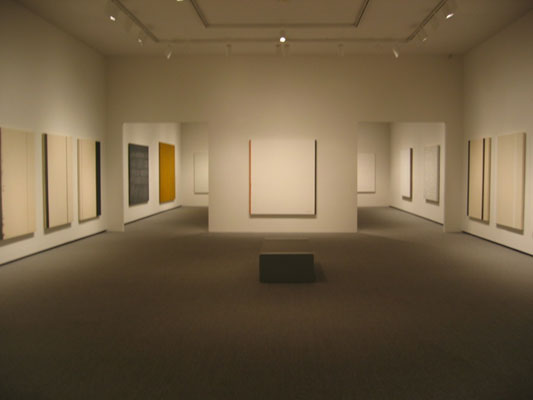 Fortunately they have less abstract works as well.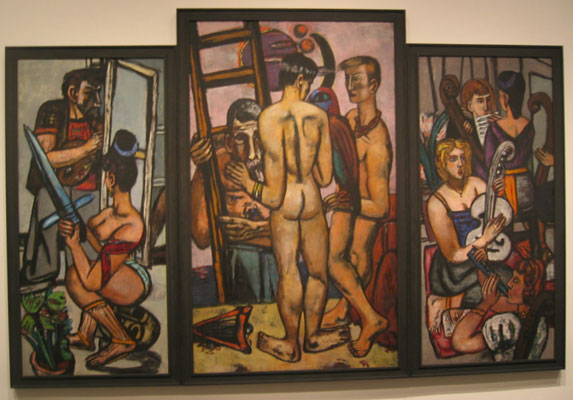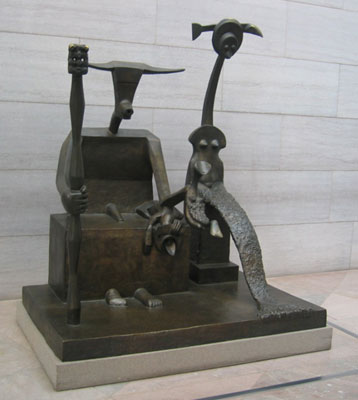 My feet were beat and I was still battling a hangover from the night before. I asked a guard at the gallery how to get to Dulles on the metro.
"You can't."
"What?"
"You can't. You can get to the other airports, but not Dulles. You gotta catch a cab."
I picked up my luggage from the check room and hailed a cab. I was a couple hours early for my flight, but I wanted to give myself plenty of time for traffic, misdirection, etc., and I was too tired to drag my luggage to another attraction anyhow.
At the airport, Delta had overbooked their flights. They were offering $400 in travel vouchers and a hotel room for anyone that would skip the flight for one the next morning. If I hadn't been so beat I would've gone for it. I had friends coming into town and there were a couple of live shows I wanted to see that night. I sat and considered it. If it had been earlier in the day I could've retired to the hotel for a nap and gotten my second wind. But at 5 PM the only thing I wanted was to get home. So I boarded the plane and headed south.
When I hopped into the Thunderbird and hit the highway toward the apartment, I had a moment of regret - but only a moment.
---
There's no place like home... no place like home...

All content on this site is owned by Degenerate Press and cannot be used without our permission. We have lawyers for friends with nothing better to do than cause trouble (no kidding), so play nice. Copyright © 2005, All Rights Reserved