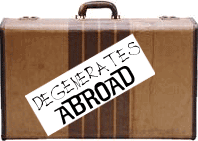 Quick Trip to Washington D.C.
February 2006
I got a cab and headed into town to the Adams Morgan area, a neighborhood not unlike L5P or the Highlands here in Atlanta, but with much more density.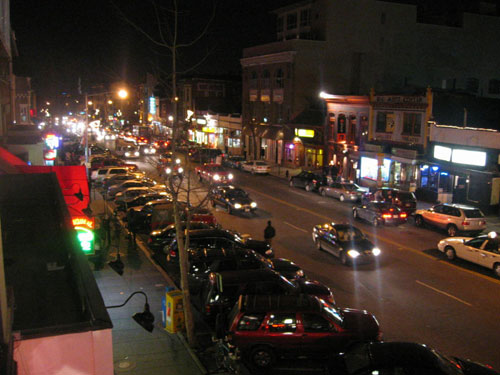 I hadn't been able to find a Degenerate Press equivalent for D.C. but some Googling had lead me to Madam's Organ, a bar in the heart of the neighborhood. It was the controversy over their mural mentioned on their web site that sold me on the place.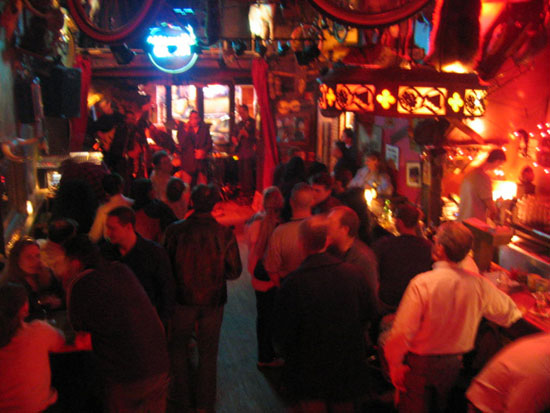 They have taxidermied animals and gilded mirrors decorating red walls, wooden floors, a high ceiling, and live blues, soul, funk and jazz. The band was leaning toward the funk and soul end of cover tunes. They tended to jazzy jam up the bridge, but as long as they kept covering Marvin Gaye, James Brown and even the occasional Prince tune, I was there for the duration. The downstairs got crowded so I headed upstairs to watch a game of pool and step out onto their balcony to look at the view.
As much as I liked the place, I felt it my duty to explore a bit. I wandered across the street to Angry Inch but they didn't have anything going on other than drinking, so I headed down the street, past Ethiopian and Indian restaurants, countless bars and clubs, funky retail shops, etc. One of the other streets that make up the intersection is populated with chain stores - Burger King, Payless Shoes, etc., so I turned back and found my original block to be the only one packed with places of interest. There may have been places to find tucked up the other streets, but I'd apparently hit the jackpot on my first step out of the cab.
I tried another couple of venues, but none held my attention. DJ's, interesting food, friendly people - all fun options, but alone in a strange town the only thing that appealed to me was relaxing to some live music. Back toward Madam's Organ I went, passing this flyer pasted all over a concrete wall.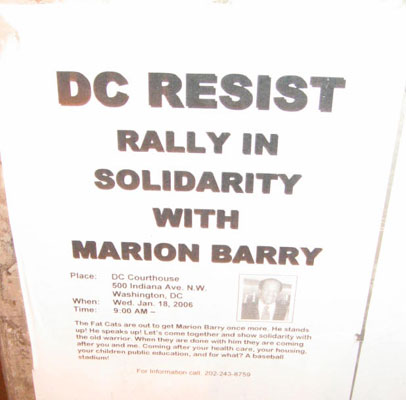 ---
There's no place like home... no place like home...

All content on this site is owned by Degenerate Press and cannot be used without our permission. We have lawyers for friends with nothing better to do than cause trouble (no kidding), so play nice. Copyright © 2005, All Rights Reserved