Degenerate Press
Welcome to Degenerate Press' feature article. If this isn't enough you can always subscribe to Electric Degeneration, our semi-weekly and semi-weakly ezine, or surf the Electric Degeneration archive.
---
Amsterdam
December 2003 - January 2004
Day 4, New Year's Eve
We got up at a reasonable hour for a cold, cross-town trek in search of some specific coffeehouse/breakfast place the Portland degenerates wanted to visit, only to find it full. Two blocks down we found The Grotto, or something like that, a coffeehouse/breakfast joint decorated like a glacial ice cave, complete with a stippled ceiling resembling ice stalactites, faux frosted windows, white walls with fake ice surrounding mirrors, and for no apparent reason rubber bats hanging from the ceiling. A Hunter S. Thompson reference, perhaps?
It was a bit too early for me to light up, so I ate and told stories while the rest of the crew sucked down eggs and pot smoke and stared off into space.
We split up so the Portlanders could continue their quest to stay baked the entire trip and the rest of us could hit some of the cultural and historical sites. I followed some of the crew to the Anne Frank house and left them in line while I wandered the neighborhood. (I'm already depressed enough about war, thank you very much.) The neighborhood around the Anne Frank house has quite a few spendy, trendy shops, including a fabulous used record and comic book store selling classic rock and more, all on vinyl, and a wide selection of graphic novels and comics, all in Nederlander.
| | |
| --- | --- |
| Over the last few days, there have been random bursts of fireworks, getting more and more frequent as the Big Night approaches. Today I watched some of the official fireworks being set up on a bridge over a canal, right across from a church and the Anne Frank house. But it's not the official ones I'm here for. It's the local lunatics with their thumb-sized firecrackers and massive mortars that have brought me across the sea. | |
I stumbled into Westertoren, a bar across the canal from the Anne Frank house, and felt right at home almost immediately. Like most places, it's tiny – hardly larger than the average US living room. Dark wood walls, a gray-haired lady serving beer, a dog snoozing on a couch cushion in the corner, and Howlin' Wolf growling out Back Door Man over the stereo. The rest of the crew found me there and we all hung around for a couple of afternoon beers. A few regulars wandered in, along with their pack of dogs, and I could easily imagine stopping by every evening after work for a small beer and a chat with the grandmotherly barkeep, catching up on the gossip.
On the other hand, I can imagine lasting about half the winter before moving out of town in a hurry. It's fucking COLD, even indoors. 2 pairs of thick socks, heavy boots, long underwear, corduroy pants, t-shirt, long sleeve shirt, sweater, heavy overcoat, scarf, gloves, a hat, and I still get chills. By contrast, the locals ride bikes past me in only a light jacket, wind whipping over their naked hands and ears, as if it were a spring day.
We headed across town to reunite with the rest of the crew and pick up some shrooms from a smartshop. The helpful girl behind the counter advised us novices which variety we should try and what to do if we got too high and such. We headed down to Dam Square and split for dinner (it was rare we could find seating for 9, even if we could agree on somewhere that would satisfy our wide variety of appetites), then hit a couple of bars all packed for the holiday.
| | |
| --- | --- |
| Photo courtesy of degenerate RI. | We ended up at a near-empty place with friendly service whose name I can't recall. A couple of hours later a few of our gang figured out it was a gay bar, but nobody complained. |
| | |
| --- | --- |
| | Those of us participating ate our shrooms. An hour or so later my sense of time was shot and I kept looking at the clock to see how long it was until we needed to head on to Dam Square. I felt sort of buzzed, but didn't have nearly the trippy experience the photographs suggest. |
| | |
| --- | --- |
| | When the regular clientele started to pack the bar, it was time to wander on. |
On to Dam Square for Dam Fest 2003/4!
I thought we sounded like the German army rolling into town again when we arrived with our luggage and hiked across town with suitcase wheels bumping over the cobblestones. But that racket was a mere whisper compared to the chaos of Dam Square. The square itself is huge, surrounded by a massive church, an old palace, and a few other charming old European buildings.
| | |
| --- | --- |
| Near the center is a massive monolith adorned with sculptural figures, a monument put up in 1956. The monolith was also adorned with living figures, people who'd climbed the base of the thing for a better vantage point. Surrounding this are several large lion sculptures, also covered in bodies. | |
In front of the palace was a large stage, light tower and a crane with a camera on it. The old palace served as a backdrop with a trippy lightshow projected across it.
Huge screens on either side of the stage flickered with images from the stage, interspersed with a phone number.
| | |
| --- | --- |
| You could call the number and send text messages or pictures from your cell phone, so between acts on stage you got random messages and images from the crowd. | |
| | |
| --- | --- |
| And what a crowd. The cobblestone square was wall to wall people, but fortunately they weren't packed in too tight. We headed into the fray and found a place to lurk. Fireworks were going off in all directions, often right in the crowd. A 10-meter circle would suddenly clear as explosions erupted, lighting up the terrified and laughing faces around. | |
| | |
| --- | --- |
| The people atop the lion sculptures fired off rockets at random, sometimes into the crowd below, which frequently generated a return volley. | |
| | |
| --- | --- |
| Unfortunately, our shroom dealer may have been a bit overly cautious in her warnings. I had a strange buzz going and my sense of time was obliterated, but it was no better (and barely different) than an alcohol buzz. We should've stepped up to the heavier fungi, but by that point we weren't even willing to wander off to get a beer, much less hike across town for other intoxicants. On the other hand, SW couldn't stop giggling, getting everyone going. | |
A DJ cranked out the usual techno racket, getting cheers from the Euro crowd. They wheeled him off and brought out the winner of Dutch Idol, a spinoff of the American TV show. She sang a tune or three, then the DJ cranked out a few more tunes, and back to the Idol. We chatted with a local girl and tried to learn how to say "happy new year" in Nederlander, but the "happy" part had too many coughing sounds in it for me to even attempt it.
The DJ switched from techno to old disco tunes, which the crowd knew by heart. Everyone sang along and danced and all the sudden people were chanting something unintelligible. I looked at the numbers flickering on the big screens and realized they were counting down in Dutch. The firework intensity stepped up second by second until it was one continuous explosion.
| | |
| --- | --- |
| The official fireworks shot up over the buildings while the unofficial ones exploded well below the roofs, some even in the crowd, popping champagne corks, spraying champagne, cheers, kisses, hugs, and the fireworks kept coming. | |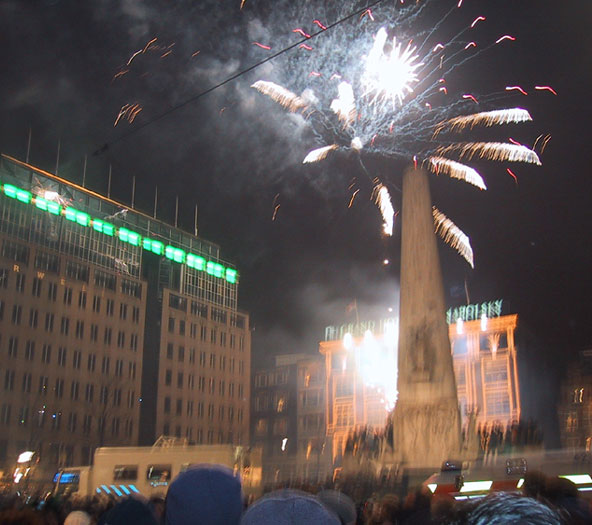 | | |
| --- | --- |
| | Happy new year! |
| | |
| --- | --- |
| Degenerate DC enjoying the spectacle. | An hour or so later, the rest of the crew was ready to head off to a coffeehouse. I could've stayed until the fireworks stopped, but they showed no signs of even slowing down and I was tired of standing. The cold was creeping in, forcing my buzz out, so I nodded and followed along. |
| | |
| --- | --- |
| | Every street was ankle-deep in firework debris, interspersed with empty champagne and Heineken bottles. I'd been warned that the locals wouldn't hesitate to launch fireworks at tourists, but by the time we hit the streets most of the town-wide chaos had slowed. There were still huge fireworks going off overhead, but the street-level stuff had abated. |
| | |
| --- | --- |
| We returned to the Smoking Bull but found it intolerably crowded, so we hit the Trinity Bar, right next door to our hotel. A boisterous crowd cheered every time the bartender blew his party favor horn, occasionally swapping it for one of those compressed air boat horns to deafen the room. | |
| | |
| --- | --- |
| SW yells, "Gimme money, dammit!" | |
| | |
| --- | --- |
| The Portlanders are overtaken by the munchies. | |
| | |
| --- | --- |
| Fireworks lit up the street outside for hours while we chatted with locals and fellow travelers. | |
| | |
| --- | --- |
| A nagging sore throat got the better of me and I hit the sack sometime before 3 AM. The rest of the degenerates lasted until 4ish, despite already being Chinese-eyed. | |
---