Arrival Day & Day 1
We flew into DFW and hopped in a rental car to get to SW's father's place on the outskirts of Dallas. We unloaded, then climbed into their titanic SUV for a trip into the burbs for dinner at a Tex Mex chain restaurant, followed by reminiscing until late.
| | |
| --- | --- |
| We're up early to hop back into the rental and speed out into the nothing, the vast stretches of fenced-in nothing that make up the great state of Texas. The thing that bugs me most about Texas is the hours it takes to get anywhere. But at least this trip there's some green mixed in with the swaths of tan. Usually we're there for the holidays when everything is a blur of browns. Spring brings bluebonnets and brilliant green crops before summer comes and burns it all back to brown. | |
But we arrive in Brownwood safe, if not sound, and are immediately whisked away to a nephew's birthday party, a kid-intensive affair complete with one of those inflatable bouncy tent things filled with children hopped up on liters of Mountain Dew. It's fun to watch and recall how once even I could act with such abandon, hardly a care in the world save the size of the birthday haul.
Then we're off on a tour of historic Brownwood. I don't mean the town itself is of any historic significance (well, very little), but we're off on a photo expedition, searching for places shown in SW's collection of postcards she's picked up on ebay. Many of the places don't exist any more so we get a lot of pictures of empty fields or buildings that have been renovated such that you can't even match them to the postcard any more.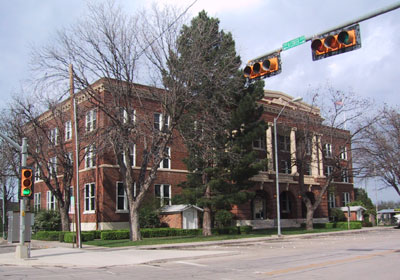 Brownwood Courthouse
Later, it's off to dinner at The Section Hand, boasting "the best steak in Central Texas!" The salad bar could use some updating, but otherwise it's an excellent meal.

I got the sirloin, pretty tasty stuff. Very tender, cooked simply, a fine piece of meat.

SW got "scraps", hunks of sirloin cooked in peppers, onions and tomatoes.
We decided to maintain our inertia and head out for early a night on the town. We kicked things off at Brownwood's new coffee shop / gallery / performance space, a new concept entirely in this small Central Texas town that might have vanished from the maps long ago were it not the meeting place of several state roads.

SW got a chai latte.

I opted for an espresso shake, espresso with a big scoop of ice cream, topped with whipped cream.

A folky/country singer did some acoustic numbers while we perused the art on the walls and the flyers for yoga classes. A little oasis of urban/modern culture in downtown Brownwood!

Soon we have the required caffeine to continue our explorations.
We headed to long time watering hole The Crazy Lemon only to find it closed on Saturday nights. Huh? Fortunately we spotted a new place around the corner, Backroads Bar & Grill. Like the Lemon, you have to buy membership instead of paying a cover charge (one of those weird loopholes in local blue laws.)
| | |
| --- | --- |
| It's a big space with multiple balconies overlooking the boot-scootin' floor below. The night we arrived they had a "Spring Break" party with a vaguely beachy theme. | |
There was a high male:female ratio, some cute girls but few, if any, seemed to be my type (which is fine 'cause I got the best catch in Texas, and I didn't even have to go there to get her.) The dour expressions on people's faces melted away as the drinks flowed. SW smiled, trying to lighten the mood, and people buy her drinks. I try the same thing and people give me the "What the hell are you looking at?" look.
The DJ spins up an eclectic mix of hard rock, southern rock, and new country. But eventually a band, something like "The Front Porch Boys", cranks up with a mix of country (old and new), southern rock, and a few original country numbers. The lead singer has the perfect voice for it. It inspires several couples to take up that most peculiar of Texas pastimes, the Texas Two-step.
| | |
| --- | --- |
| The man takes the woman in a half-nelson, resting his right armpit on her shoulder, usually clutching a longneck Bud in his right fist. He holds her right hand in his left, then they proceed to stumble about the room. Take two steps, then pause as if you're too drunk to walk and need a moment to catch your balance, then take two more steps. The woman is dragged along as if caught up in a bar fight. | |
The whole affair goes around in a big circle with the more creative couples adding spins and twirls. It seems like the younger folks don't participate as much, but several people polled by SW couldn't even remember who taught them the dance. It's ingrained, like an accent, for many Texans.
About half the males in the joint sported hats, 50% cowboy, 50% baseball. The cowboy contingent takes it to the Village People extreme with starched, skin-tight Wranglers, cowboy shirt and boots. Few in the room sport a look that could be called "trendy," "fashionable," or "metrosexual." One of these has a real looker on his arm, one of those girls you can't help but stare at. But once she gets a drink or three in her she transforms into one of the Girls Gone Wild, South Padre Island Edition types, dancing with just about any guy that asks while showing off her new engagement ring to the ladies. I predict it won't last, but I ain't from around here so what do I know?
The spring break party theme culminates with a hot bod contest for the guys, wet t-shirt contest for the ladies. We weren't willing to elbow our way through the mob in the pit below to get a decent look, but from the balcony we could tell we'd have more fun at just about any strip club in Atlanta. Meh.
But the music ain't half bad and it's an educational experience more urban liberals need to have to understand how assholes like W can get elected in this country. And the few people I talk to have interesting tales to tell.
SW discovers our waitress was a former classmate from high school, now working at the Wal-mart for the last 11 years, helping out at the bar on the side.
"Roy" changed his name from "Hector" Salazar after college. He was something of a star on the college baseball scene, but he didn't want to be bothered with people pestering him about that. He's in the barbecue biz now and "Roy sounds more country." He's gotten so good at it that he's not allowed to compete in the local competitions any more.
Josh is in town from New Orleans visiting his mom. His mom moved to Brownwood to take care of her mom, but she got hooked on drugs and now runs with a bad crowd. She begs money from her son but Josh is hesitant to give her anything because he knows she'll just blow it on drugs. He doesn't want to go home because he's afraid it'll be the last time he sees his mother alive. (Brownwood is going through a major small-town drug problem, according to some.)
Each tale makes me happier and happier not to live in a small town any more.
1 AM rolls around and it's last call so we head out, with the required stop for greasy late night snacks for SW, her local fave Wattaburger.
Sunday it's more of the photo tour before SW's friend from Austin arrives with her new baby. Lunch by SW's mom features cow two different ways (meat loaf and roast beef) and visits by more relatives.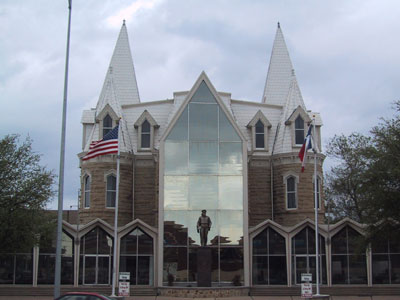 Douglas MacArthur Academy of Freedom
| | |
| --- | --- |
| | Then we leave the baby in the capable hands of SW's mom and run off to the carnival, The Pride of Texas, set up in a strip mall parking lot. |
Corn dogs, Tilt-A-Whirl, win the lady a prize, etc.
| | |
| --- | --- |
| | We opt for a spin on Starship 2000, a ride very similar to the old Spindle Top at Six Flags. |
| | |
| --- | --- |
| | Inside, the g-forces pin you to the wall and the little panels you lay on slide up and down. The kids in the ride screamed and giggled. So did the children... |
| | |
| --- | --- |
| | Unfortunately, the rides were $3 a pop, so we only rode a few. |
| | |
| --- | --- |
| | The old classic Tilt-A-Whirl still provides a thrill. |
| | |
| --- | --- |
| | Next to it was a ride called Storm, basically a new Tilt-A-Whirl but much faster and meaner. When we got off we were all green and decided we'd had enough. In fact, we'd had too much. We had to get some ginger ale and a movie and head home to recover on the couch. |
In the morning it's the standard Texas breakfast of eggs, bacon, sausage and biscuits again before we pack and pile into the rental car for the long drive across the nothing back to Dallas. The flight home seems short compared to the drive to the airport. I love my little Texan, but I agree with the bumper sticker, "Don't Mess With Texas."
---
"These people could put us out of business!"
Photo Editor, Creative Loafing

There's no place like home... no place like home...

All content on this site is owned by Degenerate Press and cannot be used without our permission. We have lawyers for friends with nothing better to do than cause trouble (no kidding), so play nice. Copyright © 2004, All Rights Reserved