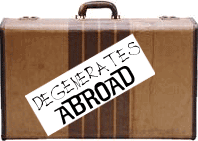 Chapel Hill, NC
September 2005
The drive from Atlanta to Chapel Hill is long and boring, but it's mostly I85 so you can speed along at 90 mph, if you keep a careful eye out for The Man, and cut the travel time down. Not much to see along the highway except billboards, and a giant peach water tower. Wonder how many of these there are in the South?
I'm headed to Chapel Hill to catch up with degenerate DN who moved there a few months back, and visit a neighboring junk yard for some Thunderbird parts. Up in the Carolinas fall isn't hinting at a visit, as it is back in Atlanta. No, it's knocking at the door. Poplar trees are yellow and brown and shedding already, with other trees clearly considering the option.
On my way into town I pass dozens of bikers cruising along in bike lanes, past several parks with pedestrian trails, and more cute college girls than is healthy for a straight male behind the wheel of a truck. DN has a small apartment in Carrboro, Siamese twin sister city of Chapel Hill. By the time I get there I'm more than ready to get out of the truck and have a drink.
DN takes me a couple of blocks from his place to the Weaver St. Market, one of those grocery stores that specializes in organic everything. Out front they have picnic tables on the lawn where you can sit and drink wine, beer and/or their prefab meals and watch kids play.

The town is very pedestrian friendly and full of galleries, cute little restaurants, yoga parlors, and students everywhere you look.
A local sits at our table to feed her baby and strikes up a conversation. She mentions an art walk going on this evening. It's too early to begin bar-hopping and free wine and cheese sounds good to me so we hit a few galleries.
| | |
| --- | --- |
| Then we head across town to Caffe Driade where a guy plays acoustic guitar on their little wooded stage. The café is cute and serves local brew in addition to coffee and pastries. | |
But the mood is a bit singer/songwriter here and I'm hungry, and ready for something more upbeat, so we hit the main drag in Chapel Hill and find a Mediterranean restaurant.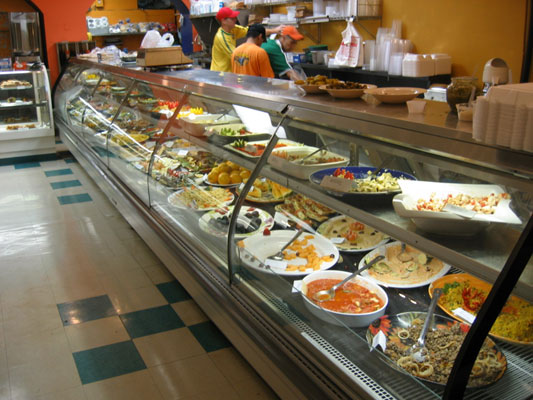 | | |
| --- | --- |
| We get the special, some kind of sirloin thing stuffed in a pita. Good stuff, though it's really too much food after snacking at the grocery and galleries. | |
| | |
| --- | --- |
| | We headed down the block, then under the block to The Cave, Chapel Hill's oldest tavern. It's a small space, made to feel even more intimate by the plaster ceiling done up like a natural cave. |
Their minimalistic approach isn't just attitude, it's a legal issue. North Carolina has some weird laws regarding alcohol. The beer and wine licenses are separate and to serve liquor you must be a club that tracks membership. All this does is complicate things. I can't believe it reduces any of the problems associated with alcohol any more than having a door guy that checks ID.

Rant aside, The Cave is a fine establishment. They have live music some nights and pool tables in a room in back.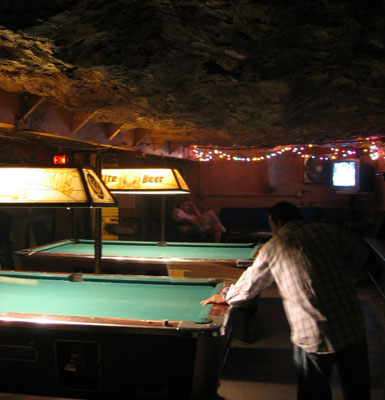 Just across the tiny alley stairwell from The Cave is an unmarked door. Through the neighboring window came party sounds - music, clinking glasses, chattering crowds. So we walked in like we knew what we were doing to find the basement version of the Wine Bar that resides above at street level. The basement bar has booze, but the usual membership requirement. The host asked me to sign in, which I did as if I were a member and DN were my guest. He didn't bat an eye and we both got drinks and settled in.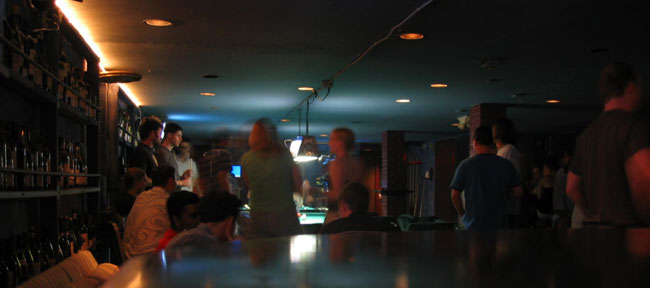 They have a couple of pool tables, couches for casual lounging, nice decor, but I didn't feel as at home as I had at The Cave.
We headed down the block to the Local 506, a club I've heard about thanks to their annual Sleazefest. DN has membership here so we didn't have to bluff our way in like minors with fake ID's or anything.

The place is really small. I can't imagine cramming the acts they feature for Sleazefest into such a tiny space.

Tonight, it was In the Year of the Pig, three guys with furry stuffed-animal hats cranking out modern noisy rock that had some good moments. But then the lead singer would start screaming incoherently and ruin it. They were energetic and enthusiastic and had a few fans but it soon chased us from the bar.
| | |
| --- | --- |
| | We ended up back at The Cave where a live band was doing considerably more melodic music, though I never caught the name. We chatted with random locals and Groves, the bartender, until late into the night. With the size and ease of walking around Chapel Hill/Carrboro, we left DN's car in a parking lot and trekked home on foot. |
We got up at a reasonable hour and sped east and south through the woods and small towns of central North Carolina to the outskirts of Fuquay-Varina, a little town southwest of Raleigh. Not much to see in the town, but that's fine by me as I'm on a mission for car parts. A couple of hours of sweaty labor later we're headed back to civilization with a truckload of interior, trim and grill pieces.
We got a late lunch at Carrburrito, one of the better burrito joints I've ever been to. Their carnitas (pulled pork) are damn tasty and they have 5 or 6 salsa choices, from a mild tomatillo to a relatively flavorless but painful habeñero.

The decor is funky and cute, including a cigarette machine that has been modified to dispense art work for a mere $5.
We hit a couple of small thrift stores in Carrboro, but they didn't have much to offer so we hit the main drag in Chapel Hill. We decided to catch a matinee, perfect timing since the local college was battling Georgia Tech in football on TV so any place without a TV was empty, places with TV's were filled with sports enthusiasts. We had some time to kill before the movie so we stepped into a little drug store that has a lunch counter. I had a good vanilla shake with bananas in it.

On the way out I noticed a rack of merchandise that confirmed we were directly across from a university.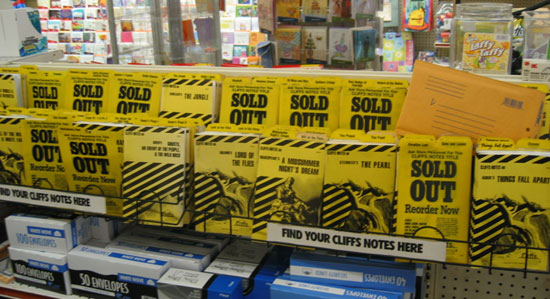 We saw The Aristocrats, a documentary about a joke comedians tell other comedians but (almost) never a general audience. It's filthy and fun.

Then we dropped off DN's vehicle back in Carrboro and walked to the Orange County Social Club, where DN signed us in on the membership roster. We had a couple of early evening drinks. The place was nearly empty but the decor is nice and they have a little patio out back for relaxing in the fall air.
| | |
| --- | --- |
| | We walked around the corner to The Reservoir, a little club with PBR on tap for $1.50. Later that evening they were featuring some live rock bands but early on the place had only a few punky guys hanging around. It's a small space but has an interesting balcony featuring a pool table and some couches, directly over the niche where the bands set up. |
From there we worked our way back toward Chapel Hill, sticking our heads in various places to see what was a'brew. We ended up at a nifty little place a block off the main drag, The Skylight Exchange, where the room is more like a used book store than a proper bar. You can bring in books, records and movies for sale or trade and their selection was impressive and affordable. When we arrived at 9:45 they had already shut down the kitchen but we talked them into fixing us some sandwiches.
We were already loud and obnoxious when we arrived, thanks to a few drinks before dinner, so the bartender, Lauren, took an immediate dislike to us. Well, to me anyhow, DN was quiet and polite whereas I was buzzed and in a gregarious mood. Lauren was at least an efficient bartender, handing out beers from their limited but affordable selection and dishing out abuse as well as she was taking it. She also has gorgeous legs and didn't mind showing them off in a frilly miniskirt, the type that only works on about 1 in 100 women.

But the kids that visit this particular establishment are the too-cool-for-their-own-good type and I could tell I was putting a few people off by being... well, friendly. Eh, fuck 'em, I was out to have fun, not be cool-to-the-point-of-cold. I did manage to meet a few nice folks that didn't mind chatting with degenerates a bit older than anyone else in the joint. After a while a couple of guys, American Giraffe, played some interesting, minimalist music but I didn't pay much attention as I was striking up conversation with anyone who would participate.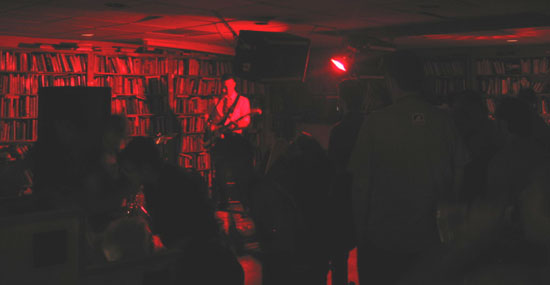 A week or three after I posted this review I got this email:
i'm one half of the now defunct American Giraffe (we moved to different corners of the earth).
but at www.boxlightbox.com/americangiraffe.htm
you can hear all your favorite american giraffe songs
which might not be that many, but still thought that i'd point it to you anyway.

From there things are a little blurry. This is why I usually take notes but I neglected to bring a notebook and I haven't found my Fisher Space Pen lately. I lose them every couple of months, which wouldn't be an issue if they weren't so fuckin' expensive, but they're the only pen that fits conveniently in a pocket. Fortunately the digital camera helps restore my lost and corrupted memories. According to the order of the pictures, we ended up back at The Cave where a huge dog took up half the room.
| | |
| --- | --- |
| The Cave has a wide selection of beer displayed on a shelf ordered by price. At the cheapest end of the shelf is Little Kings for $1.25. I asked if it was that bad and the bartender said it wasn't bad, if you like cream ales, but it was only 7 oz., thus the low price. I had to try it, just so I could say I'd had a $1.25 beer. One sip reminded me that no, I really don't like cream ale. I don't think I got through even the mere 7 ounces before giving up on the thing. | |
We stumbled back toward Carrboro, stopping by The Reservoir again to find the joint hopping. But we were in the mood for something quiet and sociable so we wandered back to the Orange County Social Club where things were quiet but we didn't have much luck striking up conversations with locals so we called it a night and headed back to DN's apartment.
I woke up early and decided I needed to get back to Atlanta, rather than lurk around for brunch. DN wasn't even awake by the time I hit the highway with a cup of coffee and a cinnamon roll, headed home.
---
There's no place like home... no place like home...

All content on this site is owned by Degenerate Press and cannot be used without our permission. We have lawyers for friends with nothing better to do than cause trouble (no kidding), so play nice. Copyright © 2005, All Rights Reserved