Sunday we found breakfast around the corner from the hotel and sat there for a bit trying to decide what to do with our day. We'd seen the museum and downtown, we'd done all the shopping we wanted to do, we'd tried to meet with a few of EM's friends with no luck - now what?
In the travel guide was a block of houses recommended above all others for their architecture, so we wandered up Astor Street, past the unremarkable first Playboy Mansion to a few other large, expensive, yet dull houses, and found ourselves in the lakeside park where we took this photo. (Note: some browsers automatically resize the image to fit the window. Hold the cursor over the window until a zoom box appears in the lower right corner. Click it then use the scroll bar for a much bigger picture!) We dug through the guide book again in search of something to do on a chilly, windy Sunday afternoon and decided to visit the lounge atop the Sears Tower, AKA Hancock Center, the tallest building in the U.S.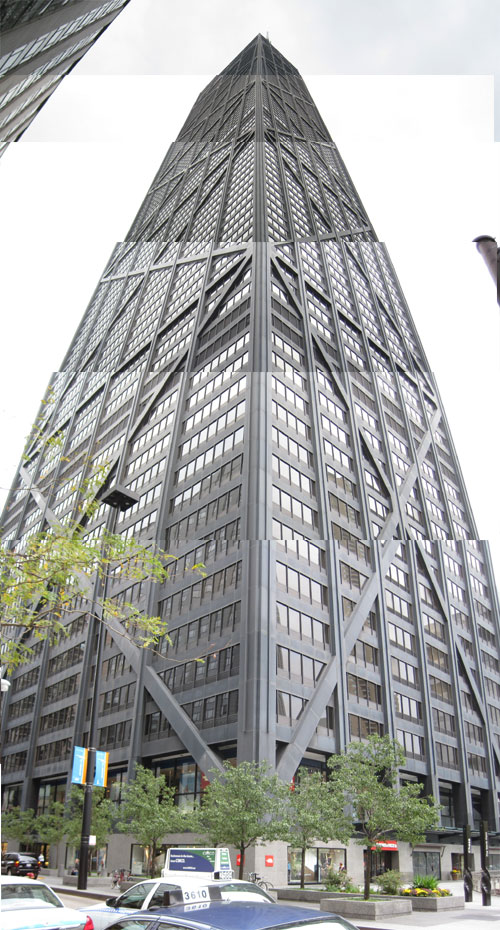 Rather than pay $13 each to stand on a cold, windy viewing platform, we opted for The Signature Room, the lounge on the 96th floor, where we paid $11 each for a tasteless glass of wine. But we got a glass of wine out of it, and got to sit in comfort and gawk at the city below. Check out the view. (Note: some browsers automatically resize the image to fit the window. Hold the cursor over the window until a zoom box appears in the lower right corner. Click it then use the scroll bar for a much bigger picture!)
Some of the menu options in the lounge just made me laugh.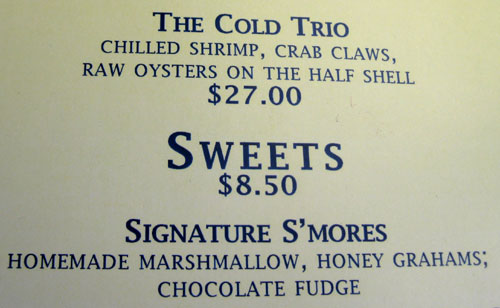 | | |
| --- | --- |
| We skipped out of downtown again, back to the Lincoln Park to wander, gawking at architecture, strange signs and this odd display in the window of an exterminator. (He was crouched beneath a giant owl kite that I couldn't quite fit in the picture.) | |
We stopped at Underdogs for one of the quintessential Chicago foods, the hotdog. Loaded down with all sorts of crap and sprinkled with celery salt, it's an odd, messy experience but it works for the most part. Mostly-vegetarian EM even tried a bit.

Then we stopped in at Earwax, a very cute cafe down the block, for some soup for EM, then back to the hotel to rest of for the night's festivities.
We hopped on the train and headed north, farther than we'd ventured before, toward the venue, The Riviera, where the concert was. Chicago is massive, seemingly infinite. You feel like you could ride the subway and/or elevated train forever and see block after block of interesting stone buildings that eventually all start to blur together. The area around the Lawrence train station, Uptown I think it's called, is surrounded by old theaters from the 20's or 30's, massive things adorned with columns and decorative elements and huge marquees. One of them stands boarded up, an indicator of the general health of the neighborhood.
There are a few cute bars and restaurants though and we stopped at a random Mexican place, a door or two up from the Green Mill bar. EM started off with a big sangria that was pretty tasty.

She went with some shrimp sautéed in garlic and onions for her main course, very good. I went with a hunk of steak and a chile relleno. The steak was fantastic, thin and chewy but extremely flavorful. Good fuel for beer drinkin' and hell raisin'.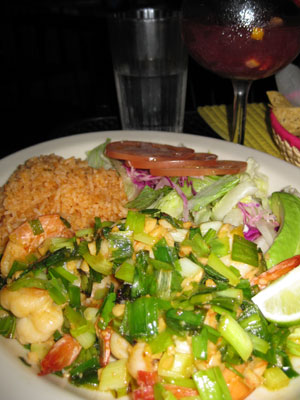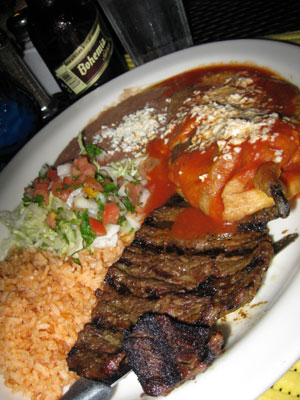 The Riviera was once probably a stunning movie palace and/or theater in it's heyday, but now it has a battered and faded glory vaguely reminiscent of a Hollywood set for a post-apocalyptic film, perfect for a performer like Nick Cave. There is a second story balcony overlooking the bar below where I snapped this shot.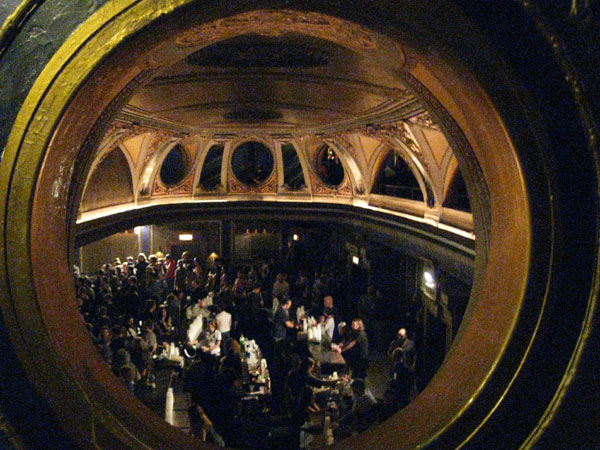 The ceiling is covered in carved decorations, carved arches surround every opening, there are chandeliers everywhere you look, and all with peeling paint, missing pieces or faded portraits on them - lovely.
We arrived in time for what we thought would be the opening act, The Black Diamond Heavies. I was looking forward to seeing them again, but apparently things start promptly at The Riviera and Nick Cave's band walked on stage as we found a place to stand. Alas, our late arrival made for an impossible time getting a good spot. Combined with the lighting, my hesitation to use a flash, and the fact that I was having too much fun to bother to take photos results in these two pictures being the best of a bad lot: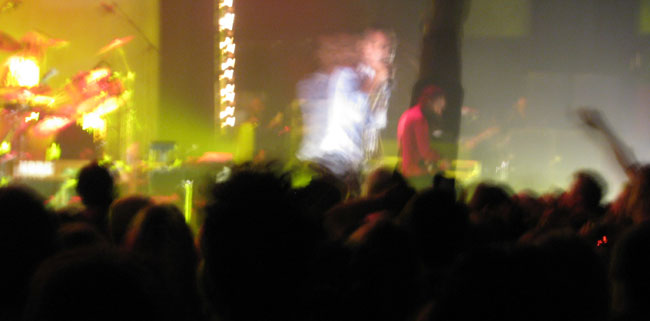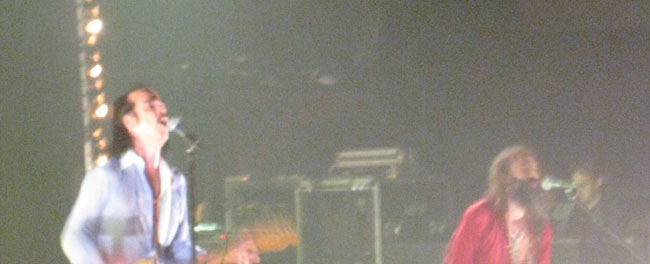 He put on a heck of a show, something I'd like to have a copy of if any of you geeks out there know some file sharing sites and have time/motivation to spare.
After a short but blustery encore, the show was over, Nick having played everything EM wanted to hear. She was positively vibrating with happiness.
We walked down the block in search of a drink. The Green Mill came recommended, but they had a jazz trio and I didn't want that interfering with the pleasant echoes of Nick Cave in my head so we walked another few doors down to some random near-empty bar and had a few. (Bars stay open late, even on Sundays, in Chicago, and you can buy booze in an actual liquor store on Sundays - how novel!)
In the morning the skies turned cloudy, spitting rain. Fog rolled in, blanketing the city, as if Chicago packed itself up as we packed our bags and headed for the airport.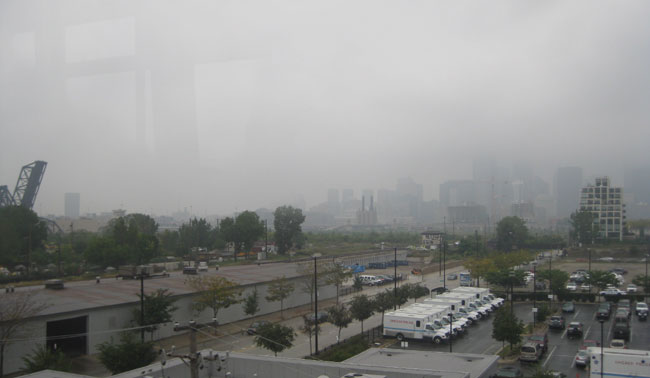 Good timing, weather. And good times, Chicago! Thanks!
There's no place like home... no place like home...

All content on this site is owned by Degenerate Press and cannot be used without our permission. We have lawyers for friends with nothing better to do than cause trouble (no kidding), so play nice. Copyright © 2008, All Rights Reserved