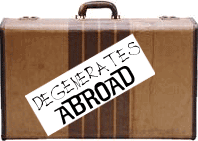 Mexico Beach, Florida
New Year's Eve 2004/2005
Cruising along the circuitous route generated by Mapquest to get from Atlanta to Mexico Beach, we wound through eastern Georgia and on through southern Alabama, past a lot of picturesque lakes, cotton fields, and countless barbecue shacks until finally we had to break for dinner.
| | |
| --- | --- |
| We hit Smitty's, on the outskirts of Panama City near the air force base, as indicated by the restaurant's aviation-themed décor. Good ribs, cooked without sauce but three flavors are on the table – hot, mild, and sweet. I liked the baked beans, full of bbq sauce and chunks of pork, but SW hated 'em. They've got lots of flavor so you'll either like them or not. | |
Back on the road, buzzing through the pine forests of the Florida panhandle. Last time I went through there was in 1985, days after I'd graduated high school. Then, the forest was on fire, the road obscured by smoke so thick we could barely see the yellow line, ashes raining down like snow. The dark of night obscures the view now as surely as the smoke did then.

On the other side of the base, we're suddenly in a beachside town, the black void of the night sea invisible beyond the waterfront condos and beach houses. We whip the truck into the parking lot of the first hotel we see, trying to figure out where we are only to discover it's the hotel where we'd made reservations – El Governor.
| | |
| --- | --- |
| Our room by day. | The rooms at the hotel all feature private balconies overlooking the beach and a little kitchenette. The beds were wobbly and squishy, but the place was clean. It's very family-friendly, as indicated by the children running back and forth at all hours. It's also family friendly in that it's run by a friendly family. The daughter checked us in while mom and the other kids watched TV on the lobby floor, everyone called each other by first names and wandered from lobby to bar to gift shop to chat. |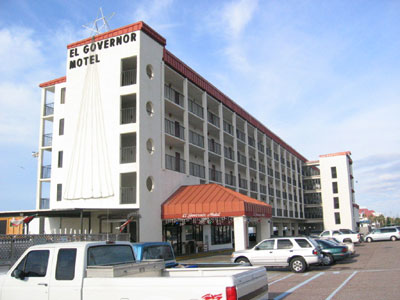 El Governor by day.
SW had developed a sore throat en route, so she hit the bed to watch TV and guzzle EmergenC while I threw on my ugliest floral print disco shirt and hit the hotel "tiki bar."

El Governor's bar has a faux thatched roof above the bartop but that's about the only tiki part about it. A frozen drink machine offers three colors of cheap vodka or grain alcohol mixes, but I opted to sip Jack Daniels instead. Unfortunately, there wasn't a lot going on during the week, off season in North Florida, even the night before New Year's Eve. I picked up the TV remote and flipped channels for a while, hoping some regulars or fellow tourists would show up, but I was only joined by the hotel handyman, and even he was shooed away by the bartender. I decided I could flip channels in the hotel room and save the hangover for New Year's Day and headed back upstairs.
| | |
| --- | --- |
| In the morning I hit the beach for a short walk while SW slept in. The beaches of the panhandle are pretty – white, sugar-like sand scattered with shells, green-blue water, gulls and pelicans. It wasn't warm enough yet for shorts, much less a dip in the water, but the day was clear and bright. | |
I drove around Mexico Beach and found the superette, a few boutique/trinket shops, the pizza restaurant, half a dozen seafood restaurants, two bars, the gas station, and…

Well, that's about it for Mexico Beach. Go inland 2 blocks and you'll dead-end in a swampy forest. Go west a few blocks and you'll find miles of empty forest hiding an air force base in there somewhere. Go east and you'll hit another empty stretch for a couple of miles before you reach the next town. In between is a small village with a mostly older, usually seasonal populace.

I headed back to the hotel and roused SW for breakfast. We hit The Fish House, a couple of blocks up and recommended by the hotel clerk. Eggs, tasty bacon, toast, greasy home fries – good stuff, friendly staff, but then everyone we met over the weekend had that small town friendliness.

We cruised east on Highway 98, looking out over what is marketed as "the forgotten coast," to the next town, St. Joe's Beach, really just a tiny suburb of the next town, Port St. Joe, a small town with a charming, recently renovated downtown strip of little shops, a bar or two, and a ratty old art deco theater from 1938 that has been converted into an auction house where, Friday nights at 7, you can bid on a plethora of antique furniture, old records, decorative knives, junk and treasures of all sorts.
| | |
| --- | --- |
| | We walked the length of downtown and back, then stopped in at a corner bar, Maggie's I think it was, where two patrons were slowly sipping their beers, already drunk at 2:30 in the afternoon. I wondered if they'd see in the New Year, or if they'd be able to see at all by then. Depressing little place, somehow choked with smoke and dark despite only three people inside and the glaring sun trying to work it's way through the tinted windows. But then most bars are depressing places at that time of day, so I shouldn't judge. |
There was scant evidence, at least in the few miles we'd driven, of any damage from the many hurricanes that hit Florida in 2004. But Port St. Joe and Mexico Beach are somewhat protected by Cape San Blass, a long peninsula that forms an elbow in the gulf out in the distance.
| | |
| --- | --- |
| | We headed back to Mexico Beach and stopped at Toucan's for lunch and sort of a scouting trip for later in the night. Budget Living had recommended the place as a good bar to count down to the New Year in the central time zone. I had some decent stuffed shrimp, SW opted for a massive burger. The two-tiered patio overlooking the sea looked like a good place to ring in the year so we decided to return later. |
| | |
| --- | --- |
| SW napped while I walked down the beach again, headed a mile or two down to the town's pier. It was just warm enough for shorts, though the moist sand chilled my bare feet. A lone fisherman cleaned his catch of the day, tossing the heads and innards to a pair of waiting pelicans. I passed maybe a half dozen people on my long walk, surprised that the beach was so deserted on such a lovely day for that time of year. | |
But most of the beachfront homes stood empty and our five-story hotel is the largest building for miles.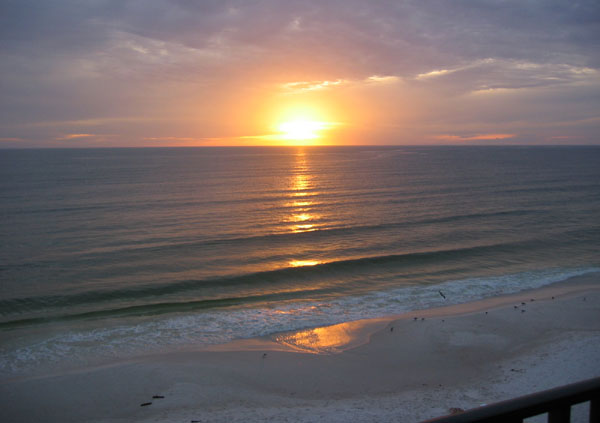 The view from our balcony.
---
"These people could put us out of business!"
Photo Editor, Creative Loafing

There's no place like home... no place like home...

All content on this site is owned by Degenerate Press and cannot be used without our permission. We have lawyers for friends with nothing better to do than cause trouble (no kidding), so play nice. Copyright © 2005, All Rights Reserved