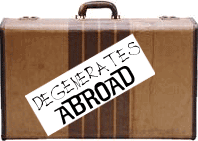 Jackson, Mississippi
July, 2001
This is an excerpt from our ezine Degeneration Excerpt, a semi-weekly and semi-weakly ezine on Atlanta's music scene, random travel tales, blasphemy and prophesy. If you want to subscribe to that broadcast just contact us!
Friday we left work early to get on the road to Jackson, MS, with that damn song stuck in our heads the whole way.
"We got married in a fever, hotter than a pepper sprout..."
It's about a 6 hour drive to Jackson, but it's I-20 the whole way so you can easily do 80 mph or faster and get there in 5 1/2 hours or less. And it's an hour behind so we didn't arrive too late for dinner and drinks before looking for some fun. We checked in at the Day's Inn, since we didn't know anything fun and local.
| | |
| --- | --- |
| In our cruise about town we stumbled across the Sun and Sand Motor Hotel in the heart of downtown with a big, retro sign out front and very 50's decor. It wasn't worth packing up and moving, but if you go to Jackson definitely make your reservations there. | |
| | |
| --- | --- |
| | Other observations about Jackson - it has potential. There are several beautiful art deco buildings and some fantastic warehouses standing empty that would make fabulous clubs, restaurants, even condos - and you won't hear me use that phrase often, if ever again. |
| | |
| --- | --- |
| But Jackson needs an infusion of money and people in a bad way. A good 20% of the town is boarded up and the looks on the locals' faces don't give a feeling of much hope that things are on the upswing. The historical district mentioned in some of the town propaganda looked like it had just weathered a major riot and was still waiting for people to move back in. But the block after block of burnt-out shotgun shacks and boarded up brick buildings are chocked with weeds, so apparently nobody is coming home any time soon. I was reminded of Cabbagetown, a poor district here in Atlatnta, during its pre-gentrification, bad days some 15 years ago. | |
But on the other hand, they have several fantastic museums, one of the most beautiful capitol buildings I've ever seen, some good food, and a small town charm clinging to the medium sized town. We dined at Hal and Mal's, a brew house restaurant and live music venue (http://www.halandmals.com). Friday the music hall was booked for private parties, but the food was decent and the beer was good.
| | |
| --- | --- |
| | I opted for a catfish po' boy. |
My girlfriend, degenerate SW, just about screamed in delight when I pointed out fried pickles on the menu, so we started with a round of those. They're sliced dill pickles, battered and deep-fried. I wasn't impressed but apparently they were a big thing out in Texas where SW grew up.

She followed that with a heaping plate of red beans, rice and sausage, more than we could eat even with me mopping up her leftovers, and that was only the half order. A full order would've taken up our whole table!
We asked around for a good post-dinner entertainment option and were pointed to George Street Grocery. It's not a grocery at all, at least not any more. It's little two story bar just outside downtown that caters to a college crowd. Unfortunately for them the schools were all out of session so the place was at least 1/3 empty. We found our way upstairs to the performance room and settled in for Lucero, the evening's band. Decent stuff, but it sounded a little too much like some 99X band who's name I couldn't even remember. Matchbox 182 and the Counting Crowfish or something. It wasn't bad, it just didn't stand out from the crowd.

Saturday we got up late and hunted for breakfast. We ended up at a little Greek place downtown, Lamar Restaurant, for ham and cheese omelets - not bad, but I was wishing it wasn't too early for some of the Greek fare on the menu. A large elderly Greek lady looked at me like I was crazy when I asked "Do you have baklava today?"
"Yes," she said, with a look that added "What are you, some kind of idiot, of course we have baklava today!?!"
She brought out a piece of baklava that must've weighed 5 pounds, all muscle. Dense, sticky, an absolute delight and if you ever get to Jackson you must pick up a piece. In fact, pick up three. You'll eat another on the way home and maybe that third piece will survive so you can bring it to me!
We made the circuit of museums we'd come to see, starting with the Majesty of Spain exhibit at The Mississippi Arts Pavillion (http://www.majestyofspain.com/), a one-time one-stop collection of stuff from various collections in Espana. It had gotten a lot of media attention and with our recent trip to España we were anxious to see it. It's good, but doesn't quite live up to the hype. You couldn't see this stuff in one stop anywhere, even in España, but some of the royal palace room recreations were a little hokey and unimpressive when taken out of context. On the other hand, they had several Goya paintings, a load of tapestry, various impressive religious artifacts, and even a 35' gilt gondola covered in cherubs and fish.
We followed that with an exhibit of Muslim Spain just up the block, definitely not worth the $7 admission. It was basically a series of photographs taken from books and illustrations of Moorish style, stuff that really has to be seen in person.
On the other hand, the Old Capitol museum was worth far more than the free admission, featuring a small exhibit of artifacts from Mississippi's Spanish past in one room, while the rest of the rooms were packed with exhibits from Mississippi's later history. Highly recommended, but give yourself plenty of time. We didn't realize how big the exhibits were and didn't even see the second floor before closing time.

| | |
| --- | --- |
| | We asked around for the best local bbq joint, only to find it closed. So we opted for one close to the hotel and got a decent plate of pork and some limp vegetables from Chimneyville Smokehouse. The pork was decent, the sausage wasn't, and the vegetables weren't great either. But they do have this nifty pig ride inside! |
A short rest and change of clothes later, we headed back out to Hal and Mal's for Web Wilder, a musician gracing the cover of their local arts paper Planet Weekly (http://www.planetweekly.com) The opening act, Cary Hudson and some guy who's name I couldn't catch, was a simple acoustic and bass duo doing singer/songwriter stuff that was 75% good, 25% awful. If he'd played 15 minutes less and been more selective about his set I'd probably be raving, but he threw a few songs in there that sounded like they were written by a lovelorn adolescent- awkward and dopey. The other tunes were excellent stuff so if he can find a producer to help him sift the good from the bad he could put together a strong recording. (Better than than 100% mediocre any day.)
We got a few more drinks and realized Jackson bartenders make 'em strong. Most of the crowd in Hal and Mal's and George St. Grocery were the Lite or Corona drinking set, so apparently if you've advanced to the liquor drinking stage the bartenders think you're ready to wash your Jackson blues away in a drunken haze. Which was where I'd have to be to really enjoy Web Wilder. He does a fair job with the material, but the material ain't that great. Very Hank Williams Jr. meets Jimmy Buffet kinda achey breaky pop country, with the occasional nod to rockabilly. But I've seen so much good stuff at the Star Bar I no longer have a tolerance for the bad, or even mediocre. The crowd was an older set who were really enjoying it, so we beat a retreat across the street to Martin's.
I was worried when I'd looked at the listing for tonight's music lineup at Martin's. "The Vamps" made me wonder if we weren't in store for a night of Mississippi's goth scene, a phrase alone that instills terror in me. But as soon as we walked in the door we knew we were in the right place. Martin's is the oasis in the Jackson night life desert. Cute girls at the bar, attentive bar tenders, and The Vamps turned out to be a mostly instrumental jazzy funky band with a killer horn section belting out fun and interesting covers of everything from The Beatles to classic Mississippi blues to old jazz with new twists. (http://www.thevamps.com) Eventually we'd ogled everyone in the back room where the band played, so we moved into the front room to ogle the set at the bar and wound up chatting with a random couple until around 2 AM. (After a few more stiff drinks at Martin's I practically had to pour SW into the truck.)
Sunday morning came too soon for our used and abused livers, but we checked out of the hotel, got some hangover helper at the Waffle House, and headed back to the museum tour. We hit the Dali exhibit at Mississippi Museum of Art (next door to the Arts Pavillion, regardless of what you may find in the map found in the hotel lobbies, which had at least 4 entries listed incorrectly) and were pleasantly surprised. They had two rooms full of Dali sculptures, stuff on loan from somewhere up in Memphis that I'd never seen before, some of it fabulous. A few lithographs and a single painting added to their collection of the surrealist works, but the sculptures were the high point of the show, if not the whole Spanish themed weekend. To add to that, the museum was also hosting "Thirty years of rock and roll", a collection of photos by Larry Hulst. "He saw everyone!" raved SW, cruising past wonderful pictures of Jimi, Janis, The Stones, Iggy, Bowie, KISS, AC/DC, Van Halen, and other big names from '68 or so all the way up to Lauren Hill. All the shots black and white, taken at concerts and most of them were excellent in every way. In another wing the gallery hosted an invitational show by various artists and several pieces in there impressed me as well.
And all this in a half-boarded-up town of some 200,000. Somebody there really knows how to hustle and bring in the culture! Now if only they could bring in the industry as well and keep the locals from fleeing the place, Jackson could be the next Atlanta. Then again, as I battle my way out though bumper-to-bumper traffic to pick up my girlfriend from work, cruising past yet another cookie-cutter Post apartment/condo nightmare pushing the boundaries of urban sprawl yet another 20 miles out, maybe a few burnt-out shotgun shacks and the occasional empty warehouse aren't so bad...
---
"These people could put us out of business!"
Photo Editor, Creative Loafing

There's no place like home... no place like home...

All content on this site is owned by Degenerate Press and cannot be used without our permission. We have lawyers for friends with nothing better to do than cause trouble (no kidding), so play nice. Copyright © 2002, All Rights Reserved