Chattanooga, 2004
Part 1
This is an excerpt from our ezine Degeneration Excerpt, a semi-weekly and semi-weakly ezine on Atlanta's music scene, random travel tales, blasphemy and prophesy. If you want to subscribe to that broadcast just contact us!
If you enjoy this tale you'll probably love our lengthy tale from our trip to Italy:


---
We left work a bit early so we could head north into the tail end of the Appalachian mountains to Chattanooga, which would be our base camp for our weekend of junkin'. We stayed at a Ramada just around the bend in Lookout Valley - a dump, but cheap.
| | |
| --- | --- |
| Drunkards that we are, the first thing we did in town is settle in for a beer or three at the Taco Mac. Sure, there are better bars in town and we prefer not to support a chain establishment, but it was a perfect day out and they have a nice patio. | |
Next up, dinner at Cibo!, and Italian place we'd wanted to dine at the last time we hit Chattanooga but never got around to it.

They have an impressive wine list, though I'm spoiled from my trips to Italy when it comes to price.

They also give you a bucket of breads, and some cream cheese based goop to put on it. I preferred the olive oil they poured on a plate instead.
| | |
| --- | --- |
| | I feel guilty eating veal, but I'll get it once every few years. Cibo serves up a pretty fine veal parmesan - crispy and tender. They gave me a bit too much sauce but I ate around it and enjoyed it. |
| | |
| --- | --- |
| | My lovely date selected the Florentine steak, served on a bed of pasta alfredo with a side of veggies. We traded plates halfway through and I had to agree with her - the steak was excellent, particularly with the pasta. The veggies were a bit too hard. I couldn't tell if they were going for an al dente thing, or if they were just undercooked. But otherwise it was a fine meal. |
| | |
| --- | --- |
| Just outside in a large courtyard they were having a free concert, something they were doing every Friday during the summer. The plaza was packed with families, kids dancing around and a few patrons enjoying a beer or two. Very family-friendly fare. | |
| I wasn't really listening to the music, but SW thought it was vaguely in a Christian theme. | |
| | |
| --- | --- |
| Which worked well with the holy rollers bikers that had descended on town. Lots of impressive machines, many labeled with the date on which the biker had been born again. | |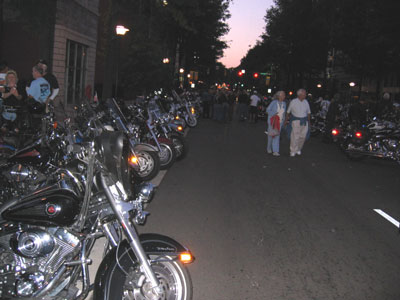 The music and motorcycles couldn't hold our attention for long though. We drove up the hill and found our favorite bar, Stone Lion Tavern. We reviewed the place last year and nothing has changed:

"Up the hill is another tiny bar, Stone Lion, which stays open an hour later than the other watering holes. It looks like a forgotten crawl space under the large house above, converted into a bar. There is a staircase out front that goes to a balcony above it but I have to wonder who lives in the rest of the building as the raucous crowd parties hardy until after 3 AM. An excellent little hole in the wall."

Few tourists ever leave the strip, so Stone Lion is 99% locals, mostly jovial and friendly even to out of towners. The only downside is they only serve beer, but they have a broad selection both on tap and in bottles. Or if you just wanna get wrecked they have Schlitz Malt Liquor for a buck a can. We hung around chatting with people and watching the news about hurricane Charley and the Olympics.

Did anyone else see the giant altar to Cheech & Chong that was the Olympic torch?!? I couldn't help but say "Holy crap, look at the size of that joint!"
The bar got quiet as everyone looked at the TV. The joint was lit, then raised high over the stadium on a giant roach clip and the bar erupted in giggles.
---
"These people could put us out of business!"
Photo Editor, Creative Loafing

There's no place like home... no place like home...

All content on this site is owned by Degenerate Press and cannot be used without our permission. We have lawyers for friends with nothing better to do than cause trouble (no kidding), so play nice. Copyright © 2004, All Rights Reserved