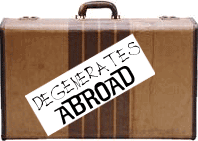 Memphis, 2002
Part I: The Birth of Elvis
This is an excerpt from our ezine Degeneration Excerpt, a semi-weekly and semi-weakly ezine on Atlanta's music scene, random travel tales, blasphemy and prophesy. If you want to subscribe to that broadcast just contact us!
If you enjoy this tale you'll probably love our lengthy tale from our trip to Italy:


Part I:
The Birth of Elvis
| | |
| --- | --- |
| This Elvis pilgrimage brought to you by delicious and refreshing Minute Maid lemonade, pink lemonade, and sugar free Minute Made light - that's right, Degenerate Press can no longer afford degeneration on our own so we got corporate sponsors for last weekend's trip to Tupelo, Memphis and Graceland to see all things Elvis. | |
It's been 25 years since the King passed away, a perfect time to head to Tupelo, Memphis, Graceland, and Graceland Too! First stop, Tupelo, Mississippi, birthplace of the King. It's a small town, much like Jackson on which we've reported before. Quaint, with some nice Old South architecture and some good food.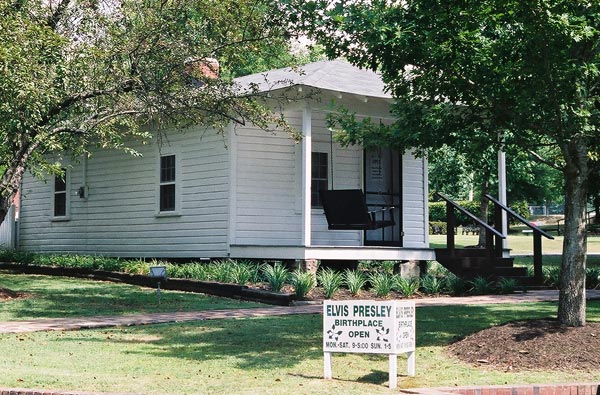 Elvis was born at 4:35 AM on January 8, 1935, in a tiny two room shack that was built by his father, grandfather and uncle, on the outskirts of town. They had to borrow the $180 for materials and later had the house repossessed. Pictures of Elvis as a child give you a feeling for the mood of the times - dirt poor. Elvis later bought this house and the surrounding acres to establish a park. The house has been refurbished with period furniture but it's not much to look at, inside or out. But no Elvis pilgrimage would be complete without a visit and it's only a couple of bucks.
| | |
| --- | --- |
| Next to the house is a statue of the young Elvis, and a chapel built by his friends, family and fans. It's free, so step in and get a look at the stained glass. Notice the benches donated by such folks as Colonel Tom Parker. Also notice the altar where you can kneel and pray facing the only open window, facing the birthplace of Elvis. | |
Also on the grounds is a gift shop and museum. The museum isn't worth the $5 to see a room full of memorabilia, especially if you're going on to other Elvis destinations, but the gift shop has some nice things and you can pick up a "Driving tour of Tupelo and Elvis" pamphlet that will guide you to:
| | |
| --- | --- |
| | Elvis' favorite hamburger stand. |
| | The elementary school Elvis attended grades 1-5. "Here his fifth grade teacher entered Elvis in a local talent contest, where he won second place singing 'Old Shep.'" |
| | |
As well as:
The place where a grocery once stood where Elvis used to listen to music and hang out.
Assembly of God Church, where the Presley family attended services. Now known as Victory Holiness Church.
Tupelo Fairgrounds where Elvis returned for concerts in 1956 and 1957. Proceeds from the 1957 concert enabled the restoration of the birthplace and the purchase of 15 acres now known as Elvis Presley Center.
Milam Junior High School, where Elvis attended grades 6-7 and part of the 8th, making A's in music. The family then moved to Memphis.
| | |
| --- | --- |
| | We had dinner at Big Easy, just two doors down from the hardware store. The Big Easy serves up some tasty Cajun cuisine, like the grilled chicken over rice with bits of pepper and sausage that SW selected. I got a blackened all-white-meat chicken po' boy, symbolic of the man who's life we were following. The waitress told us about going to college in Tupelo just so she could get the '67 Camaro she always wanted, and how about she'd moved to the tiny town of Tupelo from somewhere "really small." |
| | On our trip back through Tupelo we dined at the Rib Cage – mediocre food and service, though our waitress was a very lovely girl that looked like a teenage Cher. |
We had to get to Memphis to distribute delicious and refreshing Minute Maid lemonade, pink lemonade, and sugar free Minute Made light! The company lent us a new VW Beetle emblazoned with Minute Maid logos so everywhere we went people pointed, smiled, and yelled out "Lemonade!" As cute as the new Beetle is, I have to pause here to bitch. VW's suck. I know there are a few German car fetishists out there who disagree, but the more time we spent in that car the less we liked it. Probably the worst part was the damn transmission - what moron decided reverse should be next to first? I can't count the number of times I thought I was in reverse then let out the clutch, only to jump forward, or vice versa. I lost count of the other interface improvements I could recommend. Then the thing started falling apart. I knocked off some bit of plastic interior every time I got in or out of the car. But I wasn't surprised. I nicknamed VW "Volkslemon" a long time ago, and the bright yellow one with Minute Maid all over it earned that nickname in more ways than one.
Part I:
The Birth of Elvis
---
"These people could put us out of business!"
Photo Editor, Creative Loafing

There's no place like home... no place like home...

All content on this site is owned by Degenerate Press and cannot be used without our permission. We have lawyers for friends with nothing better to do than cause trouble (no kidding), so play nice. Copyright © 2002, All Rights Reserved