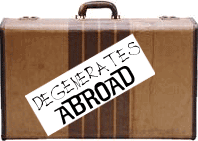 Memphis, 2002
Part III: Graceland
This is an excerpt from our ezine Degeneration Excerpt, a semi-weekly and semi-weakly ezine on Atlanta's music scene, random travel tales, blasphemy and prophesy. If you want to subscribe to that broadcast just contact us!
If you enjoy this tale you'll probably love our lengthy tale from our trip to Italy:


Sunday morning we headed south in search of hangover helper and the Mecca of Elvis worship, Graceland. A few blocks past Graceland we found The Gridirion, a 24 hour Greasy (with a capitol G) spoon where the burgers are $2. Maybe if they charged a bit more they could afford to repair their cracked seats and scrape the grime off the walls, but then they'd price out their regular clientele - perfect hangover food and perfect for the mood of Memphis - cheap, greasy, dirty, but genuine. Also good food just before heading into Graceland so you get the taste in your mouth of what Elvis came from and have a better understanding of why he was determined to get his folks out of their dirt poor situation.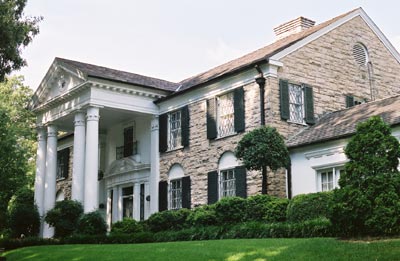 You can see what he did with that money circa 1977 at Graceland. We went for the whole enchilada "Platinum" option, including the mansion, the car museum, his two private jets, and the movie "Walk a Mile in my Shoes."
| | |
| --- | --- |
| | We kicked things off with the jets. He purchased the Lisa Marie for $250,000 then spent another $750,000 refurbishing it. It doesn't really show except in the 24 karat gold flecked sinks, which don't look real but that somehow works with the rest of the decorating style. The other jet, Hound Dog II, is smaller and less impressive. But both sport the TCB logo Elvis designed. |
| | |
| --- | --- |
| We checked out the car museum with many of Elvis' personal machines on loan to Disney for some new movie premier, but the famed pink Cadillac was still there, along with a dozen other wonderful cars, a handful of motorcycles, a couple of trikes, and even a few go-carts. Unfortunately the room is kept a bit too dark and the cars are roped off a bit too far away so you really don't get a good look, but the man's taste in cars matched his taste in most things - big and gaudy. | |
| | |
| --- | --- |
| | After hitting the four separate gift shops (each selling a different assortment of souvenirs like Elvis cross-stitch kits, Elvis BBQ seasonings, Elvis mousepads, Elvis Chistmas tree ornaments, Elvis beer steins, Elvis Monopoly games, Elvis cookie jars, Elvis Franklin Mint plates, Elvis beach towels, Elvis shot glasses, Elvis t-shirts, and of course Elvis teddy bears, each bearing the holographic stamp proving they are legally licensed by Elvis Presley Enterprises) we didn't have time to catch the movie before our tour bus for the mansion was loading up - time for the grande finale of Elvisness, Graceland! |
Elvis Presley Enterprises provides a free audio tour that begins as soon as you step on the bus, one of those headset things you get in museums. It's very helpful and tastefully done with a few audio clips of the King himself talking about his home, along with samples of his music between the narrator's descriptions of each room and history of the place.
| | |
| --- | --- |
| The bus pulls through the decorative gates in the wall of Alabama fieldstone, all covered top to bottom with fans' graffiti, and up the drive to the mansion itself. | |
It's tough to see, but the dining room table is marbled mirror.

Some 600,000 fans visit Graceland every year. Elvis loved to entertain and show people his home, and it shows. Elvis decorated, and redecorated, each room in different style. The problem is 1977 isn't a time well known for its style, nor was the decorator known for good taste. The rooms shock the senses with yellow vinyl, green shag carpet, lots of mirrors, gold trim, orange accessories - in a word, tacky.

Unfortuantely the place isn't lit well enough for photos and they don't allow flash photography so it's difficult to get a decent picture. The guidebook is worth the money, but doesn't show all of the rooms or focus on the details you might find charming.
| | |
| --- | --- |
| | One thing you won't get on the official tour or in the official guidebook is much dirt - no Elvis blasphemy allowed. They mention that Elvis and friends used to get rambunctious and ride their go-carts down the street once in a while, and they point out that one of the open sheds in back held targets for target practice. They mention the obvious bullet marks in the shed, but they don't mention Elvis shooting TV's or even the bullet hole in Lisa Marie's slide. |
| | |
| --- | --- |
| Elvis, his parents and grandmother are buried in the Meditation Garden next to the mansion. FYI, his middle name on his tombstone is not misspelled. It was misspelled on his birth certificate. He went to have the official state records change it to the proper spelling, but found that all the state records had spelled it "Aaron", as he wanted it spelled. Face it, he's dead. | |
| | |
| --- | --- |
| | The only portrait Elvis ever commissioned himself. |
| | |
| --- | --- |
| For those who haven't had quite enough Elvis, there is the racketball gym in back containing a collection of his famous jumpsuits, followed by the trophy room packed full of Elvis memorabilia. Here's where you get the Elvis Presley Enterprises decorative style - total and complete adoration of Elvis, with his gold records and sequin suits displayed like holy relics. Also tacky. | |
But that's part of the charm.
For me, the other part of the attraction is the fans - not the ones like me that come there for the kitsch value, but the serious ones, the ones that cry during the pre-tour movie, the ones who fall silent at his grave, the ones who bring candles to the vigil on the anniversary of his death (or disappearance, depending on just how hard-core the fan is.) Somehow inside me is something missing, some chromosome or vital organ - I just don't have the celebrity worship feelings that much of the general populace has. I see a man who did some great art and I want to enjoy his art, not see where he once sat or see his poor taste in home furnishings. While others come away in silent awe, I walked out giggling. It was fun but I just don't have religion. Others see differently.
Some see very differently....
---
"These people could put us out of business!"
Photo Editor, Creative Loafing

There's no place like home... no place like home...

All content on this site is owned by Degenerate Press and cannot be used without our permission. We have lawyers for friends with nothing better to do than cause trouble (no kidding), so play nice. Copyright © 2002, All Rights Reserved