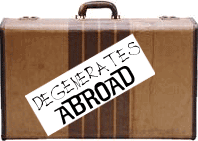 Miami, Florida
New Year's 2006/2007
| | |
| --- | --- |
| We had breakfast at Jimmy's, a diner that serves up fine blueberry pancakes and where one of the Brothers Gibb used to eat daily. I can't remember which Gibb it was, but he's dead now so we sat at his table. | |
We headed for South Beach to show EM the sights and lounge by the sea.

No, she's not hiding from the camera, she's hiding from the wind as she tries to light up. ("I am not an animaaaaal!" I joked.)

Personally, I love South Beach. The water is lovely, there are often topless women displaying themselves, and the gorgeous deco motels and buildings serve as a backdrop. It's not secluded or private in any way, but it's a fun visit.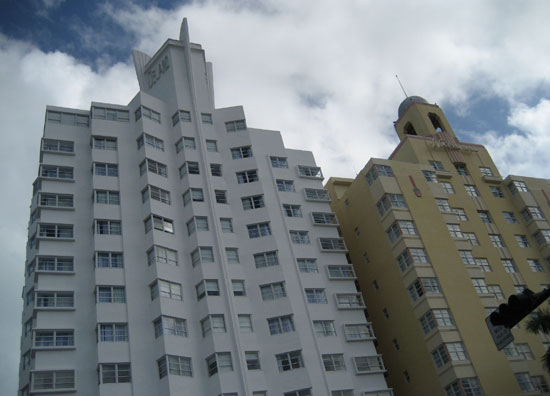 | | |
| --- | --- |
| After a couple of hours basking in the sun we trekked inland a few blocks in search of a record store EM had spotted. I can't remember the name of the place but she wasn't impressed. We headed back toward the car, stopping off for a slice to fuel up for our next destination. | |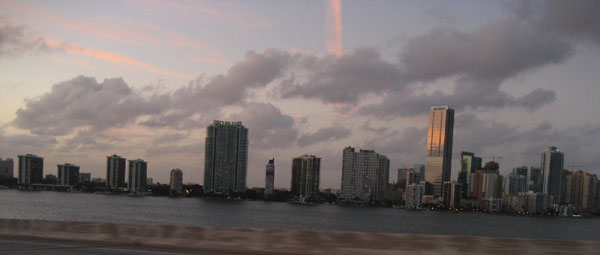 As we sped out over the bridge the sun was setting behind us, turning the sky all sorts of Miami colors.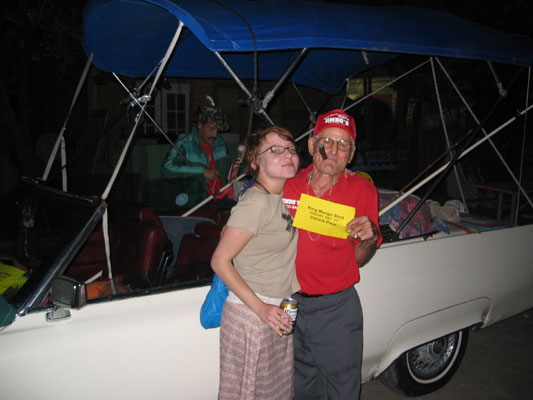 Jimbo's Fish Camp, out by the sewage treatment plant, is one of my favorite Miami destinations. Jimbo himself was there, brimming with cheer after being in the King Mango Strut, a goofy parade that trekked through Coconut Grove earlier in the afternoon. Jimbo's float, a classic Caddy complete with bimini and fishing poles, was still parked out front.
| | |
| --- | --- |
| A rag-tag group of musicians were cranking out some sloppy Black Sabbath, complete with a triple-necked guitar. Unfortunately, the three headed monster got packed away before I got a decent photo. | |
| | |
| --- | --- |
| A couple of guys played bocce ball while we sipped canned beers and watched a documentary about the place. Apparently the city recently wanted to take over the property but after a small uproar they have left it as-is for now. | |
| | |
| --- | --- |
| A half dozen kittens roamed the grounds, each climbing their way down this wooden signpost to find mom hiding under the table looking for scraps. | |
| | |
| --- | --- |
| We sat around the table chatting with some rather colorful regulars. Unfortunately, Jimbo's stops selling beer at 7:30 so there was no late night New Year's Eve action to be had. | |
| | |
| --- | --- |
| That didn't stop Swampfoot, the guys on the makeshift stage, from rocking on in to the night. But the later it got the drunker they became and each member apparently had a different idea of what they were playing. Southern rock oozed in over a Sabbath riff while the singer belted out a few bars of random tunes with quite the eclectic range. It was almost like avant-guard noise. Someone launched off a few fireworks at random, adding to the din. | |
| | |
| --- | --- |
| But only a few yards away on the other side of camp it was comparatively quiet. The moon was shining down, trees whispering in the breeze, water lapping at the boats - lovely. | |
We headed back to the house to change and decide what to do for the night. We wound up back at The Deuce where things were somewhat sedate early on.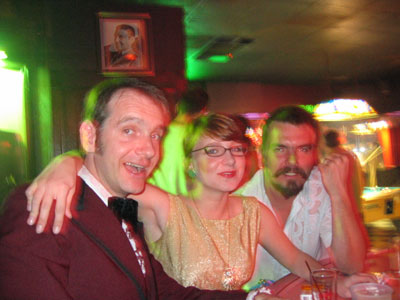 | | |
| --- | --- |
| But at 11:30 they switched the TV from football to Dick Clark (who I am convinced is now an animatronic robot created by Disney for use until they can complete a realistic CGI version) and dumped boxes of noisemakers and hats and other party favors onto the bar, by which point most folks had gotten enough booze in them to make the atmosphere considerably more festive. | |
A bit before midnight a bunch of folks rushed out the door to head to the beach to watch the fireworks. We opted to stick it out and countdown with our newfound... uh... "friends."

Midnight came and we watched the animatronic Dick Clark ring in the new year. A few minutes later the folks came back from the beach, disappointed. Apparently the fireworks had been canceled due to high winds.
| | |
| --- | --- |
| A couple of hours later my companions were determined to take their first dip of the new year. As designated driver, I was considerably less motivated. But a few minutes of watching them hop around with abandon made me abandon my inhibitions, and clothes, and dash after them. It was chilly but tolerable. | |
JN had gotten a bit too festive so we had to stop on the way to the car to get a bite. We found a 24-hour Cuban restaurant and everyone ordered their faves. Beans and rice for EM, a tasty steak for JN, and pork for me, in the form of chops with onions. Delicious!

But not everyone was feeling as perky as I at 3 AM...
| | |
| --- | --- |
| New Year's Day we didn't have any plans. We knew many businesses would be closed but my folks had the day off so they drove us through the swamps to Alabama Jack's, a water-side restaurant/bar that serves up fried fare from the sea. | |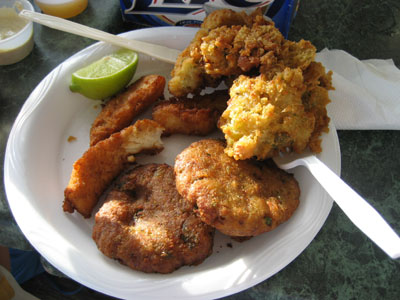 | | |
| --- | --- |
| A band was doing Jimmy Buffet and Patsy Cline while the place bustled with activity. | |
So if you're in Florida and you see someone using a camera out by the water make sure to report it to Homeland Security.

I spotted all sorts of suspicious characters so let these photos be a record for you enforcement types out there - be on the lookout!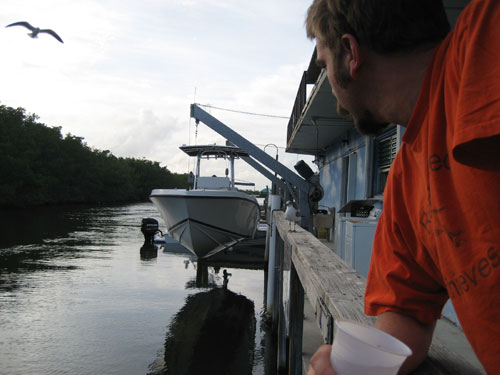 | | |
| --- | --- |
| We cruised back through the swamp as the sun set, taking a scenic route. But the Everglades are interesting for about 5 minutes, then you've seen plenty of brown grass as far as the eye can see, interrupted by islands of scrubby trees. | |
We tried to catch a movie that evening but after debating what to see for an hour then hauling our butts to the mall we found everything sold out and weren't motivated to stick around for an hour until the next show, so we called it a night and returned to the house to veg in front of the TV.
| | |
| --- | --- |
| The next morning was dedicated to thrift shopping. We hit Flamingo Plaza, a shopping mall packed with thrift stores, and scored a few good finds. Then for lunch we cruised around the block to Stephen's Deli for massive sandwiches, homemade pickles and slaw. | |
By the time we got back to the house it was too late to see the museum I wanted to see (The Wolfsonian) but JN was determined to get kicked out of The Fontainebleau, a la Hunter S. Thompson, so we headed back to the beach. Coincidentally, we caught a James Bond flick, Goldfinger, that afternoon that featured a bunch of scenes from the famed hotel.

Unfortunately, those days are gone. The Fontainebleau was under massive renovation and the restaurant and bar were closed. The bar with the underwater view of the pool was gone. Even one of the buildings had vanished, a half-constructed high rise in it's place. The only thing we could visit was the poolside bar.
We had a few overpriced drinks and gazed at the pool, empty in the cold, rainy evening, but there was no reason to linger. Eventually succeeded in getting escorted out by security, but only because you couldn't get back into the building to leave the compound without a room key to get the damn door open.
Back at the house, CN cooked up another delicious meal. I think we were too pooped to party so we retired early. In the morning we packed and headed for the airport, flying out over Fort Lauderdale and back to comparatively chilly Atlanta.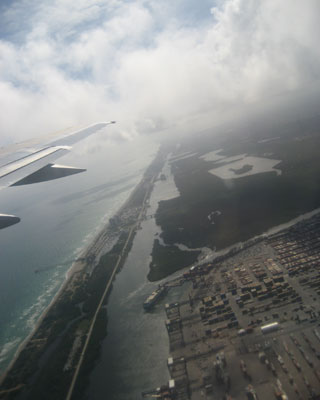 ---
There's no place like home... no place like home...

All content on this site is owned by Degenerate Press and cannot be used without our permission. We have lawyers for friends with nothing better to do than cause trouble (no kidding), so play nice. Copyright © 2007, All Rights Reserved