The next morning, many of us were feeling the effects of such a night. We hit Say Cheese, a restaurant that specializes in grilled cheese sandwiches, perfect hangover helper.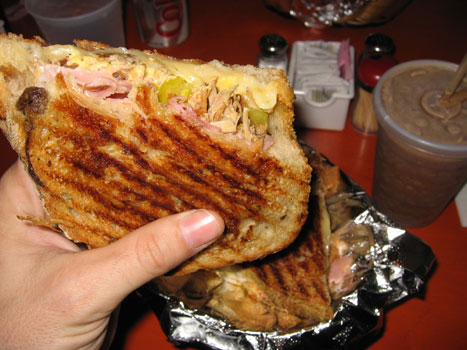 As I was on a trip with 5 women, shopping was often on the agenda and Monday was no exception. The weather had turned from perfect to perfectly awful – cold rain and wind – so the climate control of a retail environment was fine by me. First up, H&M, a three-story store packed with trendy clothes at reasonable prices. Unfortunately, modern trends for males are the same boring crap that keeps me browsing thrift stores and ebay in search of my own wardrobe (much to SW's chagrin.)

CM said, "The last time my sister and I were in H&M we shopped for 5 hours."

I bought a t-shirt and a pair of sunglasses.
| | |
| --- | --- |
| | While the ladies perused the aisles in the cathedral of capitalism, I headed across the street to tour the aisles of the Catholic Cathedral, St. Patrick's. |
| | |
| --- | --- |
| I've seen dozens of cathedrals and churches in my wanderings of Italy and other European countries, so it's difficult to impress me with religious splendor. I'm also not a big fan of High Gothic architecture – too much gingerbready crap on there. | |
| | |
| --- | --- |
| | But St. Patrick's is a fine church with classic lines. |
| | |
| --- | --- |
| They have some lovely marble statuary in the shrines along the sides. | |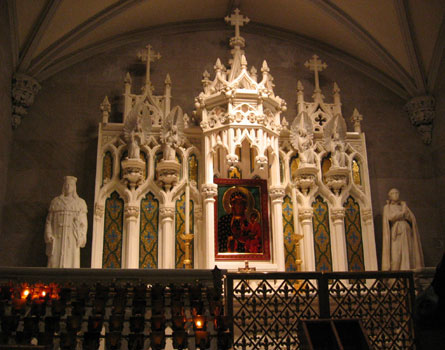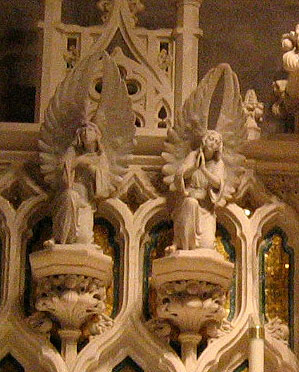 Details from the photo above.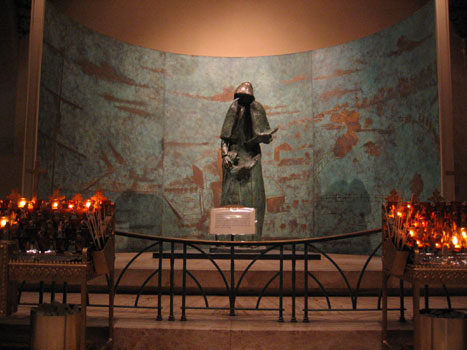 Not all of the works are classic marble. They have a nice bronze piece as well.
| | |
| --- | --- |
| There are a lot of deco skyscrapers in New York I'd love to visit. Gothic gargoyles stare down from every other building and the tops of many buildings have decorations that are frustratingly far away. The Waldorf Astoria was near by so we walked in and admired the floors, ceilings, and their big clock that chimes out the time in the lobby. | |
We wandered on, into Grand Central Station to admire the architecture. It's a fantastic space that is surrounded by countless tunnels, giving one the feeling of being inside a termite mound, particularly during rush hour.

Some shopping there yielded a $6.50 Godiva-chocolate-covered strawberry for one of our party. She was unimpressed.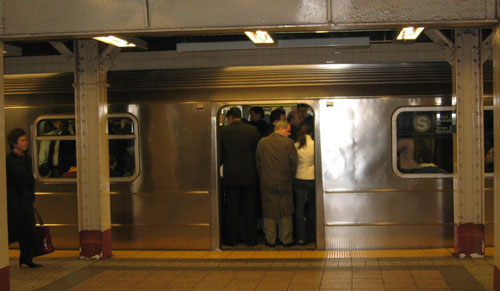 We braved the subway again where we found a group of guys dancing for change. Coincidentally, I had spotted Breakin' 2, Electric Boogaloo, in a window display earlier that day. Good to see some of the classic arts of New York haven't changed.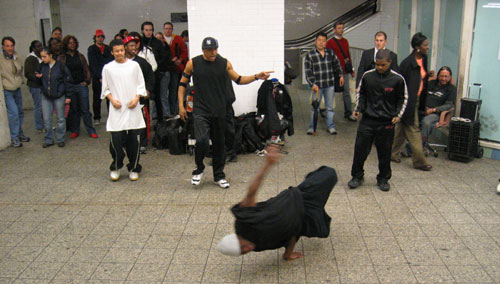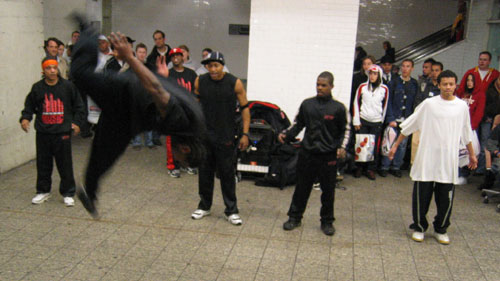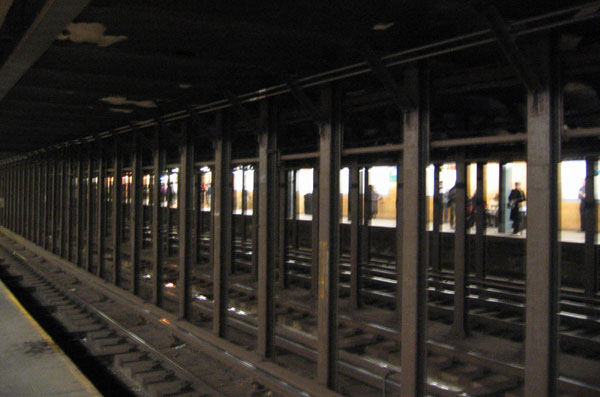 We regrouped at the hotel and headed out for our last supper, another Italian meal at Becco. Half of our party arrived just before closing (Midnight most nights, but 10 PM on Sundays and Mondays since there's not much of a crowd those nights in the theater district.) The staff was a bit nervous as the other half of our party was stuck in traffic, thanks to a fire truck blocking our cab, but we eventually assembled a full table and ordered.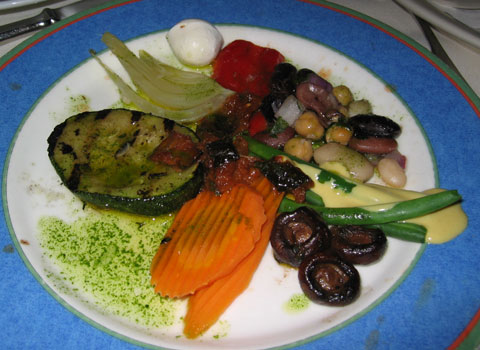 One of the antipasti dishes at Becco.
I started with an antipasti of prosciutto with a big hunk of aged parmesan cheese on top. It was a perfect combo.

I opted for stuffed peppers for my main course, two big green peppers filled with savory, meaty filling.
Others went for a combo meal that included a pasta sampler. They raved about the mushroom ravioli. SW had roast veal that made her groan with delight. The other SW got a grilled veal chop that was delicious.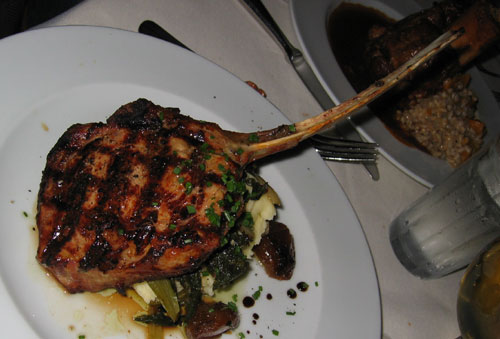 To apologize for rushing us, the waiter brought us glasses of a sparkling desert wine that was fantastic. SW ordered a sampler of their gelatos and though I was completely full I couldn't help but eat a second bite of the grapefruit-Campari flavor.

Everyone had that happy glow again, but most were too pooped to party hardy another night and returned to the hotel.
Degenerate AT and I wouldn't have it though. It was my first trip to NYC and I wasn't going to turn in early on my last night in town. We headed down the block to House of Brews to read through Let's Go in search of something good. Unfortunately there was nothing recommended by way of nightlife in that neighborhood. It was all pricey, after-theater fare, and mostly closed on a late Monday night. We looked up the closest place that sounded good in the guide and hailed a cab. Unfortunately, the place was closed when we arrived but we caught up with WJ, the only other male on the trip, and found another recommendation in the guide and directed the cab in that direction.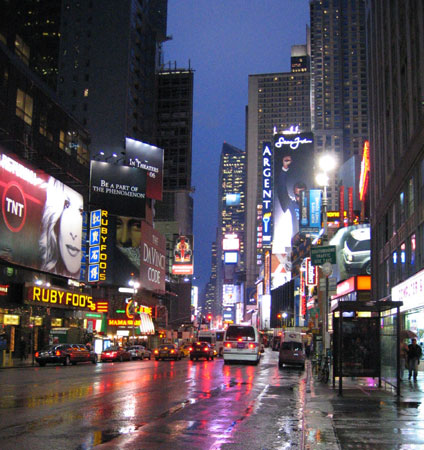 One of my rare glimpses of Times Square.
Despite what you may have heard, New York is not a city that never sleeps. On a cold, rainy Monday night, New York curls up with a good book and falls asleep on the couch like every other city.
We found ourselves in the meat packing district, soon to be the trendiest neighborhood in town but still a bit sketchy at the moment. The bar we'd hoped to find, the Coral Room, had since changed hands and was not yet reopened for business. We asked the cabbie for a recommendation, something I wouldn't recommend doing in New York because A) they often don't speak English, B) they aren't often the partying types who've visited every bar in town and have recommendations (unlike the three degenerates in the back of the cab.)
"We are in the meat packing district, there are tons of places," he responded, snappily.
I looked around at the darkened warehouses and doubted his expertise, "Then take us to the nearest one that is open."
He turned the corner and found a storefront covered in stickers and a lone beer sign indicating it might be a bar and might be open. I hopped out and pulled open the door to confirm both were true before the cab could get away.
The small room was mostly empty. No tables got in the way of a couple dancing to a jukebox pumping out classic rock. There was a pool table in the back. The walls and ceiling were decorated with clutter in typical Americana style. Two smokin' hot bartenders in bikini tops and painted-on jeans served a small crowd, some regulars, some tourists, and some extras from a movie shoot around the corner.
I asked one of them, who's name I later learned was Julie, for a beer.
"What kind of shot do you want with that?"
"Huh?"
"What kind of shot do you want with your beer?"
I gave her a look of confusion that I hoped said, "Tell me more, I'm intrigued by your offer," but undoubtedly appeared more like "Duuuhhh….?"
"We're running a special tonight, a shot and a beer for $10."
It didn't sound all that special, but I'm a straight male from the South - a pretty girl asks me to drink and, even as hard-headed as I am, I'm likely to drink.
One Jack and Yuengling draft later, I spied the neon sign in the window, hidden behind a wall of stickers - Hogs & Heifers.
I took out my camera to get a few pictures of the mass of bras hanging from the ceiling behind the bar. One of the harpies behind the counter yelled, "No photos unless your girl gets up on the bar and dances!"
I looked at degenerate AT and gave her a look that I hoped said, "You're young, hot and full of booze. Would you dance on the bar so the fascist bartender doesn't throw us out?" but undoubtedly appeared more like "Duuuhhh …?"
But AT was equally intimidated by the screaming demoness behind the bar and let us help her up onto the counter where she hopped about with a smile. Unfortunately for you, I was so distracted by her I forgot to take pictures of the rest of the joint.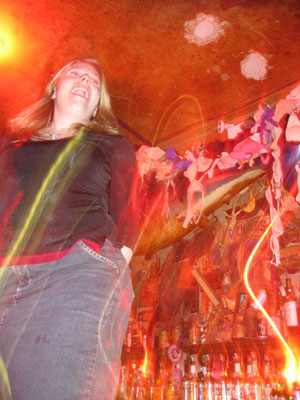 The succubus behind the bar spouted more attitude when she realized three French tourists only had one drinker amongst them and yelled at them to drink up or get out. The poor manage-a-trois didn't understand, either the language or the attitude or both, and were soon escorted from the room by the side of beef that served as bouncer to the mistresses of the joint.
| | |
| --- | --- |
| Julie, the blonde bartender, was a masterful tease, walking over to the taps in front of me and playfully stroking them to ask if I wanted another beer. She would be the Good Cop to the brunette Jessica's Bad Cop, except that it was more Bad Cop/Worse Cop. They would stop periodically and pretend to make out with each other, clearly for the benefit of those on the other side of the bar. | |
The jukebox blared out The Devil Went Down to Georgia and these two vampires climbed up onto the bar and danced a jig a la Coyote Ugly. Up until then I had been in lust with these two witches, but that moment broke the spell. What I had thought of as charming over-the-top attitude became over-the-top shtick. I think the place serves as a hardcore redneck or biker bar for those who didn't grow up around such places and find it ironic and cool to hang out in one – sort of slumming without the dangers of visiting an actual slum.
We three tourists found it a bit annoying but we'd had such a hard time finding anything open I wasn't willing to risk wasting the night in search of other entertainment. Besides, Julie and Jessica badgered another woman into dancing on the bar, a shapely blonde who I'd been ogling all night. Why go anywhere else?
NewYorkMetro.com has an apt review of the joint.
SW was determined to get up early to visit her museum in the morning and I figured we'd seen all there was to see in Hogs & Heifers on a mostly-empty Monday night, so we caught a cab back to the hotel where everyone else had been asleep for hours.
---
There's no place like home... no place like home...

All content on this site is owned by Degenerate Press and cannot be used without our permission. We have lawyers for friends with nothing better to do than cause trouble (no kidding), so play nice. Copyright © 2006, All Rights Reserved