This is an excerpt from our ezine Degeneration Excerpt, a semi-weekly and semi-weakly ezine on Atlanta's music scene, random travel tales, blasphemy and prophesy. If you want to subscribe to that broadcast just contact us!
Day 5

In the morning I decided not to bother stopping by the conference, only to change my mind and head out for adventure – I just headed out for adventure. I'm in the groove, on my last damn day, picking random destinations and trying to get there, finding adventure and misadventure along the way. Sometimes I don't even get where I'd planned but that's the joy of foot travel – the distractions.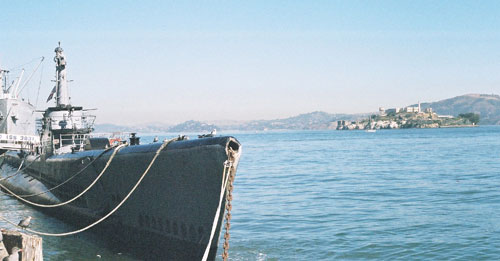 The view of Alcatraz from the pier.
The boat to the left is a WWII submarine open as a museum.
Down the street from the places offering boat tours of the by and Alcatraz is Pier 39. In 1989 a few sea lions moved in to the Pier 39 area, taking up residence on large docks.

The sheltered area and plentiful herring are thought to have attracted them. Then they told two friends, then they told two friends, and so on, and so on. Now the docks host upwards of 600 sea lions, depending on the time of year.
Pictures and text just don't do them justice. I really should have a recording of their constant barking, perhaps a video of their sumo wrestling for space on the docks.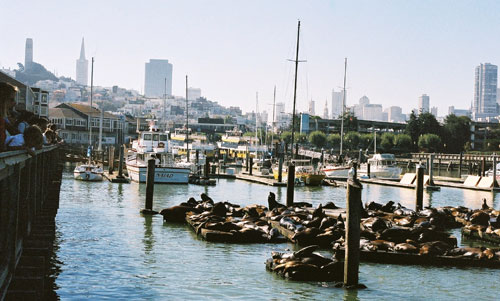 In the distance you can see Coit Tower on the left,
and the pinnacle of a famous SF skyscraper.
It's an incredible sight and only a few feet away from the neighboring dock where you can sit and watch until you've had enough, or get too hungry to stay.
Just up the hill from the pier and down the hill from Coit Tower are Washington Square and the North Beach neighborhood, sort of a Little Italy where 4 out of every 5 storefronts are little Italian restaurants with menus in Italian first, fine print English second. There aren't this many Italian restaurants in Italy!
I hit Caffé Roma, a little café with sidewalk seating where all the patrons know each other by name. I settled in for cappuccino and a pastry and a long chat with Larry, long time SF transplant from Boston. He's seen everything from the rise and fall of the hippies to the rise and fall of the .coms. A perfect day for sidewalk dining – sunny, slight breeze, cute girls sitting at the next table, and nothing to do but wonder what to eat for lunch.
Larry and the girls recommend a few places so I walk around the neighborhood until I've reestablished an appetite and hit L'Osteria, just across from Caffé Roma on Columbus.
I got a big Parma ham sandwich, served warm and very tasty, and a huge side of roasted red peppers, soaked in olive oil. The peppers weren't the best I've had, but good, and a glass of Montepulciano white wine was a perfect compliment to the sunny, clear day. Their pizzas look good and the walls are adorned with "Best Of SF" awards from the local press.
What a week. If it weren't for the cost of living, I could probably stand the normal San Fran weather enough to live there. Too bad the dot-bomb leveled the economy, particularly in my sector, worse in SF than perhaps anywhere on earth.
And if you've read the torrid tales of my past you know San Fran is haunted by ghosts for me. Each new neighborhood finds me looking over my shoulder, wondering "Does she live around here?" Some asked if I were tempted to look her up. A tiny part of me has such thoughts, but it's the same weird part of the human psyche that wants to leap off a precipice when it gets a look down, simultaneously fascinated and terrified. Fortunately, the rational portion of my mind retains control.
I banish these thoughts in the light of a beautiful day and start my meander back toward the hotel. To think there's a few thousand fools actually watching PowerPoint slides at this very moment. For that matter, the teeming masses working 9-5, while the sun shines on we few who have stolen a moment to enjoy the day.
And Johnny Cash is in a morgue somewhere today as a reminder of our mortality.
Goddamn, I have got to win that lotto.

You can give my other suits to the Salvation Army
And everything else I leave behind.
I ain't takin' nothing that'll slow down my travelin'
While I'm untanglin' my mind.
I ain't gonna repeat what I said anymore
While I'm breathin' air that ain't been breathed before
I'll be as gone as a wild goose in winter
Then you'll understand your man (meditate on it)
Understand your man (you hear me talkin')
Understand your man (remember what I told ya)
Johnny Cash

I hit the hotel and got directions for my next stop, recommended by degenerates JH & LH, The Tonga Room in the basement of the Fairmont Hotel. It's on California at the peak of Nob Hill, a swanky hotel full of swanky people. Fortunately I was dressed in my best, so I didn't feel entirely out of place.
| | |
| --- | --- |
| The Tonga Room is a tiki bar in every possible sense. An indoor pool serves as a lagoon, complete with a boat in the middle that functions as a stage for live music. Grass roofs cover many of the tables and most of the staff are vaguely Asian. | |
They serve Polynesian fare and fruity drinks, but the real deal is happy hour. From 5-7 the drinks are discounted, $6.50, and you can get the all-you-can-eat buffet for a mere $7. (You can't get a cheese sandwich in San Fran for $7.) The buffet features lots of salty and/or sweet finger food, fruits, cheese, etc., well worth the $7. Every half hour or so, a pipe in the ceiling opens up and spews fake rain into the lagoon, though it comes down in streams instead of sprinkles, sort of ruining the effect. It's like drinking at Disney.
The Food Network was shooting some kind of Best Of Happy Hour special while I was there and happened to set up right next to me at the bar. As they taped the bartender mixing drinks, they passed the drinks on down the bar so I got a couple of leftovers. Then they set up a line of their finder foods, and I got leftovers from those too. The couple next to me was there celebrating a birthday so the TV host interviewed them and the side of my head may get 15 seconds of fame in there somewhere, so look for it in January sometime.
Overall, the drinks weren't as good as Trader Vick's but the food was excellent and the experience worth the visit.
I'd gotten tips on a good venue, Café du Nord, and read a glowing review of an act that was supposed to perform there tonight, so I headed out early in that direction. I hit Market street and decided to skip the bus and wait on the streetcar.
The streetcars in San Fran are nice. They've taken orphans from cities around the world that have abandoned them, refurbished them and put them in use. I even rode one from Milan that still had all the "no smoking" signs in Italiano. I still find the cable car to be more fun, but it's nice to have anything than runs on rails still in operation.
After twenty minutes of waiting, I realized the streetcars weren't moving in either direction. So I decided to take the bus. Then I realized the busses weren't showing up often either and the one I needed hadn't been by in a while. I gave in and hopped one going vaguely my direction. Apparently there was some kind of serious problem with the mass transit that night and I wasn't the only one grumbling. Two busses and a six-block walk later, I finally arrived at Café du Nord, only to find the show sold out.
I picked some random locals who had also missed the show and asked what they were doing. They were headed up the hill to the lower Haight in search of fun, so I tagged along. First stop, Molotov, a serious punk bar full of serious punks. Since I was only wearing one item of black clothing, I couldn't conform to their well-established anti-establishment uniform and was looked down upon. Which was fine by me since the two girls I followed were the only ones in the place and the pack of hungry dogs in the room scared them away.
The girls got discouraged and decided to go home and rent a movie or something so I tromped on back down the hill and stopped at Movida, a nice little casual place somewhere between the Lower Haight and the west end of Market Street, on or just off Castro. The crowd is young and hip, but not so much of either as to make anyone feel out of place. Unfortunately the debacle with mass transit and Café du Nord had killed the good buzz I had going from the Tonga Room and Movida only serves beer and wine. With a full belly, it's tough to slug down a big, heavy beer and catch a buzz but I managed to enjoy a local brew and people watch.
One depressing thing about being a lone male is that there are rarely, if ever, lone females out after dark. Through the week, I had occasionally found one in a café or somewhere and tried to chat them up, just to get some tips about what's fun and flirt a bit. But lone males always get the "Are you some kind of psycho or something?" look. I don't blame them, but still...
It doesn't help that I'm somewhat socially inept with strangers. Yes, I'm a psycho, but not the dangerous kind. At least not dangerous to others.
Sure, there are women roaming in packs but I have a hard enough time approaching one. Is it my imagination, or do women en masse "support" each other by tearing down any lone male that dare approach one of their group? They must be confronted with equal or superior numbers to get past their outer defenses. It's doubly depressing because males frequently "support" each other through derision as well, so we get abuse from both sides while women are put on a pedestal as (usually unattainable) objects of desire. Evolution hasn't caught up with easy access to birth control so the cruel inequities of supply and demand for sexual favors generate frustrating behaviors in all areas of human interaction.

"First born unicorn
Hard core soft porn
Dream of californication
Dream of californication"
Red Hot Chili Peppers

I wasn't ready to throw in the towel on my final night in town. Instead of taking chances on another new neighborhood or new venue, I decided to return to Red Devil Lounge, my favorite bar/club so far.
There were a fair number of addicts puffing up outside but it didn't occur to me it was indicative of the number of people inside. After coughing up $10 cover, I stepped in to find the room packed to capacity and hot as a furnace. There are quite a few places in San Fran that don't have A/C – they rarely need it. Unfortunately it was a freakishly warm week and a packed house, yielding conditions appropriate to the name "Red Devil Lounge" - as hot and crowded as hell itself. It took me 15 minutes just to get to the bar and get a drink, which, by then, I guzzled just out of thirst alone. After another few minutes of lurking at the back I decided it just wasn't worth it. Dub-cat was on stage doing some great ska/dub/reggae stuff, but you couldn't breathe in the place. I stepped out with the addicts on the sidewalk and wiped the sweat out of my eyes.
A glance at someone's watch confirmed it was about time for the last cable car toward the hotel. Dive back into the lava, or take a cool, refreshing ride back to the hotel and be somewhat rested for the trip home in the morning?
Of course, I missed the connection from one cable car to the other by mere seconds and had to walk, cursing and smiling, one last time. At least it was all down hill.
---
"These people could put us out of business!"
Photo Editor, Creative Loafing

There's no place like home... no place like home...

All content on this site is owned by Degenerate Press and cannot be used without our permission. We have lawyers for friends with nothing better to do than cause trouble (no kidding), so play nice. Copyright © 2003, All Rights Reserved