Degenerate Press
Welcome to Degenerate Press' feature article. If this isn't enough you can always subscribe to Electric Degeneration, our semi-weekly and semi-weakly ezine, or surf the Electric Degeneration archive.
---
Savannah
New Year's Eve 2005/6
Nobody in our gang could afford to do anything extravagant for New Year's Eve this year, so I started brainstorming for something close and affordable. I hadn't been to Savannah in more than a decade and a few of our crew said they might be willing and able to do that this year, so we looked into it. There wasn't anything specific or spectacular going on but it's within driving distance for a weekend trip and degenerate CD found a reasonable hotel two blocks from all the action.
Of course, by the time we got around to confirming everything, everyone but CD, SW and myself wimped out - money, vacation time, pregnancy, blah blah blah. So it was only three of us in our rented Chrysler speeding through the nothing that is the five-hour drive between Atlanta and Savannah on Friday.
CD had found The Thunderbird Inn online. He used to live in Savannah and back then the Thunderbird wasn't in the best neighborhood. But these days Savannah is regentrifying faster than you can say "Midnight in the Garden of Good and Evil" and the Thunderbird has been completely renovated and the surrounding neighborhood felt clean and safe. The motel has a retro look on the outside, but the room was clean and comfortable with all new furnishings.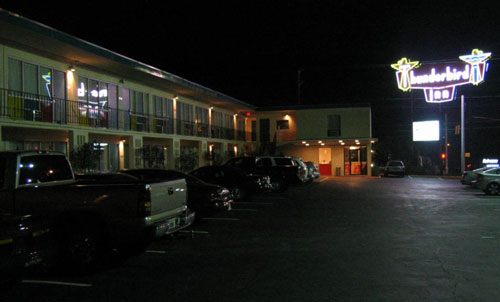 It was cheaper than anywhere else we could find in the area. My only complaints – as a motel on a busy street, you get a bit of traffic noise, and the curtains could've been a foot longer to block out more light, but you know a place is fine if I only have two minor complaints.We changed into eveningwear and headed through a little retail/restaurant district that didn't even exist last time I was in town. On my last trip to Savannah you couldn't walk two blocks off River Street without fearing for your life. Now whole new shopping and nightlife districts have filled formerly empty streets.
We had dinner at Moon River, a microbrewery/restaurant in the new American tradition, a block off River Street. They put a bit too much spice and preparation into most of their foods, covering up the taste of whatever ingredient you ordered (fish, chicken, etc.) but they offer a wide variety of foods at decent prices.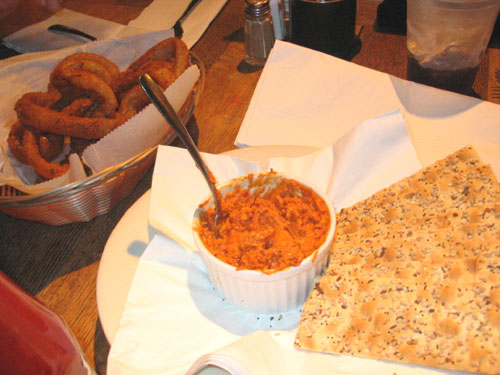 We started off with some onion rings sprinkled with red pepper, not bad, and a dip with rye crackers. I tried the dip and SW asked me how it was.
"Interesting?" I answered.
It was difficult to describe. Very intense flavor, vaguely reminding me of pimento cheese.
| | |
| --- | --- |
| SW opted for a hunk of beef. The vegetable of the day was supposed to be green beans but they were out so somehow SW ended up with a baked potato and sweet potato soufflé. The soufflé was so sweet neither of us could eat it. | |
| | |
| --- | --- |
| I opted for a chicken sausage creole thing. They put too much seasoning in the dish and cooked the veggies a bit too long. The only thing that stood out was the sausage, and even that only barely. But if you like Cajun/Creole food, it's a good choice. | |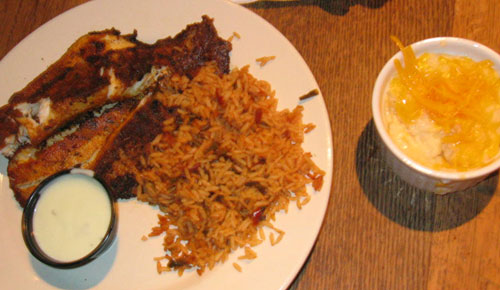 CD opted for the blackened tilapia with a side of cheese grits, both of which he enjoyed. Nothing amazing in the couple of beers we tried, but fine beer-flavored beer.
We walked around the block to Bar Bar, a basement joint with free pool, foosball, and a small collection of board games. Nicely priced drinks, but the place was empty relatively early in the evening. We wasted time with Scattergories, a cute game I'd never played before but it requires a bit too much brain power for people full of food and drinks, and might have been more fun with more than three people. We decided to wander on, though people were beginning to pour into the joint.
We hit Rail Pub next, a small, cozy place with a little fireplace in the corner, peanuts on the tables and a super high-tech jukebox that could download about any song you cared to pay for.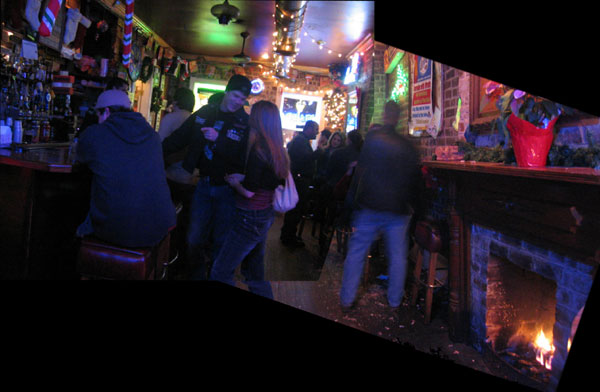 A cute, nerdy girl at the neighboring table kept bumping against me, so I used it as an excuse to interrupt her conversation with her friends to ask them what was going on in town for New Year's Eve.
"I'm going to be right here, with her" one of the girls said, confirming SW's theory that our neighbors were lesbians.
"Right here, in this bar, on that stool?" I asked.
"No, just here in the neighborhood. This is where it's at."
They went back to their conversation about how weak the lyrics are in Madonna's songs. I countered, saying Papa Don't Preach isn't as lame as, say, any Lenny Kravitz tune, lyrically speaking. The girl disagreed but said she still loved Madonna and masturbated to her last video, obviously trying to shock me.
Ha!
Rail Pub has an upstairs and small outdoors area as well, but we were comfortable on our little perch and passed the night away without further exploration.
---