Degenerate Press
Welcome to Degenerate Press' feature article. If this isn't enough you can always subscribe to Electric Degeneration, our semi-weekly and semi-weakly ezine, or surf the Electric Degeneration archive.
---
Tour of the Southwest
Phoenix, Tucson, Grand Canyon, Hoover Dam, Las Vegas
October 2004
We dug out my hand-written notes on the research I'd one on Phoenix, mostly from the local alternative paper, The Phoenix New Times. They had just posted their Best Of issue online so I ran down the list of degenerate possibilities for the evening's entertainment. Unfortunately, our hostess hasn't been in town long enough to know her way around. We quickly discovered that "Phoenix" is only a small portion of the urban sprawl that is the metro area. I lost track of the number of towns the valley contains, with no differentiation from one town to the next as you cruise through the grid system of endless tan buildings. We wound up lost countless times in search of the local Greek Fest before giving up and switching plans.
Eventually we found our way to Drift Polynesian Restaurant and Lounge, voted best tiki bar by the New Times. The exterior impressed me - thatched roofs, torches, lanterns, what you want in a tiki bar, even if the nearest body of water is somebody's swimming pool in the burbs.

But the inside was a bit of a letdown. I'm probably spoiled by Trader Vic's in Atlanta, but the tiki accoutrements were a little sparse in Drift. Worse, the music was trendy techno/industrial racket. The club sits in a very upscale, trendy party of town so it attracts a young, pretty crowd. Fun folks to look at, but not my type for socializing.

The food, on the other hand, was excellent. The drinks were pretty good. Their Mai Tai is a lot fruitier than I'd prefer, but the random other drinks we selected were all excellent.
| | |
| --- | --- |
| | |
I woke up really early. Arizona doesn't recognize daylight savings - who the heck wants more flaming heat in the evening? They'd rather have light in the morning when it's cool out. In Tucson our hosts said they get woken up by mowers at 5:30 AM. My body wasn't ready for a three hour time change so our hostess and I went for coffee while SW snoozed on.
| | |
| --- | --- |
| Another ramble through the grid of the greater Phoenix area later, we finally found the Greek Festival, a celebration much like the one here in Atlanta (and the same weekend, I think), but with a much more tolerable crowd-to-space ratio. We grabbed a spot in line at the first food table we found and got plates heaped in various Greek foods, all pretty good. We wandered through the bazaar into the tent where the dancers were getting started, beginning with the youngest groups and working their way up. | |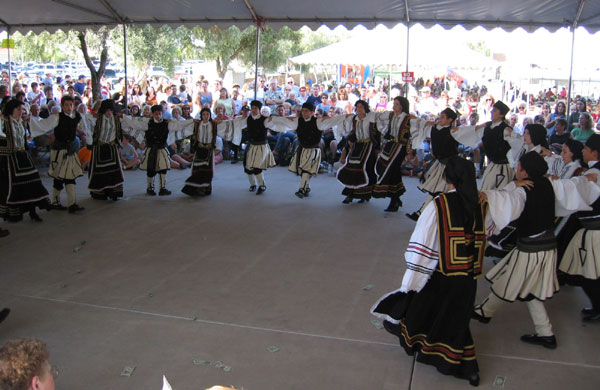 | | |
| --- | --- |
| Unfortunately, in our haste to eat we missed the outdoor area specializing in grilled foods. This roasted lamb smelled fantastic, but I was too full from my first plate to go for another. | |
| | |
| --- | --- |
| But not to full to try the "Greek sundae", a blob of vanilla ice cream covered in crumbled baklava, drizzled in chocolate syrup and topped with a cherry. Holy spare tire, it was good! | |
| | |
| --- | --- |
| They had a corral roped off for kids, including a giant inflatable slide in the form of the sinking Titanic. Cute and creepy at the same time. What's next, the Twin Towers jungle gym? Reverend Jim Koolaid?? | |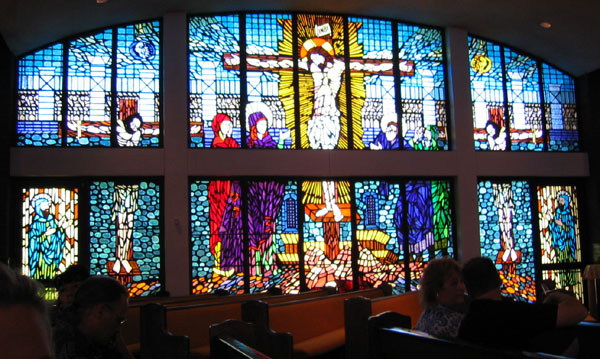 The church has some lovely stained glass, definitely worth a visit.
| | |
| --- | --- |
| | The Greek Orthodox church is located across the street from one of the rare green spots in Phoenix, a huge park complete with occasional ponds. |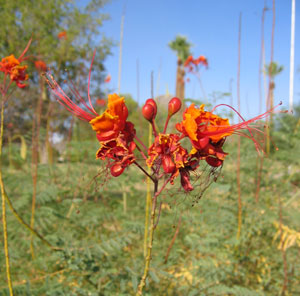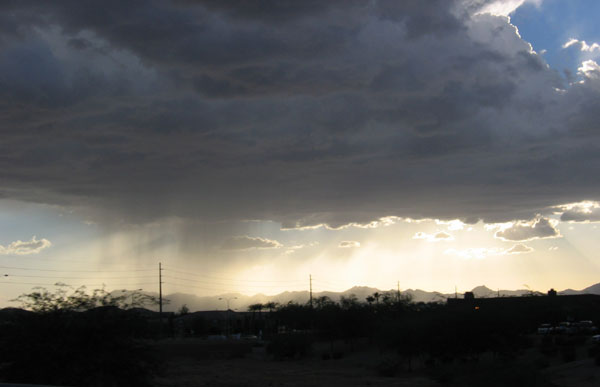 It rains so rarely we had to get a picture.
We decided to catch a movie while our hostess packed for a business trip. Shaun of the Dead is pretty cute and funny, with an occasional scary or startling moment. Worth seeing, particularly if you've always thought zombies would be pretty easy to beat in a fair fight. I could've used more jokes about how impossible it is to tell the difference between zombies and your average cube village worker or mall walking geriatric, but maybe they didn't want to insult the audience too much, or overstate the obvious.
We got dinner at Salty, Mexican food served up by cute white girls. We missed their biggest draw, happy hour, but had some fine food sitting out on the deck in the rapidly cooling desert evening.
---