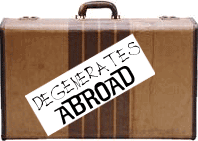 St. Augustine, Florida
March 2009
| | |
| --- | --- |
| Overnight I was awoken by our neighbors trying to scare off a raccoon or other nocturnal visitor. I could hear the thing rummaging around in the leaves just outside our tent but we'd heeded the park ranger's warnings and left all our food locked away in the car. The only evidence of the creature's visit to our site was a few footprints in the sand, just outside our tent. | |
It was too windy and chilly for the beach, so we had breakfast - EM's delicious homemade blueberry muffins - and headed into town, with a stop by the camp trash compactor to toss our garbage.

Remember kids, always play in the compactor!
I've visited St. Augustine several times so most of the tourist attractions didn't interest me but there were a few I wanted to see again. Potter's Wax Museum is one of them. As you enter they have a room showing how the work is done with various parts and supplies on display.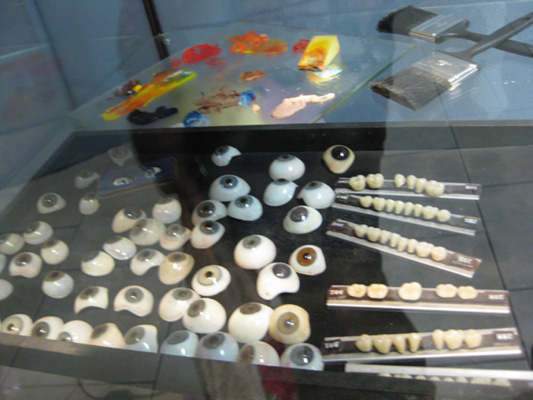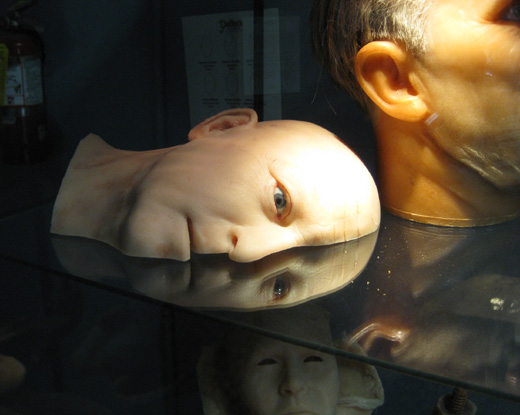 Potter himself has been dead a long time but the museum lives on, trying to replicate the master's technique. The first half of the small gallery houses more modern works, attempting to appeal to a younger audience - Brad Pitt is under repair after a young fan went to hug him and knocked him over. Stallone and Schwarzenegger compete with Fred Munster and Michael Jackson. But turn the corner and you realize these newer creations pale in comparison to Potter's original works. More than once I stopped, thinking one of the figures was an actual person. Saints, sinners, writers, composers, presidents - the famous and the infamous all in such detail that you are waiting for them to breathe.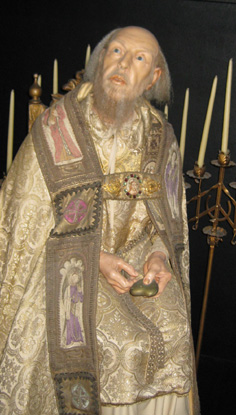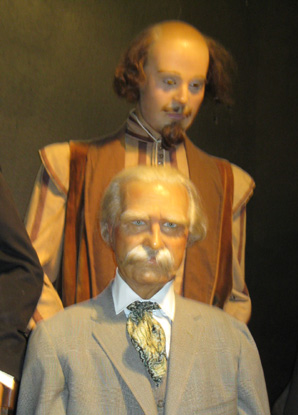 We wandered around the square and down the tourist strip, St. George Street, a former main street now turned pedestrian mall with charming Spanish Colonial buildings housing a variety of shops, from high dollar galleries to tacky trinket and t-shirt shops. Eventually we worked our way back past the amazing campus of Flagler College to the beautiful courtyard of the Lightner Museum.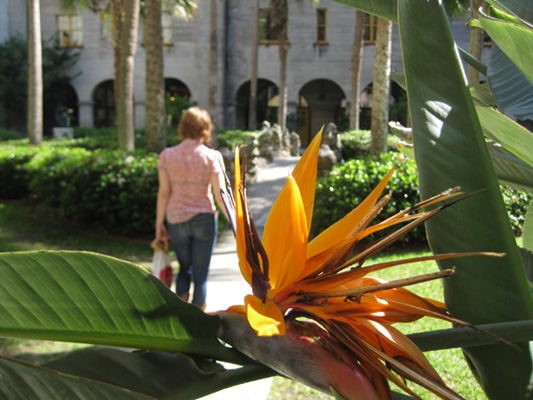 The coy pond and flowering plants alone would be worth a visit. I'd seen the museum itself some 13 years ago and remembered it as a fun, free little collection of odds and ends, obviously just the stuff some old rich man had accumulated over the years around the turn of the century. But these days they've expanded and charge $10 and added a gift shop. I didn't check to see if it was haunted or sold pirate merchandise, but neither of us felt like forking over $10 for the museum more than we felt like having a beer somewhere.
We decided to do lunch at A1A Cafe, the bar recommended by the waitress at Madre's. Their balcony overlooks the inlet and The Bridge of Lions. Or what's become of the bridge.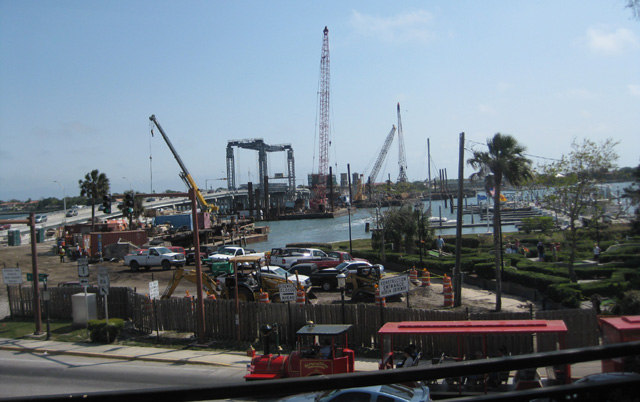 It used to be one of my favorite bridges, but they tore the whole thing down to "restore" it. The four central pillars were left standing and they were in the midst of replacing the little guard towers around the drawbridge but as off March 2009 there wasn't much to see other than cranes, barges and new steel beams.
A1A Cafe is an official stop by the many faux trains that shuttle tours around town, so I figured we'd just try one or two of their brews and move on but the waitress sold us on lunch by mentioning some fresh local fish on the menu. Their beers were pretty tasty, making up for their slightly overpriced food.
| | |
| --- | --- |
| I went with a blackened grouper. Pretty good. | |
| EM went with sesame tuna - also pretty tasty. | |
We headed down through St. Augustine Beach, a mile or so of hotels and restaurants, in search of a dockside fish merchant, one of those straight-off-the-boat-into-your-hands seafood stores. We also needed wood for our campfire and a few supplies we'd neglected in our rush to get out of Atlanta. We never found a dockside shop but the Publics had some fresh, locally caught shrimp on sale so we grabbed a pound and a half and headed back to the park.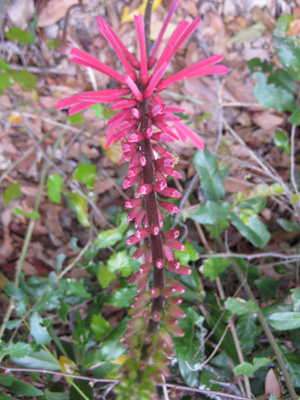 We had a few drinks and tried to nap but our new neighbors were having a hard time controlling their children. It wasn't the rampaging kids that got my dander up but the lousy parenting. "Austin! This is the last time I'm going to tell you..." dad yelled - every 10 minutes. Obviously it wasn't the last time and Austin knew it. I mentioned the interlude later that night to a random bar patron.
"Hasn't he ever seen Dog Whisperer?" he asked.
"That's exactly what I thought."
Ah well. I shouldn't complain when there's fresh shrimp on the barby!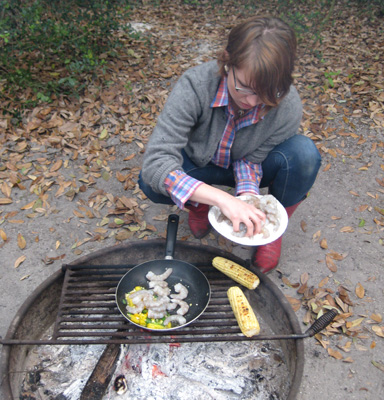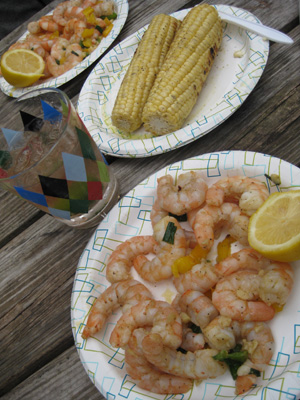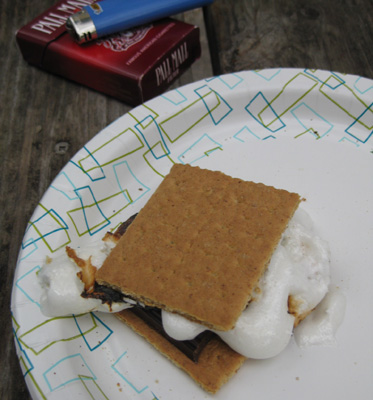 We had planned for late night drinks out on the beach but the wind was howling beyond the shelter of the trees. We couldn't sit and listen to the neighbors yell at their kids any longer either so we headed back to St. Augustine Beach in search of a good beachfront bar - one of those places that looks over the water, perhaps with a volleyball net for drunkards to get tangled in. But all the bars were separated from the sea by a wall of hotels or homes. We cruised on further south in search of various places I remembered visiting, finally stopping in the parking lot of what used to be Marineland. The only thing remaining of what was once a park that predated Sea World are a couple of dolphin tanks used as research for the University of Florida. The old park entrance is still there but the vast majority of the park is torn down, replaced by a field of those cargo units they haul on trucks, trains and ships. There used to be a nice hotel next door as well but once Sea World came into existence Marineland just couldn't compete. The park is a bit too far from St. Augustine to even get that traffic. The hotel is gone too, replaced by a big empty sand parking lot separated from the beach by a boardwalk and row of dunes. We parked and looked at the ocean, dark without too many lights nearby. It would've been a romantic spot, had the wind not been approaching hurricane conditions.
We admitted defeat in our St. Augustine Beach bar hunt and headed back toward town, landing at the Conch House, a marina-side high-dollar restaurant and bar.
| | |
| --- | --- |
| The hostess directed us to the bar, a little shack out at the end of the dock. We stepped inside to find a guy doing acoustic music to a small crowd and settled in for some Mount Gay rum. | |
There was a spiral staircase leading up out of the middle of the room. "Where does that go?" I asked the bartender.
"Oh, you should check it out," he said, not saying more.
I expected an outdoor deck, frigid in the current weather, but found a small attic-like space with couches and a big glass table resting on a massive propeller. A few dudes lounged on the couches smoking cigars and babbling drunkenly.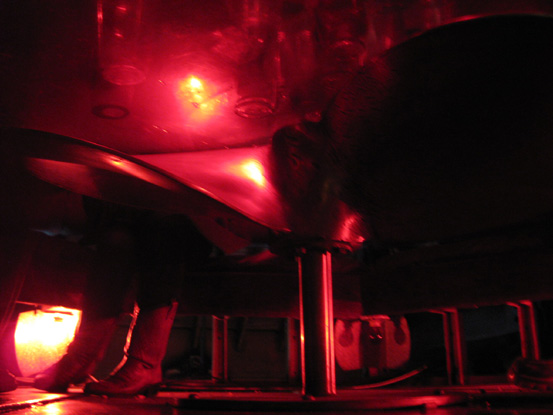 A view of the table from below.
| | |
| --- | --- |
| They yelled for us to join them. Feeling adventurous, we plopped down on the couch and pulled out our own cigars, admiring the view from the windows in the turret, including the lighthouse in the distance, signaling the way back to the state park. | |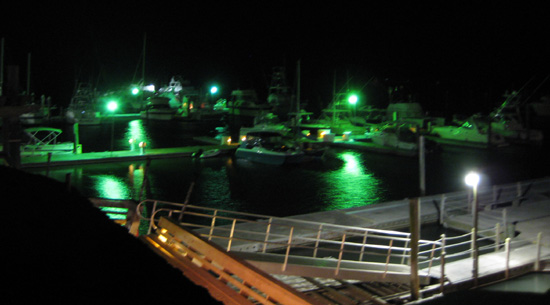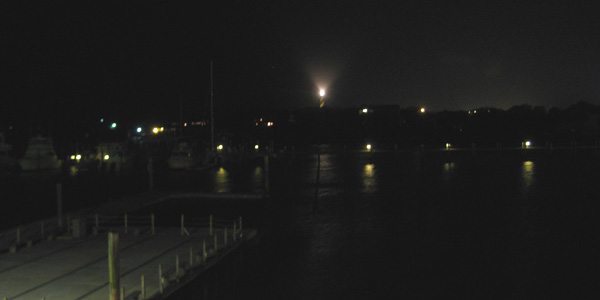 I was trying to pace myself, but one of our new friends was the shot-buying type and kept arriving with syrupy sweet concoctions, most of which I managed to pass off to his buddies but a few of which I ended up drinking. The man in question also turned out to be a bipolar sort of drunk and either wanted to fight or fuck once he got good and liquored up. I'm familiar with the type so we held our own for the duration.
| | |
| --- | --- |
| Our new friends before... | |
| | |
| --- | --- |
| Our new friends after. | |
Last call, people!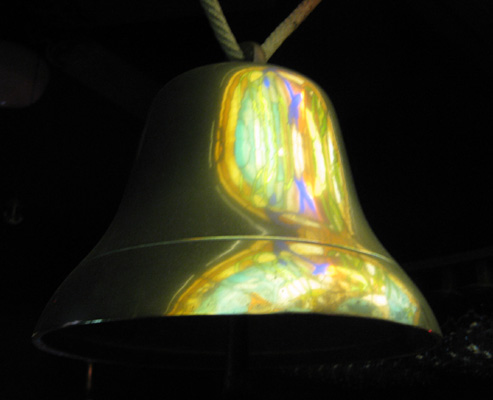 There's no place like home... no place like home...

All content on this site is owned by Degenerate Press and cannot be used without our permission. We have lawyers for friends with nothing better to do than cause trouble (no kidding), so play nice. Copyright © 2009, All Rights Reserved