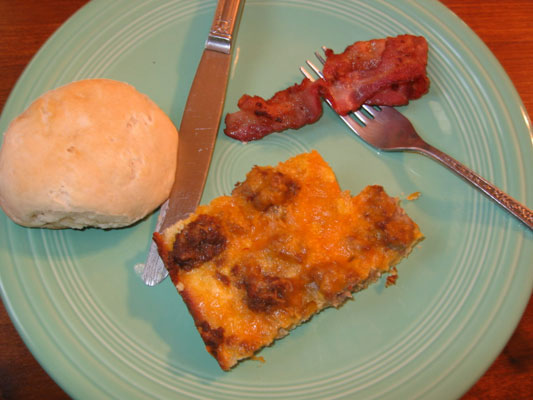 Breakfast featured both sausage and bacon. Why? Well why not?!? You can't just eat plain old eggs. They must have lots of cheese and, if possible, meat in them. Then you can't just have your egg/sausage/cheese casserole by itself. It looks all lonesome without a side of bacon and a biscuit!
A parade of relatives tromped through the house with all the men talking about trucks. If I never have to hear another conversation about trucks again it'll be too soon. Between trucks, football and the heat you've pretty much got every topic of conversation there is in small town Texas.
Eventually it was time for lunch. Steak by itself might be good but why not do it one better? Deep fry it! While you're at it, why not drown it in gravy? I could feel my gut expanding with every delicious bite, courtesy of The Sectionhand Restaurant.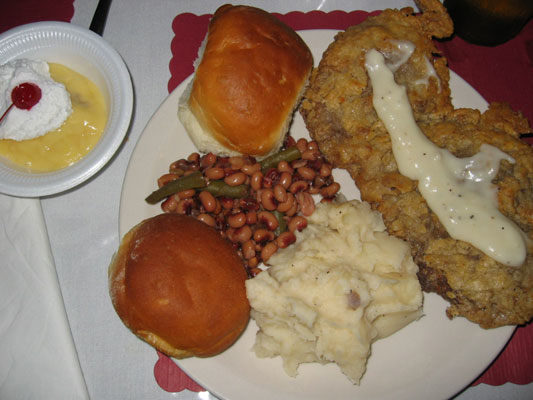 Monday morning we headed south toward Copperas Cove to see my grandparents. I hadn't seen them in years so it was nice to catch up with them. My grandfather is ex-army, so he offered to give us a tour of neighboring Fort Hood. SW opted to head into Killeen to see another relative while my grandfather gave me and one of his great grandsons the quick tour of the base. I didn't feel like I should be taking pictures inside the base in this day and age.
Security was impressive, but even more impressive were the number of vast empty parking lots where tanks and equipment are normally parked. Instead, this equipment and the troops that use it are all overseas "making us safer." There were a few lots full of tanks, artillery, helicopters, APCs, and other unidentifiable gear, most of it painted desert tan. Fort Hood is massive, some 40 square miles, and contains everything you might ever need - classrooms, churches, restaurants, stores, etc. - for the tens of thousands of troops stationed there.
Back at the house, the conversation was often about who in the extended family was dead, often of drug-related causes, or addicted to drugs. We ran into this subject often on our previous trips to Texas. It used to be that big cities were havens for drug use but thanks to meth you can hear drug-related horror stories in small towns all over America.
SW eventually returned so that we could get back to Brownwood at a reasonable hour.
I'd been curious about the various historical markers we'd passed along the way. What could've possibly happened in all those miles and miles of nothing but miles that would be of historical significance?
"Fights with Mexicans, Indians," SW answered.
So we swung over at a rest stop with a marker to get a look.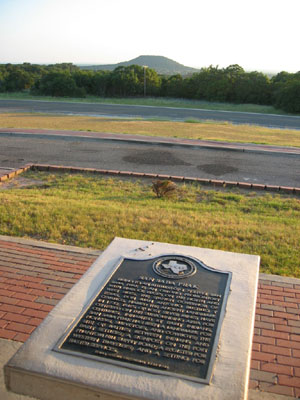 The digital camera does a lousy job capturing sunsets, particularly through a windshield half-opaque with the guts of countless bugs.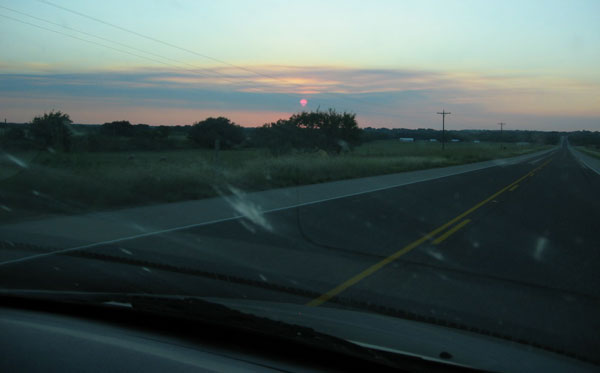 It actually did a better job showing the colors in the reflection of the roof and hood of the car.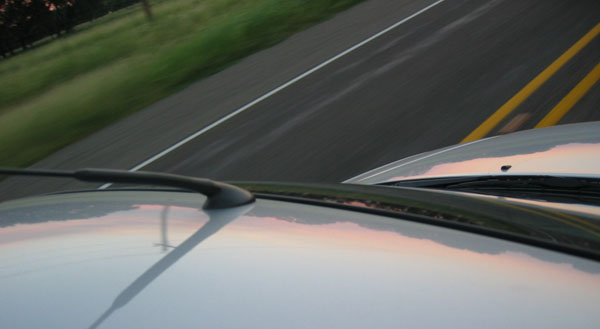 | | |
| --- | --- |
| My grandfather had remembered Underwood's when we'd mentioned Brownwood, which gave me a hankerin' for the place. We stopped by on the way to yet another relative's house. | |
SW opted for the dish they're probably most famous for, beef brisket. I'd tried it before and decided Texans barbecue the wrong animal entirely. Yeah, it's good, but it's not pork.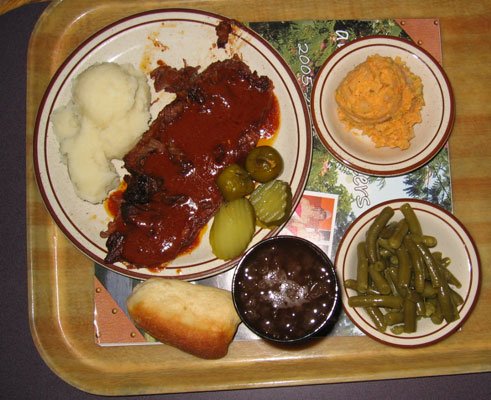 I went for the pork ribs this time and was impressed. Smoked to the point of tender, still juicy, and with a tasty sauce - good stuff. They bring hot rolls to the table straight from the oven and even have some vegetables that aren't fried or in a protective coating of mayonnaise. As if that weren't enough, they have some damn fine apple cobbler for dessert.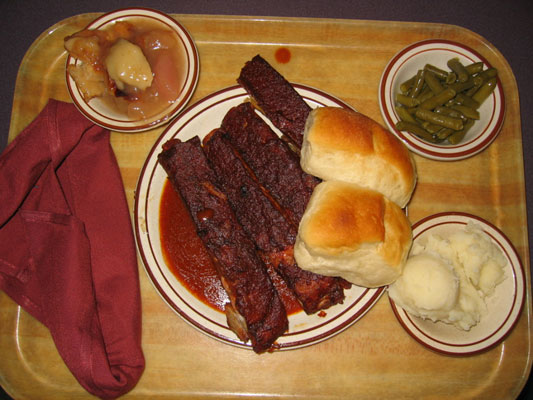 In the morning we had to speed back across the state to catch our flight home. On the way we passed three or four trucks headed the other direction, each pulling gigantic steel structures of some sort. They looked like propeller blades, but for what? Anyone got a clue? My only guess is a giant windmill. I didn't get a great photo but you can get an idea by looking at the rear wheels on the right end, full sized tractor trailer tires dwarfed by these things.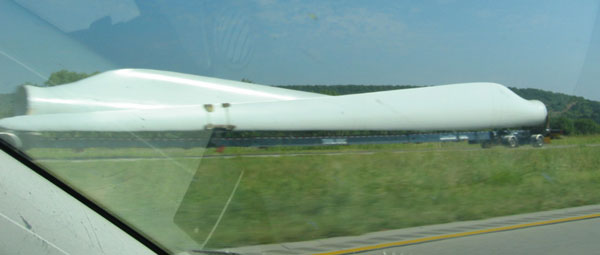 If you're interested in learning more about Brownwood, check out the town's official site, or see SW's historic Brownwood postcard collection with photos of how many of the places look today.
---
There's no place like home... no place like home...

All content on this site is owned by Degenerate Press and cannot be used without our permission. We have lawyers for friends with nothing better to do than cause trouble (no kidding), so play nice. Copyright © 2005, All Rights Reserved