Degenerate Press
Welcome to Degenerate Press' feature article. If this isn't enough you can always subscribe to Electric Degeneration, our semi-weekly and semi-weakly ezine, or surf the vaults.
---
The Cogburns, The Lids, The Subsonics at The Earl
Love Scene, Michelle Malone, Trailer Bride at Echo Lounge
March 2004
| | |
| --- | --- |
| The Cogburns, The Lids, The Subsonics at The Earl | |
My regular crew of degenerates were all busy with other plans or sick with the incredible disease that's making the rounds, so I was on my own for most of the weekend. I joined SW and her sister for dinner at the nearly-empty Carroll Street Cafe, then left them to their girl's night in while I ran off to The Earl, arriving around 10 to find that place half empty too. What the hell? Where is everyone? Spring break? College basketball? Night of the comet? Ah well. At least the trucker hat craze seems to be fading.
| | |
| --- | --- |
| Longtime subscriber degenerate VS has been bugging me for years to see his band The Cogburns and I just ain't got around to it. They opened the show Friday night with a rock sound, simple stuff, grimy blues-based rock and roll that somehow reminded me of various 80's rock bands before Flock of Keyboards took over the airwaves - Golden Earring, Billy Squire, The Knack, etc., except with a slight southern accent on lead vocals. Of course, all that 80's jangly guitar rock harkens back to 60's guitar rock, but hey, it's only rock and roll, but I like it. | |
| | |
| --- | --- |
| Some random guy with a scurried underfoot trying to get artsy shots. Damn geeks and their digital cameras... | |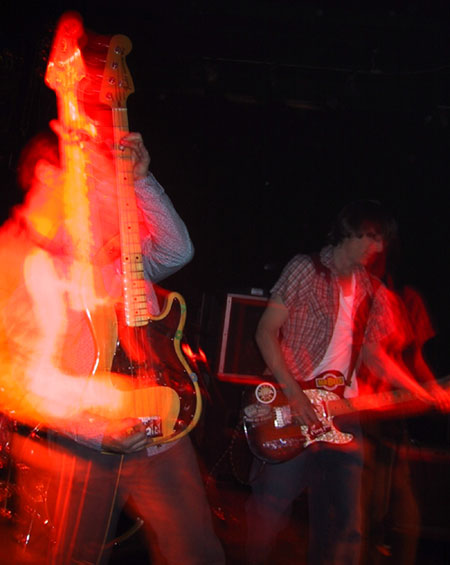 | | |
| --- | --- |
| | Next up, The Lids, uptempo stuff that reminded me of Japanese garage rock, itself a reference to American garage rock. |
| | |
| --- | --- |
| | But anything with cute girls banging tambourines on their hips can't be all bad. |
| | |
| --- | --- |
| | They suffered some technical difficulties and disappeared after a few quick tunes and suddenly the lights were up and the sound guy was playing a CD. The band reappeared and broke down their gear, only to reappear a few minutes later a set up again, only to break it all down and split again - a very punk rock fake out! |
| | |
| --- | --- |
| The Subsonics headlined the night with their usual uptempo Velvet Underground meets The Ramones garage noise. As always, it was a fabulous show if you like the monotone drone dished out with a sneer, punctuated by near-random guitar solos. | |
Buffy is the hottest girl in rock and roll, especially when she breaks character as the snarling, standing drummer in back and suddenly breaks a smile. After the show someone asked, "Does anyone know if she's got a boyfriend?"
I had to be the bearer of the bad news, "She's married."
"Damn!"
| | |
| --- | --- |
| One of their hardcore fans-turned-roadie. | |
| | |
| --- | --- |
| The Cogburns, The Lids, The Subsonics at The Earl | |
---