Degenerate Press
Welcome to Degenerate Press' feature article. If this isn't enough you can always subscribe to Electric Degeneration, our semi-weekly and semi-weakly ezine, or surf the Electric Degeneration archive.
---
Bubbapalooza 14
May 2005
Bubbapalooza officially kicked off Thursday night but we'd just gotten back from Puerto Rico and once we got a bite and unpacked I couldn't muster the motivation. A shame, since the bands that play the type of music that made Bubba were all relegated to Thursday night with the rest of the weekend shifting into more modern, harder rock sounds, but I'd seen most of the Thursday night bands a dozen times and my liver needed at least one night off.
So Friday night we met some of the gang at The Local for dinner then headed to The Star Bar at a reasonable hour, just in time for The Carbonas. They do punk circa late 70's, kind of like The Jam but without as much variation. It's done well but it's a sound that needs some variation to hold my attention.

Toward the end of the last song one of the guitarists put down his guitar and joined the small crowd. The singer followed him and they stood passively at the front of the stage, staring at the rest of the band, sort of mocking the tame and meager crowd in the room. They cheered as the other three members wrapped up the set. A cute moment.
| | |
| --- | --- |
| | Next up, Bullneck, featuring Leroy, formerly of Syrup. He wore some fabulous white shoes and polyester flares, looking like one of the Fabulous Furry Freak Brothers. They sound a bit like Syrup, rock with a funky, groovy vibe. Good stuff, but the room was only half full. |
I hadn't read the latest email from The Star Bar so I was surprised to hear The Forty Fives were on the bill. They hadn't been listed previously.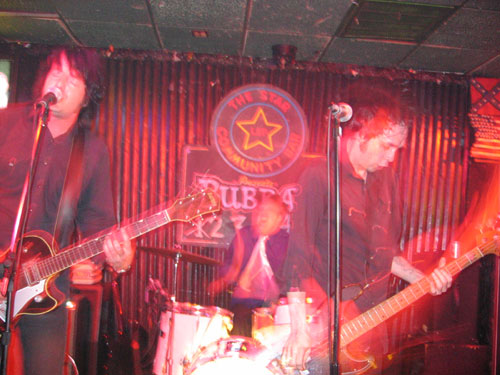 | | |
| --- | --- |
| They performed with their usual gusto, doing a few new numbers, their old classics, and wrapping it up with their killer version of Otis Redding's Monterey Pop tune Shake. | |
| | |
| --- | --- |
| About that time we met a couple of lads from England who were wrapping up a two-week tour of the southeast in search of good music. They raved about The Forty Fives, of course. | |
| | |
| --- | --- |
| The Forty Fives added a sax player for a couple of tunes, fattening up an already chunky sound. Fantastic. | |
They also had a fan done up in retro glamour, complete with white vinyl go-go boots, a yellow mini-dress and a green vinyl cap. Cute! Unfortunately this is the best photo of her I got.

Ah well, you should'a been there.
| | |
| --- | --- |
| | Sassparilla the Singing Gorilla did tunes between acts, including a classic punk tune done as a duet with a volunteer from the audience. |
| | |
| --- | --- |
| Next up, Jimmy and the Teasers. Jimmy ain't much of a singer. His voice tends toward a desperate wail, but he's a fierce guitar player. | |
| | |
| --- | --- |
| Sometimes too fierce, as he thrashes around to the point of losing control. He knocks over the mike stand, falls on the floor, rolls out into the audience... | |
| | |
| --- | --- |
| While the Teasers stand passively by, cranking out up-tempo blues-based stripped-down rock and roll. The Teaser lineup changes almost every time I see this group and this is the first time a male has been in the lineup, other than Jimmy. | |
| | |
| --- | --- |
| Jimmy has a thing for girls in black vinyl (who doesn't?) Toward the end of the set she did a little striptease, while still playing bass. | |
Good stuff!
I think there may have been some more Sassparilla during the break, I don't recall, but soon the speakers blared with the familiar opening credits score of John Williams and armored figures assembled on stage. They picked up their instruments and started into the march used behind the appearance of everyone's favorite villains from the most popular film franchise in history.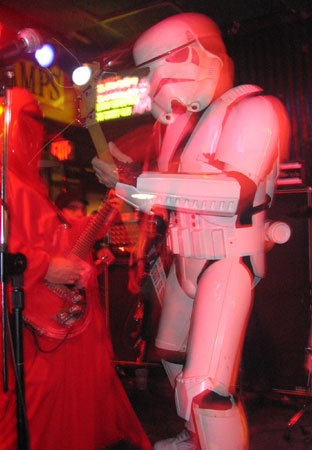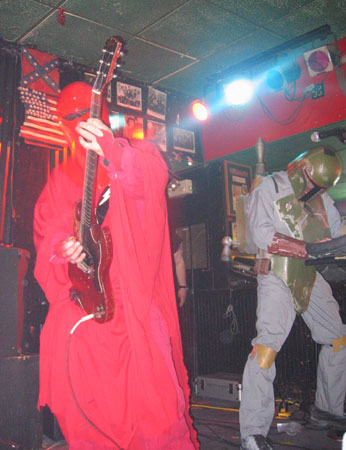 And out strides Darth Vader, lead singer of Grand Moff Tarkin, the best (and only) Star Wars band we've ever seen, back after a several year hiatus to put down those rebel scum!
The music wasn't mixed quite right. Vader's in-mask microphone was a bit distorted and the vocals were way too low, at least up close to the stage, but it was fun to see them again.

Even Jar Jar Binks made an appearance.
| | |
| --- | --- |
| | Until Vader strangled him with the power of the force (to the tune of Ted Nugent's Stranglehold, of course.) |
After a long, sweaty set the players reveal themselves to be members of many of Atlanta's finest acts.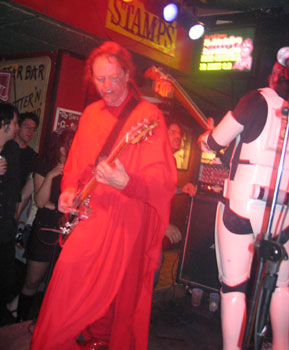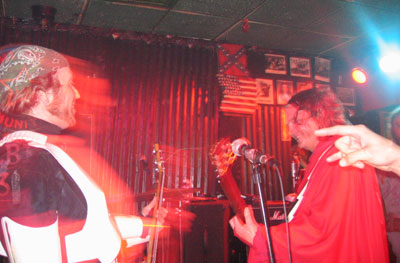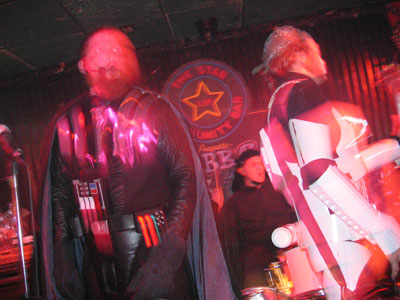 The Brits we were hanging out with said, "Brilliant. These guys could make millions in Birmingham!" and they weren't talking about Alabama. We chatted with them for a while until we realized there was one place the boys really should see before they returned back to England...
| | |
| --- | --- |
| We walked it right at last call (damn you Atlanta City Council) and were honored with Blondie's last dance of the night. The Clermont hasn't changed much, though I was surprised to see a familiar face from Fantasm on stage. But soon they kicked us out so the Brits piled into a taxi to get back to their hotel. | |
For more Memorial Day Weekend Mayhem, see our Tiki Torch Night review.
---