Degenerate Press
Welcome to Degenerate Press' feature article. If this isn't enough you can always subscribe to Electric Degeneration, our semi-weekly and semi-weakly ezine, or surf the Electric Degeneration archive.
---
Hospitality Sweet
Downtown Hotels
October 2005
This is the first in what we hope will be a series of reviews of hotel bars around Atlanta. Why? Well, in part because locals never visit hotel bars (with a few exceptions) and we wanted to cover something different. But mostly it's just to do something different ourselves. We hope to pick a different section of town every few weeks and hit all the lobby bars in that area. First up, downtown Atlanta.
Well, actually we started off with tapas in Midtown at Table 1280, the new tapas restaurant stuck between the High Museum and Wodruff Arts Center. $9 gets you Makers on the rocks, $10 gets you one of their specialty drinks, tapas range from $7-9 for tiny, two-bite snacks. Not great, especially at the price. But we had friends that wanted to give it a try and it seemed an appropriately touristy/upscale thing to do to kick off our night of hotel bar hopping.
Speaking of, if going to scummy bars and trashy places you wouldn't normally visit is called "slumming," then what is visiting expensive bars and restaurants you wouldn't normally visit called (aside from "spending too much")? I'm going with "upscaling."
| | |
| --- | --- |
| After our $40 meal and drinks, we were starved. Felicia Feaster of Creative Loafing heard our plans for the evening and said we should dine at the Steak & Ale downtown. We laughed and decided it was indeed the appropriate meal for the evening. | |
The food was overpriced for what it is, the ambiance is something between hotel restaurant and sports bar, but we did have super nice service thanks to Makanga, our waiter.

Can you guess which meal was sitting in front of the female and which meal was sitting in front of the male at the table?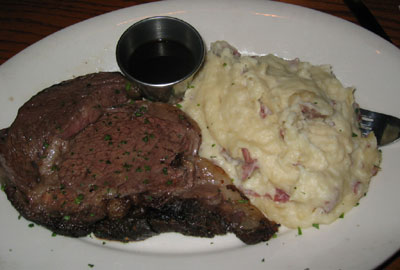 We parked at the Hilton, knowing we could get validated at Trader Vic's later in the evening, and trekked up the block to the Hyatt in search of The Polaris, the blue flying saucer that used to be such a fixture of Atlanta's skyline before it was blocked out by newer, taller buildings. I'd wanted to visit it since I was a kid but the receptionist told us it had been closed for more than a year for renovations.
We headed up the hill to the Westin, a hotel most long time Atlanta residents probably think of as The Peachtree Plaza, once the world's tallest hotel. The penthouse features The Sundial, a rotating restaurant and bar we'd visited recently. Nice view and the slow turn around the building gives you a look at every side of downtown - at least what you can see now, since this is no longer the tallest building in town. Their specialty drinks are $15 a pop and I remember them as not really worth the money.
So we skipped that in favor of the lobby bar, something more in keeping with the theme we were going for anyhow, the little watering holes business travelers get stuck in while in town for conferences and such.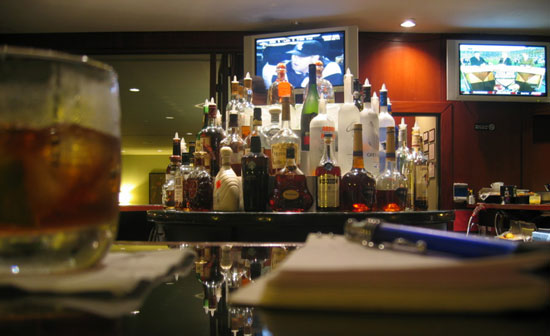 The Westin Peachtree Plaza lobby bar is cleverly named "The Lobby Bar." They're fairly well stocked, though they don't have the varieties of rum I prefer and they were out of raspberry vodka, SW's preferred poison. But they did mix her up a substitute she enjoyed while I got a Myers and soda. The tab was $16.32. I began to understand why only people on expense accounts drink in hotel bars.

Not much going on tonight. Friday nights are a bit slow at hotel bars. Early in the week, business travelers cram into the places and you'll overhear conversations about whatever the theme of the conference is, but on weekends it's tourists and a few staff members. There was a pro-am ballroom dance competition going on up on the 8th floor, something you don't hear about in your neighborhood bars. We were invited to watch but decided we'd stick to our tour.
The room is cold, literally and metaphorically. We comment on the temperature to a woman a couple of seats down from us and she says "It's always cold in here." SW steps out for a smoke (something necessary in many hotel bars these days since the city banned smoking in places where minors are allowed) while I asked our neighbor if she was local or visiting our fair city. She's local and judging from the tone of her response she's not interested in conversation. After further observation I realize she's probably working. Not a bad looking woman and were I a lonely business traveler in town for a night I might be willing to fork over the required fees for an evening's entertainment.

So I leave her scanning the room for customers and snap a few pictures of the weird sci-fi architecture. Places like this are used for sets in films like Gattica and Blade Runner. I had to paste together several pictures to give you a decent view of the tall room.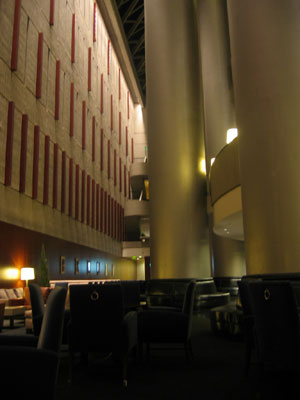 We headed on up the block to the almost invisible downtown Ritz Carlton. I guess if you're the Ritz you don't need a big billboard, "$29.95, HBO, POOL." The only indicator the place is there at all is a small bronze plaque by the door.

Their lobby bar is literally in the lobby. There is a tiny bar with perhaps 5 stools overlooking a room full of very upscale hotel lobby furniture, the kind of stuff you see in antique stores you can't possibly afford.

We decided we couldn't possibly afford to drink there and weren't in the mood to squeeze into the two available stools at the almost-dead-quiet bar.
| | |
| --- | --- |
| | Marriott Marquis ain't much to look at from the outside. It's a big concrete block with bulging sides. You don't expect to find much inside. |
| | |
| --- | --- |
| | Their driveway has a strange bronze fountain that looks like some kind of crashed Death Star, giving you a hint of what is to come. |
It's their spectacular atrium that makes it my favorite building in town. It's like being in the belly of a while that's standing on its head.

But though I'd visited many times, I don't think I'd ever looked for a bar in the place. The concierge directed us to Champions, a sports bar on the second or third floor. We headed up there, only to find it located off the lobby with no view of the spectacular atrium. And with baseball playoffs on TV, a sports bar is about the last place on earth I'd want to be.

We were about to leave, dejected, when I spotted a couple of people around a table on a small balcony overlooking the mezzanine we were on.
There is a stairwell leading up to this balcony, The GrandStand Lounge, where we found an odd, small bar with a fantastic view of the atrium above.

The bartender had meager stock to choose from and a Myers and soda ran me $7.50, but you could make it a double for only $1 more.

A piano stood empty on a little outcropping on the edge of the balcony. The bartender said they were going to bring in a pianist Mondays - Wednesdays.

We met Pam and her husband Ricky, locals on the exact same pilgrimage we were on - hotel bar hopping. We chatted about Italy until the bartender issued last call. The early closing times are probably yet another reason there aren't any regular locals at hotel bars.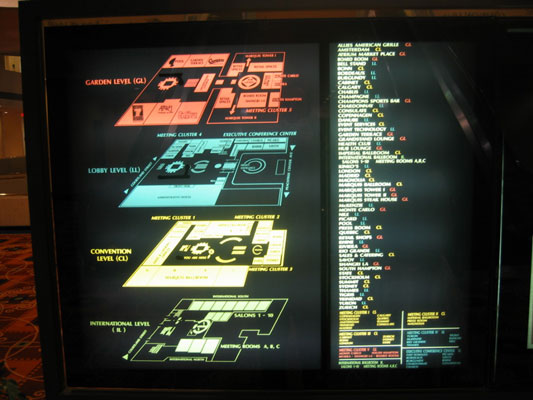 A map of the Marriot, further reminding me of the Death Star.
| | |
| --- | --- |
| On we trekked, to the Hilton, site of my favorite hotel bar, Trader Vic's. But we've been to Trader Vic's a million times so we skipped it and headed down to Avazare, an Italian restaurant and bar with a cool aquarium. But we found it closes at 10. How demented is that? | |
| | |
| --- | --- |
| So back up to the lobby we go, asking the guy at the front desk if A Point of View at Nicolai's Roof is still open. It's just after 11 and he says it's closed. | |
| | |
| --- | --- |
| But a poster by the elevators says Kingsized performs Friday nights 8 - midnight, so we hop in the elevator and find the bar hopping, literally and figuratively. Apparently some of the pro-am ballroom dancers have trekked over to the Hilton, judging from the talent some folks displayed on the dance floor. | |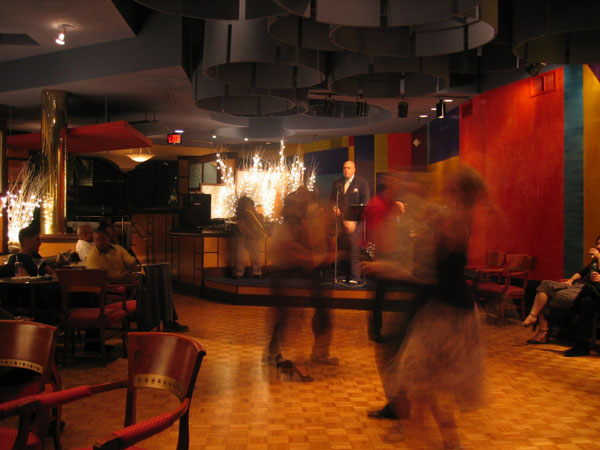 Kingsized was doing a set of upbeat jazzy swing stuff, sometimes to an almost crowded floor. I've marveled at the decor of this bar before. It looks as if someone took the set from Alien (what is it with hotel bars and sci-fi?) and gave it a Trading Spaces once-over. The ceiling is covered with what look to be giant exhaust ports off the back end of a space ship. Then there are these rock gardens that remind me of alien eggs.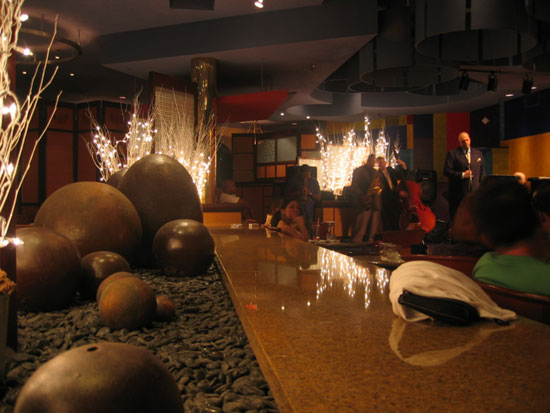 I can just imagine Hildy saying "Well, we can't do anything about these exhaust ports - so let's just paint them purple. We can't disturb the alien eggs or we'll get eaten, so let's dress them up with some twigs and Christmas lights. Some blocks of color on the wall will cheer the place right up!"
Despite the surreal decor, the place has a nice view. They also offer vodka infused in-house with several different flavors to chose from. I went with cinnamon. It reminded me of when I was a kid and I'd take hot apple cider and drop a cinnamon stick into it, then sprinkle some cinnamon on top, then accidentally breath in some of the dusty cinnamon from the top of the glass as I went to take that first sip. Extremely cinnamony!

Some might say another plus is that you can smoke in this bar, since it's not in the lobby and children are not allowed. I'd say not allowing children into a bar is a plus, but smokers can fuck off.
Soon it was last call again. I had intended on attending some live music over the weekend but we'd been kicking around this hotel bar idea for months and decided to finally jump on it. By the end of the night I realized we would've spent far less money and had more fun for the dollar at a local show, but it was a change of pace and comparatively low-key, relaxing adventure.
Next time - Midtown? Buckhead? OTP? Heck, we don't even know, you'll just have to tune in!
---