Degenerate Press
Welcome to Degenerate Press' feature article. If this isn't enough you can always subscribe to Electric Degeneration, our semi-weekly and semi-weakly ezine, or surf the Electric Degeneration archive.
---
Rocket 350, The Sweetloves,
Yule Log
Star Bar
December 2006
The Star Bar does more benefit shows than any other bar in town and Consumass is no exception. They do a Toys for Tots show every year and it's usually a great show in addition to a worthy cause. I arrived a bit late on Saturday to find Rocket 350 already on stage.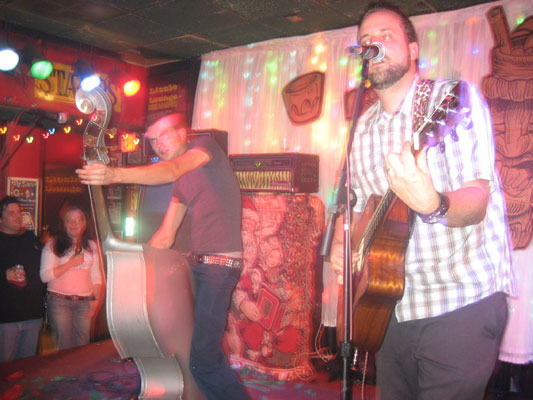 Or more like Rocket 302, since they were a man down and Phil was going acoustic for the night. It gave it more of a Johnny Cash sound, not bad but not the high-octane rockabilly I expected.
Marines were in attendance, hauling massive bags of toys out to a waiting truck. In between acts, Rotknee got on stage to announce they'd raised more loot than any other Toys for Tots benefit in the state, while Peanut played Hanukah tunes on accordion.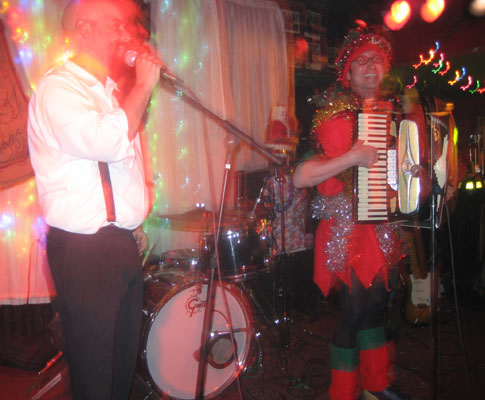 Lots of folks were done up in holiday party attire, many with faces red from holiday spirit(s) after friends' or company's parties. It made for a pretty, friendly crowd.
Next on stage, The Sweetloves. A while back, former degenerate SW picked up the Faces box set, 5 CD's of whiskey-soaked blues-based classic rock. I wanted a copy but didn't need the whole set, so I made a single disc compilation of my personal favorites and it's perfect.

I feel the same about The Sweetloves. A) they sound just like the Faces, B) one set is just about perfect. They even tossed in a classic Christmas medley at the end.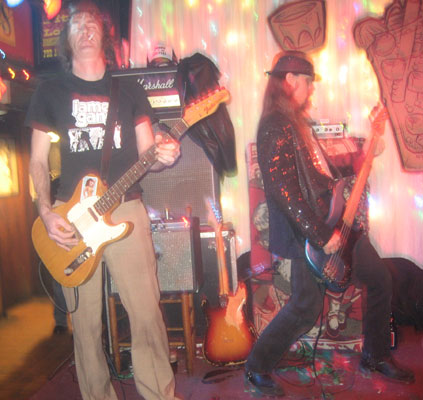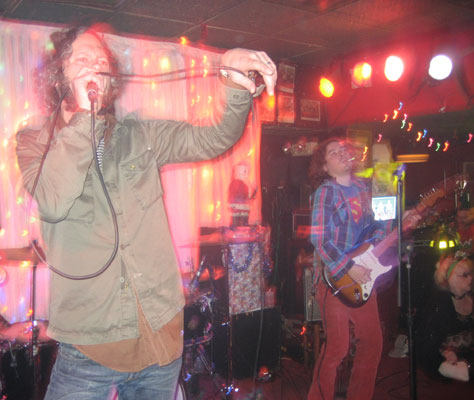 Peanut returned to the stage as Ted Weldon read another classic Christmas tune in story form, a personal favorite, Gregory Dean Smalley's Sorriest Christmas.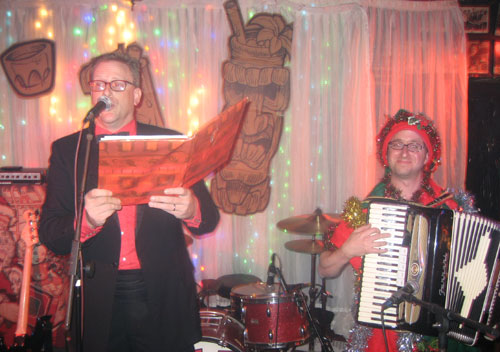 Then it was time for the headline act, the ever-rotating lineup of Yule Log. Shitty Clause took the lead in the War on Christmas with classic rock and punk tunes turned into twisted Christmas carols.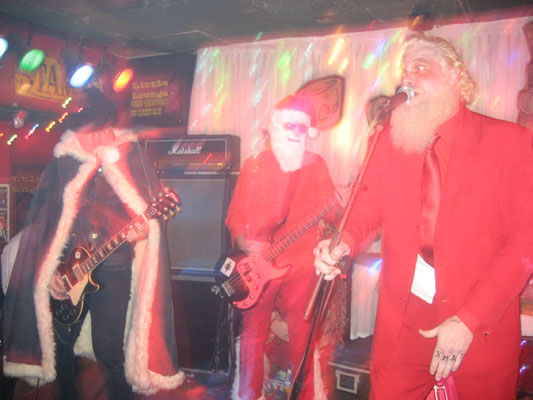 (In case you were wondering, the other hand said "M-E-R-I.")
| | |
| --- | --- |
| | I am actually more in the Christmas spirit this year than I have been in a decade. Why? Because I don't have to celebrate it this year! My family is off to visit my brother's in-laws in St. Louis while I get to stay home and rent movies and eat pizza! No nightmarish visits to the mall to shop for presents, no long week driving around Texas, no wishing the whole week would just hurry up and pass by so I can get to New Year's Eve - just me and my selfish self, slacking off an extra couple of days from work. Now that's a holiday I can enjoy... |
---