Degenerate Press
Welcome to Degenerate Press' feature article. If this isn't enough you can always subscribe to Electric Degeneration, our semi-weekly and semi-weakly ezine, or surf the Electric Degeneration archive.
---
Athens Pop Fest
40 Watt
August 2007
Text by Emily Maxwell, photos by Frederick Noble
Sweating balls on a hot August night, FN and I rambled on down to Athens for the 2007 Pop Festival. I've always loved the format of this festival. Each year, the event secures two or three "big name" acts (this year Ted Leo and the Pharmacists, and Daniel Johnston) that draw indie pop fans to Athens for a four day carnival of beers, bands, and geek-chic fashions. As a result, a number of out of town folks show up to see their favorite Pitchfork darlings and wind up catching some great performances from some of Athens' premier local acts.
| | |
| --- | --- |
| | We attended day three of the festival, Saturday, and arrived at the 40 Watt Club halfway through the lineup of eight bands: Red Pony Clock, Baby Calendar, Fishboy, Bunnygrunt, Cars Can Be Blue, Dark Meat, Elekibass, and the beloved Daniel Johnston. After fueling up with some adult beverages and perusing the merch table, FN and I attempted to establish a standing spot near the stage. Unfortunately, the 40 Watt crowd was full of oblivious drunken revelers, and between the two of us, FN and I were knocked into or stepped on something like 6 times before we ever even heard a note. Over the course of the evening, we would end up moving around the room several times in search of a spot quiet enough to hear the music. |
Once we had stumbled through the jungle of tattoos, tight jeans, and vintage polo shirts, Athens pop duo Cars Can Be Blue began their set. Consisting of a bespectacled boy on drums and a punky blonde chick on guitar and vocals, Cars Can Be Blue initially charmed me with their simple, short, and honest ditties. The band immediately reminded me of acts like Jack and Jeffery Lewis, Kimya Dawson, and Beat Happening, relying more on lyrical content and enthusiasm than impressive instrumentation and vocal ability.
| | |
| --- | --- |
| I enjoyed their humorous tunes about self-righteous hippies and the agony of break-ups, which were delivered with abandon. About halfway through the set, however, the wit that had originally drawn me to Cars Can Be Blue began to grate on me a bit. Ok, we get it, your boyfriend sucks and you guys are a riot. While it is always refreshing to see a band truly enjoy themselves on stage, Cars Can Be Blue could benefit from diversifying their song structure and content a bit. | The grande finale, Prince's Purple Rain |
Next on the bill was Dark Meat, also an Athens-based act. I had heard rave reviews of Dark Meat's live performances, and was anxious to see them, despite the fact that I had no idea what to expect. My lack of expectations turned out to be in my favor. We watched as bizarrely dressed person after bizarrely dressed person took the stage. FN commented that the band resembled a white version of Parliament after all 16 or 17 members had assembled on stage.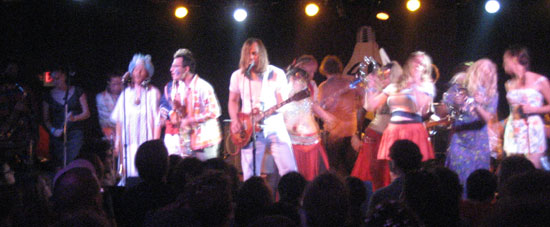 That description could not have been more accurate. Boasting a horn section, tambourine players, a trio of female vocalists, guitarists, a drummer, and to top it off, two belly dancers, Dark Meat was a spectacle before their set even began. Donning everything from dashikis to mod dresses to cheerleader-esque ensembles, most members of the band also wore glitter or face paint.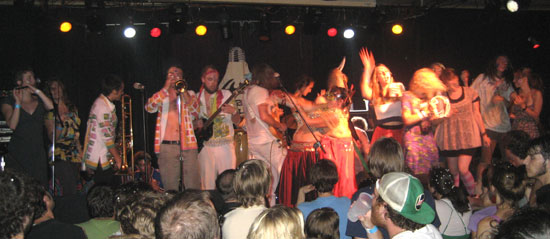 Dark Meat's sound turned out to be about as ambitious and inescapable as their aesthetic. While not exactly a white version of Parliament, Dark Meat did posses a truly unique energy. Bombastic rock ballads led by a lead singer/guitarist comprised the bulk of the set. Heavy, epic, and peculiar, Dark Meat's songs could be the soundtrack to a film about cannibals escaping persecution from mythical creatures by running up an Irish mountainside at dawn. I was pleased to discover that the band was able to justify such outrageous costumes and numerous members with a truly solid performance. Part weighty classic rock jams, part dance-inducing funk, Dark Meat's set was both impressive and fun.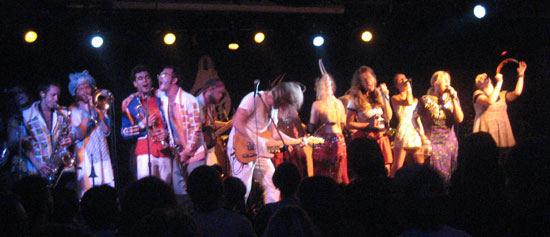 Somewhat tipsy and disoriented, I thought that Daniel Johnston was the next and last performer of the evening, so I grabbed FN and we hustled toward the stage. I'd completely forgotten there was another act to endure before I could wallow in all the awkward glory that is Daniel Johnston. Standing in my way was Elekibass, who, judging by the crowd's reaction, have established quite a following. A Japanese four-piece, Elekibass were all smiles and spectacle as they danced through the crowd at the start of their set. Like most things Japanese (with the exception Murakami novels and sushi), I was initially enamored of Elekibass, captivated by their grins, flashy outfits, and super-happy-fun-time music, but soon found myself baffled and unsettled by it all.


Yes, that is a pair of Santas.
No, they were not relevant. I don't think...
| | |
| --- | --- |
| I often feel a disconnect when it comes to Japanese art and culture, and this band's set was a prime example of that sensation. At first the band and its music elicited an irrational feeling of happiness. They were so cute, but it was a kind of cuteness that began to seemingly warp right before my eyes. | |
| | |
| --- | --- |
| Elekibass paraded through their set playing songs that reminded me at once of sixties guitar pop, the Gong Show theme song, and oomp-pah-pah carnival music. Fun at first, sure, but I quickly began to see Elekibass as just a gimmick. The crowd, however, did not seem to share my sentiments. Everyone around me completely loved it, which only served to make the experience even more nauseating. | |
| | |
| --- | --- |
| FN and I began to crack jokes about the band, remarking that maybe we should drop another atomic bomb on Japan in an effort to shut these guys up. No sooner had the politically incorrect joke left our lips than Elekibass' lead singer began chanting "One more time!" in an effort to generate the crowd's enthusiasm for an encore. We were howling with laughter at our coincidentally-well-timed joke as the band at last finished its absurd and repetitive set. | Speaking of Prince... |
Undaunted by a night of so far hit-or-miss acts, we refreshed our beers and geared up for Daniel Johnston's set. My first time seeing Daniel, I was a little nervous, not knowing quite what to expect from the notoriously mentally unstable performer. The lights dimmed, and Daniel began his set, voice wavering as he strummed his acoustic guitar.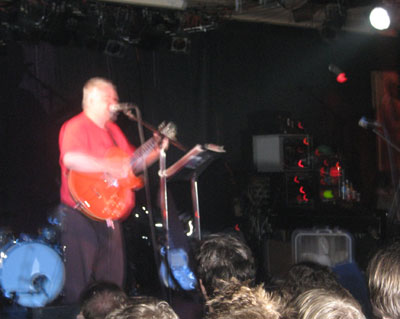 This was essentially what I imagined seeing Daniel would be like, a hushed crowd respectfully looking on as he stood alone on stage, nervously playing his now classic songs. After two or three songs however, Daniel ushered a friend on stage to play the guitar parts while he sang. His nervousness seemed to dissipate after the change, and he belted out fan favorites like "Love Wheel" and "Casper the Friendly Ghost."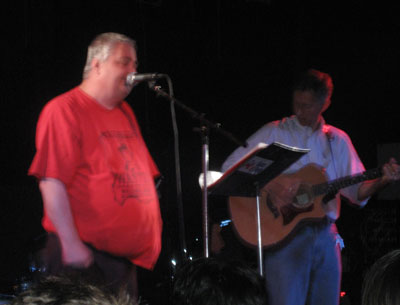 Finally, a full band assembled on stage to back up Daniel while he sang. At first I was wary of the band, thinking to myself, "This is what it's supposed to be about." Daniel Johnston has always been, in my mind, an artist making music on his own terms and in his own distinct way. I assumed a band would serve only to gunk up the purity and simplicity of Daniel's heart breaking and self-deprecating songs. Hard as it may be to believe, I was entirely wrong. Daniel and the band were a unit. Not once did it seem as though it were Daniel Johnston and a band. Cohesive and tight, the addition of a band appeared to give Daniel confidence. Without the worry of having to play guitar in addition to singing, he happily plowed through a set of "greatest hits", turning out a great rendition of "Speeding Motorcycle" for a mostly adoring audience.
---