Degenerate Press
Welcome to Degenerate Press' feature article. If this isn't enough you can always subscribe to Electric Degeneration, our semi-weekly and semi-weakly ezine, or surf the Electric Degeneration archive.
---
Bubbapalooza - Thursday
The Star Bar
May 2007
Bubbapalooza 16? Christ, I'm old. So be it.
After a lot of automotive rigamorale, nothing felt as good as a Jack and Coke and some honky tonikin'. Mic Harrison and High Score provided the tunes to back the booze. Unfortunately, it's been a while since I've shot anything with my camera and I was clearly out of practice, so you'll have to use more imagination than usual with this review. Things are practically arty.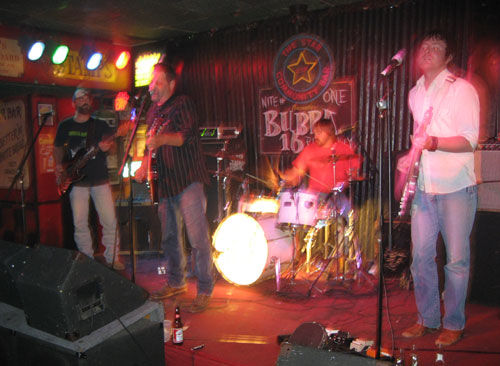 After half their set I wondered - why are all honky tonk tunes about Texas? 'Cause it's too hard to sing Mississippi when you're drunk!
| | |
| --- | --- |
| Sassparilla the Singing Gorilla did his shtick. I find it amusing for about three songs, then I'm over it. But it got laughs from the newbies in the crowd. | |
| | |
| --- | --- |
| The Downer Bros. family has expanded. From the duo of Jim and Joel, they've grown into a 5 piece, more like the Downer Army. Again, my photography skills are rusty so you only get blurry pictures of a few of the guys, but you should'a been there. They cover random tunes in a downbeat country style. I think I preferred the more stripped-down and raw incarnation of previous years but it was still a fine performance. | |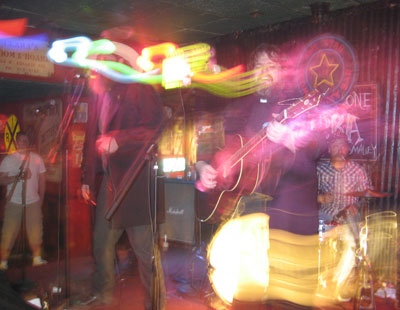 OK, this artsy photography is getting out of hand...
| | |
| --- | --- |
| Jason Ringenberg, formerly of Jason and the Scorchers, followed with solo acoustic stuff that I found boring. Some of the crowd sang along or shouted out requests, but it was like watered down whiskey to me - it lacked gusto and felt like a nostalgia act for those who missed the Scorchers. Some of those folks yelled for more while the other half the crowd chatted on as if nothing was happening. | |
You couldn't ignore Bitch, however. If nothing else, they were too damn loud. They, too, are a nostalgia act targeted at the hard/heavy/metal set, most of whom have pulled over at a rest stop on the highway to hell so the kids could use the restroom and mom can get a smoke.

This wasn't Bitch's most varied set - no surprise Bowie, not even a Ramones tune, pretty much just AC/DC, Motörhead and Skynyrd. But they do justice to the material and had the Thursday night crowd bouncing along.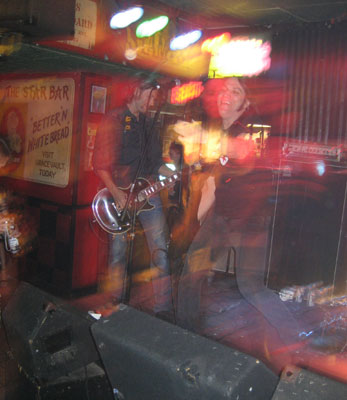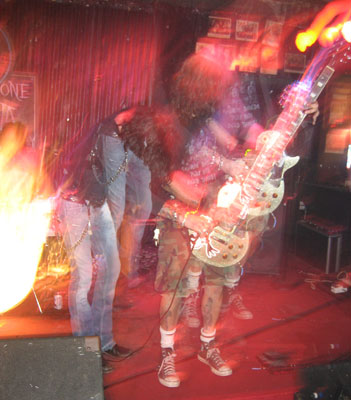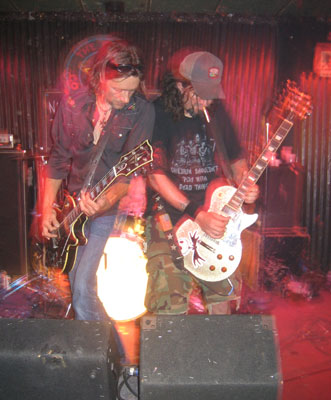 Friday I wasn't up for another night of abuse and had to skip, but I managed to make it back on Saturday.
---