Degenerate Press
Welcome to Degenerate Press' feature article. If this isn't enough you can always subscribe to Electric Degeneration, our semi-weekly and semi-weakly ezine, or surf the Electric Degeneration archive.
---
Silver Lion's 20/20, Burmese Crush, Catfight!, The Gore Gore Girls
Star Bar
December 2007
Text and photos by Frederick Noble
Pardon my long-winded backstory here. I don't write music reviews as much these days, so I tend to ramble.
I covered Catfight's "final" show for the Loafing... what, last summer? Summer before? I have a lousy sense of time, but regardless it had a true finality feeling. The "lovely ladies of loudness", as I once labeled them, have long since settled down with 2.5 kids and husbands, so playing a late night show at a smoky bar on a Thursday night probably isn't easy these days. Heck, attending a late night show at a smoky bar on a Thursday night isn't easy for me these days and I don't have to find babysitters. So it came as a surprise to see a reunion show for the band that inspired me to start doing music reviews in the first place, not because they were so fantastic but because when I met them one night at The Highlander I liked the girls so much I wanted to see their band. Unfortunately I'd seen so many shows at that point I was having a hard time recalling if I remembered any band's name because I liked them or because I hated them. "Maybe I should write this down...?" I thought.
Ear Plugs for Atlanta was born and countless of those early emails and web reviews featured Catfight.
But back to the recent past, I was undecided about attending this show. I'd seen Catfight perhaps more times than any other live act, I'd seen The Gore Gore Girls at the drive in a year or two ago, and Burmese Crush was at the drive in back in September - all good bands, to be sure, but there was a ton of stuff to do on the upcoming weekend and getting out on a work night....
Christ, I'm getting old.
Then I got an email from Chet Weiss, formerly of Immortal Lee County Killers and The Quadrajets, saying he had a new act, Silver Lion's 20/20, and would be opening the show. I check out their myspace page and the tunes Chet had posted sounded a lot like early ILCK, one of my all-time favorite acts. I told my boss I'd be "working from home" the next day and headed for the show with degenerates EM and CD in tow.
| | |
| --- | --- |
| I don't know why Chet dropped the Immortal Lee County Killers moniker. The ILCK lineup changed a couple of times over the years, so changing drummers (now Craig "Sweet Dawg" Pickering of The Dexateens) doesn't seem like reason enough. Perhaps Chet doesn't want to play the old ILCK tunes any more, or maybe it was just time for change, however small it may be. Silver Lion's 20/20 sounded, looked and probably smelled a lot like Immortal Lee County Killers, and for that I was grateful. | |
Deconstructed electric blues vaguely reminiscent of Jon Spencer Blues Explosion, with moments of quiet that build to rumbling thunder.

I think this was one of their first shows together and things weren't tight, but this kind of stuff needs to be frayed at the edges.
I turned to EM at some point and told her if I was a musician this is what I'd play. Something about it grabs hold of my insides.

Obviously it does the same to Chet...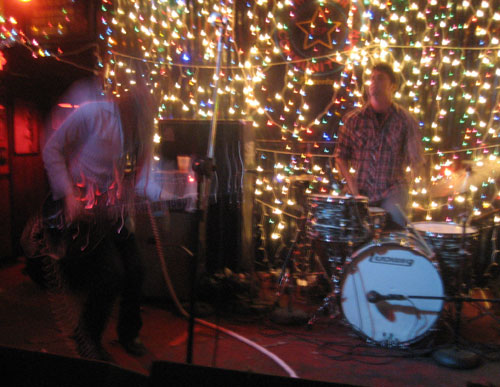 | | |
| --- | --- |
| | Next up, Burmese Crush. Johnny MacGowan can play the hell out of electric guitar and has fun while doing it, Brian's raspy voice is good for the material, but it didn't hold my attention this time. I enjoyed them at Drive Invasion, but after the grip Silver Lions had on me Burmese Crush felt a little flat. Brian's other act, The Forty Fives, have a distinct 60's garage flavor but Burmese Crush seems a big generic. It's rock, but what kind? There are hints of 70's arena rock and it has a fat sound but neither EM nor I were in the mood and slunk downstairs to socialize. |
| | |
| --- | --- |
| | CD stuck it out and said things improved over the course of the set and I regretted not returning after a break, but I'm sure I'll see them again. |
Catfight! didn't waste much time with speeches about how it was good to be back, they just whipped out a set of familiar bubblegum rock about fast cars, boys, and bitches.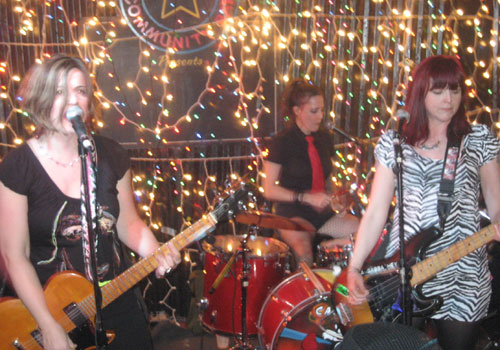 I've said it before and if they do another reunion I'll probably say it again - they were never a great band but they were always a fun band and what the hell do you want out of rock and roll? They sounded well rehearsed and smiled throughout the set. I didn't take a lot of pictures 'cause I was too busy bopping my head to the beat.
"Now when I listen to a really good song, I start nodding my head, like I'm saying 'yeeess' to every beat. Yes, yes, yes, this rocks. And then sometimes I switch it up like, No, no, no! Don't stop a-rockin'!"
Homer Simpson
The headlining act, The Gore Gore Girls, appeared in cute matching vinyl miniskirts, generating near growls from my feminist date. She had enjoyed Catfight's set but was clearly frustrated at their lack of deeper meaning or important lyrics.

Me, I don't need meaning. And I don't mind something pretty and/or sexy and/or downright slutty to look at, especially while listening to garage rock that approaches the hard/heavy end of the spectrum.
| | |
| --- | --- |
| But despite the skimpy attire and entertaining music, it was late and I would have to do some work the next day, even if I did it hungover in pajamas at my desk at home. So while the girls rocked on, we snuck out. | |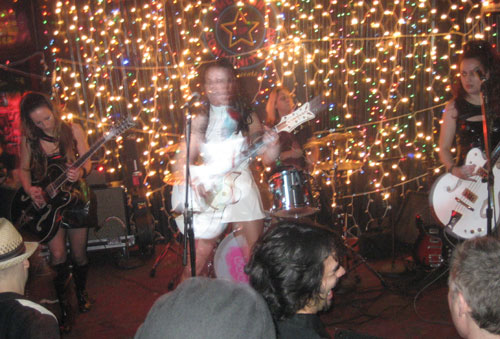 ---