Degenerate Press
Welcome to Degenerate Press' feature article. If this isn't enough you can always subscribe to Electric Degeneration, our semi-weekly and semi-weakly ezine, or surf the Electric Degeneration archive.
---
The Mocking Birds, The Weight, Allnightdrugprowlingwolves
The Star Bar
October 2008
Text and photos by Frederick Noble
As the months, and now possibly years (I have a lousy sense of time), pass since the Star Bar changed hands, I have noticed a greater and greater percentage of new faces in the crowd that visits the bar. There are still a few regulars from back in the day, but fewer all the time. It's no longer "my" bar any more than Lenny's is still Dottie's. These days I suppose The Earl is the closest thing to "my" bar, but I don't feel the camaraderie there I once felt at the Star Bar. Too many folks that used to be my crowd don't get out any more. So be it. I'm making new friends that do get out, some younger people who haven't had kids and moved to Macon or Clarkston or other points OTP, as well as some older folk who's kids have grown and/or never gave up on loud music, late nights and occasional inebriation.
First on stage, The Mocking Birds, or maybe The Mockingbirds, from Chattanooga. The Star Bar's listings were incorrect for at least one of the bands that night, so I don't trust their spelling, and The Google is having a hard time finding them. Their first number didn't impress me - loud and fast but not enough melody or variation to hold me.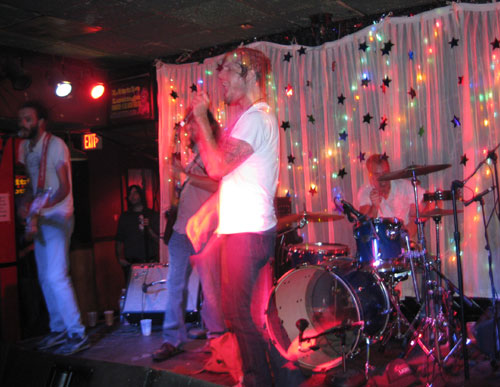 | | |
| --- | --- |
| But their second and third numbers loosened up a bit, while somehow maintaining the hard/fast/loud sound. I vaguely remember their set as a fusion of harcore, funk and rap. "Best band from Chattanooga I've ever seen," I said. | |
"Worst band I've ever seen," said a friend and coworker of EM. Not many folks stuck around, and not many folks were there for the opening act anyhow, which was too bad. I got some mild enjoyment out of it for a few songs but they were too loud and fast for a room half-full of disinterested people. This stuff needs a sweaty basement full of thrashing fans.
Speaking of, we headed to the basement to socialize and wait for The Weight. The Star Bar had posted "The Wake" on all their ads and schedules, but apparently The Weight carry some weight in the alt-country/rootsy rock scene. I had never heard of them, so when I returned upstairs I was surprised to find a room full of folks. When The Weight took the stage I was taken aback - or rather, taken back.
So there I am thinking about how much times have changed at the Star Bar and there I am, up close to the edge of the stage with a PBR in hand with Drive By Truckers circa 1997 on stage.
Cue Wayne's World dream sequence/flashback sound effects. Wow. Trippy. Seriously, squint - or let the PBR blur your vision - and it could've been DBT on stage circa 1997.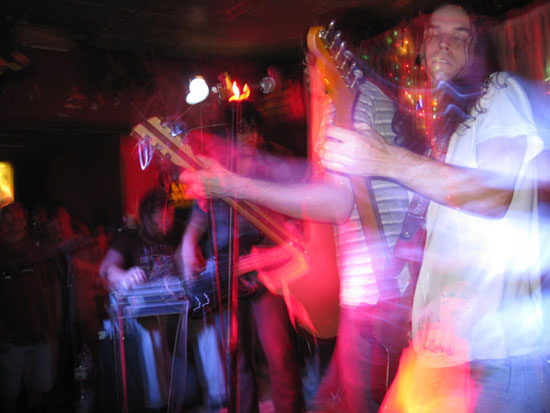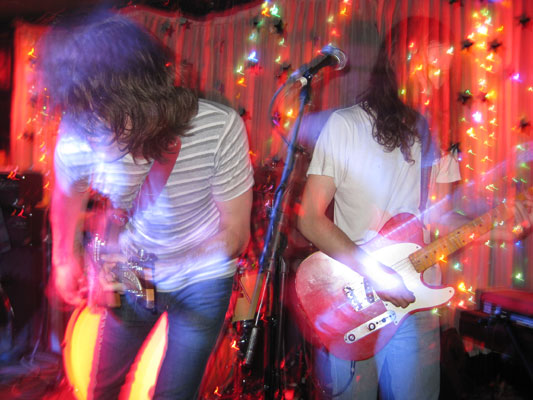 It's good, heartfelt stuff with a vaguely country sound, complete with pedal steel and a bit of boogie keyboards back there in the back. I was vaguely reminded of The Band, who have a song titled The Weight, perhaps not coincidentally.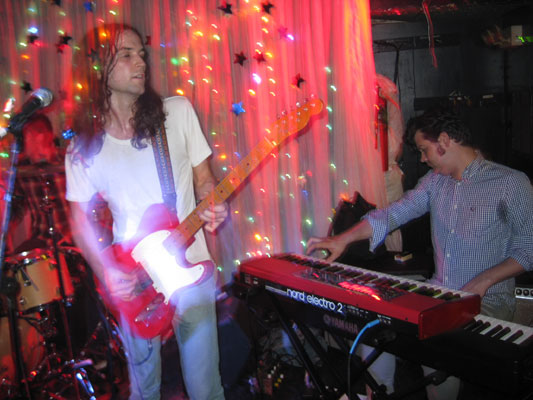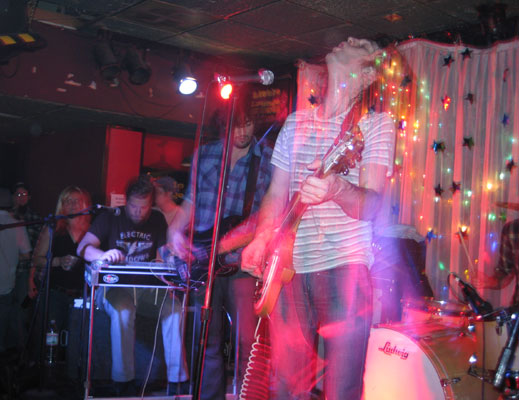 Just like The Star Bar used to be my bar, Drive By Truckers were one of those acts that used to be one of "my" bands - you know, a group you'd see every few weeks that sang songs about people you knew - family, friends, neighbors, hell, maybe even about you yourself. But, just like the Star Bar, DBT's regular fans changed over the years and I don't have that feeling of camaraderie any more. It doesn't help that they don't play intimate venues any more.
Unlike Allnightdrugprowlingwolves.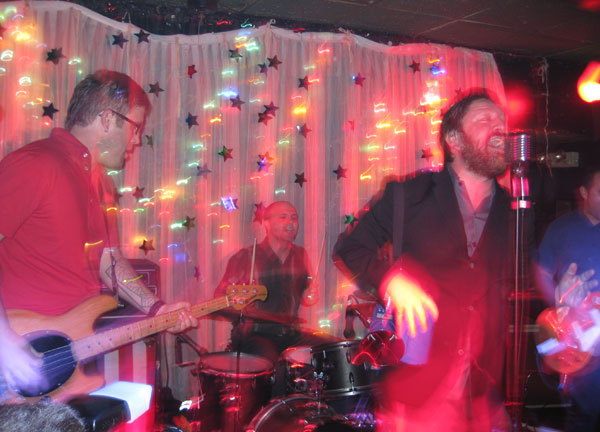 I can't imagine them being anything other than one of "our" bands - a band that plays small, local venues singing songs we all know about people we all know. And I can't image them growing beyond that. DBT changed styles a bit, changed members a few times, and toured until word of mouth spread and eventually they got to where they can sell out The Tabernacle. I don't see Allnightdrugprowlingwolves ever reaching that level. For starters, lead singer Tom Cheshire is renowned for being a degenerate trouble-maker who runs out on bar tabs and gets friends into jail and/or fights, an old school, trash-the-hotel-room kinda guy. So if they ever got any level of fame beyond local dive bars, Tom would probably screw it up, maybe even on purpose.
Which is just fine by me. we need some things to call our own.

The 'wolves sound like The Clash meets The Mighty Mighty Bosstones, gravely, growly vocals in front of sing-along punk, with Tom half-dancing around, hands always in motion.
| | |
| --- | --- |
| He anoints the crowd with sprinkles of gin and tonic, in between the seemingly endless beers and shots handed up by fans, while bandmates play and sing furiously along - along with the fans. | |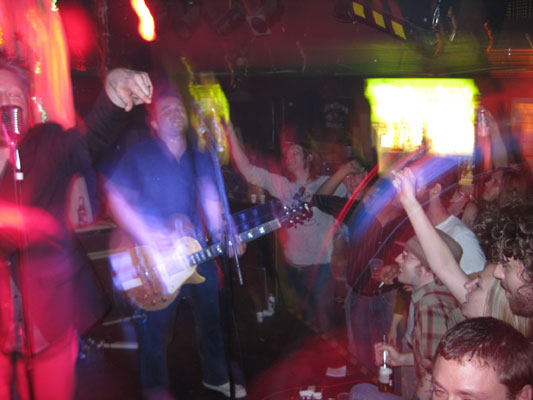 I hadn't seen them enough times to sing along, but now you can pick up their new record - yes, actual record, not CD (though it does come with codes so that you can download mp3 versions) - so you, too, can learn to sing along with Allnightdrugprowlingwolves. Flick some gin in your eyes and roll around on a dirty concrete room floor with some friends and it'll be almost like seeing them live...
---