Degenerate Press
Welcome to Degenerate Press' feature article. If this isn't enough you can always subscribe to Electric Degeneration, our semi-weekly and semi-weakly ezine, or surf the Electric Degeneration archive.
---
Athens Pop Fest
The 40 Watt, Athens
August 2008
Text by Emily Maxwell
Photos by Frederick Noble
To the casual observer, 2008's Athens Pop Fest was arranged much like the last: a handful of quirky, Athens-based, indie rock acts presided over by a formerly drug-addled, often mentally unstable cult hero who has starred in his own acclaimed documentary. Last year's "star" of the fest was beloved folkie Daniel Johnston. Johnston had long been an underground favorite for his crushing narratives and childlike compositions, but after the release of the 2006 documentary The Devil and Daniel Johnston, his music and his story began to reach a much broader audience. Johnston's performance at the 2007 Pop Fest was much anticipated, as his ongoing battle with bipolar disorder had made performing a struggle in the past.
This year's major act was Roky Erickson, former lead singer of the 60's psychedelic group the 13th Floor Elevators. Like Johnston, Erickson's path as an artist and musician was frequently derailed by drug abuse, hospitalization, and mental illness. Erickson was the subject of the documentary You're Gonna Miss Me, a film chronicling his life up until 2005. Unlike Johnston, however, Roky Erickson's sabbatical from the music world lasted nearly twenty years. And while the two men's stories may seem similar within a certain context, comparing their styles, stories, and inspiration is like comparing apples to oranges, Bernie Mac to Isaac Hayes. All right, enough with the scholarly back-story and on with the rock, eh?
| | |
| --- | --- |
| FN and I attended Thursday night of the Pop Fest, which began Wednesday. After a tolerable dinner and a couple of drinks, we meandered down to the 40 Watt Club to watch Athens favorites, Cars Can Be Blue. Last year's fest was my introduction to the band, and I was genuinely looking forward to seeing the duo again on their home turf. Spunky, snarky, and energetic as I remembered, Cars Can Be Blue appeared to have acquired quite a following. Athens alterna-girls and geek boys lined the stage, bopping their heads and singing along to poppy tunes like Hey Hippie and You're So Cute. I found that being somewhat familiar with the band and their songs allowed me to enjoy the set more than last year's. The simple dynamic of boy drummer and girl singer/guitarist functions well with the band's straightforward, catchy pop songs. | |
| | |
| --- | --- |
| They closed their set by inviting a guest keyboardist and guest maraca shaker to the stage to cover Peter, Bjorn, and John's once inescapable hit Young Folks. If you have no context for the song, simply imagine an airy pop ditty from 2007 featuring a lot of whistling, and a lot of tight-jean-wearing, I-Pod toting hipsters detachedly humming along. I found the choice of a pseudo-mainstream, bland, cool-kid anthem amusing and charming, given Cars Can Be Blue's penchant for all things gritty, honest, ironic. | |
| | |
| --- | --- |
| | Next on the bill was Great Lakes, another Athens group. Having little to no context for the band, their sound fell somewhere between Elf Power and Wilco's Being There from what I could gather. Pleasant enough, but after the high-energy goofiness of Cars Can Be Blue, Great Lakes seemed a little dull. FN and I headed outside to socialize and drink in the adult playpen/smoking area in front of the venue during their set. |
After Great Lakes wrapped up, the sprawling freak-fest that is Dark Meat took the stage. Like Cars Can Be Blue, my first Dark Meat experience was last year's Pop Fest. Boasting at least twenty "members", the band again delivered a great combination of spectacle and substance. Featuring numerous guitarists, a horn section, multiple vocalists including members of Hope for a Goldensummer, and people that just seem to be jumping around, Dark Meat plunged through a dramatic set of jams, ballads, and total freakouts.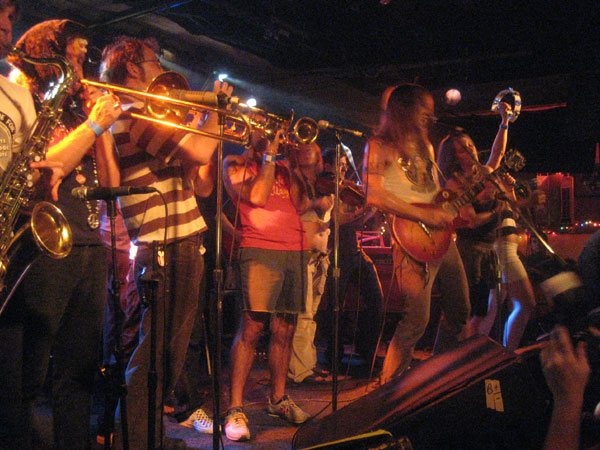 Playing songs from their excellent 2007 full-length Universal Indians as well as a handful of new ones, the band rocked with enough clarity to keep me engaged, but allowed songs to effectively dissolve into soulful, psychedelic messes. My only complaint with the set lies with the incense smoke spiraling from the horn section. I grasp the concept of a multi-sensory live music experience, but patchouli? Is that really necessary? Frankly, I'd prefer lasers.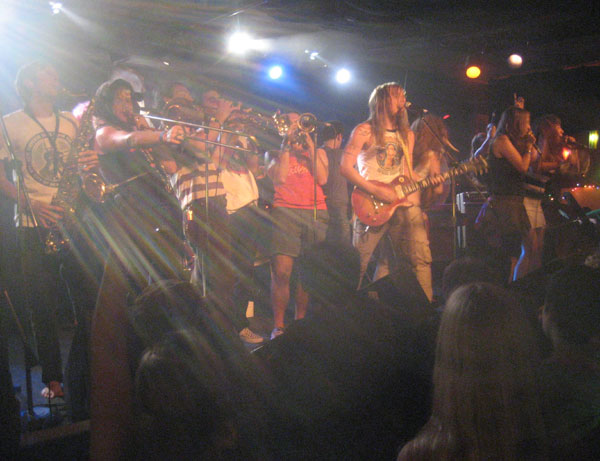 | | |
| --- | --- |
| | At long last, it was time for Roky Erickson to take the stage. It was during the time between sets that I began to remember why I don't care much for shows in Athens, or at the 40 Watt. Throngs of giggly, extremely drunk, often identically dressed Athens young folk began bombarding the stage. I've been to plenty of shows with plenty of drunken people, but something about the attitude in Athens just rubs me the wrong way. It seems every time I attend a show at the 40 Watt, I walk to my car at the end of the night grumbling about a disrespectful crowd. Making matters worse, the people surrounding me stank to high hell. I'm talking green wavy lines exiting their armpits and flowers wilting nearby kind of stink. I know they offer earplugs at shows, why not nose plugs too? |
| | |
| --- | --- |
| Finally Roky Erickson and his band the Explosives appeared on stage and began an absolutely amazing set. Now in his 60's, Erickson's unique voice was crisp and powerful as it has ever been, his guitar playing emphatic and clear. | |
Though seemingly a bit spacey between songs, he absolutely held is own. Erickson and the band plowed through fan favorites Two Headed Dog, Don't Shake Me Lucifer, and Creature With the Atom Brain. Despite the often eerie and even terrifying nature of his lyrics ("I walked with a zombie last night", "Children nailed to the cross/ pain does not look our hell"), Erickson was beaming and seemed to be having a blast. "Thank you! Thank you!" he exclaimed with a smile after each song.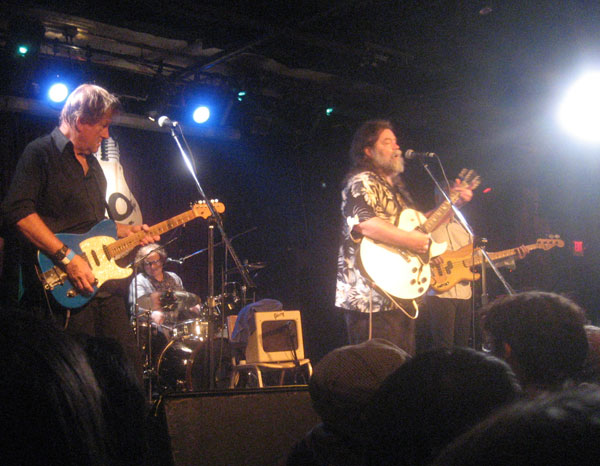 A couple of times during the set, he and the band slowed things down and played some Blueshammer-style jams that I found less than savory, but given the fact that the man is a legend, and was otherwise playing every song a fan could hope to hear, I grinned and bore it. If Roky Erickson wants to do a rendition of Before You Accuse Me, what right do I have to complain?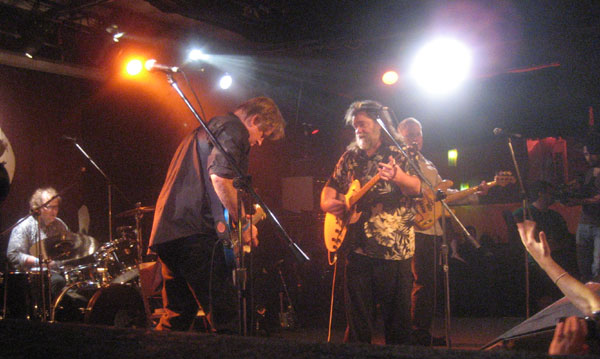 They resumed playing Erickson's tunes with the blistering Bloody Hammer, a fast-paced electric guitar frenzy about psychiatrists, chains, vampires, and uh, bloody hammers! As the set came to a close, the band had to coax Erickson off the stage, as he appeared to not be quite finished. Thankfully they returned for a brief encore which included a raucous rendition of the 13th Floor Elevators classic You're Gonna Miss Me.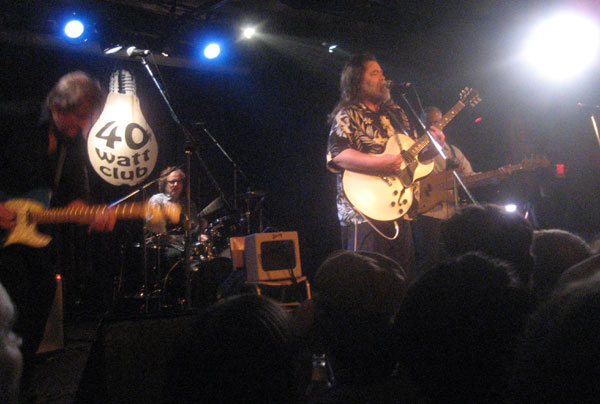 Despite the blues and the stink, seeing Roky Erickson was in every way a delight and better than I could have imagined. Though I treated the show as a once-in-a-lifetime opportunity, it's been said that Erickson is set to record a brand new album, and with the success of recent tours, I'll keep my fingers crossed that I will get to catch him again. Come to Atlanta next time, Roky!
---