Degenerate Press
Welcome to Degenerate Press' feature article. If this isn't enough you can always subscribe to Electric Degeneration, our semi-weekly and semi-weakly ezine, or surf the Electric Degeneration archive.
---
Camp Drunkalot
July 2008
Text and photos by Frederick Noble
The last couple of years I've organized an extended family reunion of sorts at a not-so-secret camping spot in the North Georgia mountains, lovingly called Camp Drunkalot. This year I finally took my camera so you could live vicariously. Enjoy a typical day at our summer camp for degenerate slackers!
Wake up. Hungover? Maybe a little. Fortunately we eat enough and drink quality booze, so it's usually not too bad.

What the hell time is it anyway?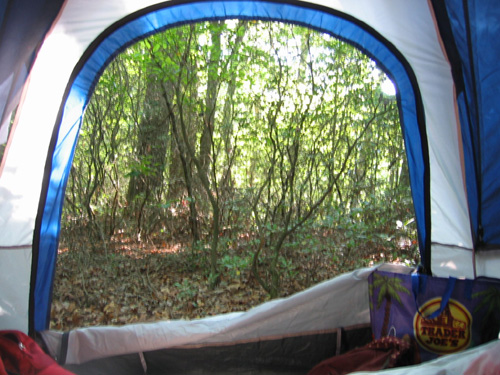 Random degenerates have already started the fire, got coffee ready and are debating what's for breakfast. Today it's chorizo and egg burritos.

Every meal must feature some form of that magical animal, the pig, usually in sausage form but occasionally as a loin roasted over the fire.

We generally bring enough food to feed an army.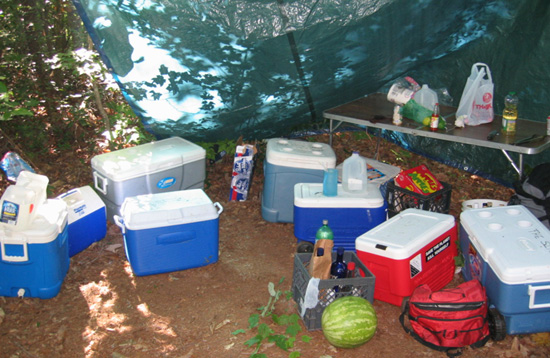 As if a fleet of coolers isn't absurd enough, we also bring buckets of booze. (Heck, half the coolers were full of mixers and beer...)

Mornings start off with bourbon and lemonade or bloody mary's for the tomato juice fans.
| | |
| --- | --- |
| Lounge a bit, do some crosswords, read some sci-fi, enjoy the birds chirping and the sun streaming through the trees as the bourbon kicks in. | |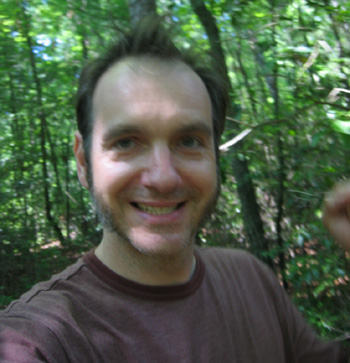 Recharged and ready!
Head down the winding trail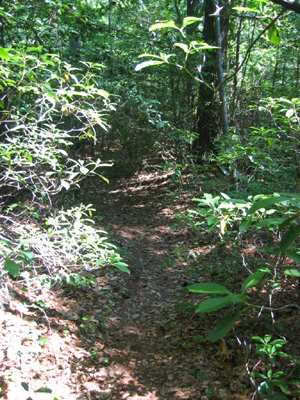 to the swimmin' hole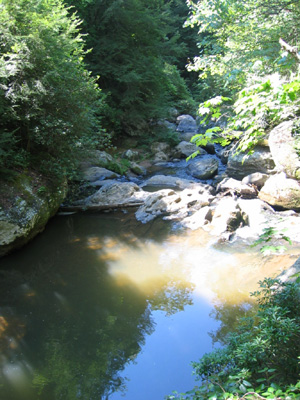 Stand on the precipice and try to think about all those hot afternoons you sat in traffic thinking, "Damn, I wish I was at the river," day after day. Well, now you ARE at the river. So stop stalling and jump. Remember that you are mortal and there are only a few days a year like this, a few times when life is so easy, death is waiting so carpe diem and all that shit.
Not as if you need to remind yourself with the family of vultures on the other shore, waiting...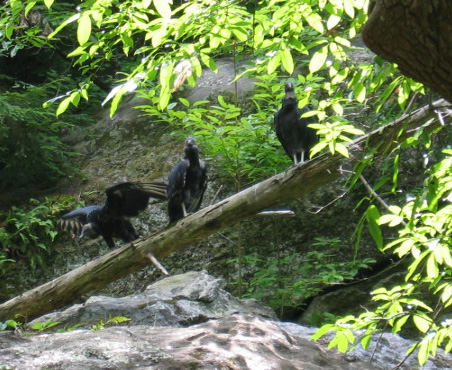 | | |
| --- | --- |
| Jump, feel the initial shock of cold water, get someone to toss you a beer, and get back to what you came here for - slacking. | |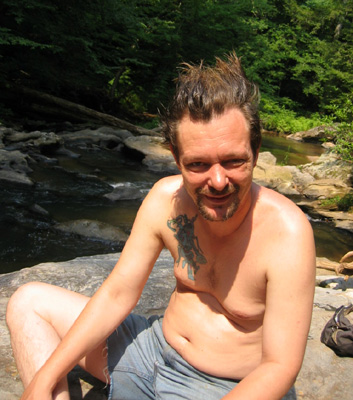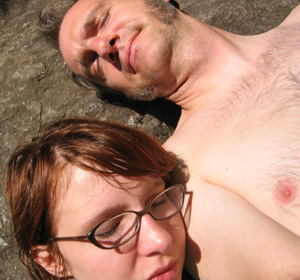 Eventually it's time for lunch. Head up the hill and grab a bite and a few more beers and/or a pitcher of rum drinks to take back down to the river.
Hop in. Rinse. Repeat.
Later it's time for dinner. More pork products, in this case a mix of Andouille sausage, peppers, onions and potatoes roasted in aluminum foil in the coals of the campfire.

By now, a new batch of degenerates have appeared. Over the course of the week someone new shows up every day.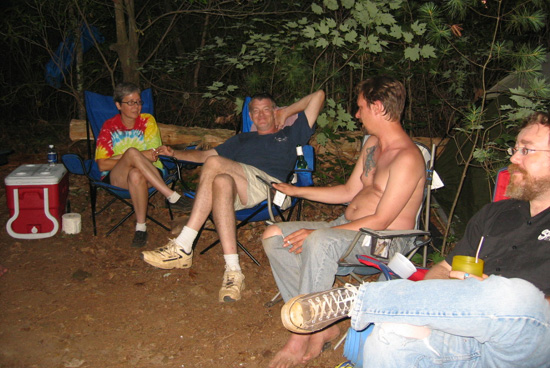 Liquor flows, stories are told, spirits of yesteryear resurrected, theories about the future bandied about, and eventually you're drunk enough to want pickled sausage.
I think this degenerate described pickled sausage as, "Horrible. And wonderful."
Later he asked, "How much good are in these?"
"About 4, 4.5," I answered.
The question was repeated endlessly as commentary on how loaded we got. But hey, we didn't have anywhere to drive and plenty to talk about.

A few smores, a few sausages, and many drinks later just about everyone is giggling about something.
Sometime after dark someone suggests going back to the river. It's a warm night, there's a sliver of moon shining down from a clear sky, why not? Grab flashlights and beverages and trek through the woods. Standing on the rock, the river below is completely black. Jumping off is like stepping into the void, then suddenly you're in the water.
It's lovely. REM's Night Swimming comes to mind. Almost everyone is coaxed into at least wading in.
Back up the hill to dry off and warm up by the fire. It's late but nobody wants to call it a night.

More conversation, more drinks, maybe more food, maybe yet another dip in the river, everything begins to blur.
Laughing conversation slowly transforms into silent staring into the fire.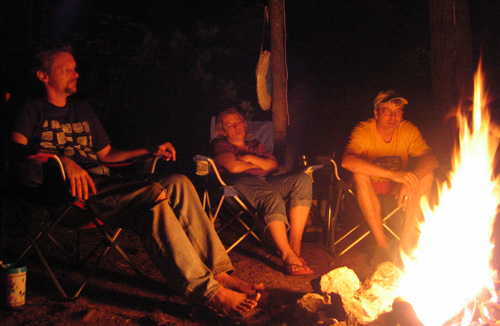 One by one, folks head for their tents and the forest quiets down, save for the crickets and the few holdouts.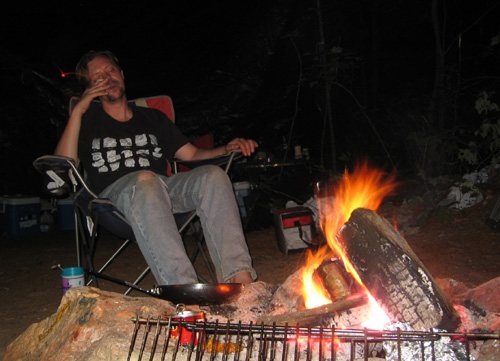 | | |
| --- | --- |
| If you're going to do this for more than one night you might as well be comfortable. The tent is as well stocked as the bar, complete with a comfy air mattress. | |
Wake up. Hungover? Maybe a little. Fortunately we eat enough and drink quality booze, so it's usually not too bad.

What the hell time is it anyway?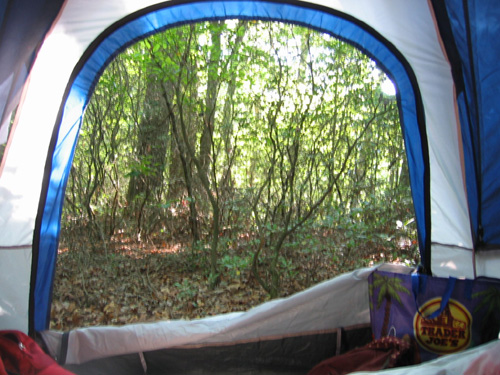 ---