Degenerate Press
Welcome to Degenerate Press' feature article. If this isn't enough you can always subscribe to Electric Degeneration, our semi-weekly and semi-weakly ezine, or surf the Electric Degeneration archive.
---
Courtesy Murder, Blood Hook, Fear
The Earl
Text and photos by Frederick Noble
There wasn't much notice given for FEAR at The Earl. I think I got an email 4 or 5 days in advance. I didn't expect much of a crowd with short notice and on a Monday night, so I wasn't surprised to see only a handful of people there for the opening act, local band Courtesy Murder.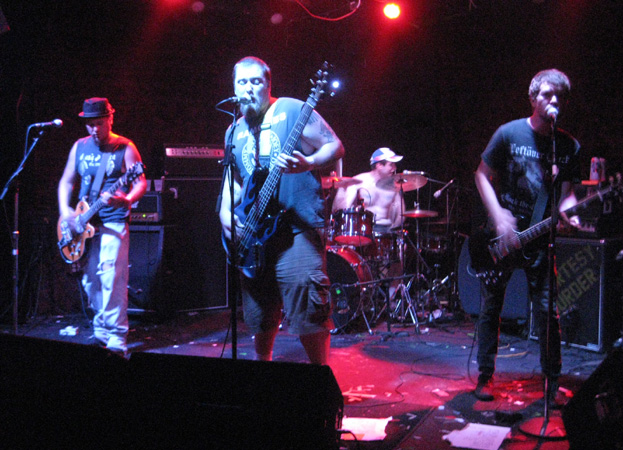 I'd seen them at Corndogorama and hadn't really enjoyed them in the hot, outdoor environment but in the cool, dark confines of The Earl the sound has the compression it needs to make you feel it, literally. Musically, I think they're a strange merge of System of a Down's precise, speedy metallic sounds with lots of scales with Offspring's harmonies and hooky choruses. No, I don't particularly like either of those bands, but I could get to like Courtesy Murder. They wrapped up the set with a killer cover of Judas Priest's Breaking the Law, complete with the ear-splitting high note finale.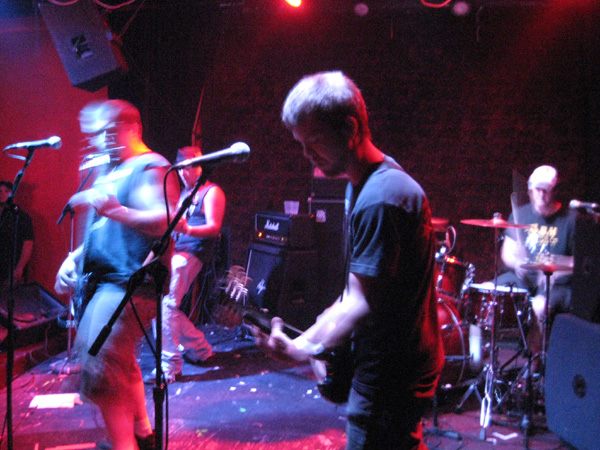 Despite my expectations, a few more people trickled in. Then a few more. Then when I stepped out to the bar for a beverage I noticed a massive crowd outside, obviously waiting on the opening acts to finish.
Which was their loss. Bloodhook, from Van Nuys, CA, were pretty good.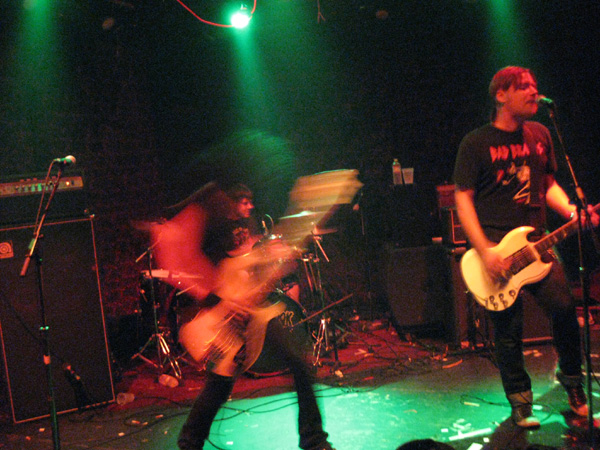 I don't know if they are named after the mid-80's Troma film. Apologies for overusing "they sound like", but Bloodhook swing from growly Motorhead to nasal Green Day, backed by a punchy rhythm section.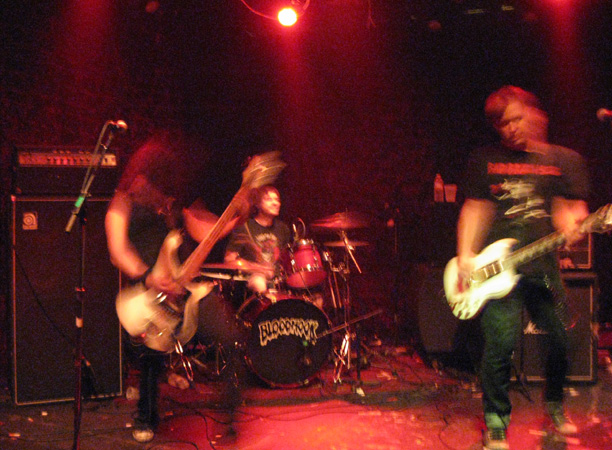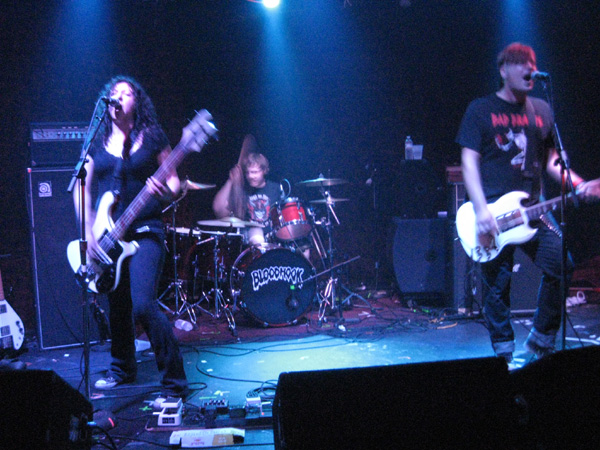 They were fine opening acts, but obviously just the opening acts. Seriously, who could compete with the likes of Fear? Even Bloodhook, who have been on tour with Fear for a while, seemed to be humbled when the lead singer announced, "Next up, Fear. Man, I never get tired of saying that!"
| | |
| --- | --- |
| | Lee Ving turns 60 next year and it shows. Heck, he wasn't a young man when FEAR formed in 1977. Unfortunately, the riotous conditions in front of the stage kept me from getting a good photo, but Lee is showing the wear of decades of decadence. But don't let the lines and dyed hair fool you - Lee can, and will, still kick yer ass. |
In fact, at some point someone tossed a can or cup over Lee's head and Mr. Ving stopped, "OK, who is the cowardly motherfucker that threw something at me?!" He challenged the invisible opponent to step up and face him. A few people stepped aside and a skinny kid, all of 23 years old maybe, hopped up on stage with a dopey look on his face as if to apologize or maybe even just laugh it off. Lee grabbed him by the throat and tossed him to the bouncer, who escorted the young man out the back door like a sack of empty beer cans. Lee grinned, said a few more colorful words, and charged right back into the set.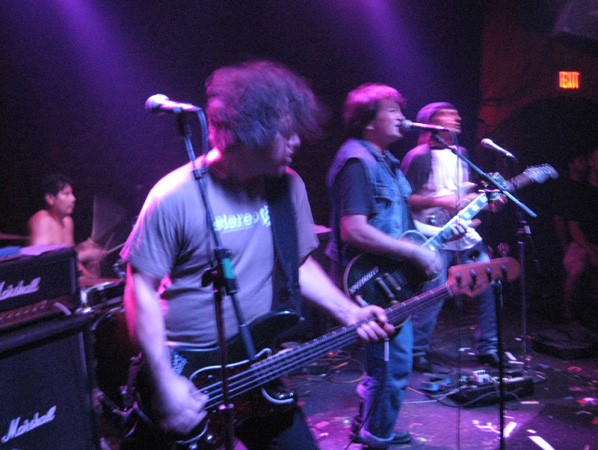 You might remember this band from such films as Repo Man - the loudest, fastest, angriest portions of the soundtrack. If you're really old you might remember their legendary performance on Saturday Night Live, cut off halfway through one of their less TV-friendly tunes. Or if you're ancient, like a few folks in the crowd, you might have actually seen Fear back in the day.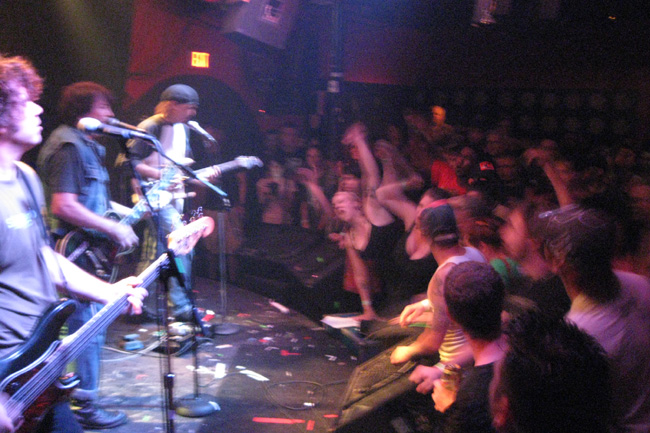 Most folks were not that old. In fact, I'd say most of the fans in attendance weren't even born when Fear formed. Some probably weren't born when Fear hit their peak in the early 80's. But that didn't make them any less appreciative. Within seconds an energetic, and occasionally violent, mosh pit filled the middle of the room.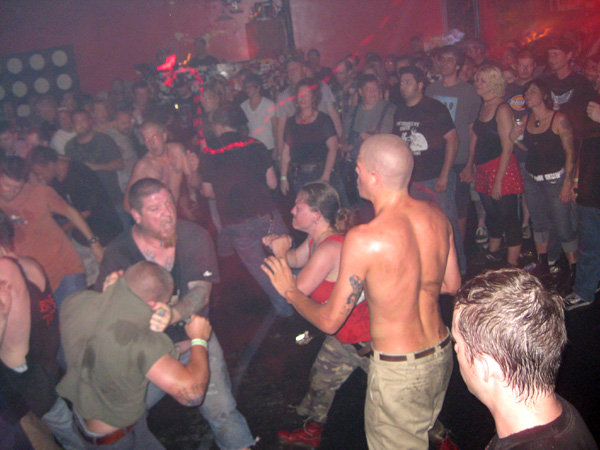 The band - well, Lee Ving and whoever he has behind him these days, charged through Fear's greatest hits and misses with gusto, never missing a beat. (I'm pretty sure the bassist backed Dick Dale the last two times I saw him, so he was obviously used to playing loud and fast.)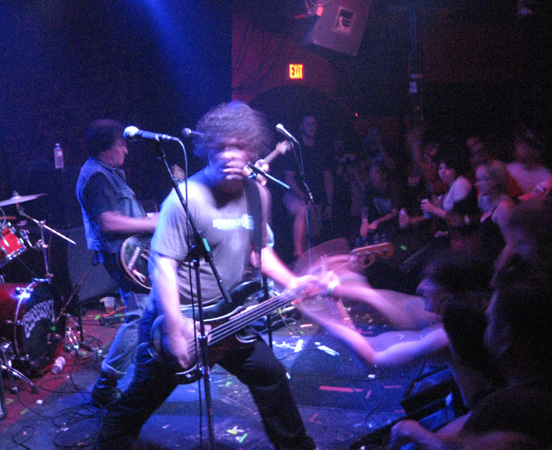 They did a single song encore and wrapped things up right at midnight with jokes about how Lee's parole officer wanted him off the streets. The sweaty crowd filed out the door to stand on the sidewalk, all grinning.
---