Degenerate Press
Welcome to Degenerate Press' feature article. If this isn't enough you can always subscribe to Electric Degeneration, our semi-weekly and semi-weakly ezine, or surf the Electric Degeneration archive.
---
Corndogorama 2009
East Atlanta Village
Text and photos by Frederick Noble
I've been to Corndogorama about 10 times. I've seen it move from Dottie's to The Earl to Lenny's and now back to East Atlanta Village. I've seen bands I've hated and bands I've loved, lineups I wasn't impressed with and lineups that amazed me, regular corndogs and jalepeño corndogs - but no matter what, by the end of the day/weekend/festival I've come away thinking, "I can't believe I got all that for the low price of admission!"

This year was no different. I paid $10 in advance and saw half a dozen bands, a few contests, ate 3 corndogs and socialized with more folks than I can even remember. So while I may grumble about the excess of growly metal on stage this year, keep in mind - I'll be back next year regardless.

We've had a brutal early summer. Hotlanta has lived up to the nickname. I started the afternoon off at a pool party where by 1PM the sun had already warmed the water up so much that it wasn't refreshing. I jumped in, expecting to cool off, only to say, "Well, now I'm just wet."

It was a swell shindig, hosting by Japanese car wizard RG. A horde of degenerates of the younger persuasion packed the place, but I had other plans so I sped home after only a couple of hours to sculpt my 'stache into shape.
I'd missed several acts by the time I arrived. Soon after, The Sealions stepped up to the side "stage" and began their synth-heavy atmospheric pop.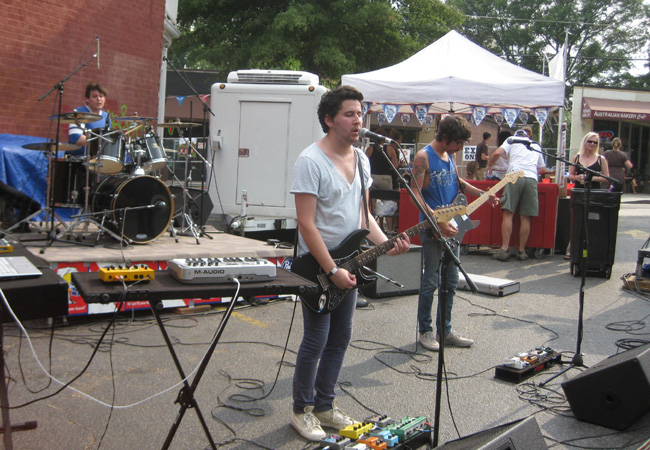 I've seen these guys several times and just don't get it - dentist office music for young hipsters. Meh.
But I got a corndog, met some degenerates, got details on the moustache competition, drank a PBR and tried to relax in the shade.
On stage, Wizard Smoke cranked out loud, heavy stoner/growly rock. It wasn't bad but it's tough to enjoy that kind of music at 5 in the afternoon outside with only a small crowd. This is music for dark rooms crowded with people moving to the beat, not glaring daylight and a half-empty field. I'm also not a fan of indistinct guitar and vocals. One or the other can sometimes work but it's a rare band that can use both and hold my attention. Wizard Smoke was not one of those bands.
At least they were energetic and easy to make fun of. Next on stage, Sinners and Songwriders doing country covers that were just too close to the original to make me care. I've seen various members in the group in various other bands and liked them there but this incarnation did nothing for me.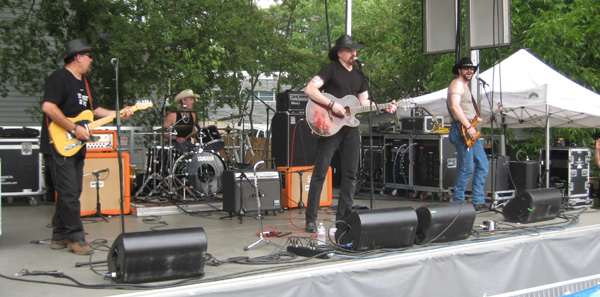 I gave them 3 songs before degenerate CD and I decided to seek shade and hard liquor, taking a break at The Earl, returning just in time for the corndog eating contest.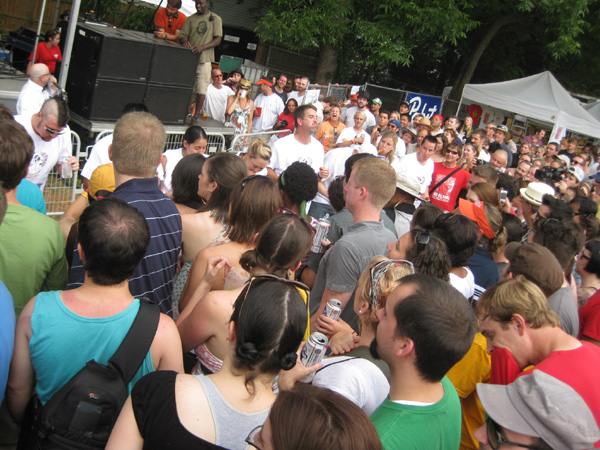 Actually, we returned too late to actually see the contest. They couldn't fit the contestants on stage and with everyone crowded around there were only a handful of people able to see anything. If I recall correctly, Dale Boone won yet again with 19 1/2 corndogs, adding another championship belt to his collection.
The moustache contest was supposed to follow but it got bumped in the interest of keeping other stuff on schedule. Moustache wax ceases to function at around 90 degrees so I'd had to go with a curling iron and hairspray. Even so, my 'stache was starting to wilt in the atomic fire that Atlanta weather has been lately. However, I didn't see a lot of competition in the crowd.
If my notes are correct, Hawks were on stage next.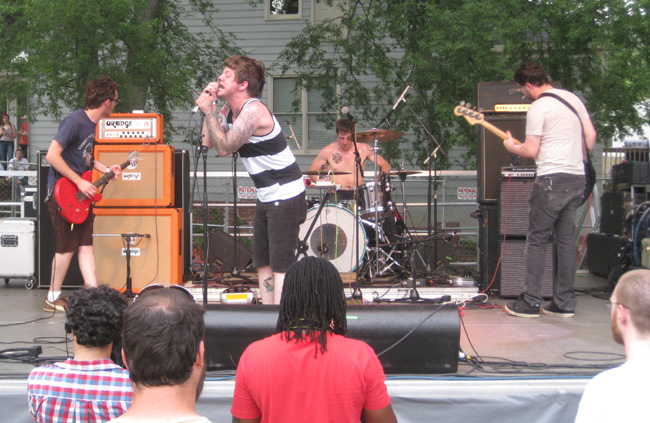 More loud stuff but more on the punk/hardcore end than the metal of earlier. Still not what I was in the mood for so early in the day. I and others had a swell time dancing inappropriately - River Dance, waltz, the highland fling, anything that didn't go with the sounds roaring across the field. Or maybe it was the next act, Whores, that got us giggling.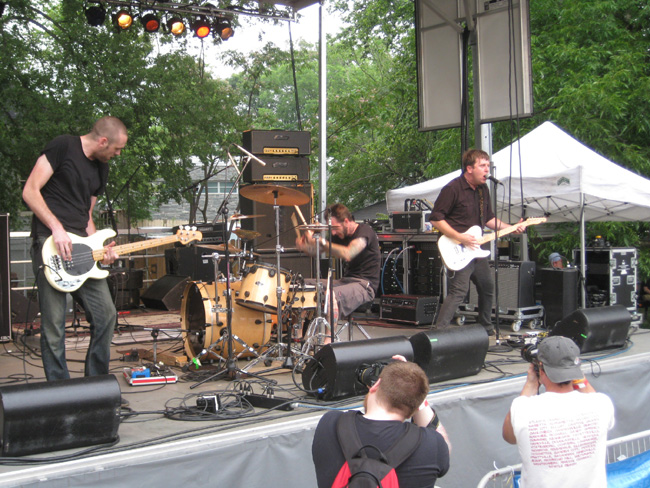 I was beginning to miss previous Corndogoramas where there were multiple stages and a broader variety of acts. I wasn't the only one grumbling. I suspect the economy and the weather also factored into the light turnout.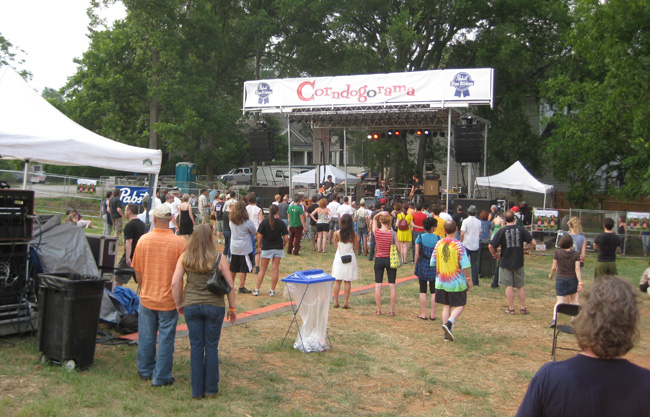 But as the sun finally set things took an upward turn with the appearance of Noot d'Noot, a jazzy funk band that got the crowd dancing.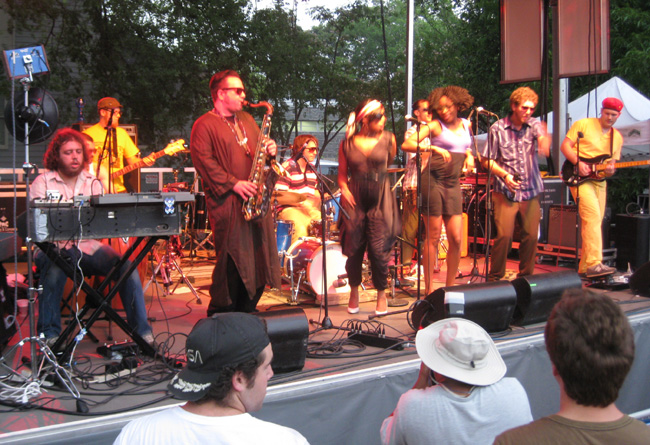 Or maybe it finally dropped below 95 degrees and everyone had enough PBR in them to relax and let the music move them. I suspect the combination of all the above was the only thing that could've done it. Noot d'Noot played a fantastic set, filling a slot that would normally be a bit too short with groovy beats. Their first record is a bit too jazzy and low-key for me but live they come to a boil. Rumor has it their new album matches their live sound much better.
Degenerate CD and I took a break to get some non-corndog-oriented food in us, conveniently just as the skies opened up and dumped 20 minutes of rain. Our luck continued as the rain stopped about the time we were recharged and headed back to the festival. The Howlies were on stage wrapping up their set to a crowd that seemed much more enthusiastic, thanks, I'm sure, to the further cooling effects of the rain and further intoxicating effects of more PBR.
Somewhere in there Dave Railey, Corndogorama organizer, spotted me and decided it was time for the moustache competition. A mere 4 of us gathered on stage, 2 guys and 2 girls. One girl sported a moustache of hay gathered from the ground moments before. The other male in the group had a nice Lemmy-style moustache/beard combo but I was more concerned with the other female competitor, a very cute woman who had been sporting a glued-on fake moustache all day. However, I came away the crowd favorite and took home the prizes - a t-shirt and a watermelon.
(By the way, guys - if you're shy and have a hard time approaching women just grow out a ridiculous moustache. Women kept asking to have their picture with me and I couldn't walk across the field without having to thank someone for their compliments every few yards.)
On stage, Modern Skirts started off with all members pounding on drums for some interesting, almost tribal racket I enjoyed. But then then switched into their usual light pop with too much atmospheric synthesizer. There were a dozen or so hardcore fans, mostly female, in the crowd who danced and sang and screamed their appreciation.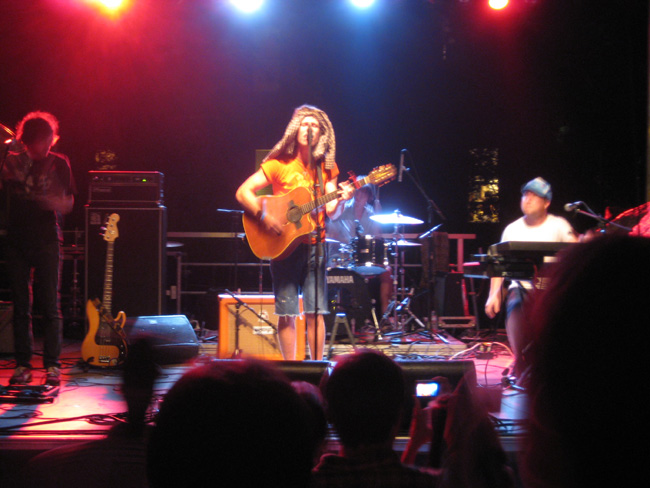 But 20 minutes into it I'd had enough. Another band with not enough edge, anger, energy or heartbreak to do anything for me.
| | |
| --- | --- |
| CD got so bored he went for his 4th corndog. Or was it 5? I lost count. | |
I was pacing myself all day, knowing the long day in the sun would take its toll, just so I could be at near fully strength for Judi Chicago at 529's after-party. Some DJ from Florida was spinning lots of Michael Jackson as I arrived and snatched up a seat before things got really crowded. 529 still feels a bit sterile to me. The rooms lack character, but they make up for it with one of the most intimate live music settings in town and a new little outdoor area where you can get some fresh air (and drinks via a sliding window opening to the bar.)
Judi Chicago went on around midnight, complete with a 3-piece rhythm section. It gave their music a bit more of an organic sound so that the synthetic portions played off the human side. I liked them before, but I really hope they keep this lineup!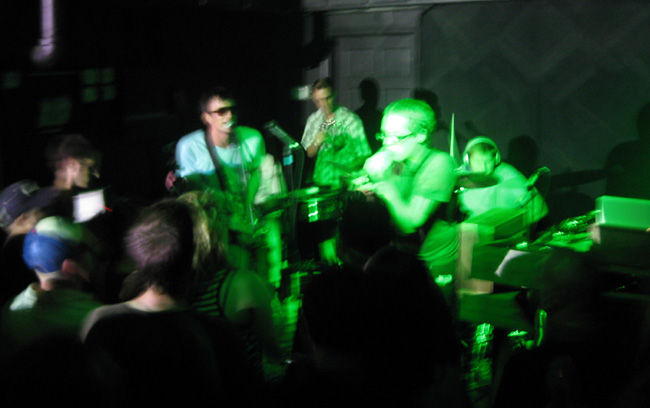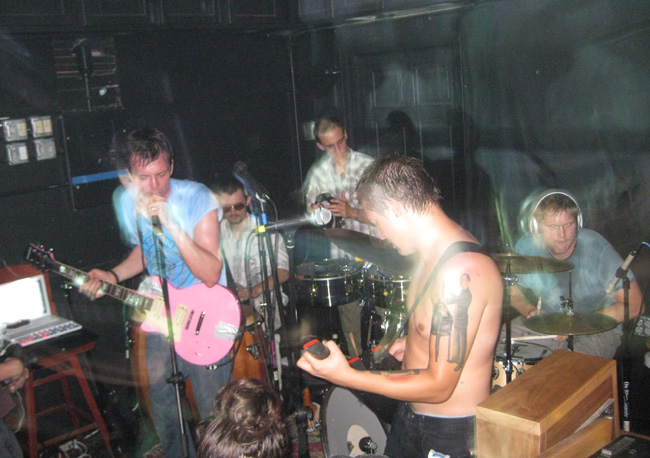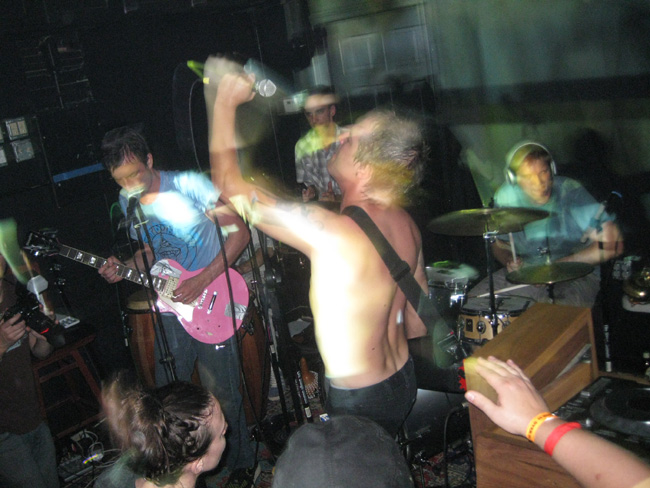 The crowd ate it up too, with lots of folks signing along and half the room bouncing up and down, even when the singers weren't charging into the crowd to dance along.
By the time I rolled out of 529 I was covered in corndog sweat, again. While the corndogs may linger in my gut a few days, the memories of Corndogorama will be fresh in my mind for weeks to come.
For more, see Creative Loafing's Corndogorama 2009 photo gallery:
http://atlanta.creativeloafing.com/gyrobase/corndogorama/Content?oid=897335
---