Degenerate Press
Welcome to Degenerate Press' feature article. If this isn't enough you can always subscribe to Electric Degeneration, our semi-weekly and semi-weakly ezine, or surf the Electric Degeneration archive.
---
Drive Invasion
Starlight Drive In
Text and photos by Frederick Noble
My Labor Day weekend traditionally starts with a trip to Trader Vic's on Thursday night to see old con friends, the geeks that haven't given up on Drag On Con yet, and share a few mai tai's while Tongo Hiti cranks out postmodern Hawaiian music.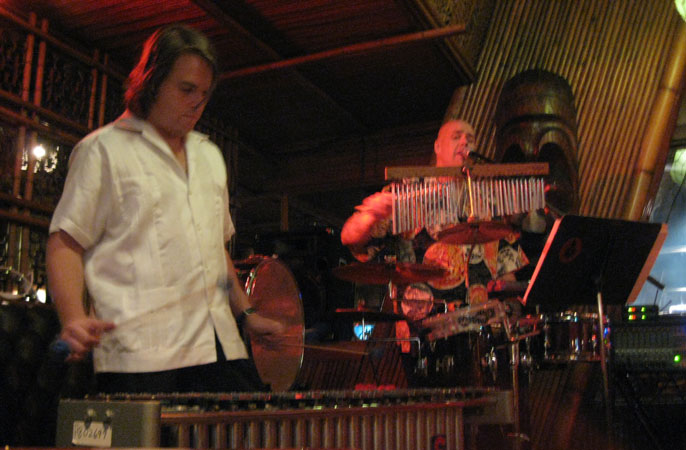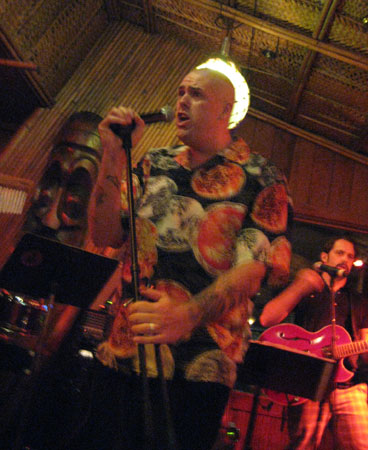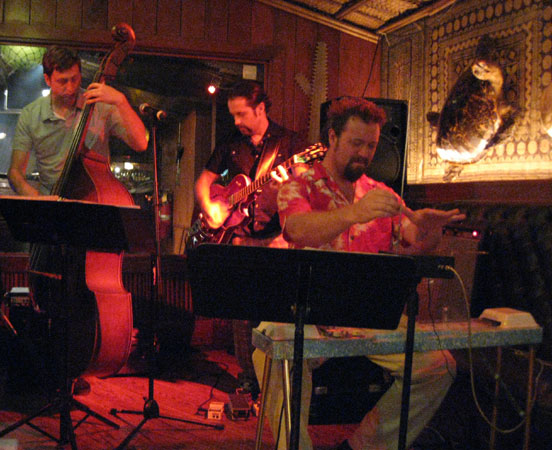 Only a few friends showed up but the room was packed and a good time was had by all. Degenerate CD and I wandered through the hotels in search of the costumed masses but Thursday nights are comparatively tame. Just a few Star Wars fans, a Spaceball or two, and a handful of steampunks, but not the swarming mass of costumed chaos that would be the hotel lobbies Friday and Saturday.
Friday it was the grand opening of another tiki bar in the basement of degenerates JH & LH, "The Waponi Woo Woom." I hadn't thought to get a gift but then I found out Barbecue Steve would not be attending Drive Invasion. I cursed him, since I'd been looking forward to his amazing meats for a year, but he made a peace offering in the form of an amazing rack of ribs. I had intended to save them for Drive Invasion but after picking them up and driving a few seconds with them in the truck I knew they wouldn't make it. So I brought the gift of pork to The Waponis.
| | |
| --- | --- |
| The slab vanished as if tossed into a pond of piranhas. | |
Many of you thought Drive Invasion was only one day this year. Officially, you were right. However, a month or two in advance I'd already pitched the idea of showing up a day early and making it two days regardless. Hit the flea market around noon then just hang out all afternoon drinking, tossing the frisbee, playing games - pretty much what we'd do with Drive Invasion anyhow. Then settle in for whatever first run flicks are on the screen and camp overnight so we'd be the first ones on the lot Sunday morning.
So there I am at 1PM, lounging in the truck reading and waiting on things to get going. Jim Stacy, Starlight manager, pulls up and asks if I'm ready.

You're damn right I'm ready.
Eventually a few other degenerates showed up. Johnny McGowan and his Trailer Vic's crew put the finishing touches on the temporary tiki bar they put up every year. Then other old friends appeared and I'm mixing drinks and making sandwiches and it's just like our usual camping trips - we just happen to be at the drive in.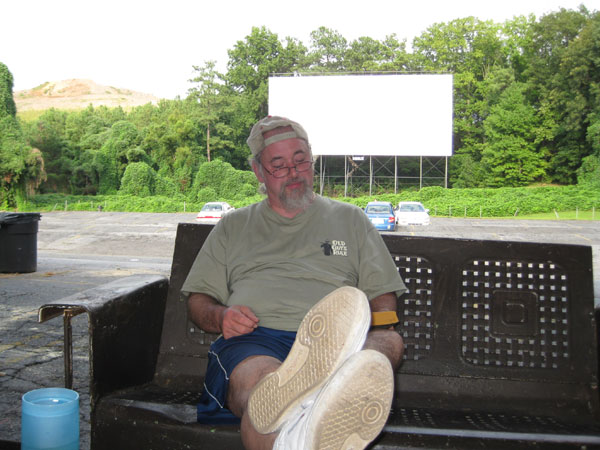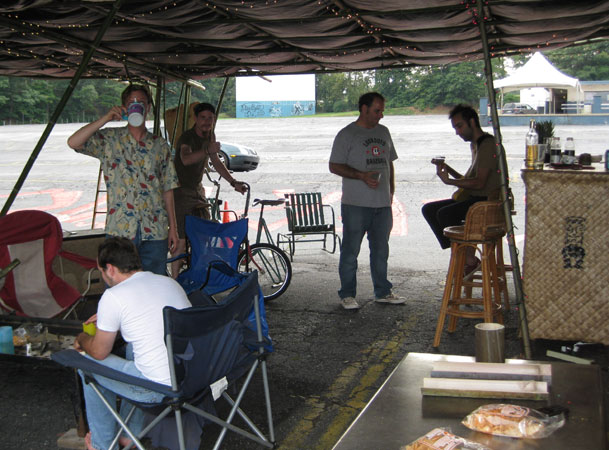 Eventually the sun set and they opened the gates for the Saturday night movie crowd. We dragged our chairs up to screen #1 for District 9 and Hurt Locker, both fine films. The barbecue vendors stoked their fires and smoke drifted across the lot.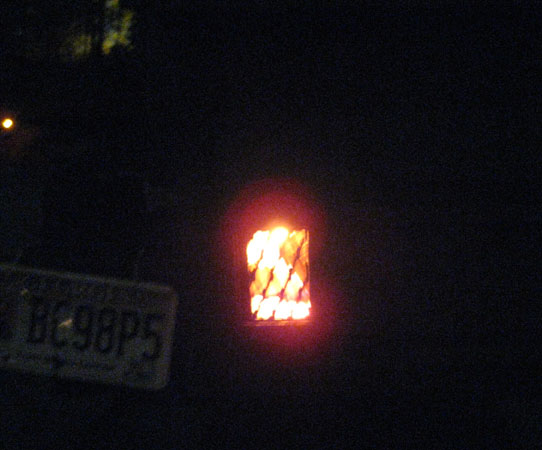 The last movie, Final Destination 3D, ended and it was time to set up camp and share another round with whoever showed up.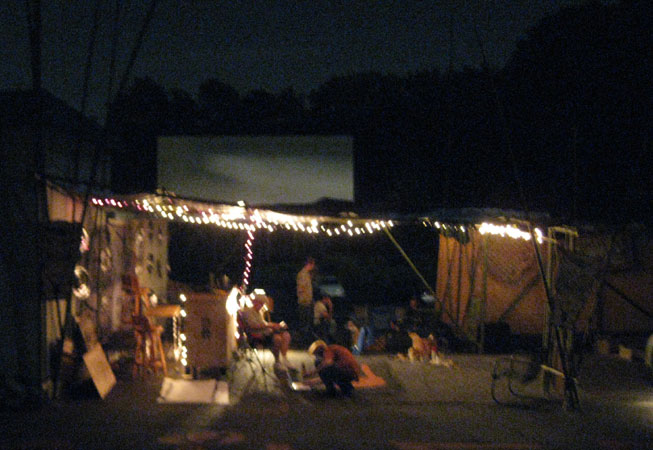 I crawled into bed about 3AM, ready to get a good night's sleep so I can make it through the endurance test that will be Sunday. Five minutes later there were headlights shining on the tarp, followed by the bone-shaking voice of Ted Weldon and other folks who have arrived after the Drive Invasion Pre-Party show at The Star Bar. I got back up to have a nightcap with them and listen to the astounding stories of behind the scenes events from The Star Bar and Starlight, as told by Ted, Jim Stacy, Jett Bryant and others. Next thing I know it's 4:30AM.
Even with earplugs and my head buried under a pillow it's tough to drown out the drunken conversation happening 30 yards away. I should've moved the truck.
| | |
| --- | --- |
| | In the morning the Star Bar folks were in the same spot, PBR's in hand, still chattering away. The sun was already warming the parking lot and vendors were getting set up and more people with an inside connection had arrived. Soon after they opened the lot up for the car show folks and a parade of amazing rides flowed into the lot. |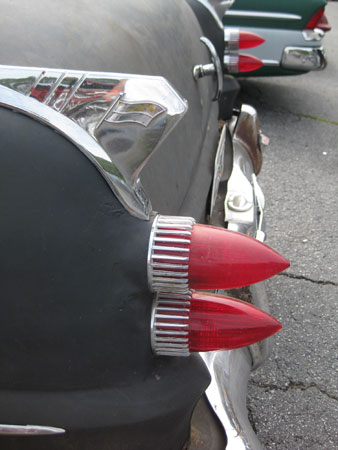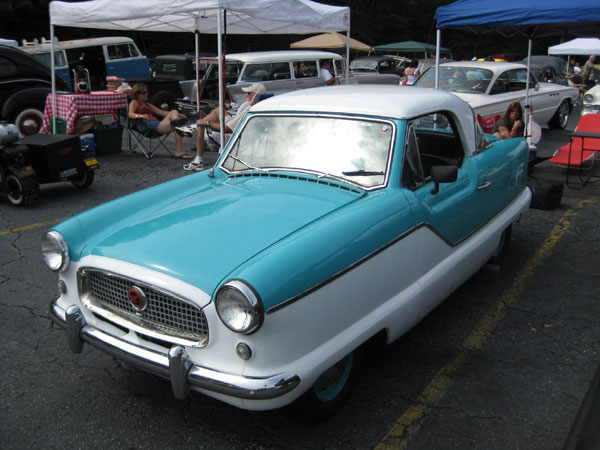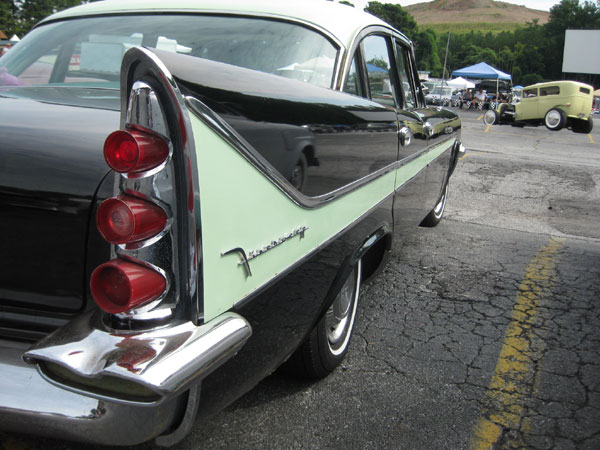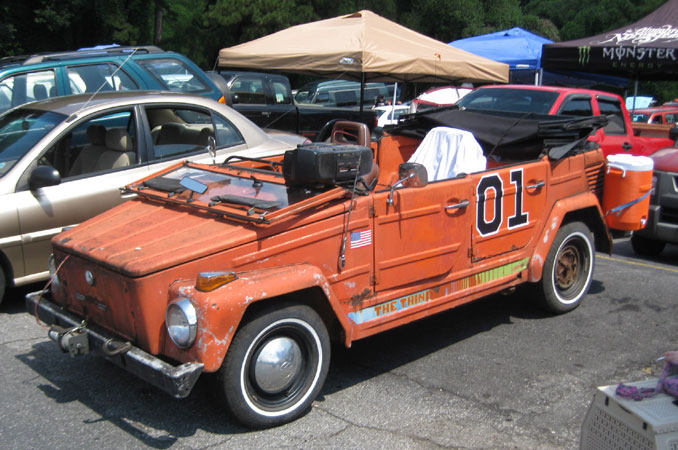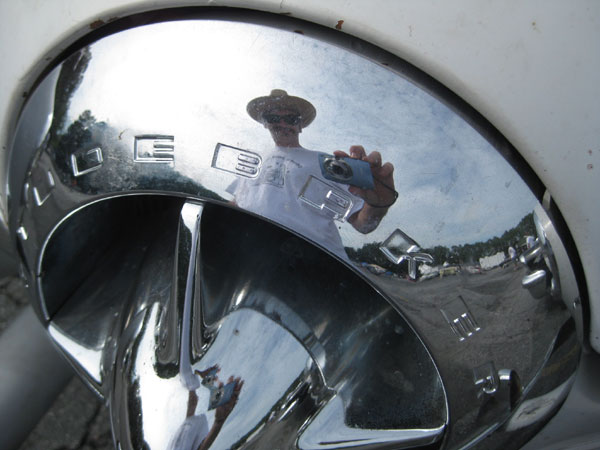 This year's self-portrait in chrome.
The lot opened for the general public and was full within a couple of hours. Other degenerates showed up and soon our shelter looks like Cabbagetown after the tornado.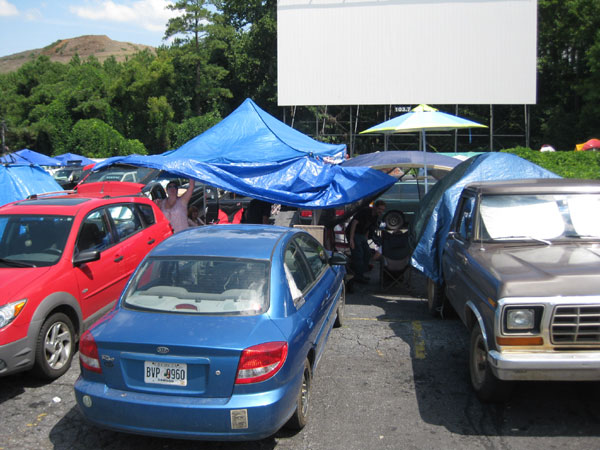 Meanwhile, bands kicked off around noon. First up, Pinche Gringo doing minimalist garage rock backed by Jimmy of Jimmy and the Teasers.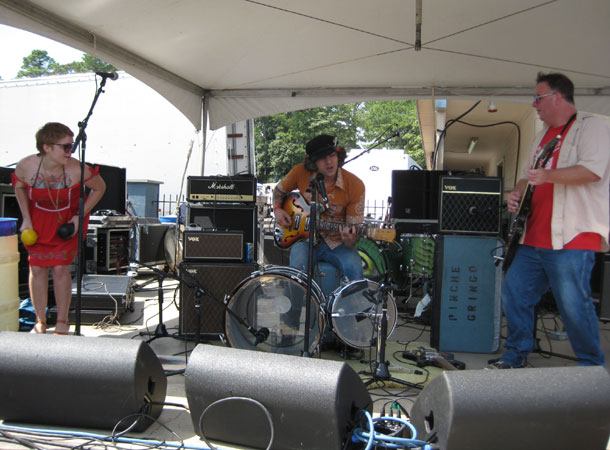 The day settles into routine. Enjoy some music, make another drink, eat some pork, look at some cool cars, enjoy some music, make another drink, eat some pork, look at some cool cars, enjoy some music...
On the pork list, Smokin' Jay's, the barbecue vendor this year made some amazing pulled pork. Any McDaniel of Slope's also made some amazing things, most of which I somehow missed but I did manage to get my hands on his delicious dark chocolate covered homemade pork rinds.
"Brilliant," JH said after taking a bite.
Indeed. I didn't even get a photo, in part because the chocolate melted almost as soon as you touched it so you had to consume them quickly.
Since there was only one official day this year they went with two stages so that the music never stopped. As the band on the main stage wrapped up, a band would turn our attention to Trailer Vic's. First up on said stage, El Capitan doing some furious surf sounds.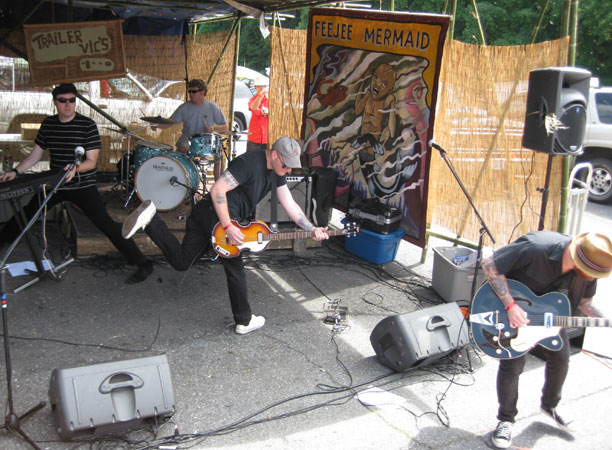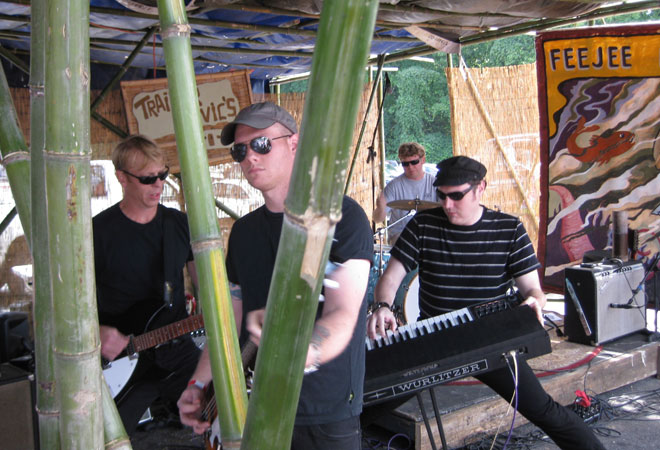 | | |
| --- | --- |
| This transitioned into a Penetrators set commemorating the loss of Brian Rogers, and, for me, his brother Scott, both former Penetrators who we have lost. It was a moving scene. | |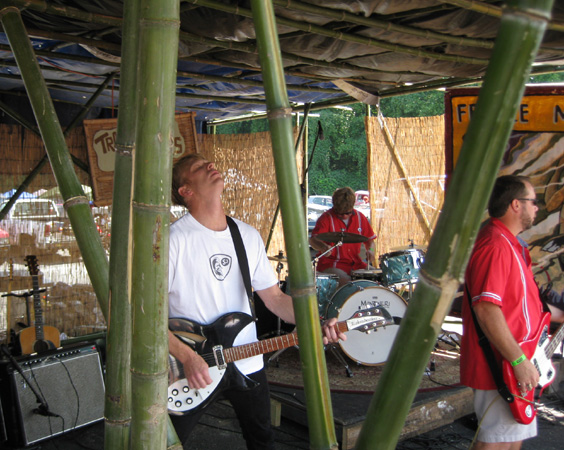 I had looked at the program that morning to decide at what point I'd want to have my buzz in full effect, how hard it would be to pace myself, etc. Unfortunately for me, my personal top three acts were early in the day, kicking off at 2PM. Shane Morton has been in several of my favorite acts of all time. Gargantua is definitely on that list.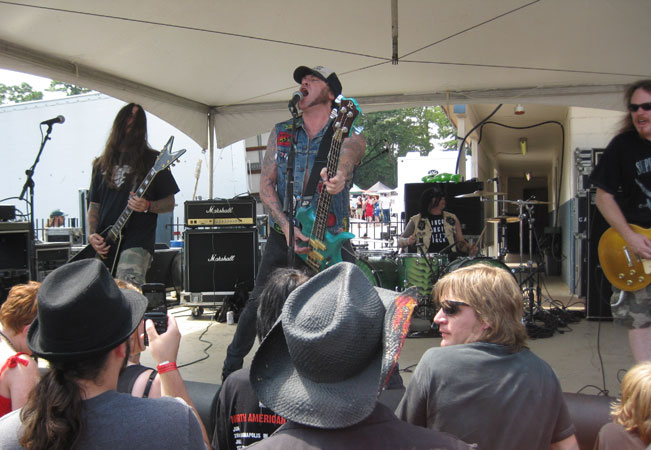 Hard/heavy/metallic stuff but with tongue always in cheek and a groove that is almost funky. I hardly took any pictures because I was jumping around too much.

I was already having so much fun I teared up.
Follwed by an act I never thought I'd see live again, The Vendettas. Slinky, cranked up garage rock about such cheerful topics as checking yourself into Boys Town.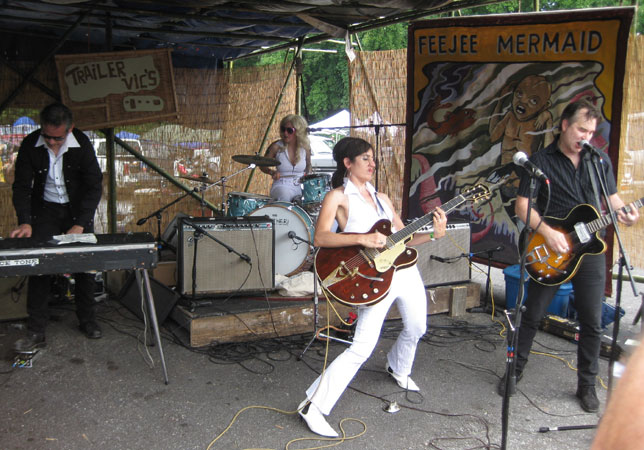 | | |
| --- | --- |
| But with Buffy's crooked smile and occasional screech you can't help but enjoy it. | |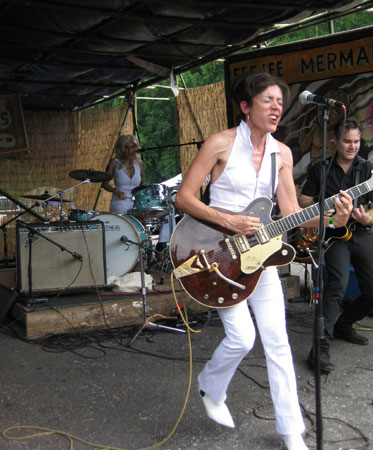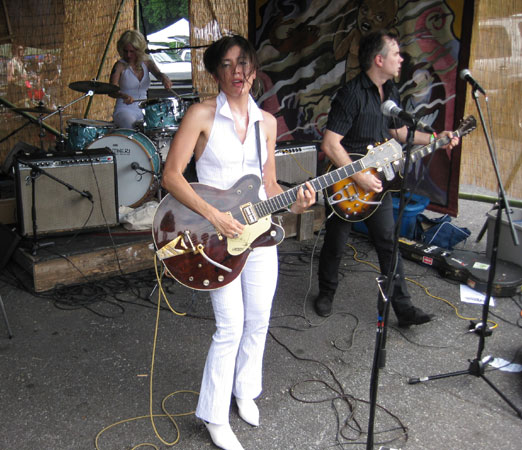 That's how I felt afterward too.
Back to the main stage for the most energetic act ever to appear at Starlight Drive In, and about any other place on earth, The Woggles. This photo could just about sum up the weekend.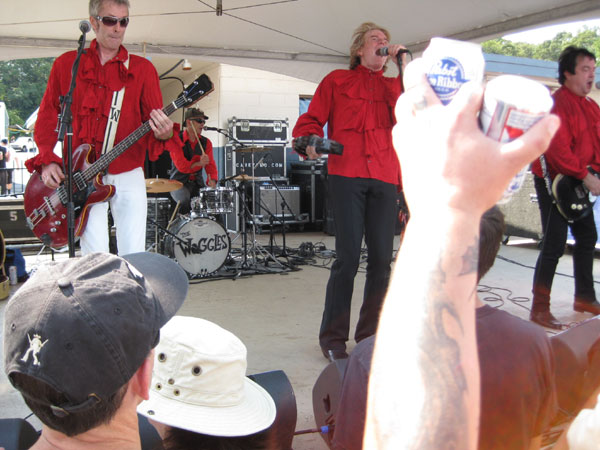 Then Manfred is off the stage into the crowd and up onto some crates and back into the crowd and back onto stage and back into the crowd and...

How the hell he keeps it up when the parking lot is heating up to sole-melting conditions I'll never know.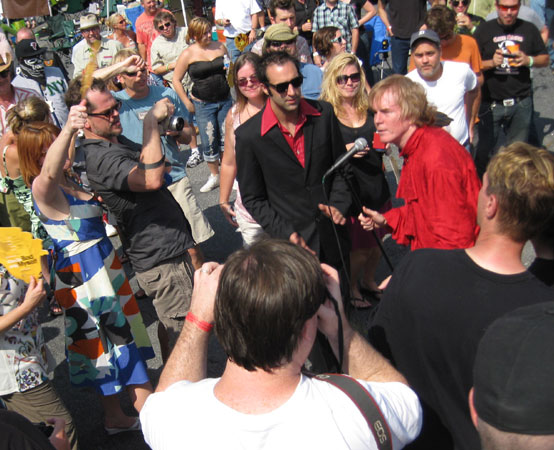 How many degenerates can you find in this picture, boys and girls?
After that it was time for me to rest. I know, I know, there were plenty of acts - excellent acts - to come, but I'd seen my top three back to back to back. So I hung out at our forward command post enjoying the company of fellow slackers in the shade.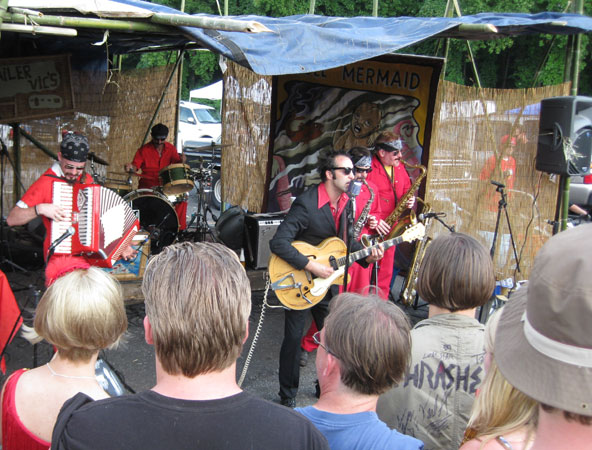 Grinder Nova did their lounge flavored rock with horns and freshly brewed coffee. Deadbolt went on the main stage but I skipped them to get a corndog. Wanda Jackson followed, drawing a massive crowd and impressing just about everyone I spoke to.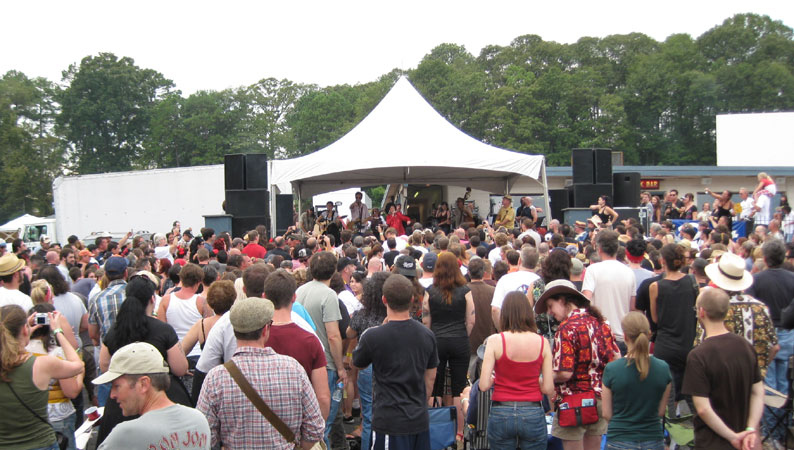 But I had seen Wanda not long ago in the comparatively intimate setting of Blind Willie's and gotten her autograph and everything. Sure, she was putting on a great show, backed by Johnny McGowan and Dave Weil and other notable local talent, but the great thing about Drive Invasion is you can pick your pleasures. Good food, cool cars, old friends, amazing music, and fun films - what more could you want?
Detroit Cobras followed with garage flavors but I was pacing myself so I could make it through some of the early movies to the later ones I really wanted to see, so I skipped them as well, only snapping a few photos as I walked past on my way to the bathroom.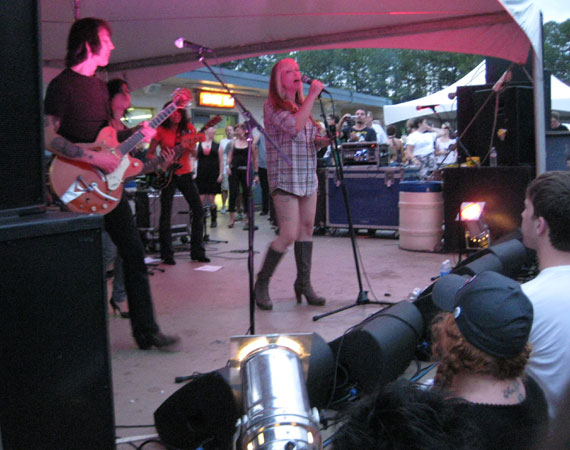 | | |
| --- | --- |
| | I'd seen Los Straightjackets not too long ago as well, and seen them at Drive Invasion a few years back, and I'd had enough surf to last a lifetime already that afternoon. but I caught their last few tunes, just to get a photo or two. |
Then it was movie time. Blues Brothers kicked things off, a film I've seen dozens of times and really didn't need to see again. But there are still a few scenes that make me laugh, no matter how many times I see it, and the massive vehicular destruction was appropriate to the drive in, so I only grumbled a little.
Trailers, cartoons, ads for the snack bar kicked off each flick, some I remembered, others before my time.
Then a film I might've been able to enjoy had I not just seen it a few months back, El Topo. About halfway through it could've ended - and probably should've. But instead it transitions into yet another film within the film. And the entire thing is like a confusing fever dream in the first place. Too slow to even heckle, it was not a good choice for the second feature of the night. But I was determined to power through to the third feature, even though I could tell I was coming down with a cold or something - sore throat, stuffy, etc.
Next up, the film I was struggling to get to, Zardoz. Sean Connery runs around in a red diaper and go go boots in the distant future where a flying head distributes guns to horseback riding exterminators while telling them the penis is evil. Between the hilarious stuff on screen and the constant SNL Sean Connery vs. Alex Trebeck jokes in my head, the movie was a constant source of giggles.
But even that couldn't keep me awake. Too little sleep and the coming illness put me to bed far earlier - and more sober - than I intended.

I woke up to the sound of frogs, a bit of light trickling through the tent. I poked my head out to find I had woken up to the sound of Frogs, the 1972 film starring Ray Milland of X: The Man with the X-Ray Eyes. The movie looked boring as hell and, due to various delays over the afternoon and evening, had come on a bit too late and was being slowly washed out by the morning sun.

I needed more sleep but people were already packing up around me so there was no point in staying in bed.

I loaded my gear and helped break down our HQ. I got home to find EM had moved out most of her furniture, my cat, Louie, had peed all over due to his failing kidneys, and my head was throbbing not from hangover, as I'd expected, but from sinus pressure.

The highs of the weekend were balanced by equal lows. Life is like that sometimes.

My favorite conversation of the weekend is illustrative of how I feel:
"This parking lot gets hot enough to melt the soles of your shoes," Jim Stacy said, pointing at his own boots.
"This parking lot has melted my soul many times," I said, giggling.
"That's because your soul is like peanut brittle - nutty, sweet, and with a low melting point."
I need to put that soul back in the oven and reform.
---