Degenerate Press
Welcome to Degenerate Press' feature article. If this isn't enough you can always subscribe to Electric Degeneration, our semi-weekly and semi-weakly ezine, or surf the Electric Degeneration archive.
---
East Atlanta Strut
Other Sound Festival
Text and photos by Frederick Noble
It's monsoon season here in Atlanta. I'd planned to hit a yard sale, maybe do some thrift shopping, head over to EAV for the Strut, then on to L5P for Other Sounds. Alas, the biblical floods curtailed many of those activities, though I was determined to get out of the house. Apparently I was one of the few early in the day.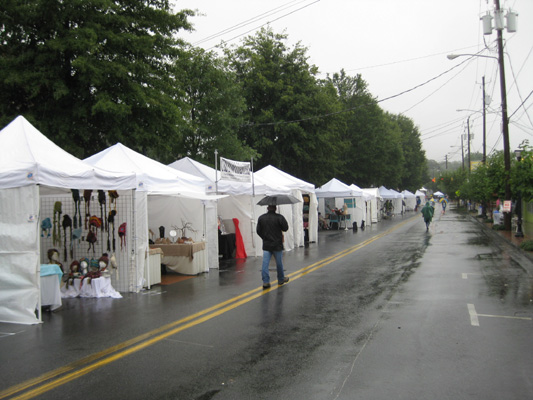 The East Atlanta Strut was all but empty at 1PM, though the bands were on stage playing away. I watched a few minutes of Uncle Daddy & the Kissin' Cousins but decided to head home for lunch and for more rain-resistant attire.
| | |
| --- | --- |
| When I returned a small crowd had finally appeared, particularly in front of the stage sponsored by my favorite new station, AM1690, where Slim Chance & the Convicts were playing their usual classic country sounds. | |
| | |
| --- | --- |
| Then a few more folks showed, then a few more, and soon it was as if we weren't in the midst of a 100-year flood. A fair number of fellow degenerates appeared and we hung around enjoying music, corndogs and beer in between waves of rain. | |
At one of the other stages Lloyd's Rocksteady Review cranked out some classic ska. Featuring former Robustos, people from Kingsized and several other excellent local acts, Lloyd's has a fantastic sound and covers enough flavors within the genre so you don't get bored. But it sure made me miss The Robustos.
Then back down the hill for Grinder Nova, Johnny McGowan's group of faux Mexican-Mariachi-meets-lounge, all on top of a solid bed of rock.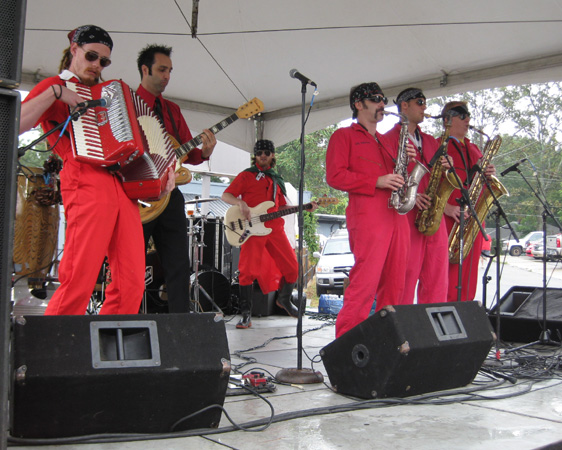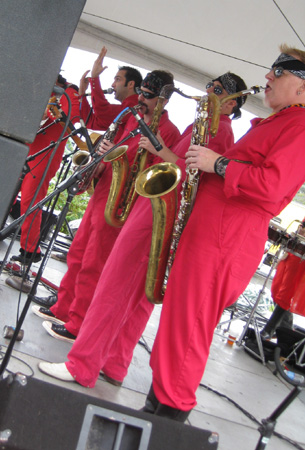 Followed by Soulphonics & Ruby Velle, a girl with a sultry voice doing old soul sounds with only a hint of modern edge, really good stuff.
I headed to L5P, grabbed a bite and headed into The Star Bar for the Other Sound festival. Untied States were on stage at the end of their set, seriously rocking - moments of noise rock blurted out of otherwise precise, loud stuff that was all good for the 2 songs I caught. I'll have to catch a full set of their sometime.
Meanwhile, in a secret underground bunker The Falcon Lords were hatching their plot to destroy the forces of evil. Or something.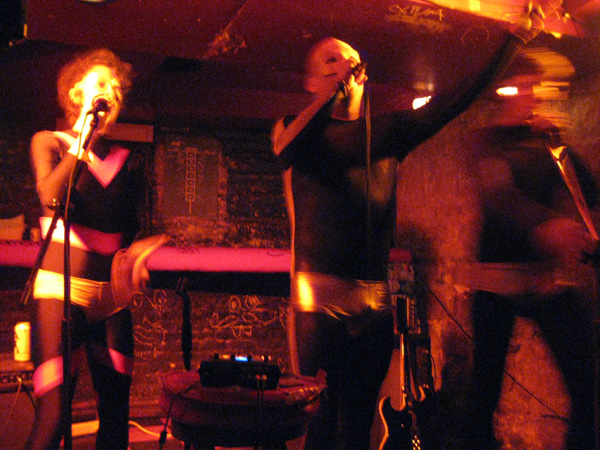 Three people in spandex costumes were rapping along to a backing track about their super powers, the corrupt major of Falcon City, and their "executive man briefs."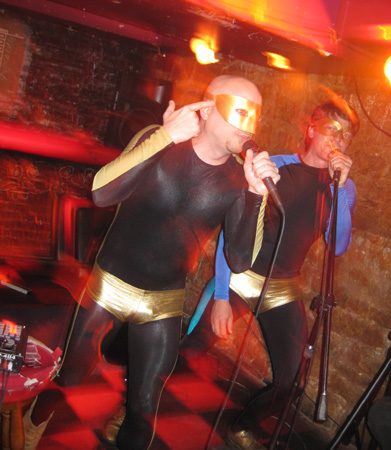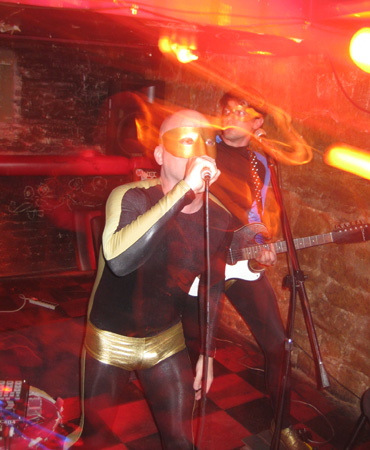 It could've gotten tiresome quickly but soon two of the members picked up actual instruments and the sounds shifted more toward the rock end, but with hip hop, electronic and/or dance music influences. All the songs retained the Falcon Lord mythological theme, reminding me of something I should've seen at Drag On Con. Silly and goofy, yes, but they put a lot of energy into it and they sound pretty good. I was somehow reminded of Matisyahu, that mix of rapping and melodic singing, the stuff that the whole Limp Bizkit rap/rock fusion crowd didn't seem to get right but somehow works properly with The Falcon Lords. And it doesn't hurt that for whatever reason the ladies in the crowd seemed to love it, dancing around and smiling ear to ear.
Having upstairs and downstairs stages is excellent, though once in a while the bands would overlap and the sound would get a bit muddled. But I saw 7 bands for $10, and skipped two acts just to rest my feet.
| | |
| --- | --- |
| Back upstairs, Club Awesome took the stage. They do jerky, energetic pop/rock somewhere between Buzzcocks, Talking Heads and The Cure live. | |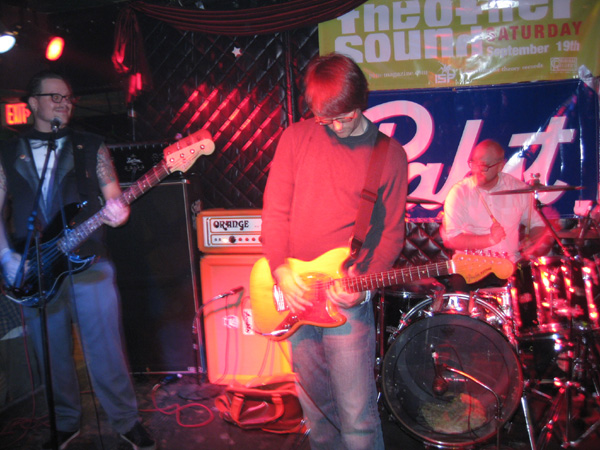 | | |
| --- | --- |
| I enjoyed their set almost as much as they did. | |
Downstairs the stage was set, a smoke machine going off and some kind of electronic music coming through - the lights were on but nobody was home. Clearly someone had set themselves up for a dramatic entrance.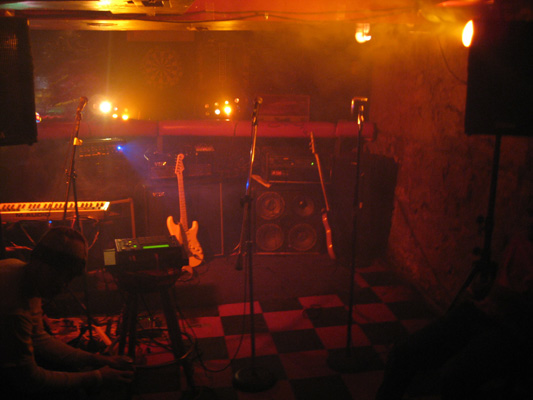 That someone was Grand Prize Winners From Last Year, marching in playing horns and carrying a massive trophy which stood in front of the band for the set.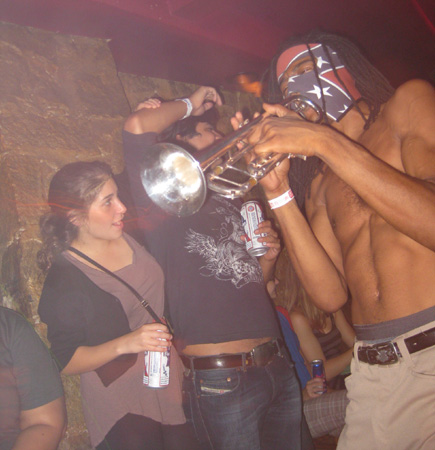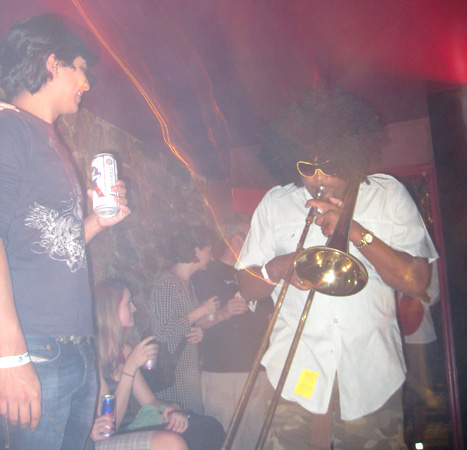 | | |
| --- | --- |
| They cranked up the smoke machine to the point where you could barely see the guys in the front and the guys in the back were mere blurry shadows. | |
| | |
| --- | --- |
| They switched from horns to backing tracks, keyboard and guitars, for a moment sounding like a black version of The Coathangers, but gradually shifting to a mix of rapping and singing, stuff with actual melody and more percussive sounds. I couldn't help but think it was like seeing Outkast perform - in your living room, and possibly while the house burned down. | |
They switched instruments and lead singing and/or rapping a few times, making it more like a group than much of hip hop does. My hand-written notes say, "Really fuckin' good." I gave one of the guys what I believe to be the last Degenerate Press sticker (though I keep finding handfuls of them stuck in coat pockets with each change of season.)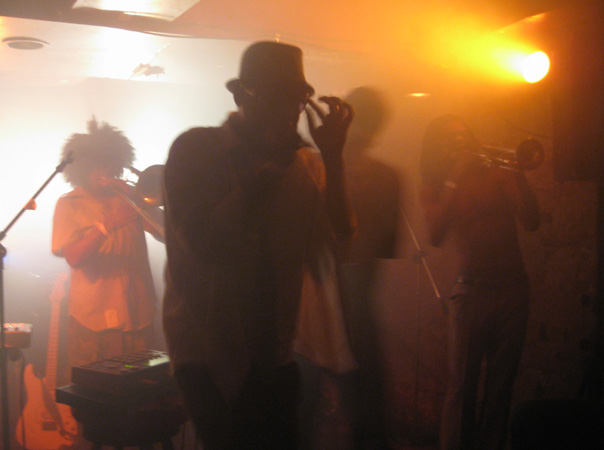 Back upstairs, it's A Fight to the Death doing Nick Cave meets gypsy music, dark and dramatic like Ennio Morricone.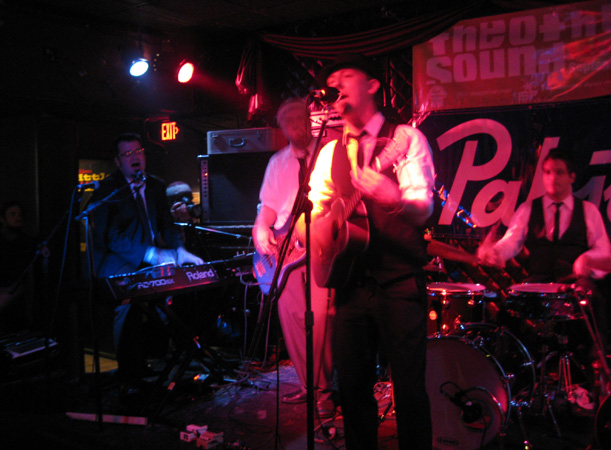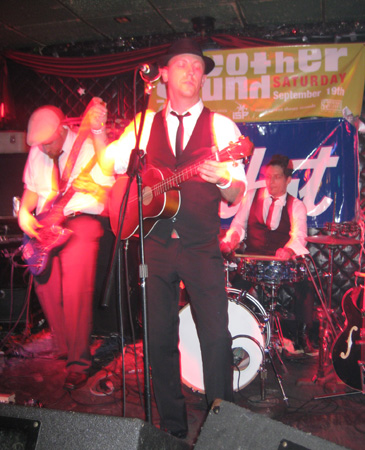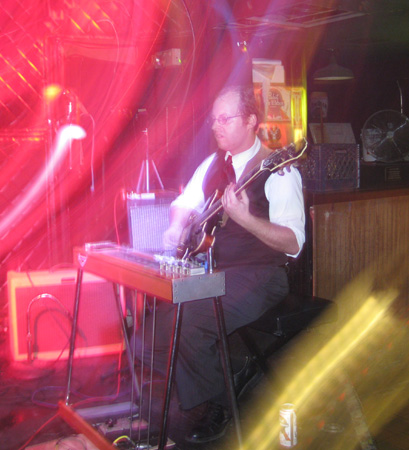 | | |
| --- | --- |
| They switch instruments from time to time, varying the sound but it all retains some kind of Eastern European flavor, occasionally rising up to intense levels. | |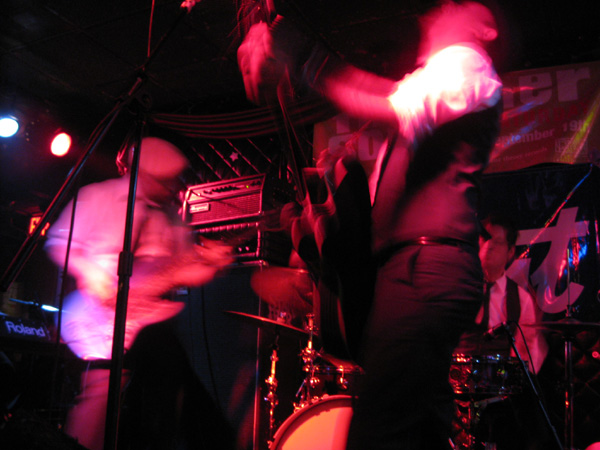 I skipped an act to sit out on the patio during a few minute interval when it wasn't raining. I wanted to rest my feet after standing all day, knowing I'd be dancing around for the final two acts of the night.
Next upstairs, The Selmanaires. I hadn't seen them for a while and was really looking forward to them. They started off with what I thought was a droney, spacey intro.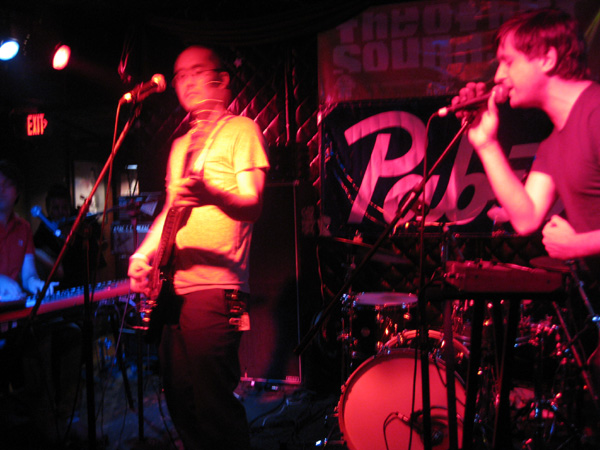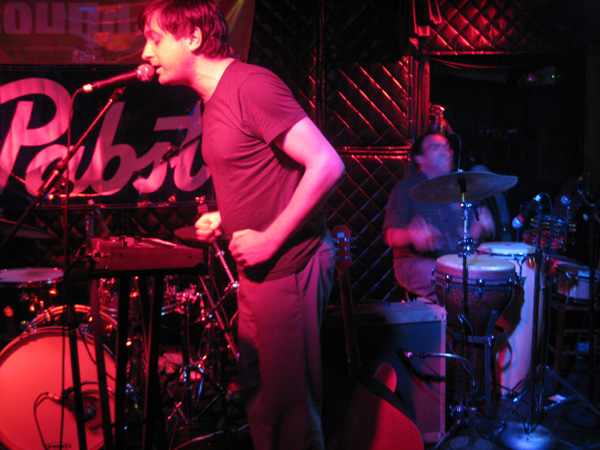 | | |
| --- | --- |
| They've always had some spacey elements in their music but generally they balance those with percussive guitar and slowly bring up the intensity until things boil over and the crowd is dancing around like crazy. | |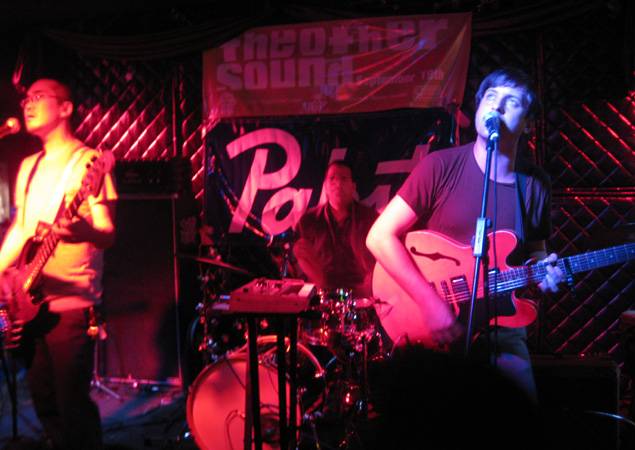 | | |
| --- | --- |
| However, this time they seemed content to merely simmer, oozing out atmospheric stuff for a good half hour before punching it up a notch toward the end - but only a notch. A bit disappointing, really. | |
But that's ok. It had been hip hop and other danceable sounds in the basement much of the night and the headline act would bring on the full electropunky dance party!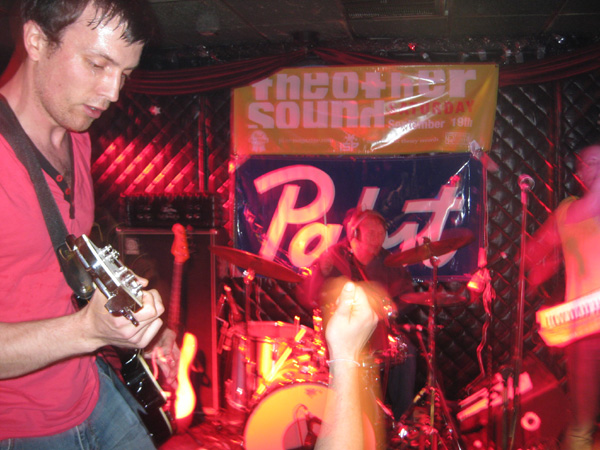 A while back they added an actual drummer to fatten out the backing tracks, computers, synthesizers and keytar they use behind most tracks. Even the guitar is used only sparingly, so if you're a fan of distinct guitar sounds this isn't the music for you. On the other hand, if you like high energy dance music with hooks big enough to pull in a blue whale and lyrics ballsier than anything Beck has to offer, Judi Chicago might be your new favorite band.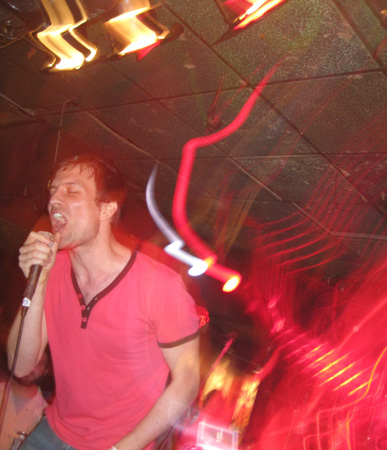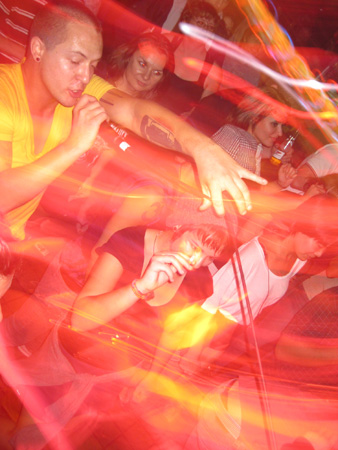 I didn't take many photos because both the band and I were moving around too much to get a decent shot. By the time I walked out the door I didn't mind the rain - I was already wet with sweat and spilled drinks.
Thanks to the organizers of the Strut and Other Sound!
---