Degenerate Press
Welcome to Degenerate Press' feature article. If this isn't enough you can always subscribe to Electric Degeneration, our semi-weekly and semi-weakly ezine, or surf the Electric Degeneration archive.
---
The Fringe Binge
The Star Bar
Text and photos by Frederick Noble
Friday night EM and I headed over to the Star Bar for Fringe Binge, a festival of local and imported garage rock sponsored by Parking Lot Paul's newish record store in EAV, Reactionary Records. The bar was almost entirely empty when we arrived around 9:30, figuring the long lineup would lead to an early start time. But opening act Electric Cycles waited until at least a handful of people trickled in before the band went on stage.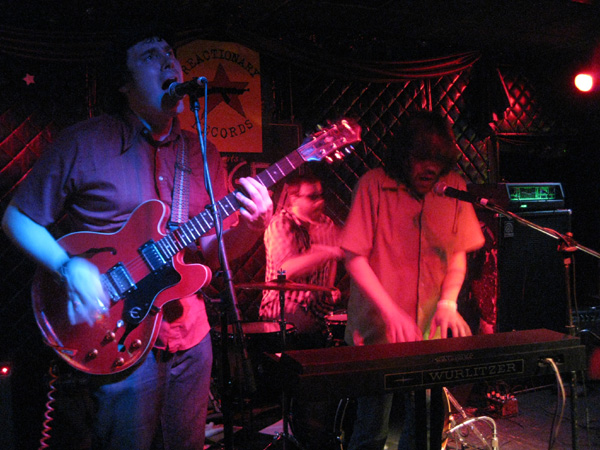 Electric Cycles produce mid-to-late 60's rock with psychedelic influences. Too often the tunes sound familiar. I was expectingr The Beatle's Tax Man during the opening bass riff of one of the Cycles' original tunes. Others sound like The Zombies. But if you like that sound, you'll dig Electric Cycles. And they've got plenty of energy to boot.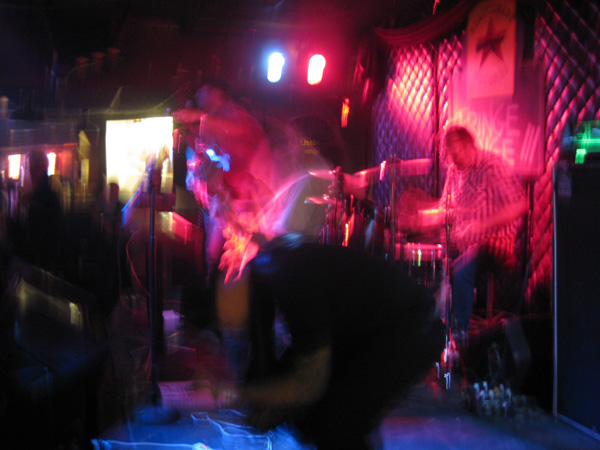 | | |
| --- | --- |
| Guitarist James is determined to add to the visual experience, playing up and over the monitors and into the room and onto the floor when the mood strikes. | |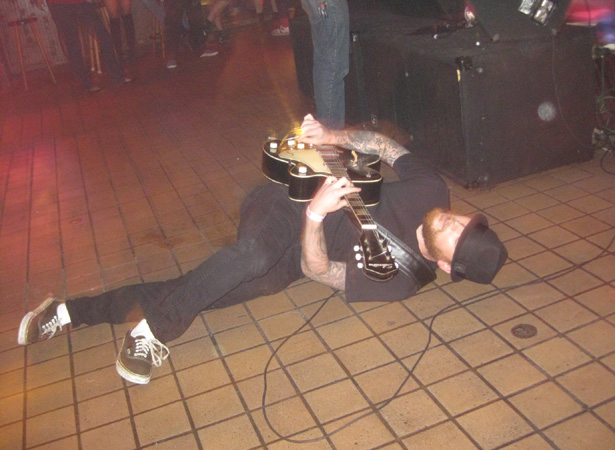 EM said, "I think maybe they need to tone down the jams some," referring to the Cycles' tendency to drag out the instrumental portions of their tunes.
"No, I think they just need not to go on first. They need to be, like, next to last when it's late and there is more energy in the room," I responded.
It was too bad there was only a handful of people there to see 'em.
It was also too bad we had to leave after. EM wasn't feeling well so we decided to save our energies for Saturday night's lineup.
We missed a couple of the first bands on Saturday when we arrived a little after 10, so the first act we saw were Customers, a bunch of faces I've seen around the L5P/EAV scene for a while but I think this is the first I've seen them on stage.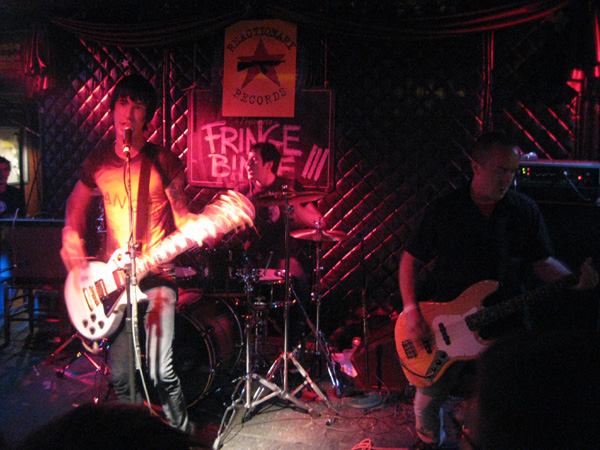 They play punk very reminiscent of Bad Brains - fast, precise, straightforward but a little samey-same after a few tunes.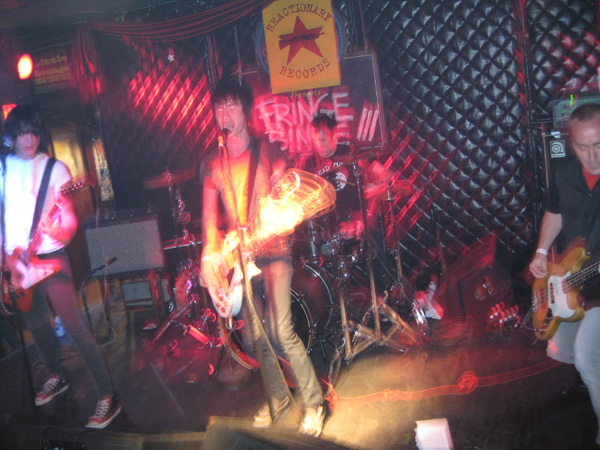 Meanwhile there was something going on downstairs. A guy playing guitar and drums by himself, pretty good stuff but the tiny room was so packed I couldn't get a glimpse of the guy. Soon I gave up and returned upstairs, though later both EM and CD would rave about what I'd missed. Apparently other guys joined in and it "kicked ass."
But that's ok, because A) I've seen plenty of ass kicking, B) I was being exposed to something entirely new and different. I'd spotted this dude in a ragged shirt with the sleeves ripped off, stained UGA trucker hat and blurry facial tattoos earlier in the evening and wondered what had brought him to the Star Bar that night. Apparently it was to perform on stage.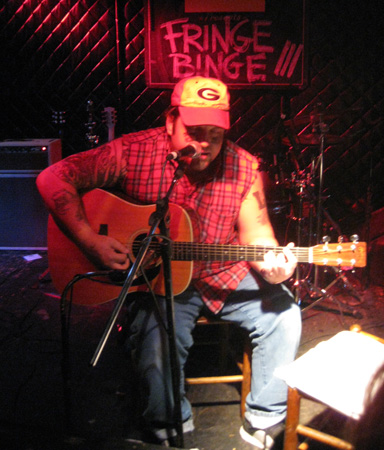 Peter Stubb is what it would be like if Larrry the Cable Guy got drunk, lonely and angry and did a Daniel Johnston impression. It seemed like each song was a profanity-laden homage to the joys of cunnilingus. While I enjoy profanity and just about all forms of oral sex, Stubb was a bit too drunk to keep the songs moving, even with the aid of the lyrics written in a spiral-bound notebook in front of him. His guitar sounded as if it had been tuned by a deaf person. But there was nothing else like him on stage that night, or probably any night in the last many years, and he brought his own small but devoted fans with him.
All Night Drug Prowling Wolves got on stage to a good sized crowd almost lubricated to perfection - the crowd, that is, not the band. They seemed comparatively sober and sedate to previous performances.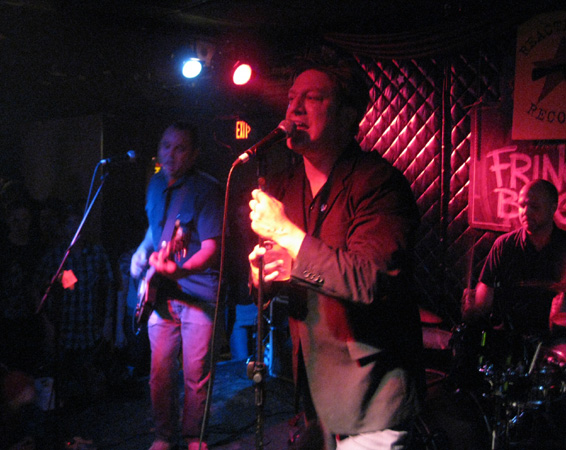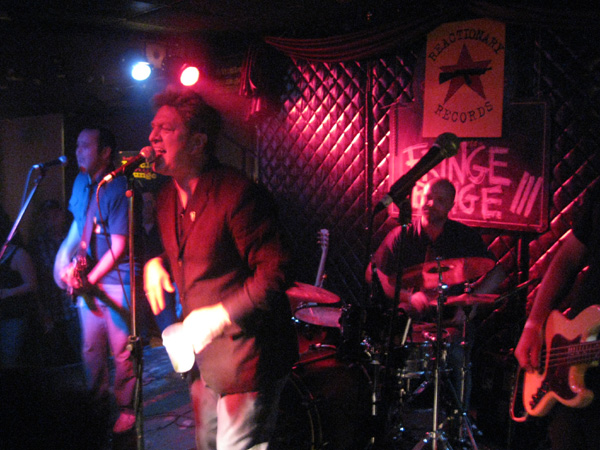 They cranked out a fine set of their usual Clash-like punk, like stepping through a hole in the time/space continuum and landing in an English club circa 1979. I could fault them for lacking originality but they're so damn good and it and so damn charming it's impossible not to enjoy them on stage, as was evidenced by the non-top bouncing of the boisterous crowd, some of whom climbed over each other in manic glee. A fine time!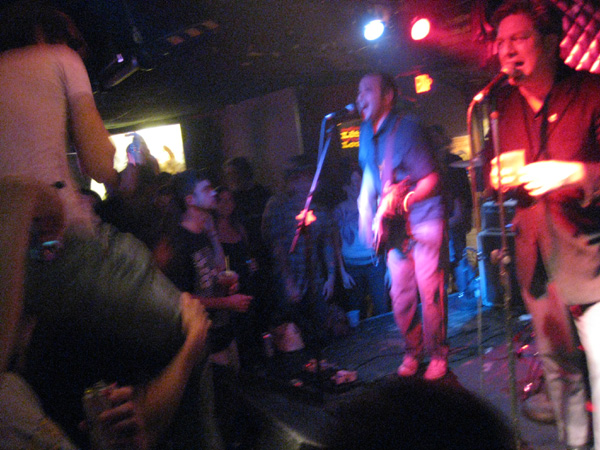 Downstairs - more good music. I forget sometimes just how rich Atlanta's music scene is, but then I visit another city or country or Florida and I'm reminded to appreciate what we've got here. Just about any night of the week you can catch a fine show in this town featuring all local talent. There's so much going on I can't see it all, and even when I get out I forget to take notes. So I have no idea who these guys are. They were doing some straight up garage rock that fit in nicely with the overall sound of the weekend and any other time I'd be looking forward to seeing them again, but there was just too much going on - and that's just in the Star Bar and just on one night.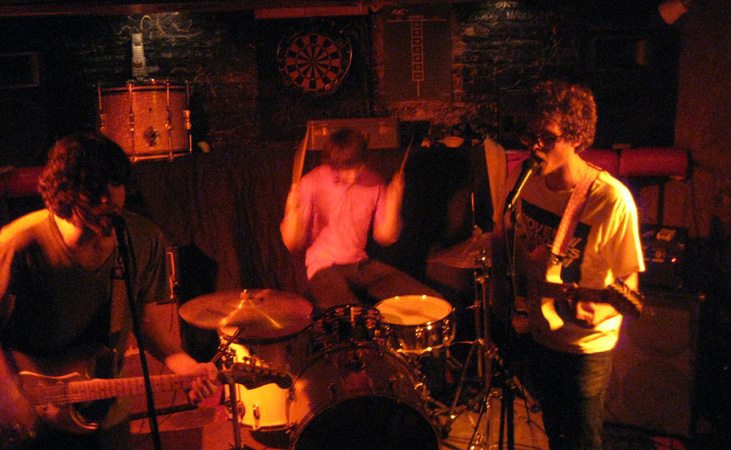 So thank you, whoever you are, for a fine performance. And thank you Atlanta musicians for more music than I can possibly enjoy in my singular existence.
Now on to the import/headline act of the night.
I'm not afraid to admit my ignorance. I had no idea who Paul Collins was. Over the course of the set by Paul Collins' Beat, with Collins playing in front of Gentlemen Jesse & His Men, I recognized two tunes, but even one of those I remembered only because Blondie covered it. There were folks of all ages there to see him but somehow he hasn't popped up on my radar. I'll be covering over that hole in my record collection soon!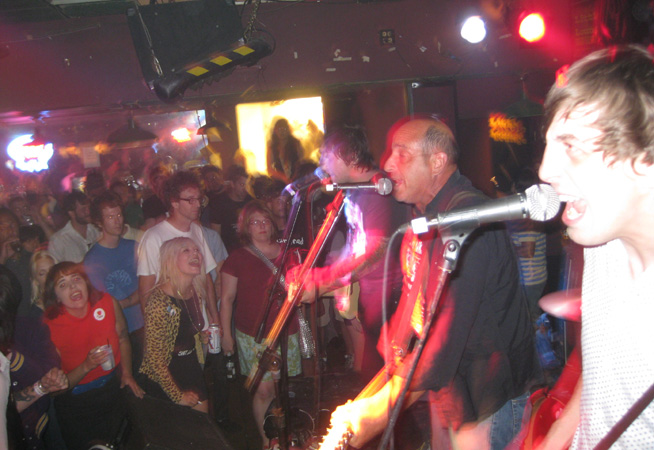 It's late-70's/early-80's power pop/rock reminiscent of The Jam (with whom The Beat/Paul Collin's Beat/Collin's Beat toured at one point) or, for you local music buffs, a proto-Gentleman Jesse. In fact, were it not for The Jam and The Beat I don't know what Gentleman Jesse would sound like. So it was entirely appropriate that Jesse's band backed Collins. And they backed him perfectly. I didn't catch a missed cue or mangled lyric (though obviously being unfamiliar with the tunes, and drunk, I'm not the best judge.)
| | |
| --- | --- |
| And Collins was obviously having a swell time on stage, grinning ear to ear and singing with a mix of confidence and joy. Added to the fans, some his age, some half his age, that sang along with every tune and it was almost impossible not to get caught up in the moment and bounce along with the crowd. | |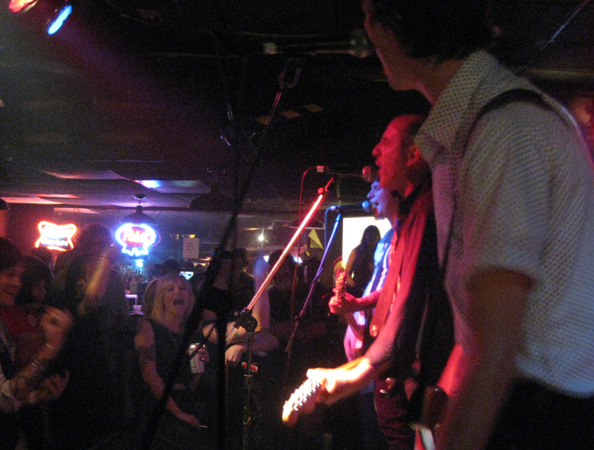 Near the end of the set he called up a group of female fans to dance along, packing the stage with pretty faces and bouncing breasts.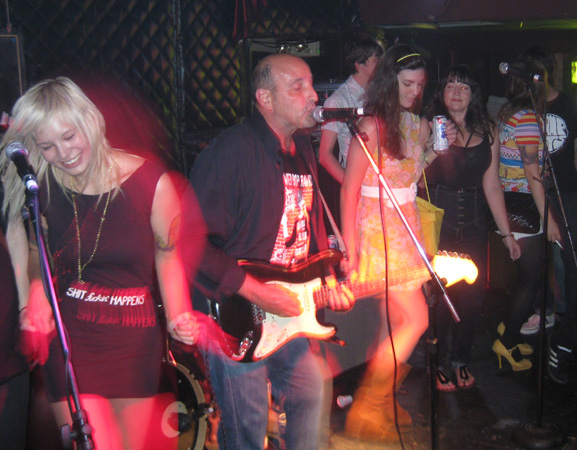 I love me some goddamn rock n roll.
---