Degenerate Press
Welcome to Degenerate Press' feature article. If this isn't enough you can always subscribe to Electric Degeneration, our semi-weekly and semi-weakly ezine, or surf the Electric Degeneration archive.
---
Jeffery Butzer and the Midwives, Grinder Nova, The Subsonics, Dexter Romwebber Duo
The Star Bar
Text and photos by Frederick Noble
One of the many things I like about the south - you can go from winter to spring in a week. One Sunday you walk the block and are transformed into Frosty the Snowman.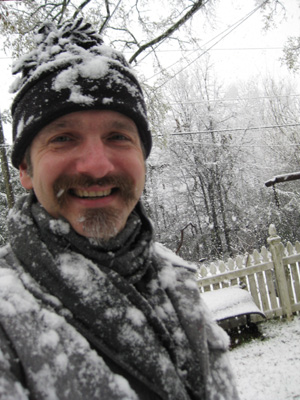 The next Sunday you're at the drive in with sandwiches and drinks enjoying weather in the low 70's.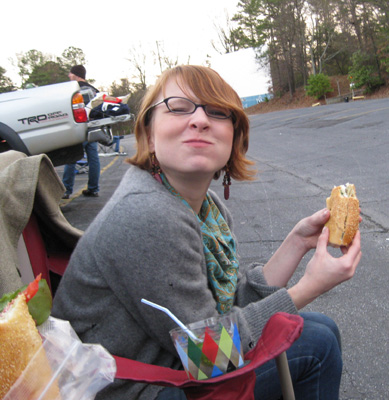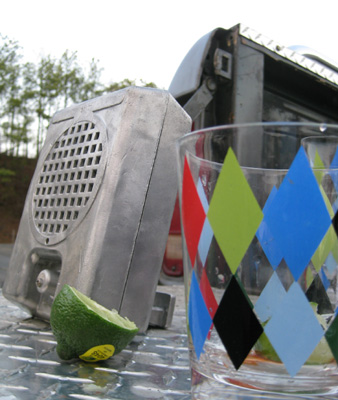 Of course, a week after that we're back to 40 degrees and raining, the most typical of southern winter weather conditions and my least favorite weather any where any time. So be it. The birds are waking me in the mornings, the pollen keeps my head full of snot, and the subtle change of lighting sends my hormones into overdrive. Spring is here!
Meanwhile, in an entirely different movie...
Jeffery Butzer and the Midwives opened things up at the Star Bar with instrumental gypsy-sounding music, really pretty stuff.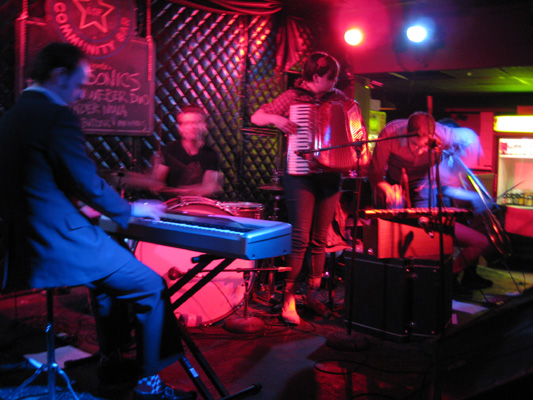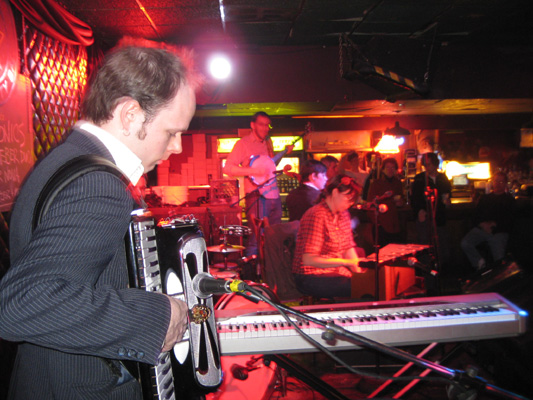 If I recall correctly, each member switched instruments at least once. There weren't many people there early to catch the act, however, and it was a strange addition to an already strange mix of acts.
A couple of weeks back I ran into Johnny McGowan and he asked me to introduce Grider Nova on stage at the Star Bar. "We need your mustache," he said.
So I wrote up a rant about the superior coffee that Grinder Nova serves on stage, only to find they had fired their barista before the show. But I went on my rant regardless so hopefully you'll have some of that coffee at their next gig (you can't find it in stores.)
Johnny has taken the lead for Grinder Nova, his voice strong again. Though he would later confess to having been nervous, he seemed to be having a swell time on stage.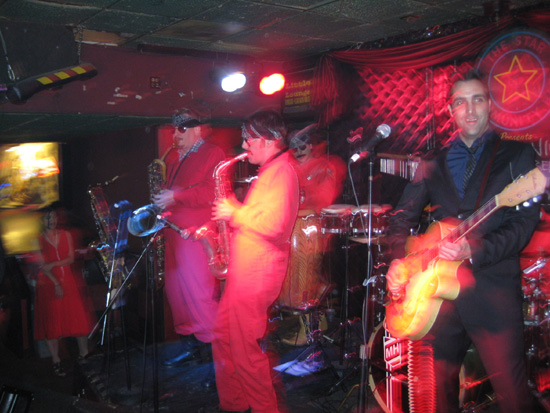 | | |
| --- | --- |
| The band, in red jumpsuits and moustaches, cranked out lounge-infused sounds while Johnny played with the usual flair, creating a strange mix of electric guitar blues/rock over 60's Latin-influenced jazz. | |
As if that's not enough heat, toss in some washboard and an appearance by a very sexy cellist! Muy caliente!!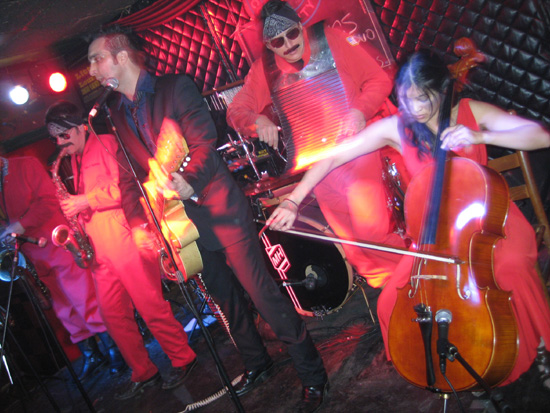 Before The Black Lips, before The Hiss, before just about any local retro-garage band you care to name, there was The Subsonics.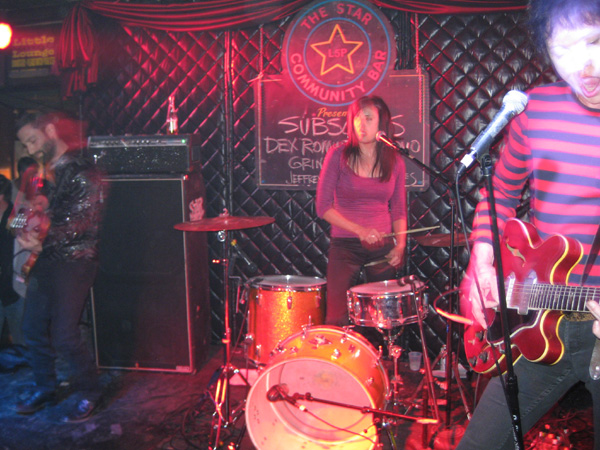 And I'm pretty sure they can still teach the kids a thing or two about how to rock. They just about exhausted the fans in the front row with a set that barely took a moment to breath over an hour of high energy, punky, punchy tunes.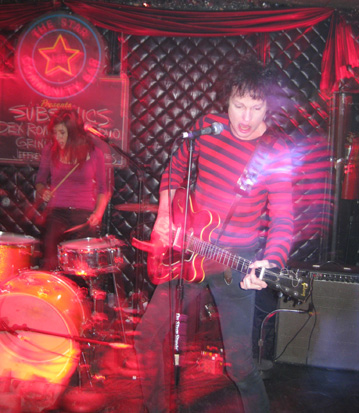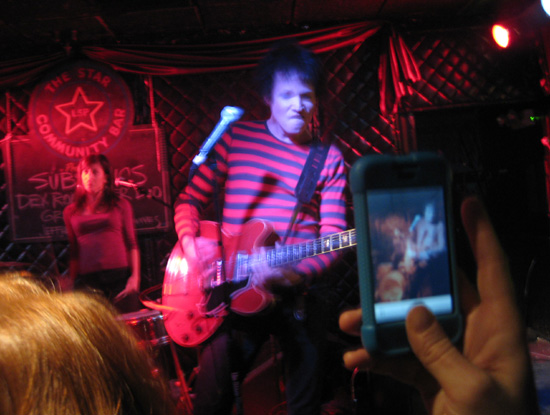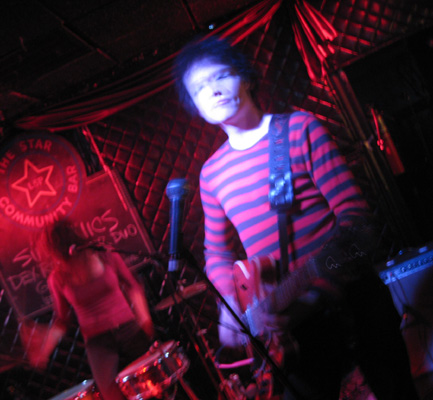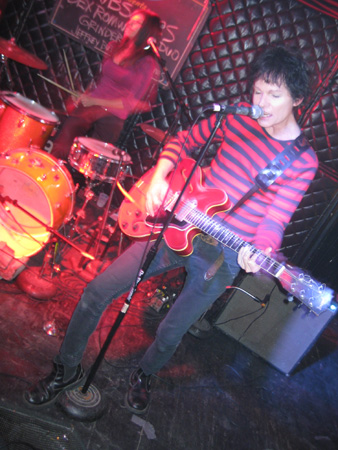 Speaking of guys that could teach you a thing or three about music, Dexter Romwebber Duo headlined the night, kicking off with his Dexter's brand of manic, minimalist rockabilly.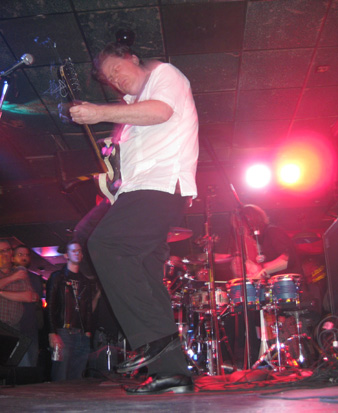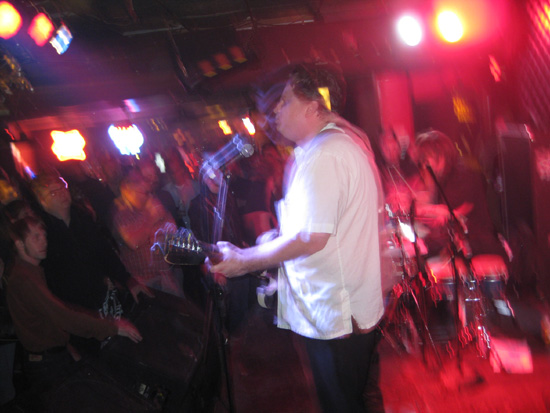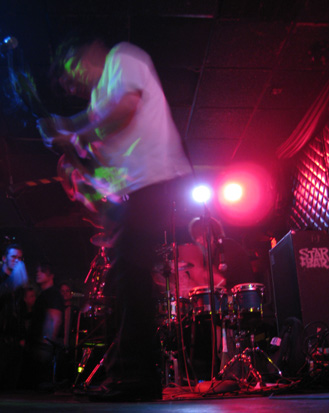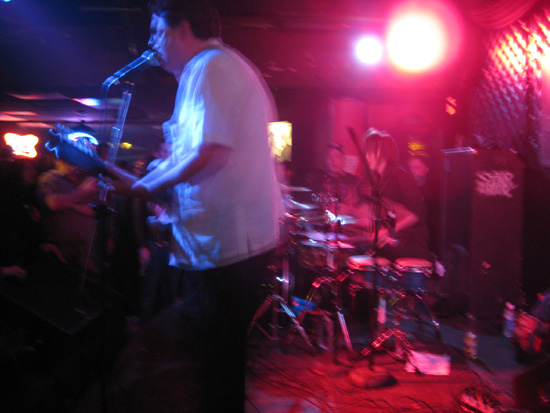 Unfortunately, EM had worked all day then had her face rocked off by The Subsonics, so we didn't make it through much of Dex before we beat a retreat, Dexter's guitar echoing across the parking lot as we walked away. A few days later his guitar still echoed in my head, and not just from standing too close to the speakers...
---