Degenerate Press
Welcome to Degenerate Press' feature article. If this isn't enough you can always subscribe to Electric Degeneration, our semi-weekly and semi-weakly ezine, or surf the Electric Degeneration archive.
---
Halloween 2009
EAV and The Earl
Text and photos by Frederick Noble
I love Halloween. I know there are some adults out there who say it's a kid's holiday, but I don't have kids and I like playing dress-up. So if you're one of those naysayers, stay home on Halloween. You're ruining the theme for the rest of us childish adults.
This year I went as the ghost of Salvador Dali, complete with a Dali-designed tie from the 1940's.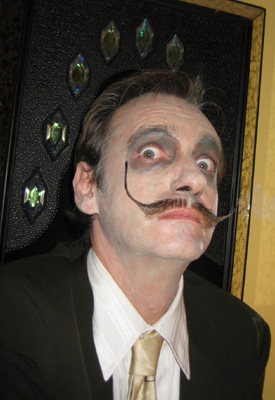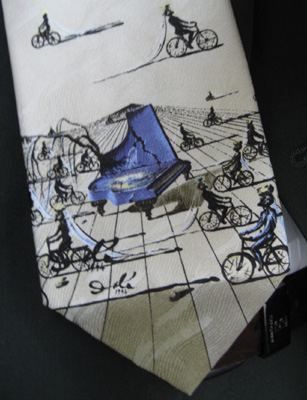 I started things off, sans makeup, at The Plaza Theater for the matinee of The Silver Scream Spookshow, this month featuring Bela Lugosi in the first zombie film, White Zombie. The pre-movie skit was a haphazard version of Dracula, the stage version, cut down to perhaps half an hour. The clear lack of rehearsal resulted in some hilarious moments. The film was pretty good too, especially on the big screen.
I went home to mix makeup colors and put on the face and then sat around impatiently waiting for it to get late enough to go out. I joined degenerate CD, done up as a multiple Oscar winner, and had dinner at The Local.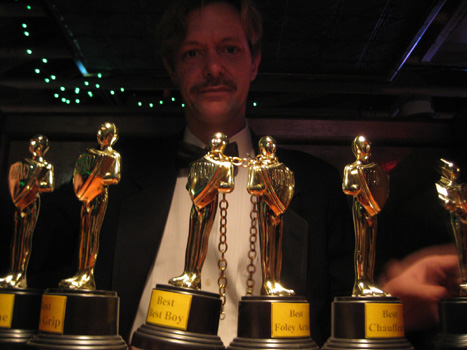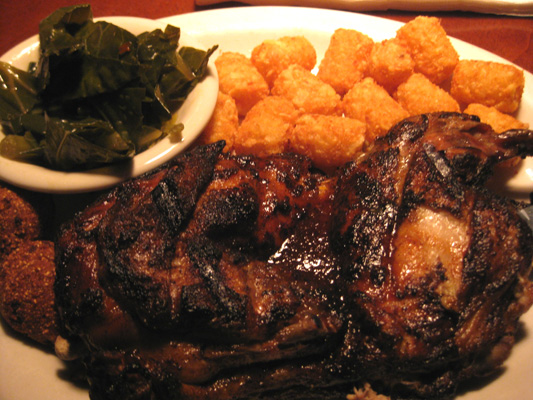 The Local staff were dressed as Hooters waitresses and patrons but the place was mostly empty early in the evening. Later they would have "scary-oke" but we split before that going going.
We walked around the corner to Bookhouse for a brew, ogling the cute staff in cute costumes and catching a few minutes of Nightmare on Elm Street on their big TV.
Then we were off to East Atlanta Village to hop from bar to bar, starting things off at The Glenwood - Night of the Living Dead was showing on their TV and the wait staff were dressed as Kiss. Most of the patrons were in costumes of one sort or another, including a hilarious East Atlanta Village People group who were bar-hopping just like us.
The weather outside turned even crappier. 529 was charging a cover for the bands but we just wanted a drink so we headed up the hill to East Side Lounge, mostly empty at 9ish, early for that place. The Addams Family TV show was on while a DJ played a mix of scary music, some horror related but some just so bad it's terrifying - Backstreet Boys, for example. One drink and we were off again, deciding to head to our final destination, The Earl.
There were a fair number of fun costumes at The Earl (Baseball on TV - didn't they get the memo?) as we slipped back into the music room with time to socialize before opening act The Coathangers came on.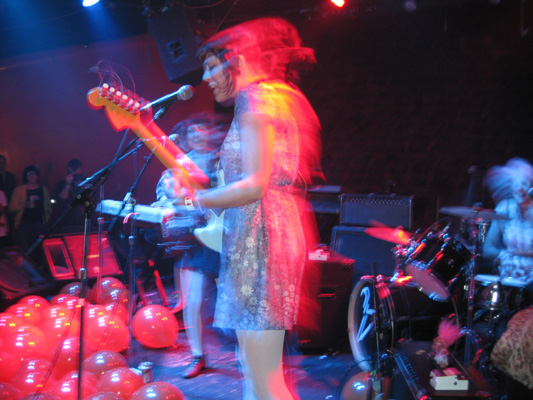 Their screechy, punky rock is a lot of fun, especially when they've rehearsed and/or are sober enough to keep it together. Tonight they were spot on.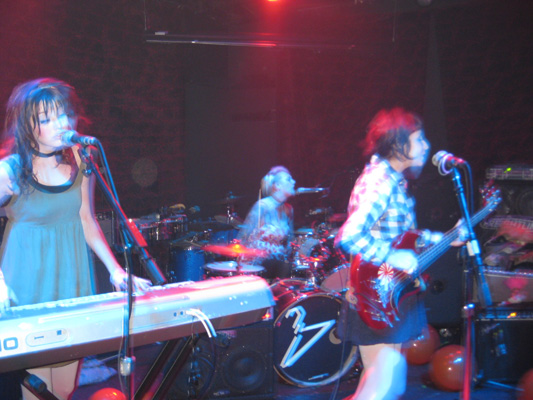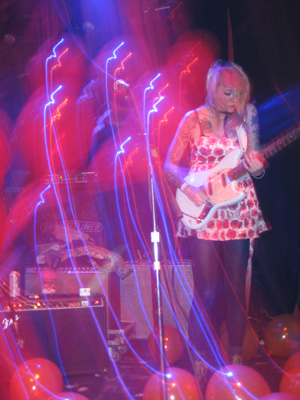 | | |
| --- | --- |
| For the grande finale, Leatherface appeared, brandisihing an actual chainsaw - at least for a few minutes. The thing stalled and he spent the rest of the set trying to get it up again while the band played on. | |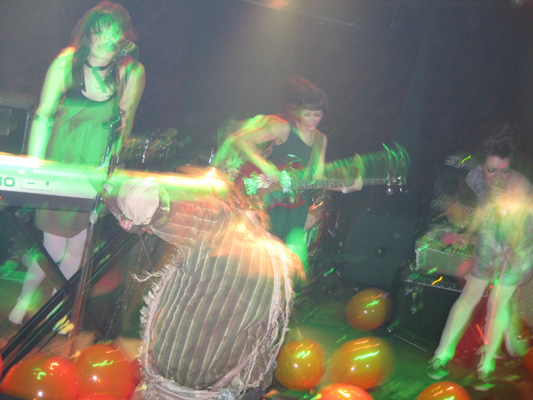 Next up, Gentleman Jesse and His Men, done up as satanic black metal stars. They had some growly vocal effect when they talked but then did their songs in the (somewhat disappointing) normal fashion.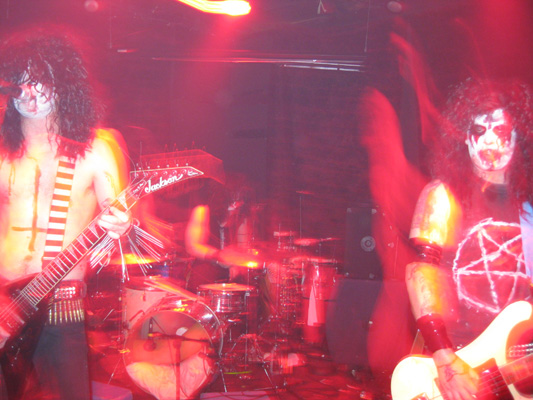 | | |
| --- | --- |
| | Good stuff if you like The Jam and Paul Colllins' Beat - energetic rock with pop hooks. Unfortunately I didn't get a lot of photos so this is all you get. |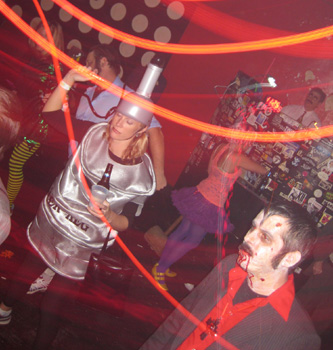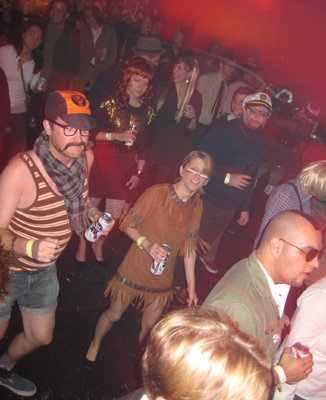 Random crowd shots, plus some friends done up as Captain Miller and the girl from the Miller logo.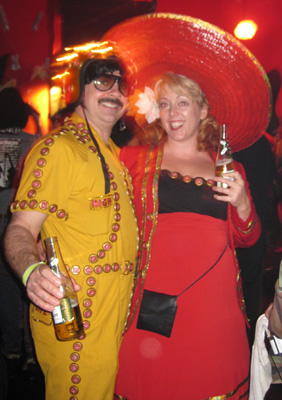 | | |
| --- | --- |
| Headliners Noot d'Noot came on with all, what, 15? 17? members? done up in random costumes. They started right in with upbeat funky grooves to get the crowd moving. | |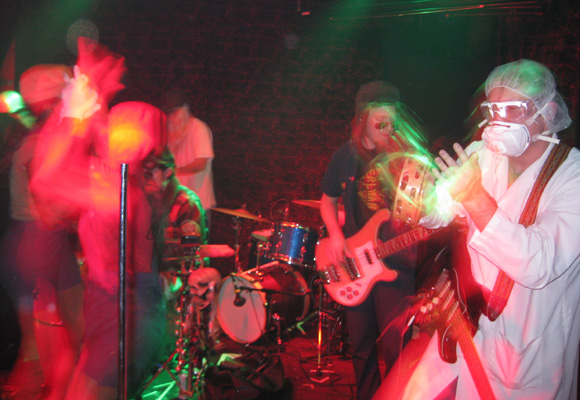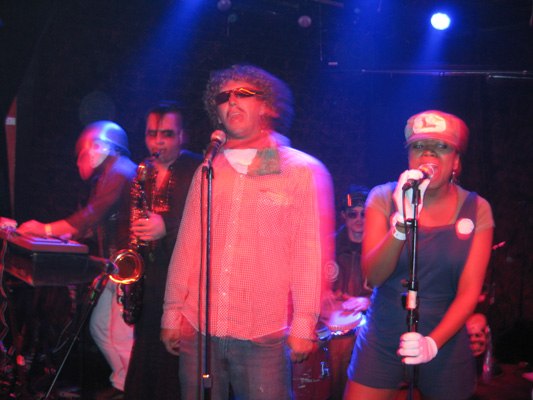 The band wrapped things up and we headed out through the bar, finding it packed to the gills.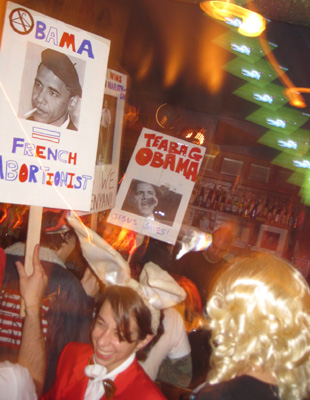 We lingered out front, chatting with other costumed lunatics.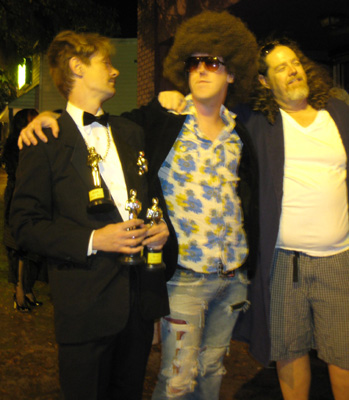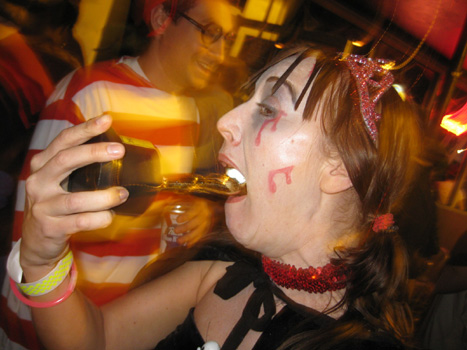 Then on to Mary's for another round, where it seemed like half the patrons were dressed up as sailors. Felt like fleet week in there.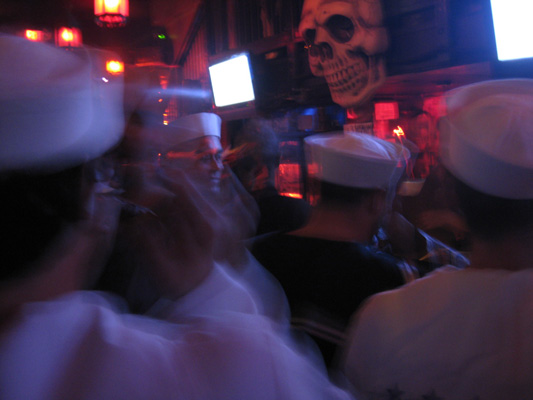 Then home where I stabbed myself in the eye trying to brush my teeth.

I have a closet I haven't used since EM moved out, so I figured I might as well start filling it. I opened the door to hang my Dali suit up and guess what I found?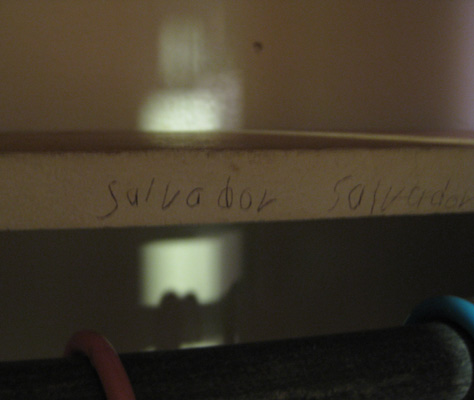 The previous tenants were Hispanic and apparently one of them wrote his name on the closet shelf, several times. I'd never noticed.
---