Degenerate Press
Welcome to Degenerate Press' feature article. If this isn't enough you can always subscribe to Electric Degeneration, our semi-weekly and semi-weakly ezine, or surf the Electric Degeneration archive.
---
Nuggets Night
The Star Bar
Text and photos by Frederick Noble
I couldn't find out in advance who was supposed to play, other than The Forty Fives. As each band got on stage they said they'd learned the songs the night before. Combined with the lack of advance propaganda about the show, I suspect the night was poorly organized. It was definitely poorly attended. The bar was half empty most of the evening.
Which is too bad because there were moments of brilliance and energy to be had. But, like the Nuggets box set that inspired the affair, you had to sift through some dirt to get to the gems sometimes.
First up, a band name that appeared ominously on the Star Bar sign a few days before, "FN HEARTBREAKS." Good one, random chance, you got me again. (I suspect they're F'n Heartbreaks, but the Star Bar sign is all uppercase, no apostrophes.)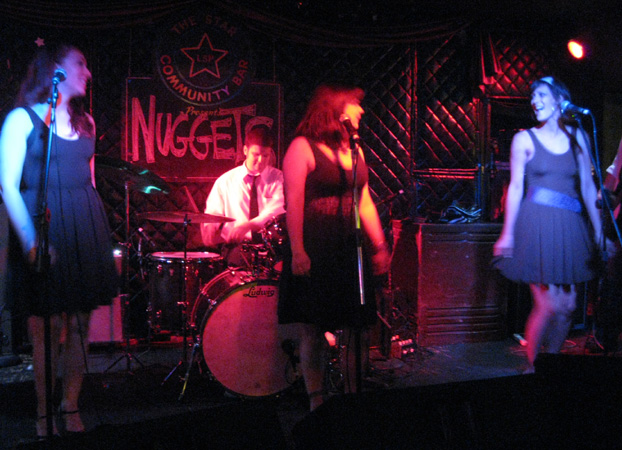 | | |
| --- | --- |
| They started off with a bad omen of their own when the guitarist mangled the opening of I Want Candy. It put a sour taste in my mouth, which was too bad because the three female singers could really harmonize and were something different from the usual Star Bar fare. The rest of their set was pretty good, adding a femme side to a butch night. | |
I spotted a guy in the crowd and thought, "Wow, he looks a lot like Roger Daltry." Turns out he's the lead singer in Who's Left, who do Who covers. They tossed in a Nugget tune or two, but mostly they stuck to Who tunes.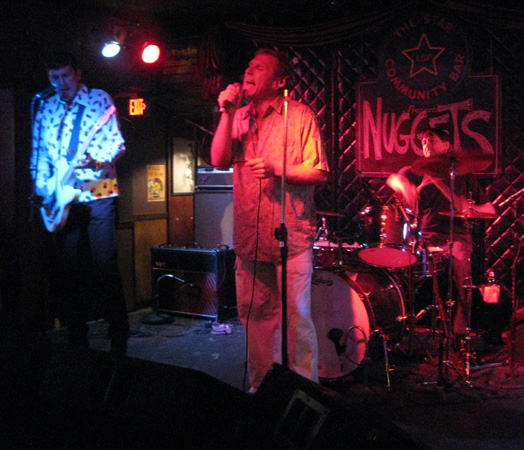 They did them well, but mostly in medley form. Pick a song and stick with it, guys!

Also, the drummer needs to have less ability to keep time.

And Entwhistle wouldn't have been caught dead in a bare midriff. But don't let that stop you!
Chad Proctor stepped on stage holding a bass guitar.
"Chad! Bass?!?" I shouted.
He just shrugged. Perhaps the fuzzy chords of 60's garage don't have the technical precision of his usual rockabilly guitar stylings.
So here's Chad, playing bass in Myopic I.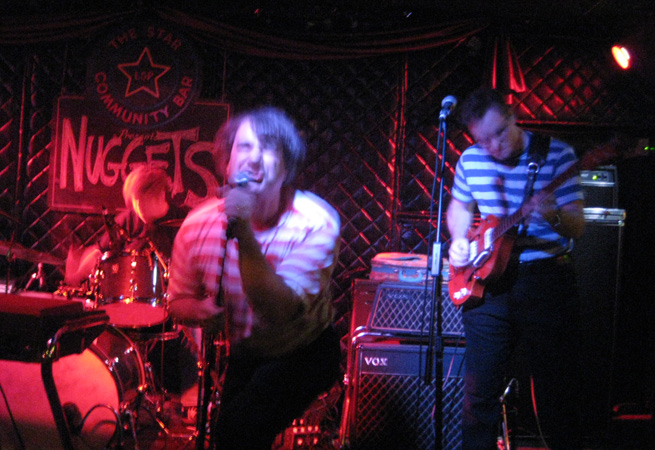 | | |
| --- | --- |
| Which works, and works well. The lead singer was clearly moved by the music, thrashing around the stage, and sometimes off of it, doing his best John Belushi impersonating Joe Cocker impersonation, pounding on a tambourine until it shattered, sending silver disc shrapnel into the room. | |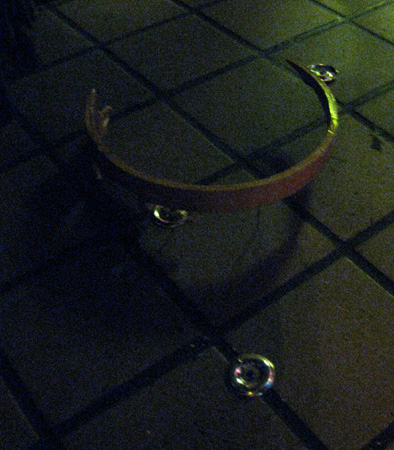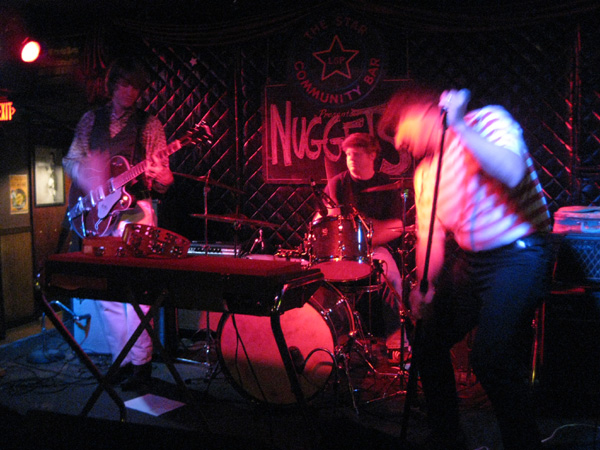 Then came Electric Cycles, who I've seen a few times and like more and more. They've got energy to burn, though with their psychedelic leanings you might need to burn something yourself to get the full experience!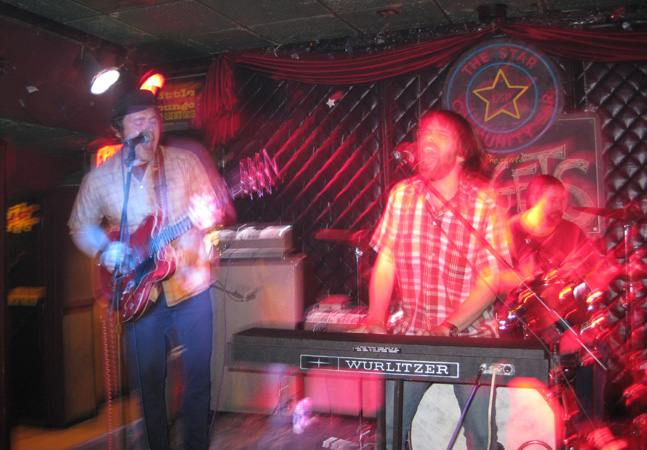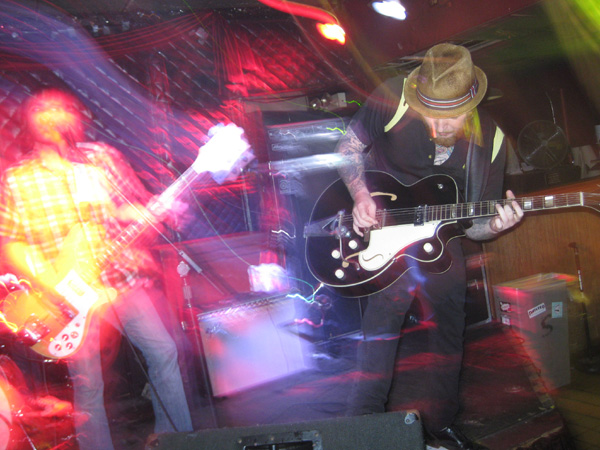 | | |
| --- | --- |
| | Unfortunately, yet again they played to a room more empty than not, but that just gave the guitarists room to move about a bit. |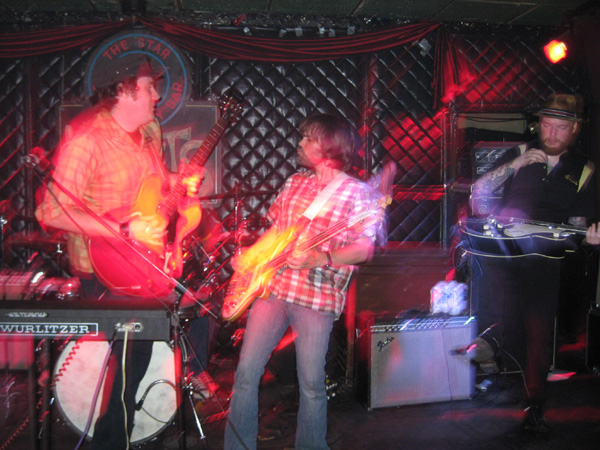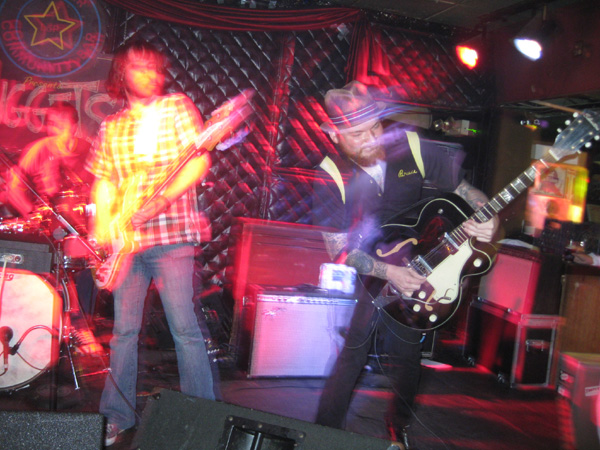 The Forty Fives have always sounded like they've heavily mined the Nuggets box set, so they were a natural headliner for the night.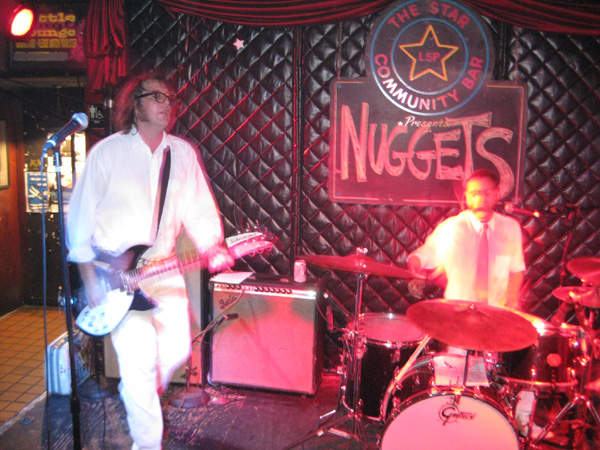 I joked that they should be the 22.25's these days, since they've replaced their original bassist and keyboardist, but the new guys seemed to know most of the tunes pretty well, even the ones they'd only learned hours before. And they jump about with appropriately manic glee.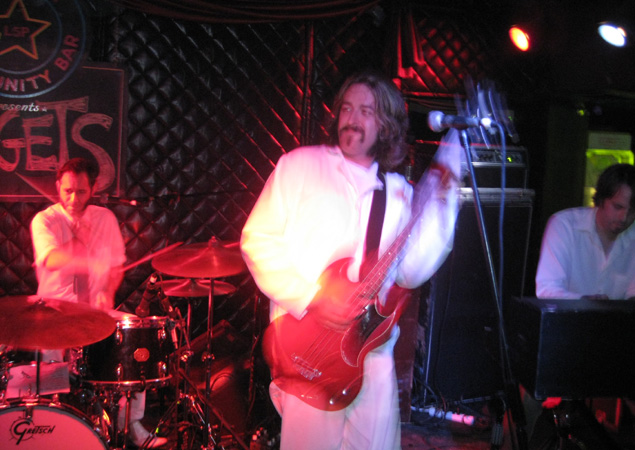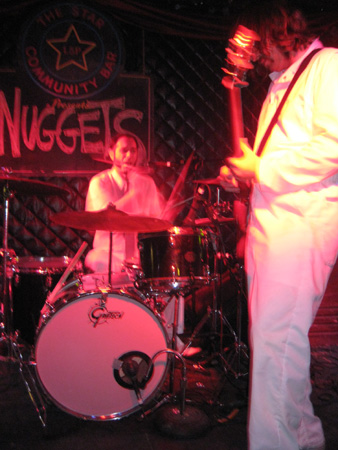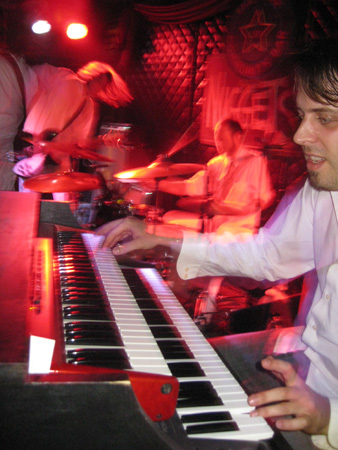 | | |
| --- | --- |
| I'm pretty sure one or two of the tunes they did are not from the Nugget set, but there weren't many complaints. Seeing The Forty Fives doing Shake is never a bad thing. | |
The show wrapped up fairly early, especially for a Star Bar show with so many acts on the bill. About half the show was absolutely dynamite and you really should'a been there.
---